Two day rescue of six baby elephants stuck in mud pool in Nakhon Ratchasima – VIDEO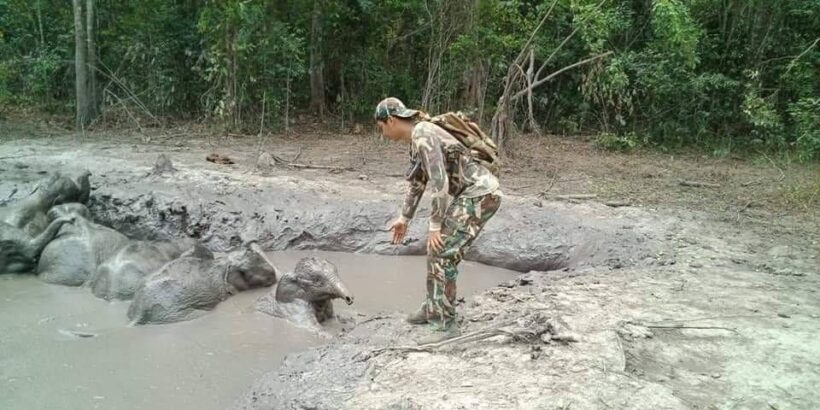 PHOTOS/VIDEO: DNP
Six baby elephants have been rescued from mud pool in Nakhon Ratchasima following two days of delicate efforts from officials.
The Department of National Parks Wildlife and Plants Conservation reports that they found the baby elephants on Wednesday while forest officers were patrolling in the forest in Sengsang, Nakhon Ratchasima, northeast of Thailand.
During the afternoon they stumbled on the six baby elephants stuck in a mud pool. Traces of larger elephants were found nearby. Officers tried to help the baby elephants out of the mud but failed as the darkness prevented them from continuing until yesterday morning.
Then, yesterday officers came back at sunrise. At about midday they were able to successfully haul the baby elephants up from the mud pool and send them back to their herd.
ชมคลิปนาทีช่วยลูกช้าง 6 ตัว ขึ้นจากบ่อโคลน หลังรอการช่วยเหลือกว่า 2 วันวันนี้ 28 มี.ค 62 นายประวัติศาสตร์ จันทร์เทพ หัวหน้าอุทยานแห่งชาติทับลาน รายงานเข้ามาว่า ตั้งแต่วันที่ 26 มี.ค 62 ที่ผ่านมา เจ้าหน้าที่เขตการจัดการอช.ทับลาน ที่ 4 (ลำปลายมาศ) ได้ร่วมกันออกตรวจลาดตระเวนป้องกันและปราบปรามการกระทำผิดกฎหมายเกี่ยวกับการป่าไม้ เมื่อไปถึงบริเวณป่าลำน้ำเขียว ท้องที่ต.บ้านราษฎร์ อ.เสิงสาง จ.นครราชสีมา เวลาประมาณ 14.00 น.ของวันที่ 27 มี.ค 62 พบลูกช้างป่า จำนวน 6 ตัว ติดอยู่ในบ่อโคลนซึ่งเป็นโป่งดินเก่า โดยพบว่ายังมีร่องรอยฝูงช้างป่าวนเวียนอยู่โดยรอบเชื่อได้ว่ายังคงรอให้ลูกช้างเหล่านั้นขึ้นจากบ่อโคลน เจ้าหน้าที่จึงเฝ้าสังเกตการณ์อยู่นานจนเชื่อได้ว่าลูกช้าง 6 ตัวดังกล่าวไม่สามารถขึ้นจากบ่อโคลนเองได้จึงได้พยายามช่วยลูกช้างป่าขึ้นจากบ่อ แต่ไม่สามารถช่วยได้ ประกอบกับเป็นเวลาใกล้ค่ำมืด จึงวางกำลังเฝ้าดูสถานการณ์ส่วนหนึ่ง และอีกส่วนหนึ่งได้เดินออกมาเพื่อขอกำลังเจ้าหน้าที่เข้าไปช่วยเหลือลูกช้างดังกล่าวโดยในวันนี้ตั้งแต่เวลา 07.00 น. นายประวิทย์ แสงสกุล หัวหน้าเขตการจัดการ อช.ทล.ที่ 4 ได้นำกำลังเจ้าหน้าที่พร้อมอุปกรณ์เดินเท้าเข้าไปช่วยเหลือกลุ่มลูกช้างดังกล่าวโดยวิธีขุดปากบ่อ ให้เป็นทางลาดเพื่อที่จะให้ช้างป่าเดินขึ้นจากบ่อได้ จนกระทั่งเวลาประมาณ 12.00 น.สามารถช่วยเหลือลูกช้างป่าขึ้นจากบ่อโคลนได้อย่างปลอดภัยทั้งหมด จำนวน 6 ตัว

Posted by ส่วนประชาสัมพันธ์และเผยแพร่ กรมอุทยานแห่งชาติ สัตว์ป่า และพันธุ์พืช on Thursday, March 28, 2019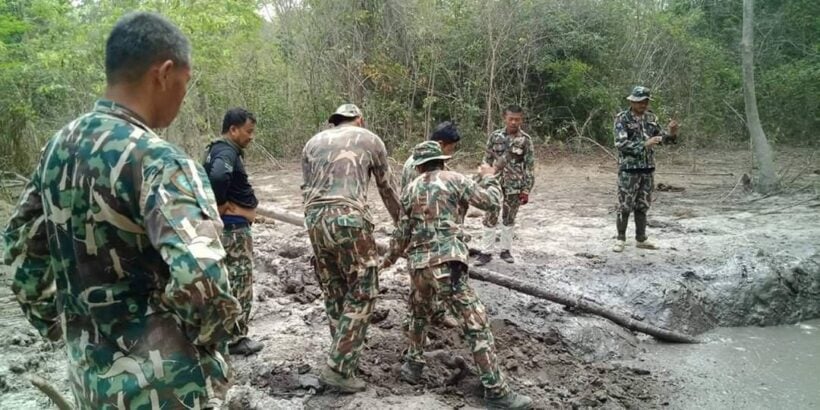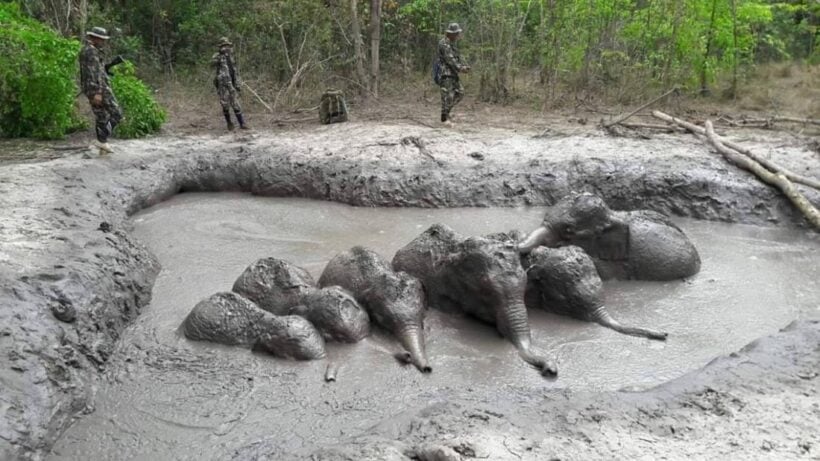 Read more headlines, reports & breaking news in North East Thailand. Or catch up on your Thailand news.
Bus crashes off the road in Khon Kaen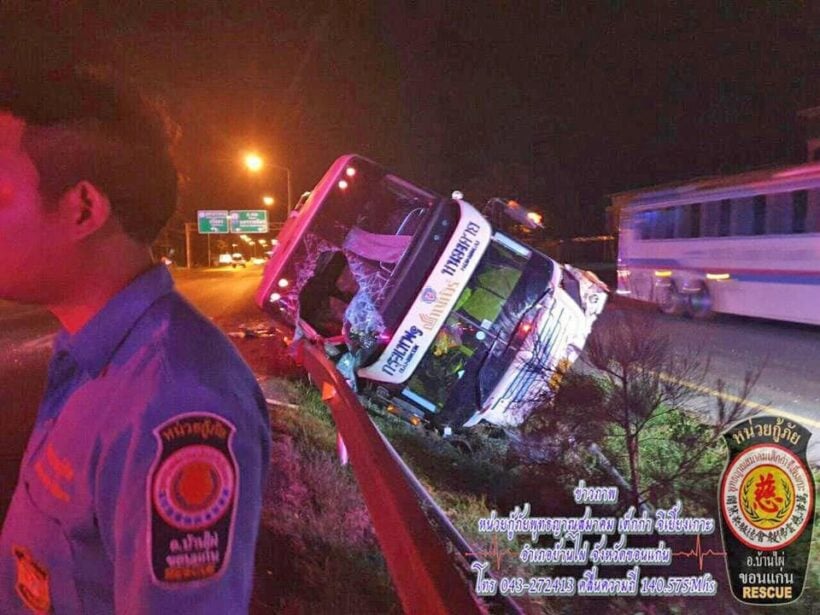 PHOTOS: Pudtayan Banphai Rescue Foundation
Many passengers have been injured following a bus crash in Khon Kaen, north-east Thailand this morning.
The Pudtayan Banphai Rescue Foundation reports that the bus was traveling from Bangkok to Nongkhai in northeast Thailand. The bus, which was full of passengers, hit a tree and a light pole on the road before ending up on its side in the ditch in the middle of the road on Mittraphap Road.
Passengers have only sustained minor injuries. They were taken to Baan Phai Hospital whilst police continue their investigation and question the bus driver.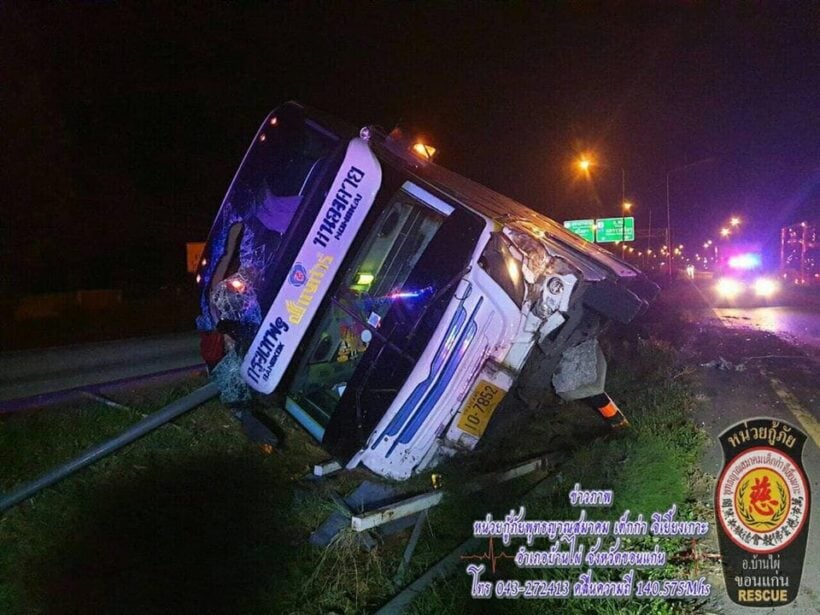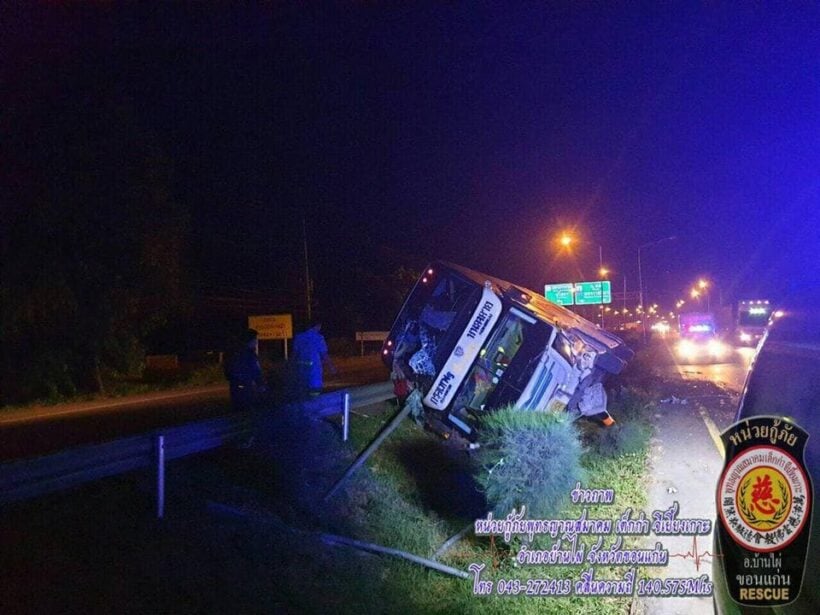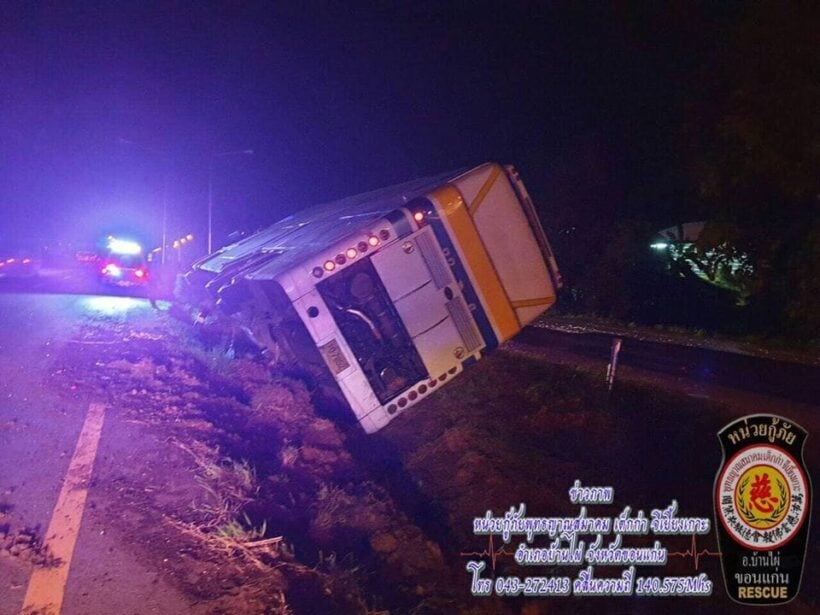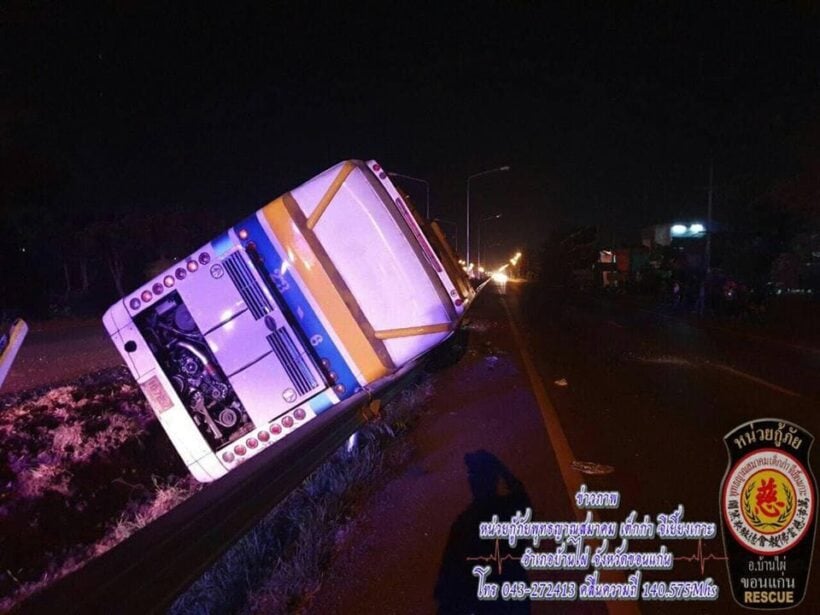 Central and upper Thailand residents warned to stay indoors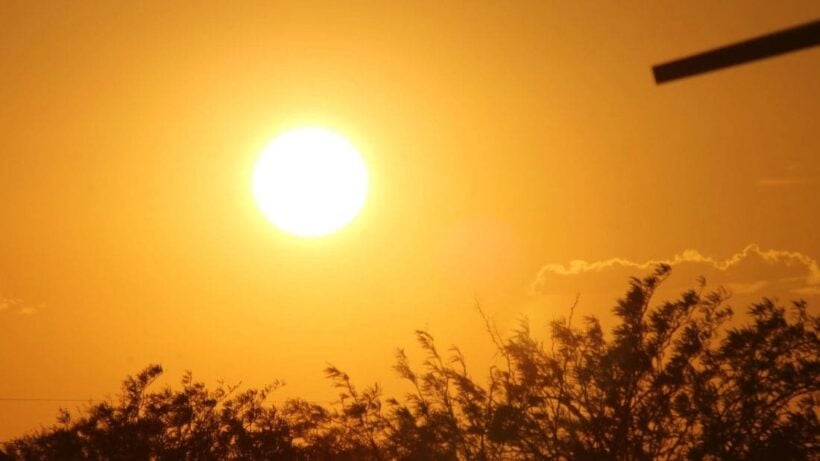 Thailand's Meteorological Department is warning people to avoid out-door activities due to the current high temperatures which are forecast to exceed 43C today in several northern provinces.
They are also advised to stay clear of big trees, poorly-erected structures or large billboards because of freak summer storms and strong winds caused by a low pressure cell over the northern part of the country.
In Bangkok, the TMD predicts that temperatures today will vary from 37-40C, with wind speeds of between 10-20Kph.
Thailand's northern region will experience hot to very hot weather today, with temperatures varying between 39-43C, plus freak summer storms and strong winds expected in about 10% of the region.
Northeastern provinces will also experience high temperatures ranging between 39 and 41C with freak storms covering 20 percent of the region.
Temperatures in the central region are predicted to vary between 39 and 42 C with wind speeds of 10-20Kph.
The eastern coast of the South is partly cloudy today, with temperatures ranging from 25-27C at the low end, with highs of 34-36C.
The western coast is also partly cloudy today, with temperatures ranging from 24 to 37C.
Central and north swelter with threats of summer storms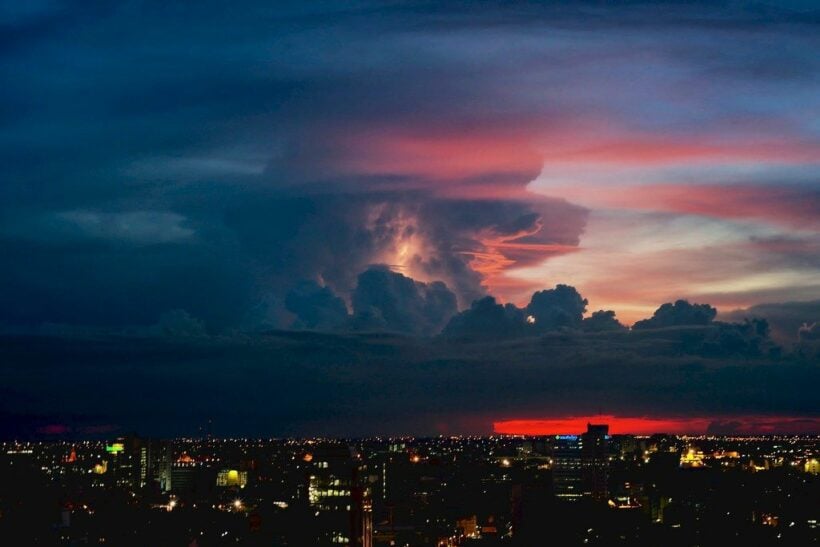 The mercury shot up to 40C in Bangkok yesterday and 35 other provinces in north and north-east Thailand also experienced hot to very hot weather amid brewing summer tropical storms.
The Thai Meteorological Department pointed to the hot low pressure cell covering upper Thailand and the southerly and southeasterly winds prevailing over the North, the Northeast, the Central, the East, and the South regions throughout this week.

Bangkok's forecast
They are warning residents to avoid outdoor activities and beware of gusty winds by staying away from big trees, unsecured buildings, and billboards is there are signs of thunderstorms brewing in the skies.
Today Bangkok will swelter in 37C temperatures with 38C in the next few days whilst the northern regions continue with more hot weather.
Chiang Mai will is forecast to reach 40C today as the unsettled and hot weather preempts the coming wet season… sometime soon.

Chiang Mai's forecast