Police claim they 'had to kill' north-east murder suspect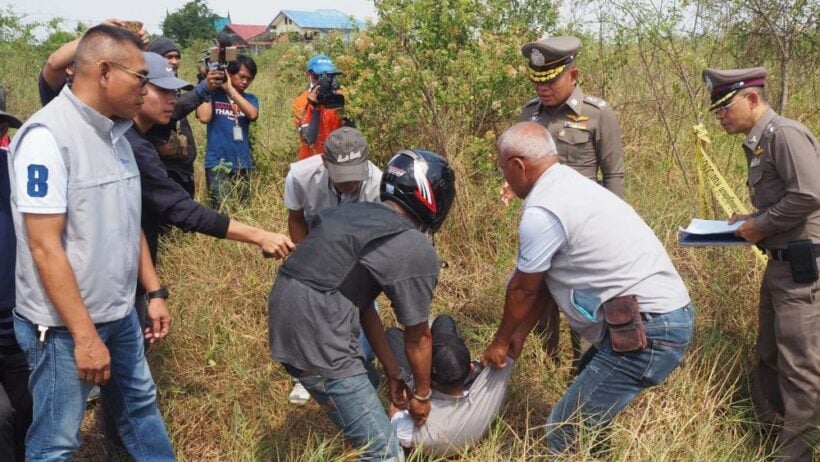 PHOTO: Police bring suspects to re-enact the motorcycle and body disposal in the two provinces – The Nation
by Khamdee Phrommakong, Suriya Patathayo, Teerapol Khumsuk
Police claim they "had to kill" a wanted murder suspect, 29 year old Somsak "Au" Ledlod, in Yasothon's Kham Khuan Kaeo district as he stole a pickup truck to flee and may have hurt the truck driver. Yasathon is north of Ubon Ratchathani in Thailand's north-east, near the Laos border.
The comments from Yasothon police chief Maj General Pinyo Huankasin yesterday whilst speaking to the media.
Somsak, who police claim was a drug dealer and had served several prison sentences, was wanted for the murder of his girlfriend's 34 year old ex-partner Chaiprasit Boonlert. He was fatally assaulted at Somsak's house in Samut Prakran's Bang Sao Thong district on February 2 and his body was then buried in woods in Chachoengsao's Ban Pho district to conceal the crime.
Police traced Somsak's movements from Ubon Ratchathani to Yasothon where the suspect had hijacked two trucks and one motorcycle during his escape and evasion of police.
He had allegedly reached the Pracha Ruamjai intersection at 7pm on Tuesday where he tried to hijack a third pickup.
"It was unlocked and waiting for a green light and police feared for the safety of the driver."
The suspect sustained multiple gunshots – three in an arm, one in the chest, one in the stomach, one in the leg and two in back – because he also shot at officers, Pinyo said.
National police spokesman Colonel Krissana Pattanacharoen also said the armed suspect was killed because he resisted arrest.
Meanwhile, deputy police commissioner General Chalermkiat Srivorakan announced the arrest of the other five suspects, including Somsak's girlfriend, 22 year old Plaethip Lokrak, whose chat messages allegedly lured the victim to the murder scene, and Somsak's male friends and subordinates, all aged between 24 and 35.
They have been charged with conspiring in the assault and concealing the body to hide the cause of death. One more suspect, Jakkrit Noisawat, who was accused of helping to bury the body, was taken into custody from a prison where he was detained over a separate drug possession charge.
Somsak had Kitisak, Thanomsak and Wisarut dispose of the body and motorcycle in Soi Wat Bua Roy, Bang Sao Thong. But after police found the victim's motorcycle, Somsak had Tinnakorn and Jakkrit move the body to bury in it in Chachoengsao.
Police said they later brought the suspects to re-enact the motorcycle and body disposal in the two provinces.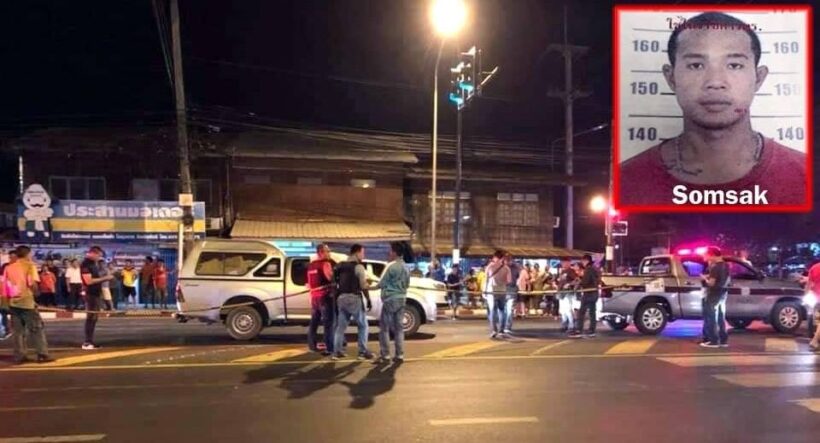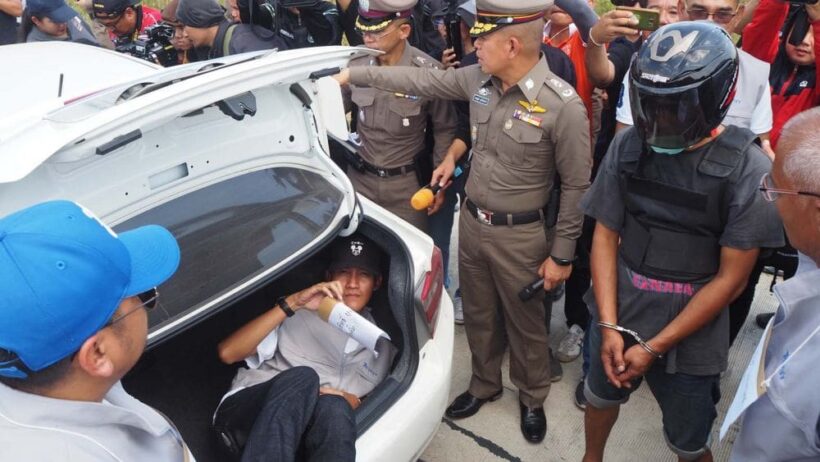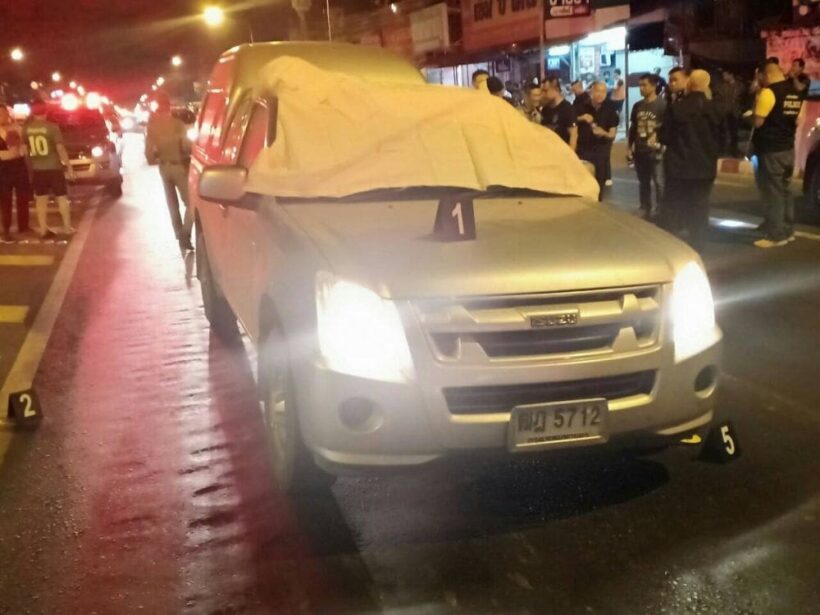 SOURCE: The Nation


Read more headlines, reports & breaking news in North East Thailand. Or catch up on your Thailand news.
5,000 Buriram citizens register for medical marijuana possession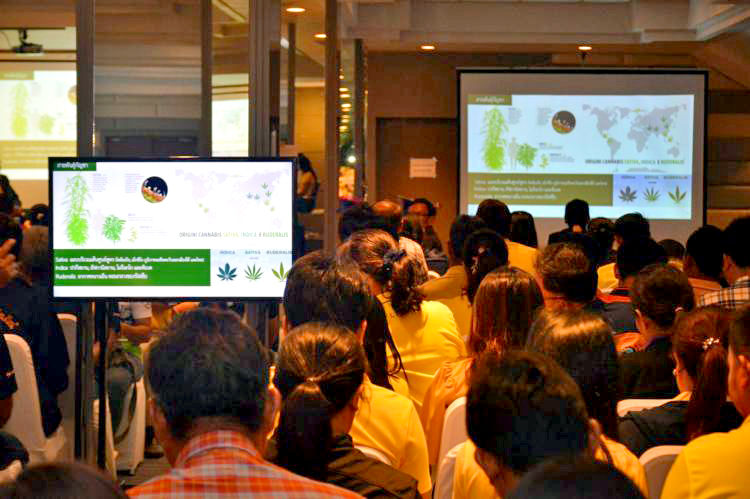 by Tanakorn Sangiam
The 90 day registration period for persons in possession of marijuana, without facing prosecution, end this Tuesday, May 21. 5,000+ persons in Buriram, north-east Thailand, have already registered their possession during this period. A community seminar on marijuana planting and management also took place yesterday to prepare Buriram province as a key manufacturer of medical marijuana.
About 250 people comprising of public health officials, agricultural officials, and community enterprises today joined a seminar on marijuana planting and management for medical usage. The seminar was aimed for participants to further distribute the knowledge on systematic medical marijuana planting and manufacturing management to help promote income distribution in local communities, specifically some 3,000 community enterprises in 23 districts in Buriram province.
These community enterprises will then be evaluated for their preparedness, and will be determined by the Food and Drugs Administration whether Buriram province is ready to become a key medical marijuana manufacturer of the country.
Talking about the end of the moratorium for persons in possession of marijuana, Buriram Provincial Public Health Official Withit Saruesadeechaikul said some 5,000 persons had so far registered as possessors – 2,000 villagers in the Buriram province and 20% of registered possessors being cancer patients.
SOURCE: National News Bureau of Thailand
Two construction workers win big in the National Lottery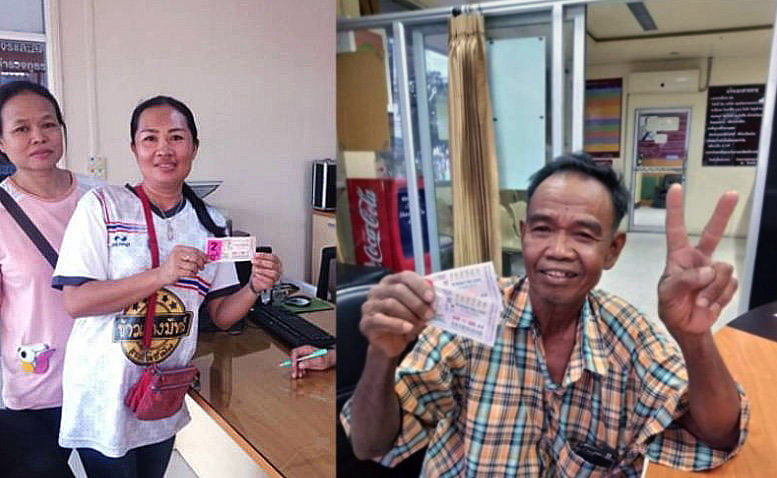 PHOTO: Daily News
Two Thai construction workers have won big in this week's national lottery. Two wins but two very different methods used to select the winning number, 926526.
Wathida Trinet had been visiting Khon Kaen but works in Wang Noi to the north of Bangkok, according to Daily News. There she noticed a gecko clambering over the house number "526" and decided to buy a ticket including that number. She won a whopping 6 million baht thanks to the gecko.
Meanwhile in the north-east 65 year old Charlerm Hettakhu says that a lottery vendor came to his building site to sell the remaining few lottery tickets. He says he could just afford two from a set of three as he only had 200 baht at the time.
He scored a tidy 12 million win. In that case it was just pure luck… "they were the only tickets she had," he said.
SOURCE: Daily News
15 year old girl arrested for trying to bury her baby alive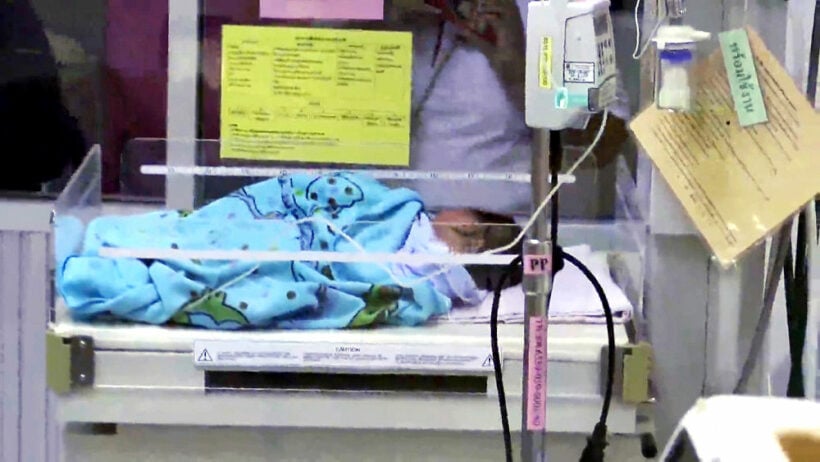 A 15 year old girl is now in protective custody in Nakhon Ratchasima, north-east of Bangkok, just one day after her newly-born baby boy survived being buried alive in a local field.
A villager found the baby in a cassava plantation about one kilometre from Ban Nong Kham village in Tambon Thalad on Wednesday. The infant was taken to the village before being sent to the district hospital.
41 year old Usa Nisaikha says he was herding cows near the plantation when he heard a dog barking and a baby crying. He said he ran to the spot and found the dog clawing at the ground and noticed a baby's leg sticking up from the ground. He said he dug the baby out of the ground and carried him to the village.
Police conducted an investigation and learned that a 15 year old girl living near the spot had bought an unusual amount of sanitary napkins. When police questioned her she admitted she gave birth to the boy and buried him for fear that her father would find out and punish her.
Nakhon Ratchasima's governor Wichian Chantharanothai and Trairat Witthayanumart, the chief of the Chumpuang district, visited the baby at Chumpuang Hospital. Trairat said the baby is healthy. He said that the girl's parents have sought permission to take care of the baby after he is released from hospital.
SOURCE: The Nation