Air pollution problems move to Khon Kaen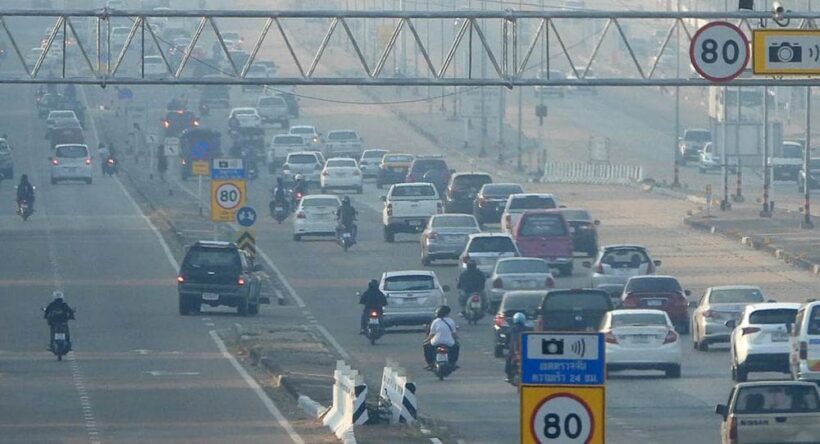 Pollution continues to choke the north-east province of Khon Kaen with the Air Quality Index reaching 187 yesterday, well beyond the "moderate" safety limit of 100.
This morning it's reading at 174.


Associate Professor Dr Kittichai Triratanasirichai, a former president of Khon Kaen University, says the pollution in Khon Kaen had worsened mainly due to the burning of sugarcane and rice stubble, and from exhaust fumes.
"If you look from a plane, you will clearly see smoke from sugarcane plantations," he said, adding that farmers preferred to burn the sugarcane stubble because it was the most convenient way to clear the fields, but this aggravated the smog.
"Exhaust fumes are also a big problem. The amount of dust in the air increases considerably during rush hour," he noted.
Khon Kaen governor Somsak Jangtrakul yesterday called an urgent meeting to seek solutions and called on residents to refrain from lighting outdoor fires, especially when it comes to disposing agricultural waste before harvesting the crop. He also urged people to spray water in front of their homes.
Somsak insisted that provincial authorities had been strict about large construction projects and vehicle emissions, adding that agencies were also regularly spraying water to bring down dust particles in at-risk areas.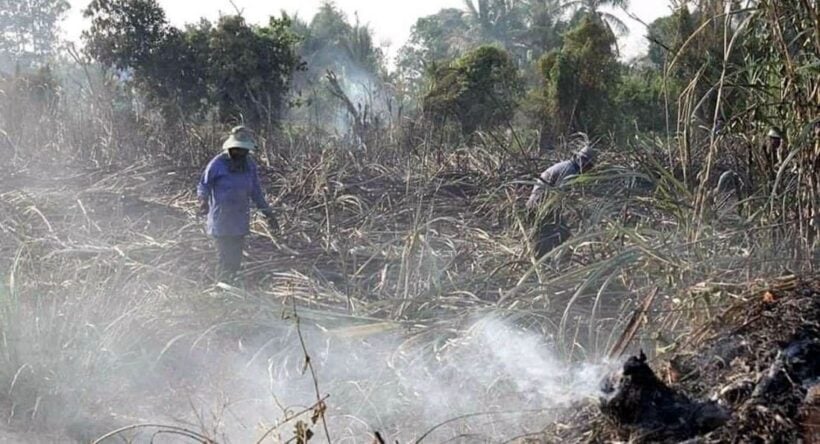 SOURCE: The Nation


Read more headlines, reports & breaking news in North East Thailand. Or catch up on your Thailand news.
Usable water level in Khon Kaen's main dam dangerously low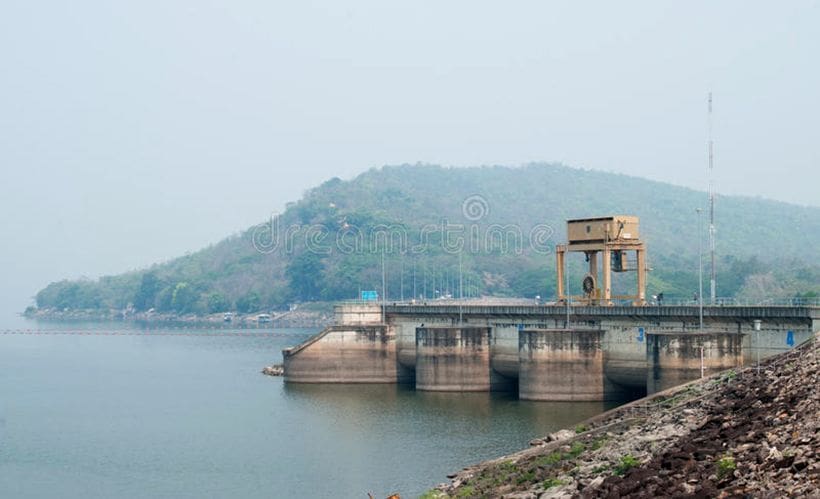 One of the north-east's largest dams is running dry. And the dry season has just begun.
About a year ago, Khon Kaen irrigation officials were discharging excess water through Ubol Ratana Dam (pronounced Ubonrat) to increase reservoir capacity to ease flood problems in Thailand's northeastern province of Khon Kaen.
Now, the same officials are urging people in the province to use water sparingly and farmers to suspend second-crop cultivation and to turn to crops which require less water.
The director of irrigation and maintenance, Songvuth Kitvoravuth, at the Nong Wai project says the rate of water entering Ubol Ratana reservoir has dropped by 25% since August 2018. There are now an estimated 700 million cubic metres left, with only 125 million cubic metres actually available for use because the balance of 575 million cubic meters must be retained for emergency and other purposes.
Officials have also been told to stop providing mobile water pumps to help irrigate farmland in order to conserve water.
The Meteorological Department says that the average temperatures in northern Thailand, including the north-eastern region, will reach about 40C this summer.
Meanwhile, the Khon Kaen provincial administration is seeking cooperation from people in the province to switch off their air conditioners every Friday from 7 pm-8 pm to save energy.
SOURCE: Thai PBS
Snakes! 2,000+ snakes seized in Thai-Laos border sting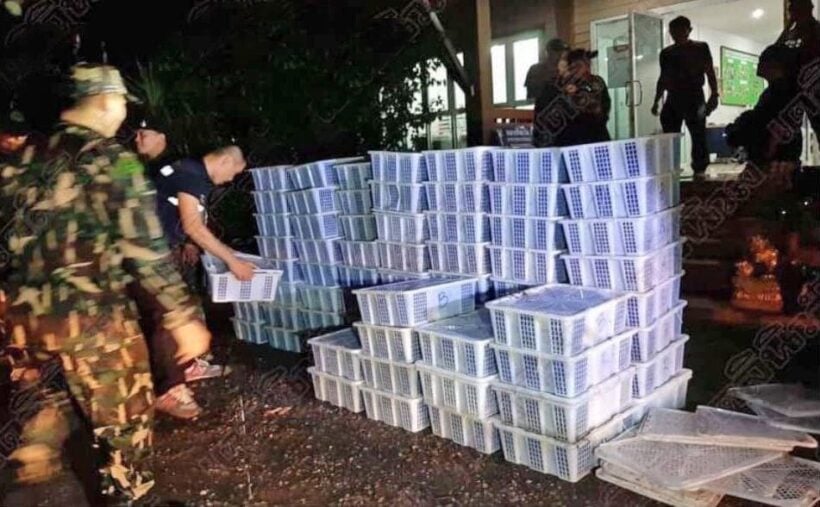 182 baskets containing 2,730 rat snakes and cobras – worth 1 million baht in total – have been intercepted as they were about to be smuggled out of Thailand and into Laos.
Mukdahan Wild Animals Checkpoint officials were joined by personnel from other agencies in confiscating the reptilian cache. Mukdahan is located on the far north-eastern Thai-Laos border
Following a tip-off that a large number of snakes were to be delivered into Laos on a pick-up truck through Ban Bang Sai Noi pier in Mukdahan's Wan Yai district, a task force siezed the snakes at 8.30pm last night (Sunday).
The officials discovered 3-4 people moving plastic baskets with closed lids from a pick-up truck onto the pier for transport by long-tail boat. The suspects fled when they saw the authorities approaching.
Officials found 15 live snakes inside a net sack in each basket and collected these and the vehicle as evidences to pass onto the Wan Yai Police Station to investigate and arrest the culprits. They will be charged with having wildlife in their possession without permission and importing wildlife without permission under the Wild Animal Reservation and Protection Act 1992.
Authorities are speculating that, once in Laos, the snakes would be sold to Chinese investors to make an alcoholic beverage produced by infusing whole snakes in grain alcohol, which is erroneously thought to have health benefits and serve as an aphrodisiac.
SOURCE: The Nation
Air pollution: Cabinet asked to allocate 6 billion baht to help buy sugarcane harvesters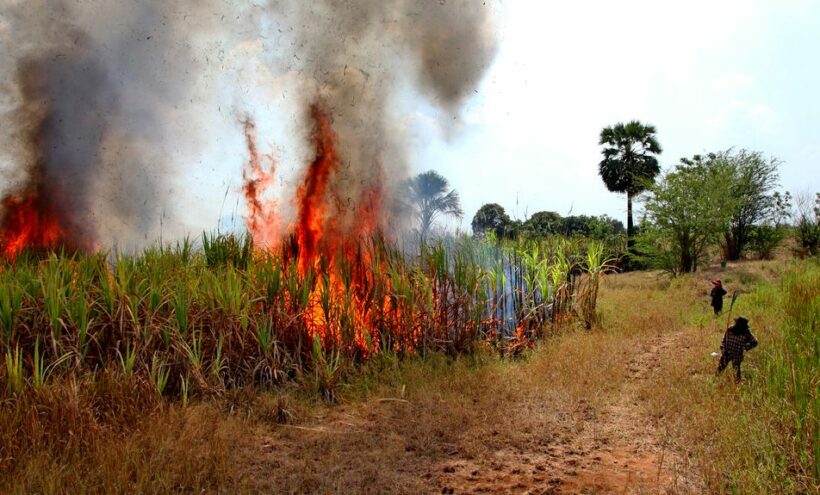 Thailand's Finance Ministry was asking cabinet for approval of a 6 billion baht budget to help the government tackle the northern and north-eastern smog and air-pollution problems.
The funds would be distributed by the state-run Bank of Agriculture and Agricultural Cooperatives to help farmer cooperatives and farming communities to buy sugarcane harvesting machines.
BAAC manager Mr. Apirom Sookprasert says that sugarcane farmers are unable to afford the machines themselves so, in several provinces, many of them are resorting to burning the cane stubs to prepare for the next harvest.
But the practice has two downsides – the smoke then wafts south-west in the prevailing winds to affect populated areas and that the practice reduces the quality of the harvest and, thus, the value.
Mr. Apirom says that, if approved, farmer cooperatives and community enterprises will be able to contact the BAAC to apply for loans to purchase the harvesters and avoid the burn-offs. They say that at least one sugar miller will be acting as the guarantor.
The bank will charge an interest rate of 4%, half of which will be subsidised by the government for the first three years.
Farmers, who are members of cooperatives or community enterprises will be able to hire the harvesters from their organisations as a step towards reducing the smog caused by cane burning.