6 million baht lottery winner goes on drug-fuelled rampage, tries to burn down house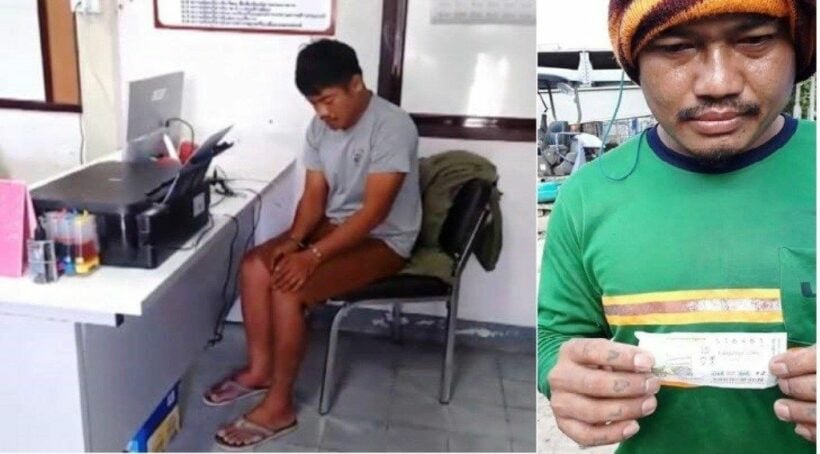 A man who won a six million baht lottery prize in June is now in police custody in Sisaket, northeastern Thailand. His mother reported to police that "he's become a berserk drug addict".
Police told Thai media that 56 year old Kom Poka called police to arrest her 32 year old son Chainarong in Sisaket after he went on a drug-addled rampage and tried to burn down their house. The blaze ended up being put out with the help of relatives and neighbours.
Chainarong was arrested with 20 methamphetamine tablets and his urine test came up positive for substance abuse. He told police that he acted under the influence of the drugs and was now sorry for what he had done. Kom says her son was a labourer at a Bangkok construction site when he won the lottery last June.
When returning home from Bangkok he kept all the money for himself, buying a pickup and other goods, but he also became addicted to drugs and, according to his mother, frittered away most of the 6 million baht. There was now less than 200,000 baht left out of the total winnings.
SOURCE: The Chiang Rai Times | PPTV Online
Keep in contact with The Thaiger by following our
Facebook page
.
Thai PM says he wants to prevent political protests, from either side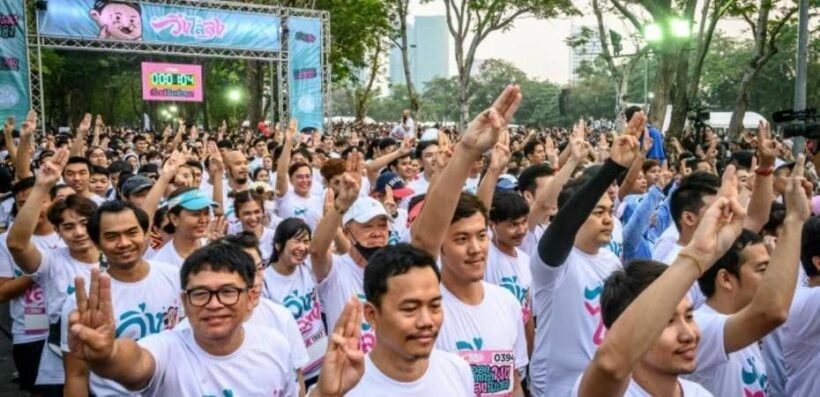 In a move that is sure to be seen as a bid to stifle opposition gatherings, protests and debate, the Thai PM Prayut Chan-o-cha is voicing concern that opposition-organised political rallies, as well as those of his supporters. will "lead to fresh conflicts". The PM told reporters yesterday that "…he has instructed security authorities to find ways to prevent such activities in the future".
Gen Prayut told reporters that he doesn't want to see divisions among the public.
"People should not be divided according to the group they belong to or along the lines of old and new generations. This will not benefit the country whatsoever. We must find ways to cooperate," the prime minister was reported as saying in the Bangkok Post.
"No matter who wants to support or oust me, I don't want anything that will lead to violence to happen again."
Deputy PM Prawit Wongsuwon has also said he disapproves of a planned anti-Prayut run in Chiang Mai on February 2. He says the event would "only deepen social divisions".
Meanwhile, Tanawat Wongchai, the organiser of the "Wing Lai Lung" (Run to Oust the Uncle) held in the Chatuchak area last Sunday, maintained the Chiang Mai event would go ahead, despite the threats from the PM. An event, to show support for Prayut and the Government, called "Dern Cheer Lung" (Walk in Support of Uncle), was also held at Lumpini Park in central Bangkok on Sunday.
Complimentary anti-government events for "Wing Lai Lung" were also held in other provinces – Buri Ram, Phayao, Chiang Mai, Nakhon Ratchasima and Nakhon Pathom. Metropolitan Police confirmed that 14,178 people participated in the Bangkok "Run Against Dictatorship" event. Various police estimates from the other provinces indicate and addition 2,500 people joined from provinces outside Bangkok.
A Future Forward Party MP, spokesman of the House committee on law, justice and human rights, and anti-government activist, Rangsiman Rome, claimed that some participants in the last Sunday's anti-Prayut event in Buri Ram were summonsed by police to "acknowledge charges for violating the public assembly law".
Pol Col Pramote Uthakit, from the Nakhon Phanom police station, told reporters that rally organisers "failed to seek permission in advance to hold the activity from police".
SOURCE: Bangkok Post
Keep in contact with The Thaiger by following our
Facebook page
.
Buri Ram gold and jewellery thief arrested whilst trying to flee the province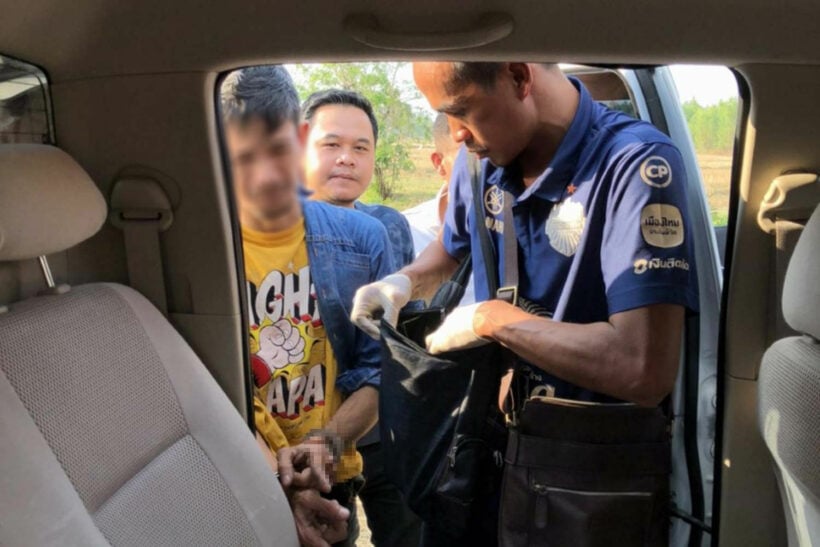 A man was arrested in his car yesterday in the northeastern province of Buri Ram after allegedly stealing gold valued around two million baht from a shop at a local department store over two weeks ago, on the night of December 28.
22 year old Prawit Chaikheenee was arrested whilst sitting in his on the Buri Ram-Nang Rong Road while trying to drive out of the province. Police discovered stolen gold ornaments in the car as well as two guns and a quantity of methamphetamine pills.
Police say the suspect has confessed to the crime and taken to the Buri Ram police HQ for questioning. They believe there may be an 'in-house- accomplice involved, as he was able to open the combination lock on the shop's safe.
Prawit is suspected of entering through the roof of Big C superstore at about 3am on December 28. He allegedly used a rope to lower himself to the floor, ransacked some nearby booths before opening the safe at the Yaowarat Sinthawee gold shop.
He made off with about 1.5 kilograms of gold necklaces, rings and trinkets, worth about 2 million baht.
SOURCE: The Bangkok Post
Keep in contact with The Thaiger by following our
Facebook page
.
Mother and daughter busted for selling meth pills in Thailand's north east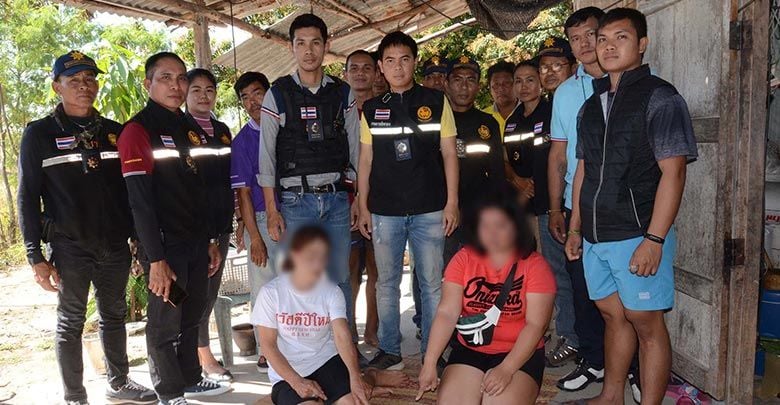 A mother and daughter are currently in custody after their arrest for selling 'yaba', or methamphetamine pills in Kalasin, north east Thailand.
The 54 year old woman, named only as Sang, and her 25 year old daughter Tarnthip, were arrested at their home in the northeastern city of Kalasin with 13 yaba pills and the 280 baht cash used in the sting operation. They tearfully admitted to police they needed money to support Tharnthip's three year old boy.
Police heard that teenagers and adults were getting the pills from a home in Kalasin City. A detective went to the home and acted as a customer. Sang went behind the house and returned with the pills which she handed to the detective. Officers immediately surrounded the house.
While they were arresting Sang, Tarnthip came into the house with her son. Police say she was acting suspiciously so they searched her and found more methamphetamine pills hidden in her clothes.
The suspects told police they worked at a factory in Bangkok until Tarnthip's father died, when they moved back to Kalasin to raise her young son.
Broke, jobless and with a child to care for, Sang turned to selling drugs and Tarnthip soon followed, according to the police report. They sold methamphetamine pills for 70 baht apiece. They told police they would sometimes deliver the drugs but often customers would come to collect the drugs from the house.
Both suspects have been handed over for prosecution. The young boy is currently in the care of a relative.
SOURCE: Thai Residents | INN News
Keep in contact with The Thaiger by following our
Facebook page
.