5,000 Buriram citizens register for medical marijuana possession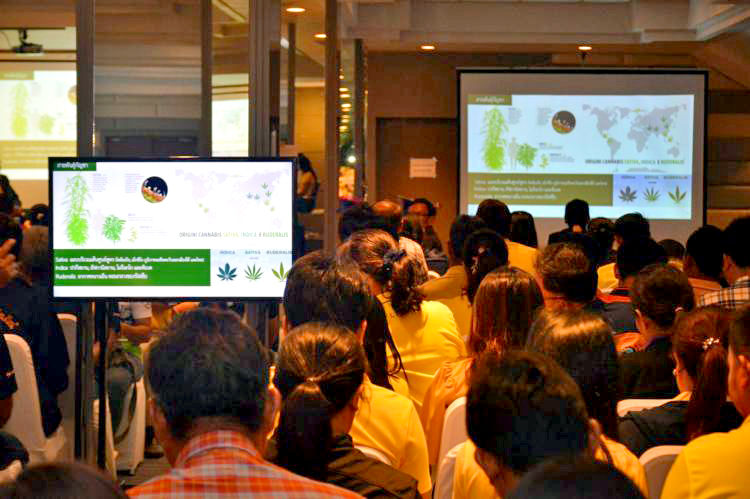 by Tanakorn Sangiam
The 90 day registration period for persons in possession of marijuana, without facing prosecution, end this Tuesday, May 21. 5,000+ persons in Buriram, north-east Thailand, have already registered their possession during this period. A community seminar on marijuana planting and management also took place yesterday to prepare Buriram province as a key manufacturer of medical marijuana.
About 250 people comprising of public health officials, agricultural officials, and community enterprises today joined a seminar on marijuana planting and management for medical usage. The seminar was aimed for participants to further distribute the knowledge on systematic medical marijuana planting and manufacturing management to help promote income distribution in local communities, specifically some 3,000 community enterprises in 23 districts in Buriram province.
These community enterprises will then be evaluated for their preparedness, and will be determined by the Food and Drugs Administration whether Buriram province is ready to become a key medical marijuana manufacturer of the country.
Talking about the end of the moratorium for persons in possession of marijuana, Buriram Provincial Public Health Official Withit Saruesadeechaikul said some 5,000 persons had so far registered as possessors – 2,000 villagers in the Buriram province and 20% of registered possessors being cancer patients.
SOURCE: National News Bureau of Thailand
Keep in contact with The Thaiger by following our
Facebook page
.
Millions of meth pills, tonnes of marijuana seized in 3 major drug hauls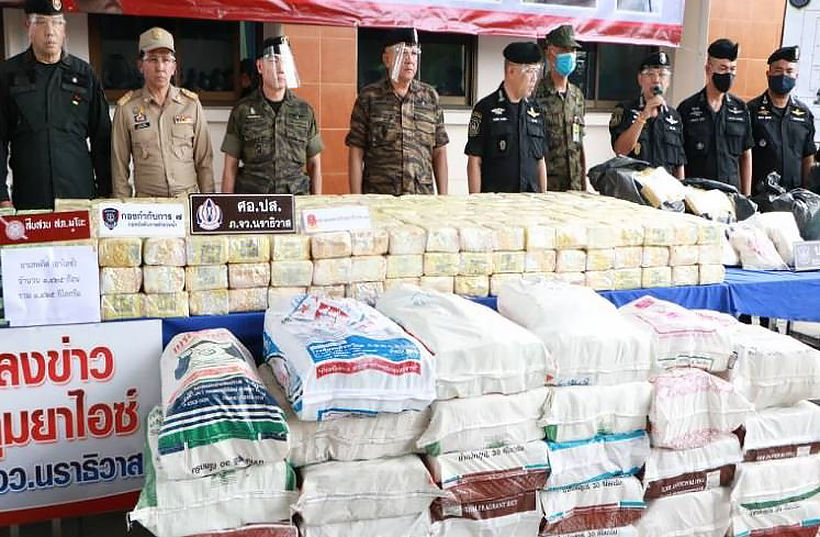 In what is becoming an increasingly common story, police have announced the seizure of millions of methamphetamine pills (ya ba) and more than 2 tonnes of marijuana, among other types of illicit drugs, in 3 major anti-drug operations last week. The head of the Narcotics Suppression Bureau told a press briefing that drug agencies confiscated nearly 1.5 million methamphetamine pills, 2.4 tonnes of cannabis and 6 kilograms of ketamine, and arrested about a dozen suspects.
He says that in the first bust, in Isaan's Sakon Nakhon province, officers seized about 400 kgs of marijuana, a Hyundai pickup, and arrested 24 year olds Peerapat Chaisunthorn and Chariya Niyompeng. In the second operation, police in Lampang province, near Chiang Rai, arrested 40 year old Songkod Sriharan, 63 year old Chaisri Kongauksorn, and Ratchanok Boonta after a traffic stop while they were making their way to Chiang Mai province. Around 1.5 million ya ba pills were confiscated.
The NSB chief says the 3 are believed to be connected to the same gang of smugglers arrested with 4 million methamphetamine pills in northern Thailand earlier this year.
In the third operation, police in Isaan's Udon Thani province nabbed 6 suspects and seized two tonnes of marijuana and 6 kgs of ketamine. They were identified as 31 year old Mongkol Chonthanasilp, 48 year old Thanabodee Yakasem, 36 year old Bussayaporn Rangvigee, 35 year old Niroj Mingkwan, 30 year old Boonprom Laknongbu and 38 year old Patracha Taweewan.
Police froze assets suspected to have come from the men's alleged drug dealings. In May, one of the biggest drug hauls in decades, was made in Myanmar's Shan state.
SOURCE: Bangkok Post
Keep in contact with The Thaiger by following our
Facebook page
.
Lucky escape for rafting group after dam floodgate opens – VIDEO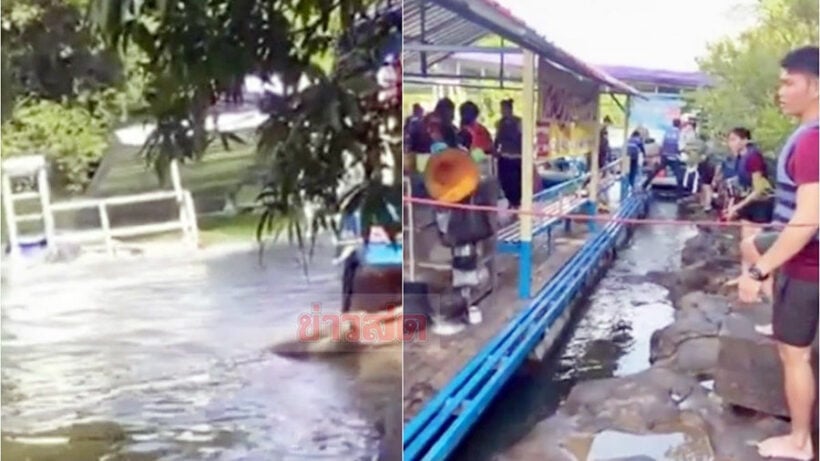 A group of tourists is lucky to be alive after a worker accidentally opened a dam floodgate nearby. The tourists had just seconds to get out of the way, as a tour guide who realised what was happening, yelled a warning at them. Thai Residents reports that the incident happened at the Sirindhorn Dam in Ubon Ratchathani, in the north-east of the country.
It's understood an employee at the dam opened the floodgate without realising there were people in the water. The rush of water caused one raft to break away from its mooring, as several others rammed into each other, with items on the rafts being flung into the water. Wuttichai Kumchul, a 33 year old tour guide and raft owner, yelled at tourists who were swimming or sitting on rafts, to get out immediately.
"I yelled to the tourists in the water and to those still on the raft to get out of the water. I rushed onto land for safety and told the tourists to do the same. The water was so strong one of the rafts got loose and crashed into other rafts nearby. There is about 10,000 baht in damages from the incident. The tourists that were in the dam are now terrified for their lives."
The floodgate at the dam is usually opened in the morning for electricity generation, with a warning message sent to raft operators beforehand. However, this time, the floodgate was opened at 3 pm without warning. It is not known if any disciplinary action is being taken against the employee who opened the floodgate.
SOURCE: Thai Residents
Keep in contact with The Thaiger by following our
Facebook page
.
Thailand teams with Laos to stop drug trafficking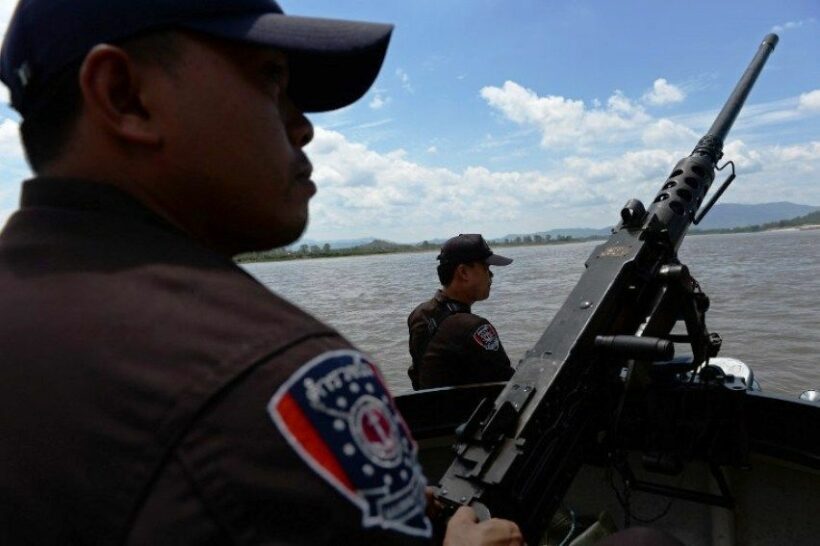 Thailand is reportedly teaming up with Laos to stop drug trafficking after drug syndicates have changed their routes from Myanmar to Laos.
Thailand Narcotics Control Board secretary-general Niyom Termsrisuk, says the direction change was due to heavy policing at the Myanmar-Thai border; causing traffickers to switch routes. The Royal Thai Armed Forces have formed a division to combat drug trafficking in the Thai provinces that border Laos, with 12 teams of officers being deployed.
The ONCB chief says a spike in smuggling was detected in the northeastern borders from Loei to Ubon Ratchathani provinces with Nong Khai, Mukdahan, Bung Kan and Nakhon Phanom provinces seeing the most trafficking.
Methamphetamine, crystal meth, or "ice," and marijuana were the main drugs being smuggled with 22 million meth pills, 638 kilograms of ice, and 6,240 kilograms of marijuana being seized by Thai authorities over the past year.
Despite the Thai government's efforts to try and stem smuggled drugs into the country, plenty of them find their way into the inner parts of the country. At the end of May this year, 1 million methamphetamine pills were confiscated in the capital, just one of many drug busts of multiple millions of pills and other illicit drugs.
According to the UNODC Representative for Southeast Asia and the Pacific…
"It is hard to imagine that organised crime have again managed to expand the drug market, but they have. While the world has shifted its attention to the Covid-19 pandemic, all indications are that production and trafficking of synthetic drugs and chemicals continue at record levels in the region."
Read more about that report HERE.
SOURCE: Chiang Rai Times
Keep in contact with The Thaiger by following our
Facebook page
.