News Desk
UPDATE: Today's Chiang Rai cave search timetable – 12 missing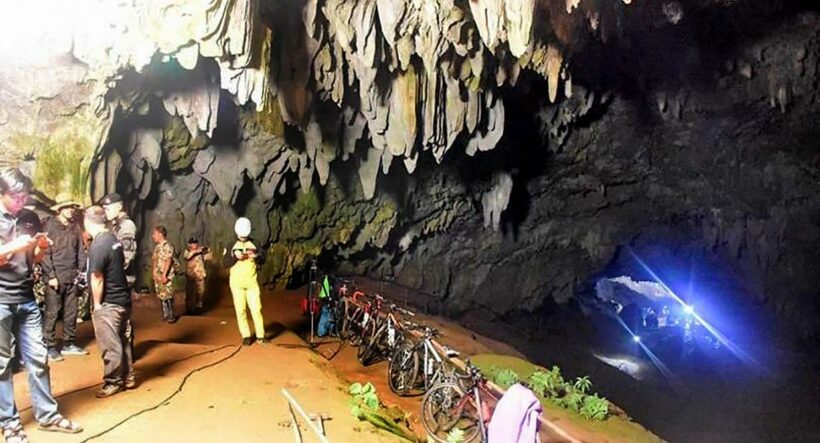 A rescue team, which now includes a Navy SEAL unit, are continuing search for the missing 12 young footballers and their coach. The 13 have been trapped inside a cave in Tham Luang Khunnam Nang Non Forest Park in Mae Sai district since Saturday.
A flash flood that hit the area prevented the missing group from leaving the cave after they ventured in late on Saturday afternoon.
Eighteen SEALs divers arrived in Chiang Rai at 1.40am on Monday in an RTN 2112 aircraft and immediately set to work blasting sand out of an underwater passageway to gain access to the other side of the cave.
By 10am they had found no sign of the missing group, a source with a local rescue unit said. That deep in the cave, mobile phones were not working.
However, rescue team members who entered the cave have found footwear thought to belong to the young footballers of The Ban Phong Pha team, known in the area as "Moo Pa" (wild pig).
The parents and families of the 12 teenagers and their 25-year-old coach are praying for their safe return.
Based on reports from Chiang Rai police, this is today's search timetable.
00.10am: Ten search members of the Army and border patrol police enter the cave.
00.40am: A three-member team from the Mekhong Riverine Unit Headquarters joins the first team inside the cave to help locate the missing group.
1.20am: Authorities hold a meeting at the site to map the search efforts.
2am: The meeting agree that the Thai Navy's SEAL unit should join the search.
2.45am: A team of 18 SEALs arrives at the scene. They are briefed on the latest situation and decide to divide into four groups each with four members.
6am: They enter the cave and drill into the wall of a large cavern where the missing group is believed to be resting. After finding no one, the team continues searching.
SOURCES: The Nation