World rallies to help Nepal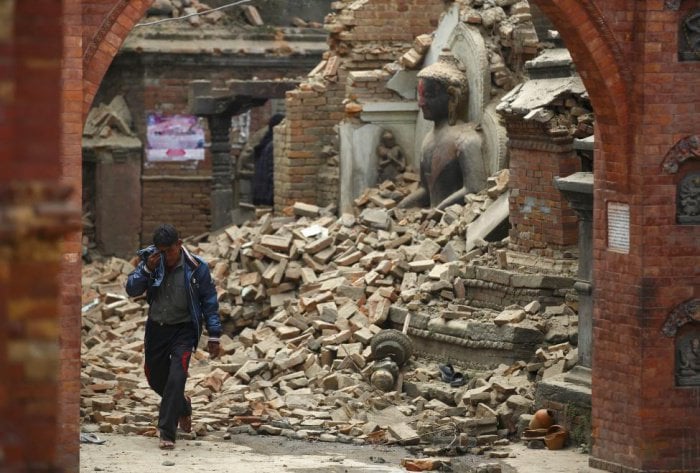 PHUKET MEDIA WATCH
– Thailand news selected by Gazette editors for Phuket's international community
World rallies on social media to help Nepal
The Nation / Phuket Gazette

PHUKET: Following the 7.8-magnitude earthquake that rocked Nepal's capital Kathmandu and its surrounds on Saturday – resulting in a death toll nearing 1,900 yesterday – the assistance from countries, humanitarian organizations, companies and individuals has been great and swift.
Much of the assistance has been recorded online, including:
@kathmandupost: "Canada announces $5 million for emergency relief programmes; Russia to send a rescue team, to land later on today. #NepalEarthquake #Nepal."
@STcom said that the Singapore government had contributed $100,000 towards this appeal as seed money. More details on the appeal and the various channels to donate would be released soon.
@SGRedCross: "We have disbursed SGD50,000 worth of relief items to #NepalQuake and will be launching a public appeal for funds."
CNN iReport asked people to share their stories. @cnnireport: "Are you searching for someone after the #NepalQuake? You can share your story: https://ireport.cnn.com/topics/1236600."
USAID deployed a Disaster Assistance Response team to the region and is providing an initial $1 million in emergency assistance "as we assess humanitarian needs in cooperation with the Government of Nepal. USAID is also activating an Urban Search and Rescue Team to accompany disaster experts".
@W7VOA: "@USAID deploying Disaster Assistance Response Team to #NepalQuake region & providing initial $1 million in emergency assistance."
The World Food Program, launched to raise money to help people affected by the earthquake, said: "WPP is responding to those affected by the #NepalQuake. Here's how you can help https://give.wfp.org/5279/"
@UNICEF_Thailand: "Donate online to help children in Nepal at https://www.unicef.or.th/supportus/campaign/Earthquake_Nepal."
Other donation channels are at https://www.facebook.com/unicefthailand/photos/a.148550029631.115556.125003539631/10152826736554632/?type=1&theater, and https://twitter.com/UNICEF_Tha//592190691800813569/photo/1.
In response to the tragedy, Google launched the Google Personal Finder – https://google.org/personfinder/2015-nepal-earthquake – by offering two features: "I'm looking for someone" and "I have information about someone".
@AKunrojpanya, Google Thailand's communications and public affairs manager, tweeted: "In Nepal or trying to contact loved ones there? Google person finder is now available https://t.co/iczEJJh39h #NepalEarthquake #Nepal."
Meanwhile, Facebook launched a safety tool for people in affected areas called Safety Check as a new feature where users either mark themselves or their friends and family as "safe".
Mark Zuckerberg, founder and chief executive of Facebook, posted on his timeline [facebook.com/ zuck/posts/10102050030813611?__mref=message] that Facebook activated Safety Check at www.facebook.com/safetycheck/nepalearthquake for people affected by the earthquake in Nepal. It's a simple way to let family and friends know you're okay. "If you're in one of the areas affected by the earthquake, you'll get a notification asking if you're safe, and whether you want to check on any of your friends. When disasters happen, people need to know their loved ones are safe. It's moments like this that being able to connect really matters. My thoughts are with everyone who's been caught up in this tragedy."
Crowdfunding platform Taejai.com also launched a campaign to get people to donate money, with the target of 300,000 baht in six days.
How to donate:
Donate to help children in Nepal: Donate online at https://www.unicef.or.th/supportus/campaign/Earthquake_Nepal – Donate offline atBangkok Bank, Ko Pho Branch, Current Account, Account No. 201-3-01324-4; Krung Thai Bank, Banglamphu Branch, Current Account, Account No. 167-6-00662-1; Bank of Ayudhya, Banglamphu Branch, Current Account, Account No. 011-0-06153-6; Kasikorn Bank, Banglamphu Branch, Current Account, Account No. 008-1-09766-6; Siam Commercial Bank, Banglamphu Branch, Current Account, Account No. 003-3-10443-3. Please fax pay slip to 02-356-9229 or 02-281-6033 and write "for Nepal" on the slip.
Please also provide your name and address so we can send you a receipt.
Thank you.
Phra Kru Pariyat Photivithet Mahasupoj has raised a funds and donation center for supplies at Wat Thai Lumpini.
Donate to the account titled "Construct and Renovate Wat Thai Lumpini Nepal", Bangkok Bank's Talad Plu branch, account number 1150868584. Please indicate in the pay in "help victims from Nepal quakes" and send mail to lumbini979@gmail.com.
From Wat Thai Kusinara Chalermrat, India
From Khunying Sudarat Keyuraphan:
Donate at the account titled "Help the quake victims in Nepal" Siam Commercial Bank's Wongwian Odian, account number 1792046847. Please send a copy of a transfer slip to therd?worvg@gmail.com, fax 02-621-1816 (Phra Vichit Thammaporn, deputy abbot of Wat Saket).
— Phuket Gazette Editors
Keep in contact with The Thaiger by following our Facebook page.
Never miss out on future posts by following The Thaiger.
Gunman kills mayoral candidate, injures 4 other municipal candidates at funeral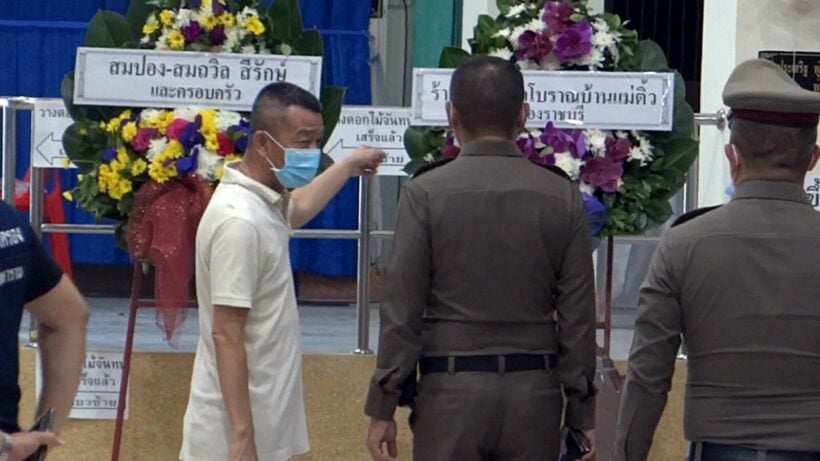 A gunman shot and killed a woman running for mayor and wounded 4 others at a funeral in Ratchaburi, a province west of Bangkok near the Myanmar border. Police say they suspect the shooting was politically motivated. Out of the 4 people injured, 3 were running in the March 28 municipal election while another was the kamnan, a government official of a tambon, which is a sub district.
The gunman is still at large, but police say they suspect the shooter is Wanchart Niamraksa, a member of the Ratchaburi provincial administration organisation.
The gunman opened fire just as the kamnan of tambon Don Sai, Yingpan Kanket, was lighting candles and incense sticks under a Buddha image to start the ceremony, witnesses say. Shots were fired from behind the main Buddha image at the temple's open prayer hall, witnesses say.
Bullets hit 5 people, including Yingpan who is in critical condition. Varaporn Niamraksa, who was running for mayor of the municipality, was shot and died at the hospital. Nakhon Wanpen, Somthawil Srirat and Monthien Jaitham, who are all running for the municipal council of tambon Don Sai, were shot.
Police found 2 spent .22 cartridges and a 11mm spent shell at the scene. The suspect faces charges of murder, attempted murder, carrying firearms and ammunition without permission and carrying them in public without a proper reason.
SOURCES: Nation Thailand | Bangkok Post
Keep in contact with The Thaiger by following our Facebook page.
Never miss out on future posts by following The Thaiger.
Thailand News Today | Covid passport talks, Thai Airways heads to court | March 2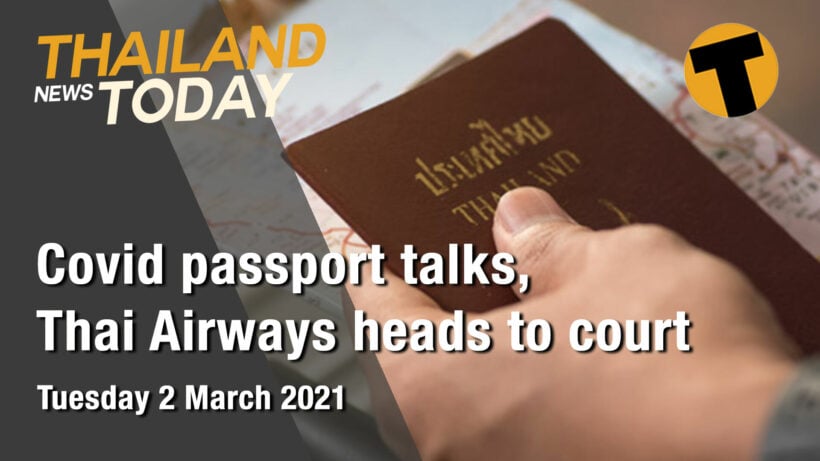 In today's Thailand News Today…. The island of Phuket has a firm plan to get its residents vaccinated leading up to an October opening for tourists, the Thai PM backs up his police over last Sunday's protest violence and Thai Airway's employee union criticises the changes to employee contracts.
But the plan must be approved by the national government by April, if the province wants to open tourism by October 1. Phuket has a resident population of around 300- 400,000 people.
Before you go rushing off to book your plane tickets we'd stress that this is another in a long list of proposals that have not come to fruition and we'd urge patience until the Government approves the plans.
Meanwhile the island has taken delivery of 4,000 doses of the Chinese Sinovac Covid-19 vaccine. Vaccinations started yesterday, with priority given to 1,500 healthcare workers and 500 "at-risk" officials exposed to Covid-19 patients.
On a broader note… Thailand's Tourism Minister says he has asked the Public Health Ministry to approve a vaccine passport scheme aimed at reviving Thailand's devastated tourism sector. According to the Minister, the government is looking to the World Health Organisation to issue a statement on vaccine passports before it makes a final decision on the matter.
The Thai PM, Prayut Chan-o-cha has defended police action against protesters taking part in Sunday's anti-government rally in Bangkok. Officers from the Metropolitan Police Bureau used tear gas, a water cannon and rubber bullets in an effort to drive protesters back from the PM's residence. The PM insists the actions were in line with international standards. He says that police did not violate the protesters' rights.
Thai researchers are claiming that horseshoe bats are not responsible for transmitting the Covid virus to humans. A researcher with the Thai Red Cross Emerging Infectious Diseases-Health Science Centre, says that even though the bats have tested positive for a coronavirus, it is not the strain that is transmissible to humans, and it's certainly not the virus that causes Covid-19.
As Thai Airways tries to sell new contracts and conditions to its remaining workforce, the labour union of the national carrier is challenging changes to the employment contracts, where Thai Airways employees are being asked to agree to changes as part of the bigger financial rehabilitation program.
But a union representative says the new contracts are unfair because it includes fewer leave days and shorter holidays. The union has filed a complaint with the Department of Labour Protection and Welfare.
Keep in contact with The Thaiger by following our Facebook page.
Never miss out on future posts by following The Thaiger.
Thai army medic accused of injecting troops with fake Covid-19 vaccine during UN mission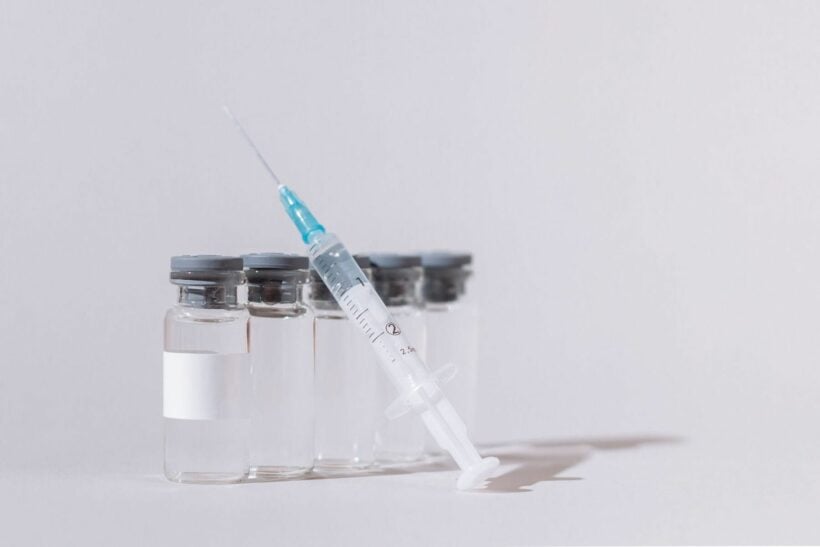 A medic for the Royal Thai Army was dismissed and his medical license revoked after injecting troops with fake Covid-19 vaccines during a United Nations peacekeeping mission in South Sudan. The "vaccine" was actually just water. The medic, who is also a lieutenant, apparently injected 273 Thai troops with the water shot and charged 607 baht, or around $20 USD, per injection.
A soldier noticed the bottles the medic was using for the injections were unlabelled. A superior then launched an internal investigation and found that the bottles were just filled with water. Under the UN's orders, the medic was dismissed and sent back to Thailand. His medical license was also revoked.
Thai media first reported the news, saying that a Thai army doctor at a South Sudan field hospital was suspended from duty due to an investigation into alleged fraud. The medic reportedly worked at the hospital from December 2019 to December 2020.
Following the news report, Thai Supreme Commander General Chalermphol Srisawat confirmed that a medic had been injecting troops with water and claiming it was a Covid-19 vaccine.
SOURCES: Thai PBS | Nation Thailand
Keep in contact with The Thaiger by following our Facebook page.
Never miss out on future posts by following The Thaiger.