What are those tattoos Thais get in temples?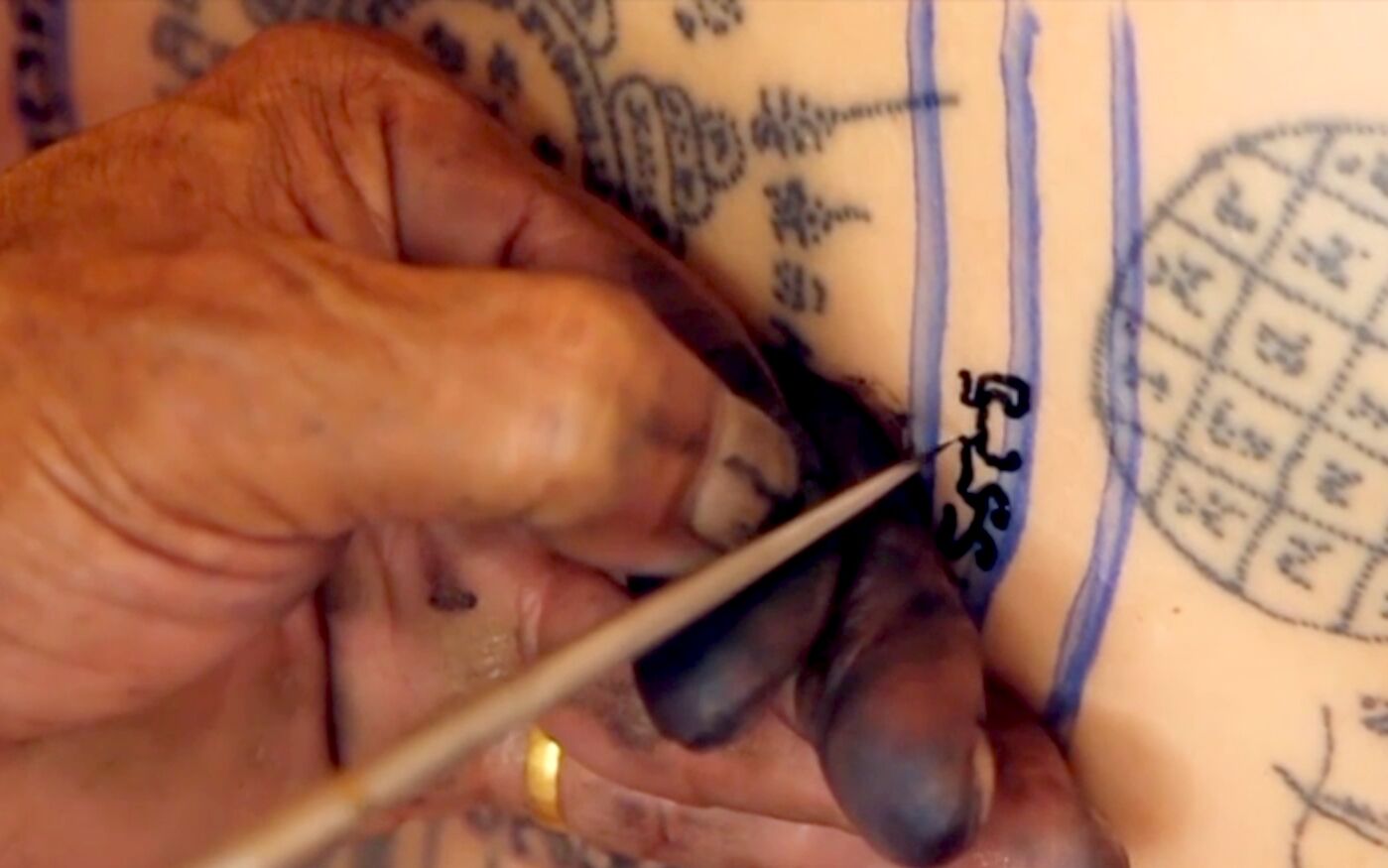 For centuries, men have been visiting the Bang Phra Temple in Nakhon Pathom, Thailand, to receive traditional tattoos known as "sak yant." The temple, built in the 17th century during the Ayutthaya era, has become a pilgrimage site for those seeking good fortune, protection, and a deeper spiritual connection.
Monks at the temple use fine point needles to create the tattoos by hand, drawing from ancient Buddhist manuscripts in Khmer, Thai, and Sanskrit. They see tattoos as a "spiritual anchor," a physical manifestation of one's devotion to Buddhist teachings.
Phra Chalor Panyaprachoto, a monk and tattoo master at the temple, explains that generations have sought these tattoos not just as a decorative choice, but as a way for people to seek protection, safety, and even immortality.
"Tattoo culture has been here for a long time. Hundreds of years, thousands of years. It is a culture now, a tattoo culture."
Before receiving a tattoo, the monks carefully consider each person's conduct to ensure that they are ready to observe the five Buddhist Precepts, according to Patum Phosawan, the temple's layman and historian.
"If you can observe the five precepts, your tattoos will be sacred. If you can't observe the precepts it would be as if you didn't get any tattoo, there is no benefit."
The precepts are similar to the Ten Commandments in Christianity, laying out important rules to live by:
The Five Buddhist Precepts on a stone carving in Nepal. (via Wikipedia)

Refrain from taking life. (Not killing any living being.)

Refrain from taking what is not given. (Not stealing from anyone.)

Refrain from the misuse of the senses. (Not having too much sensual pleasure.)

Refrain from wrong speech. (Not lying.)

Refrain from intoxicants that cloud the mind. (Not doing drugs.)
While receiving a tattoo, the monk must recite every line as it is drawn into shape, requiring intense focus and concentration. This focus is not only important for the creation of the tattoo, but it also serves as a lesson in mindfulness and the importance of living in the present moment.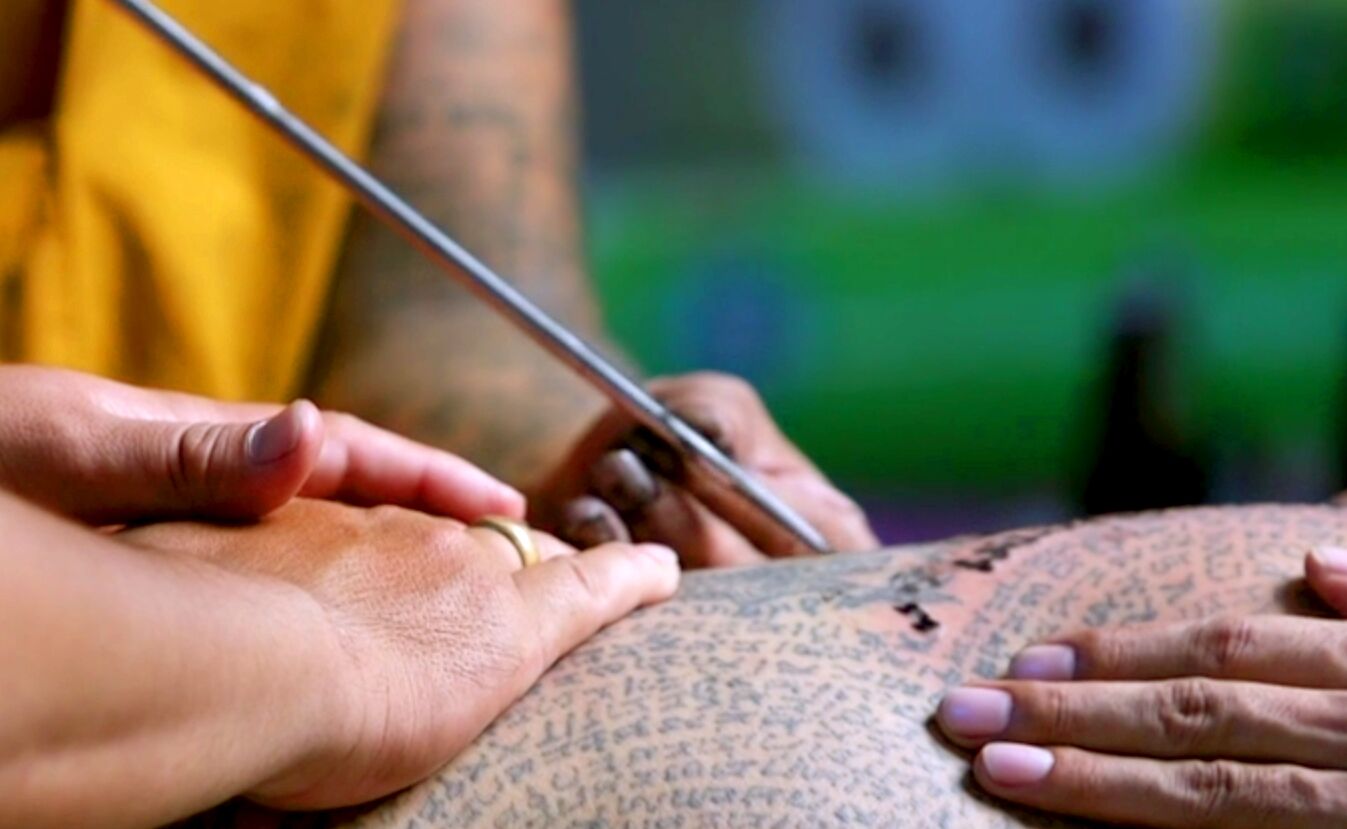 The tattoos require intense focus and concentration from the temple monks. (via BBC Video)
In addition to the physical tattoo, the monks give each person a mantra to recite for prayer and meditation. These mantras are seen as an important aspect of the spiritual journey that the tattoos represent, Patum explains.
"What we also put behind the tattoo is for people to have virtue. This is our way of teaching them to have a focus in life. Whichever mantra the master gives you after tattooing, you should recite them. They are given for prayer and meditation."
Despite the popularity of sak yant tattoos, they are not without controversy. Some critics have raised concerns about cultural appropriation, as tattoos are often sought by non-Thai individuals without a deep understanding of their cultural significance.
However, for those who approach the sak yant tradition with respect and understanding, tattoos can be a powerful symbol of their spiritual journey. For those seeking a deeper connection to their faith and a physical reminder of their devotion, the sak yant tattoos of the Bang Phra Temple offer a unique and meaningful option.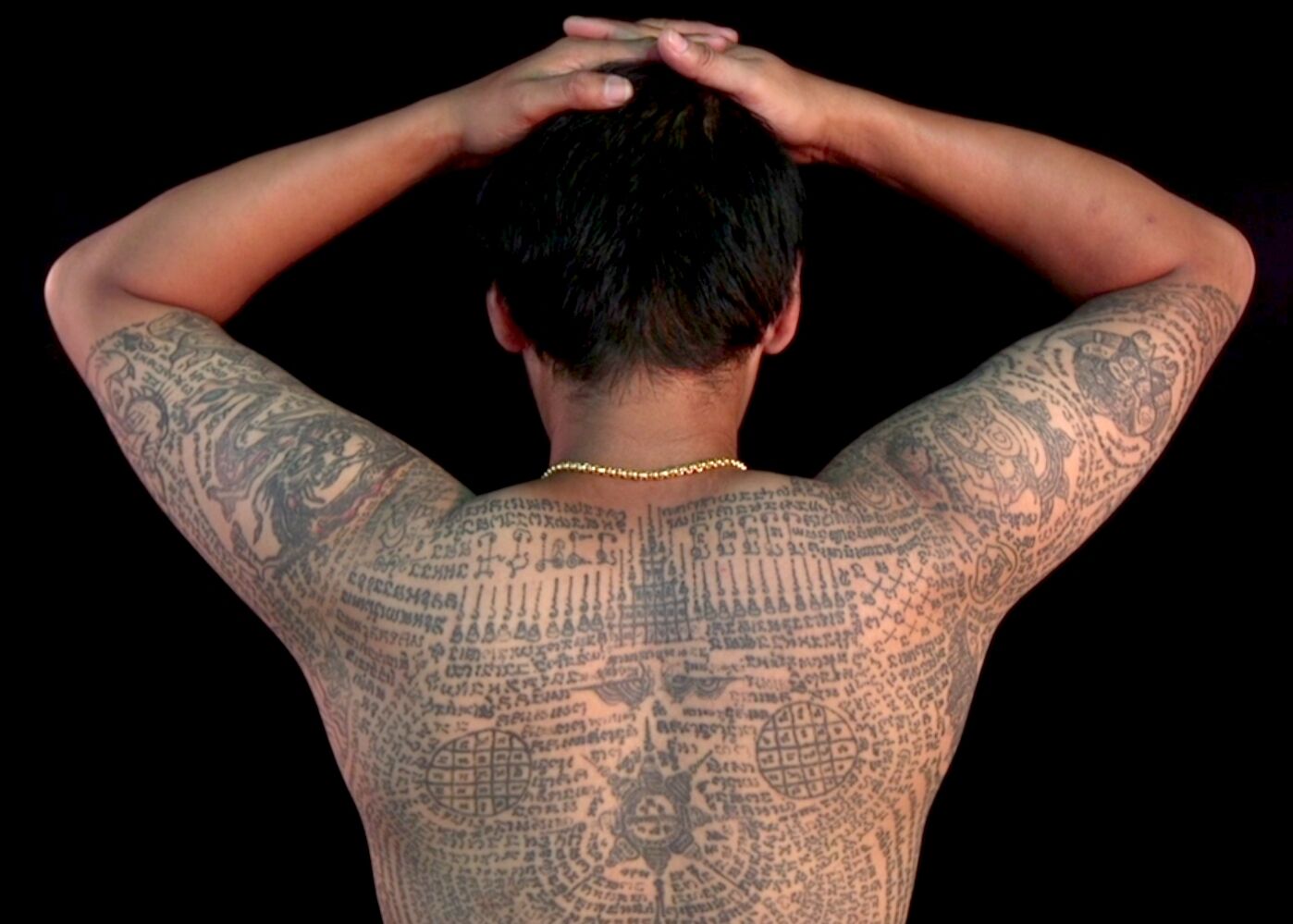 Thailand News

Join the conversation and have your say on Thailand news published on The Thaiger.
Thaiger Talk is our new Thaiger Community where you can join the discussion on everything happening in Thailand right now.
Please note that articles are not posted to the forum instantly and can take up to 20 min before being visible. Click for more information and the Thaiger Talk Guidelines.