Weird World News: The missing link: A woman, chimps and Bigfoot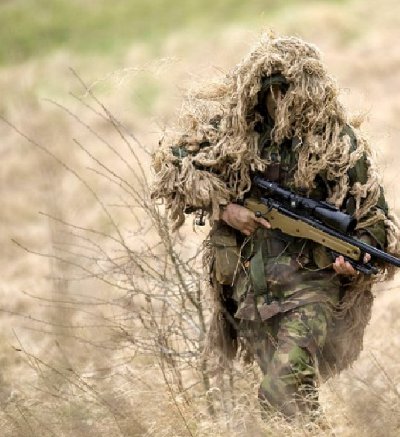 PHUKET: The "Missing Link" riddles headlines in this week's Weird World News Roundup as a Bigfoot impersonator gets hit and killed by not one, but two teenage girls driving cars; a woman unable to link the description of a missing person to her own identity joins a search party for herself; and a Chimpanzee's carry-on tradition 'missing link or not' with old-school secret handshakes.

And as a bonus we learn why Chinese investors are so keen to find their nuts rubbed red by the palm of a hand.

Bigfoot hoax impersonator gets run over, twice

A MAN thought to be impersonating the mythical, giant ape-like creature known in North America as Bigfoot was killed after being struck on a Montana highway by two cars, reported Reuters.

Randy Lee Tenley, 44, was decked out in the popular sniper camouflage known as a "ghillie", which is a disfiguring shaggy mat costume resembling heavy foliage.

Mr Tenley was standing in the middle of the southbound lanes of US Highway 92 last Sunday when he was struck by not one, but two vehicles in quick succession, Montana Highway Patrol spokesman Sergeant Steve Lavin said.

"From what I understand, at least one of his friends said that he was trying to induce a sasquatch [Bigfoot] sighting by using the suit along the highway," Mr Lavin said.

The first car to topple the impersonator was driven by a 15-year-old girl, who was just old enough to get behind the wheel of a car on Montana, and apparently to attempt to slay mythical beasts.

The second car, striking the man only moments later, was being operated by a 17-year-old girl.

Police are unable to confirm which teenage girls' vehicle had the fatal impact.

Friends of Mr Tenley told Montana Highway Patrol trooper Jim Schneider that the man had attempted a similar hoax before, but never along the highway, reported Reuters.

Missing woman finds self

AN INTENSE police search ensued after a tourist was declared missing in southern Iceland. Unable to link the police description to herself, the woman joined about 50 others in the search, reported The Reykjavik Grapevine.

The search for an "Asian, about 160cm, in dark clothing and speaks English well" lasted throughout the weekend. Initially, it was reported that woman had stepped off the bus at Eldgja and had never returned, when in fact she had, but in different clothes.

No longer wearing the dark clothing she had started the bus trip in, her fellow passengers didn't recognize her.

As concerned as the next person, the woman joined in the search efforts. It wasn't until Monday that she realized that the description of the "missing person" loosely fit a description of herself. The search was called off shortly after she reported to police.

Chimps keep it real with 'secret handshakes'

CHIMPANZEES pass down a "secret handshake" through the generations, according to a study by the German run Max Planck Institute.

The grooming handclasp, like other chimp traditions, is consistent from generation to generation, but the "handshake" differs from group to group, the researchers say.

During grooming, two chimps clap onto each others arms, raise them in the air and go to work with their free hands.

Previous research suggested this handclasp may be a cultural phenomenon – like how people greet each other – but only some chimpanzee colonies practice this grooming behavior, reported The Telegraph.

It was discovered that some chimps on the Chimfunshi Wildlife Orphanage Trust in Zambia prefer to clasp hands during the grooming process, while others held onto wrists.

"But our study at least reveals that these chimpanzee communities formed and maintained their own local grooming traditions over the last five years.

"Our observations may also indicate that chimpanzees can overcome their innate predispositions, potentially allowing them to manipulate their environment based on social constructs rather than on mere instincts," said Edwin van Leeuwen, of the Max Planck Institute.

"These observations support the conclusion that these chimpanzees socially learn their local tradition, and that this might be evidence of social culture," Mark Bodamer, of Gonzaga University.

"Continued monitoring of these groups of chimpanzees will shed light on the question of how these group-traditions are maintained over time and potentially even why the chimpanzees like to raise their arms up in the air during social grooming in the first place," he added.

Bonus Story: Wealthy Chinese rubbing their nuts for cash

CHINESE investors keen for bigger returns have moved away from the countries floundering stock market and become nutters for something they can rub between their palms – walnuts.

The bigger, older and more symmetrical, the better, says collector Kou Baojun in Beijing, who owns more than 30 pairs of walnuts (yes, they come in pairs), most of which are over a century old and have taken on a reddish shine from years of polishing in the palm, reported Reuters.

"Look how well these have aged. Playing with these kinds of walnuts isn't for ordinary people," Kou said.

With a pair of well-polished, symmetrical nuts going for the upward of 971,000 baht, they certainly are not nuts that anyone can pocket.

"Cultural playthings", as the market has been dubbed, peaked in China in 2010 as Beijing started to put the brakes on property market speculation, reported Reuters.

Walnuts were once the toys of China's imperial court. It was believed that rotating a person's nuts in one's palm stimulated blood circulation – which might be quite true.

The amount of money collectors are putting into the cultural plaything market has turned into big business for some merchants, who are willing to buy entire trees from farmers ahead of the harvest.

"Walnut investments go up every year. A pair of walnuts at 350 yuan (about 1,700 baht) 10 years ago can sell for 3,500 yuan (17,000 baht) or even 20,000 (99,000 baht) or 30,000 yuan (148,000 baht)," said merchant Hu Zhenyuan.
— Isaac Stone Simonelli
Thailand News

Join the conversation and have your say on Thailand news published on The Thaiger.
Thaiger Talk is our new Thaiger Community where you can join the discussion on everything happening in Thailand right now.
Please note that articles are not posted to the forum instantly and can take up to 20 min before being visible. Click for more information and the Thaiger Talk Guidelines.