US, UN envoys voice worrying concerns over Article 44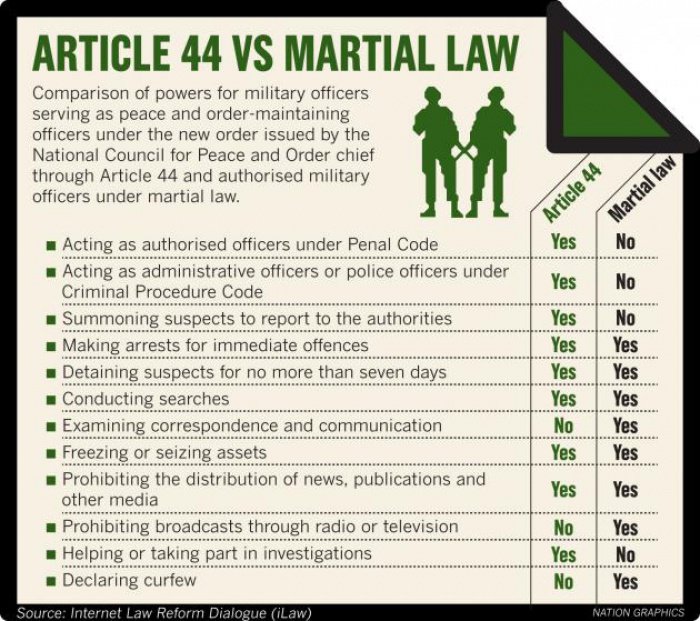 PHUKET MEDIA WATCH
– Thailand news selected by Gazette editors for Phuket's international community
New junta order 'more worrying'
The Nation / Phuket Gazette
PHUKET: The government may have received some plaudits for lifting martial law from the local business community, notably the tourism sector, but the international community, especially the United States and the United Nations, besides rights groups have lashed out at the government for invoking Article 44 of the interim charter.
The National Council for Peace and Order (NCPO) replaced martial law with a 14-point order under Article 44, authorizing Prime Minister Gen Prayut Chan-o-cha, as the junta chief, to have unlimited power to handle security and political matters.
The UN High Commissioner for Human Rights, Zeid Ra'ad al-Hussein, yesterday expressed "alarm" at the decision to invoke Article 44, saying it bestowed unfettered authority on the head of the military government.
"Normally I would warmly welcome the lifting of martial law – and indeed strongly advocated for it to be lifted in Thailand," Hussein said. "But I am alarmed at the decision to replace martial law with something even more draconian, which bestows unlimited powers on the current prime minister without any judicial oversight at all.
"This clearly leaves the door wide open to serious violations of fundamental human rights. I appeal to the government to ensure that these extraordinary powers, even if provided for by the interim constitution, will nevertheless not be exercised imprudently."
A US State Department official said Washington expected the Thai military to end trials of civilians in military courts and detention without charge and to allow people to express their opinions freely.
"We are concerned that moving to a security order under Article 44 will not accomplish any of these objectives," the official was quoted as saying by Agence France-Presse.
The business sector, however, was optimistic about the positives from the ending of martial law. The tourism sector believes it would allow people to get travel insurance. Unlike martial law, Article 44 will have no impact on foreign tourists or general people, said Anon Vangvasu, president of the Thai General Insurance Association. Up to now, foreign insurance companies have been unable to offer travel protection to their customers, he said.
Thanavath Phonvichai, adviser to the Thai Chamber of Commerce and director of the Economic and Business Forecasting Center, said Article 44 should be judged by how the powers are used and whether it improves efficiency and create peace for the long term.
But Saman Zia-Zarifi, International Commission of Jurists regional director for Asia and the Pacific, said Article 44 did not address significant concerns about the human-rights situation in Thailand and was in fact even more worrying than martial law.
"In some ways it increases concerns because the new orders are essentially arbitrary, since [orders] are issued under Article 44 instead of existing frameworks like through martial law, the Internal Security Act and the emergency decree, where there are precedents," he said.
Zia-Zarifi cited a number of problematic details of the new junta order, which includes designating officers to maintain peace and order. These are military personnel assuming the role of police investigators. It also allows searches without a warrant, seven-day detentions without charge at an informal facility, restrictions on freedom of expression, and restrictions on the political assembly of more than four persons.
The security officers enjoyed impunity under orders 13 and 14 of Article 44, he said, and warned that this boded ill and heightened the risk of forced disappearance and torture.
Matthew Wheeler, Bangkok-based Southeast Asia analyst at the International Crisis Group, said that if the replacement of martial law with Article 44 was designed to reassure the international community, and that the NCPO's exercise of power was benign, it might be a forlorn measure.
"The government retains the relevant powers it had under martial law. Article 44 is even broader in scope than Article 17 of the 1959 Constitution [exercised by Field Marshal Sarit Thanarat], because it allows the head of the NCPO to take actions in the interest of not only national security but also 'reform' and 'national unity'," he said.
Shawn Crispin, senior Southeast Asia representative for the New York-based Committee to Protect Journalists, said Article 44 posed a "clear and present danger to journalists". He said that if the government were serious, it should not pass laws that suppressed or censored the press.
— Phuket Gazette Editors
Keep in contact with The Thaiger by following our Facebook page.
Never miss out on future posts by following The Thaiger.
Public Health Minister gets first Covid-19 vaccine shot in Thailand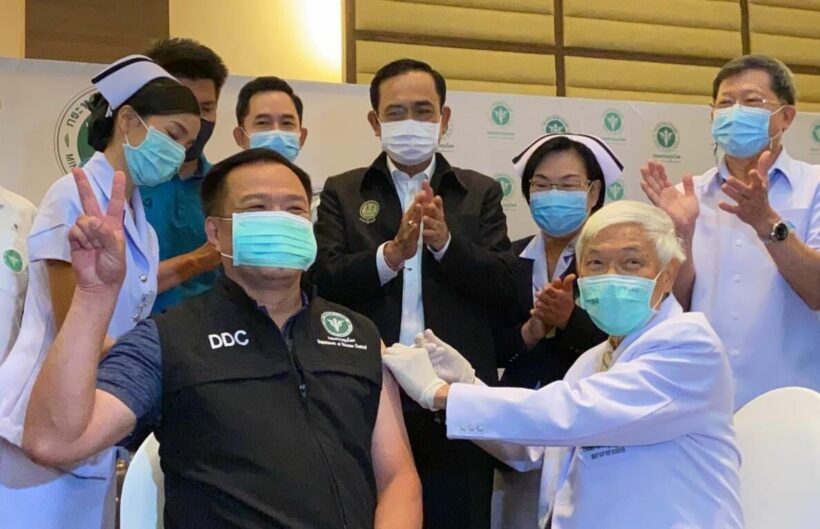 Thailand's Covid-19 vaccine campaign started with Public Health Minister Anutin Charnvirakul who was jabbed with China's Sinovac vaccine. PM Prayut Chan-o-cha was initially planned to be the first to kick off Thailand's immunisation plan with the AstraZeneca vaccine, but due to problems with paperwork, the prime minister's injection was postponed. Doctors advised Prayut to get the AstraZeneca vaccine due to his age. Prayut is 66 and doctors say the Sinovac vaccine has been declared safe for people ages 18 to 59.
Both shipments of the Sinovac and AstraZeneca vaccines arrived last week, the AstraZeneca vaccine still needs to be endorsed by the Medical Science Department. Anutin says the pharmaceutical company has not submitted documents and samples needed for the endorsement.
Along with Anutin, a number of other government officials and health professionals were vaccinated against the coronavirus. Anutin's shot was administered by Thailand's top virologist Yong Poovorawan.
SOURCE: Bangkok Post
Keep in contact with The Thaiger by following our Facebook page.
Never miss out on future posts by following The Thaiger.
Royal Thai Police accused of "ticket" promotion system to buy senior positions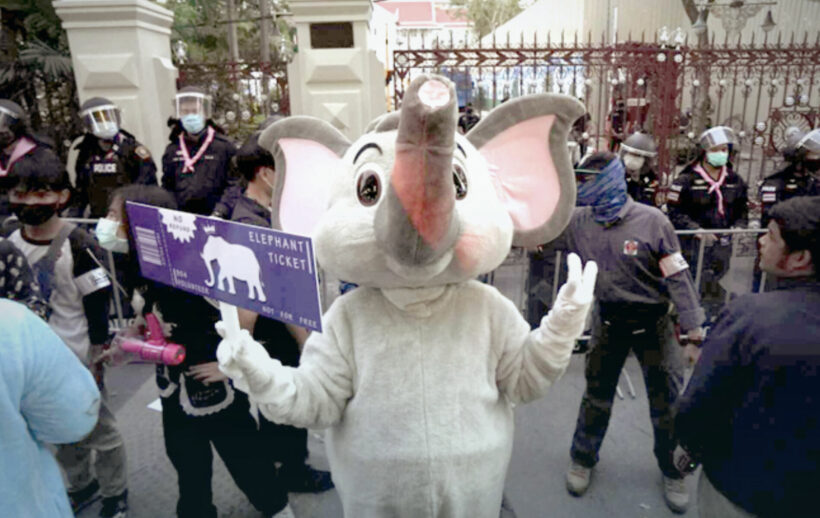 The Royal Thai Police are being accused of using so-called "elephant tickets" to buy their way into promotions and pay their way up the police force's chain of command. The corruption among the police force and the buying of positions without meeting the requirements for a promotion has been a longtime problem, according to the Bangkok Post.
The "elephant ticket" issue was recently brought to light by an opposition MP at a censure debate who said it fast tracked the promotion system and allowed some people who were unqualified and undeserving to raise their rank. Some Thais have protested the "elephant ticket." Many gathered in front of the Royal Thai Police headquarters in Bangkok last week, including one person who dressed up as an elephant.
At the censure debate on February 19, Move Forward Party MP Rangsiman Rome called out PM Prayut Chan-o-cha, who chairs the Police Commission overseeing the Royal Thai Police, and said the prime minister allowed the "elephant ticket" promotions. Prayut later said there were problems within the police force and that he would handle it.
Police who want a promotion need a ticket, which is basically just a reference or a stamp of approval from a senior officer or even a politician or business person. To get an "elephant ticket," some can pay for the ticket. A source told the Post that positions for police superintendents cost between 5 to 10 million baht.
Others can get a ticket by doing favours for their superior or even just serving their superior for a long time, sources told the Bangkok Post. The higher the position a senior officer has, the more tickets they have to give out.
To read the full special report by the Bangkok Post, click HERE.
Keep in contact with The Thaiger by following our Facebook page.
Never miss out on future posts by following The Thaiger.
Woman talks about the life of a Thai "pretty" after model's death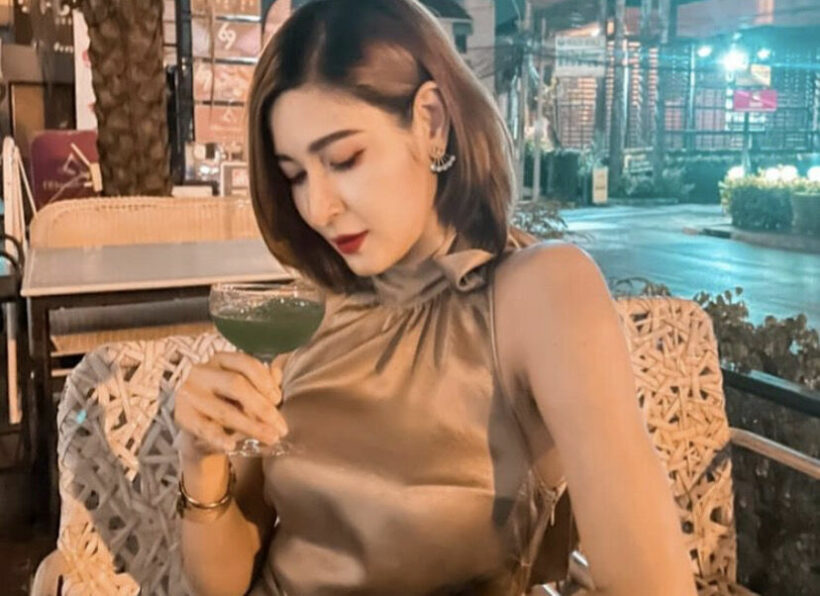 Following the news of a model who died after working as a hostess at a Bangkok party, Thai media spoke with a woman, known in Thailand as a "pretty," about what it's like to work in the lucrative, yet shady Thai model entertainment industry where many work as hostesses at parties and events that often involve alcohol, drugs and sex work.
"Miss Cake" told the Thai news outlet Daily News that pretties are sent to parties by "modelling agencies." The parties are even categorized depending on if drugs or sex are involved. Apparently the parties are either "En-Up," "En-V" or just "En" for entertainment. En-Up means drugs are involved, while En-V means the pretties will offer sexual services. Other pretties work at promotional events like auto shows. Since nightclubs and other entertainment venues in Bangkok have been closed due to the pandemic, many of the parties are now held at private homes.
If a pretty is working at an En-Up party, Miss Cake says that means there will be ecstasy, known as "khanom," the Thai word for a dessert or snack. She says good "khanom" shipped from overseas costs around 900 to 1,000 baht while the poor quality, Thai-made drugs cost 500 baht. Just about every pretty takes drugs, she says. If mixed with ketamine, Miss Cake says it can be dangerous.
Daily News spoke with Miss Cake following the death of a 33 year old Witchayaporn "Wawa" Wisetsombat who worked died in a hospital after working as a hostess at a party in Bangkok's Chatuchak district. She had been hired by a modelling agency to serve drinks at a private party. Her younger sister told the Bangkok Post that Wawa was a product presenter and never sold sex or used narcotics. Doctors told the Post Wawa died from respiratory and blood system failure. They are still waiting for the results for a toxicology test.
The death of another model back in 2019 shed light on the abuse and danger many pretties face in the industry. 25 year old Thitima "Lunlabelle" Noraphanpiphat died from "extreme alcohol intoxication," according to an autopsy report. Her dead body was found in the lobby of a Bangkok condominium. 6 people were found guilty for involvement in Lunlabelle's death.
Abuse is common in the industry and many women working as pretties are often pressured into drinking excessive amounts of alcohol. The work of pretties is looked down upon in Thai society. Due to the stigma, many due not file complaints when they are abused.
SOURCE: Thai Visa
Keep in contact with The Thaiger by following our Facebook page.
Never miss out on future posts by following The Thaiger.