Top 10 Luxury Homes in Thailand (that you can buy)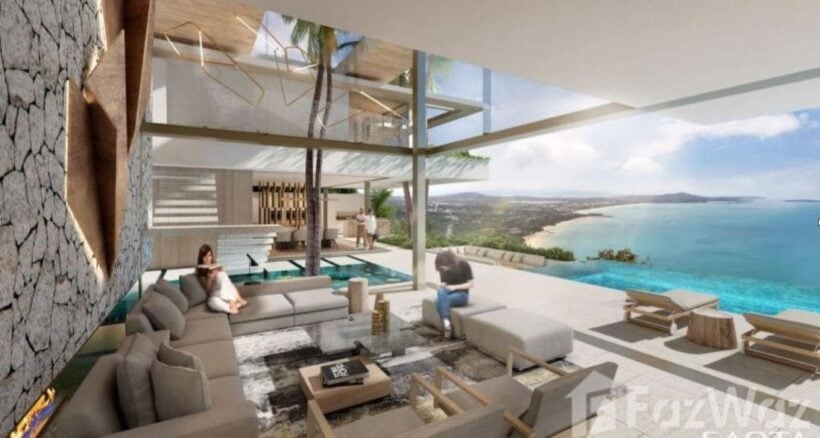 This exclusive home, to be completed in October 2019, is one of only 6 villas in The Heavens project located on Koh Samui island, in the sheltered Gulf of Thailand. While this 5 bed and 5 bath villa is in walkable distance to the famous Lad Koh Viewpoint, the views from the villa itself are even better. Chaweng beach, the city, and the neighboring island of Koh Phangan are all visible, (reachable in 20 minutes by speedboat if you want to check out the Fullmoon party or Half-moon parties), there is also an observatory and telescope onsite available for use by residents.


Living in one of Asia's biggest cities, condo life can be great, but some would rather have their own private homes in Bangkok. With homes like this, it's easy to see why. This spacious and sunny villa is located near several prestigious Thai, and international schools in quiet Asok; a neighborhood popular with tourists for its easy accessibility, shopping, restaurants, and nightlife. Big enough for friends and family to stay with 8 bedrooms and 9 bathrooms, this villa is in convenient walking distance to both the skytrain as well as the subway – but still has its own parking if you would rather drive around the city. But you might not want to leave at all, with your own private pool, gym, garden, and full kitchen.


If you've ever wanted to live in Thailand, or have a tropical island vacation, The Cape Residences is a great place to enjoy a luxurious holiday. It is set on a quiet and exclusive wooded peninsula with view of Phang Nga Bay and its famous natural skyscrapers, the limestone islands that dot the sea. The project was designed by architect Jean-Michel Gathy, who has worked for some of the region's most famous luxury hotel brands like Banyan Tree and The Mandarin. He's now lent his talents to this collection of elegant private residences that include 24 hour security, tennis courts, steam rooms, private pools, as well as access to a world class spa and restaurant.


This 5 bedroom penthouse condo in Pattaya is far from the usual expectations of condo life in Asia. With a private pool and private gym, views of the city, the sea, and mountains, it's easy to forget that you're living in a condo in this 29th floor duplex – especially with almost 1000 square meters to relax in after walking back from the beach or Pattaya's nighttime entertainment.


This home in the Palm Hills Golf Club and Residence is the perfect golf getaway for someone who wants the peace and quiet of living outside Thailand's major cities, while still being able to enjoy a world class golf course and western amenities. After finishing a round among the palm trees dotting the property and taking in panoramic views of mountain ranges surrounding the resort, there is a private pool, jacuzzi, sauna, and clubhouse available before having a relaxing meal at the onsite restaurant. Slightly less expensive than similar homes in Bangkok or Pattaya, this could be a great retirement home in Thailand, a holiday timeshare, or rental opportunity in Hua Hin.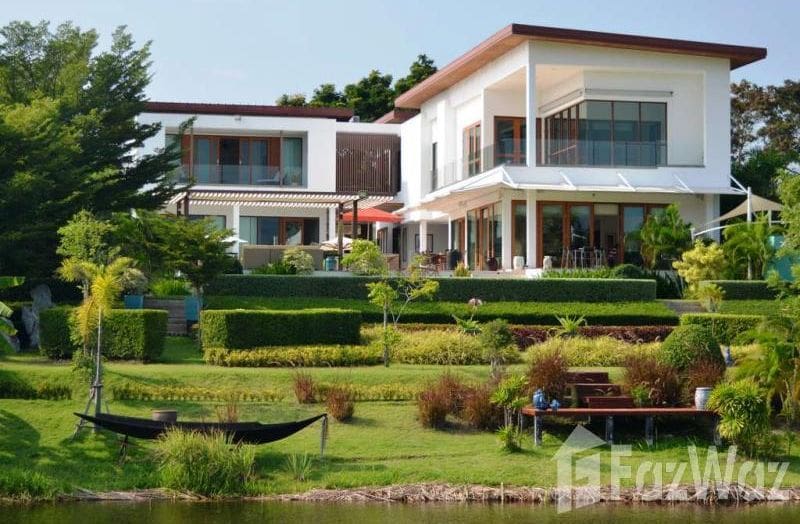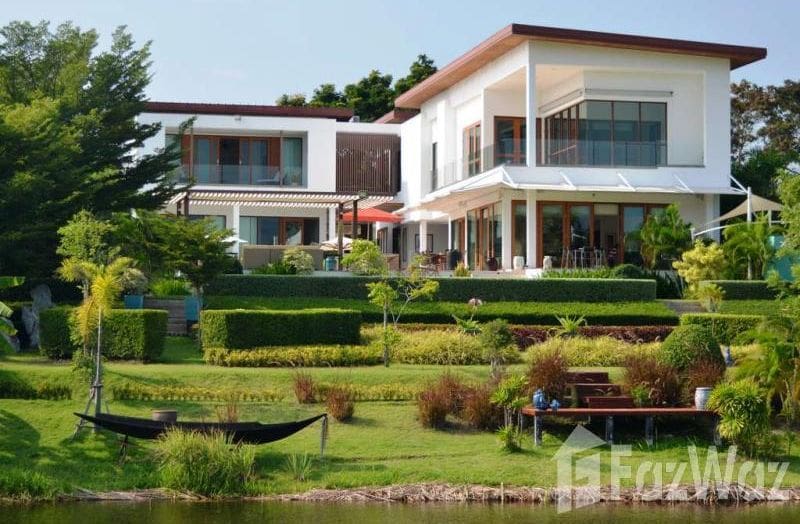 It might not be for everyone, but walking into this house in Chiang Mai, will feel like walking into your own mini Palace of Versailles. Full of bright and wide open rooms, the 2,200 square meter home is covered in hardwood floors and marble tile, with some recessed and high ceilings – making it easy to keep cool in this tropical country. The classical theme includes spiral staircases, and even some Doric and Corinthian style columns. Despite the classic look, it's not without modern conveniences like a jacuzzi.

Removed from the touristy areas and located in the quiet north eastern section of Koh Samui island, Laem Yai, this house is still just a short motorbike ride away from the busy Chaweng beach or Lamai beach. The two story, three bedroom house is one of just fourteen in the Estates Samui development. It includes two onsite restaurants serving both international and Thai food, a spa and health club, yoga pavilion, tennis (with lights for nighttime matches), golf, as well as beach and water sports. The villas feature an unobstructed panoramic view of the ocean with floor to ceiling glass, and master bedrooms include their own private pools.

Koh Samui seems to be a favorite for builders and developers, as there's no shortage of luxury vacation rentals and dream homes. This three floor, eleven bedroom villa is no exception. Bophut is quaint fishing village, but closer to Chaweng than Laem Yai. The property makes great use of the natural landscape by nestling itself into the rising mountains and giving a great view of the surrounding mountains and jungle as well as the Gulf of Thailand. When not taking in the sights, one can relax in the private pool or garden, or lounge out in the sun deck.

While Koh Samui has countless options for luxurious island getaways, Phuket is easily one of its biggest rivals. One great example of what a holiday home in Phuket has to offer is this three floor, six bedroom villa in the Ayara Surin development, which has only 21 other units. The infinity saltwater pool looks out to the Andaman Sea, and after swimming there's a jacuzzi, spa, and bar available to really enjoy your holiday. All this, and still just a walk to Surin beach.

While some Bangkok residents are relegated to living in thirty square meter apartments, there are still opportunities to enjoy spacious dream homes. In Bangkok, there are plenty of private homes if you're looking for an alternative to condos. This five bedroom house in Sukhumvit, includes a massive garden surrounded by privacy walls, its own pool, balcony and terrace, and a full western kitchen. Covered parking is included, but it's also a short ride to the subway.



Find more property for sale and rent across Thailand at Thaiger Property, powered by FazWaz. You can even list your property for free.

Read more headlines, reports & breaking news in Thailand. Or catch up on your Thailand news.

Find more Thailand top 10s and top 10s in Thailand on The Thaiger.
Top Five things to consider if you're buying a condo in Thailand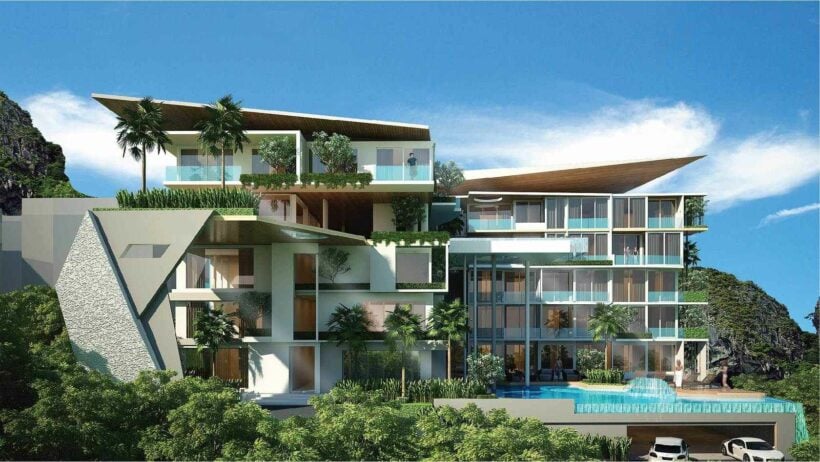 Not quite a Top Ten but some good straight-talking about buying condominiums in Thailand from Desmond Hughes from Hughes Krupica…
One of the most commonly read or spoken summary of foreign ownership of property in Thailand is along the lines of
"Foreigners can buy a foreign freehold condominium in their name".
At this sentence, many foreign investors switch off, and assume that the rest of the detail provided by the author may be legal mumbo jumbo or a thinly veiled attempt to win their business.
In fact, there is quite a lot you should know about Thai condominiums, before you start property hunting. As my clients don't generally spend their time reading legal journals and legislation unless they have to, I have set out a mixture of legal and practical matters below without much distinction:
1. Only 49% of the Registrable Area of a condominium can be sold to foreigners.
In Bangkok, this is not likely to have any impact on you. Most of the buyers and owners of condominiums in Bangkok are Thai nationals. Even in condominiums popular with foreigners, it is an uncommon phenomena that foreigners would ever outnumber Thais as owners in a building. You might ask why the rule even exists, but there is a fear and protectionism in many Asian countries, not just Thailand, to try and keep foreigners 'controlled' through numbers and perecentages.
In other places – Phuket; Pattaya; Koh Samui; Chiang Mai and Hua Hin particularly you should apply caution to ensuring that the correct 'quota' of foreign units is available to be sold to you on a freehold basis.
2. Banks often advertise they will give finance, even potentially to foreigners, but in the end – don't
I speak from personal experience and from that of my clients. For my first condo investment in Bangkok, I had to take out a loan with HSBC which was then taken over by a Thai bank. My loan had to be in foreign currency, because in order to buy a foreign freehold condominium – you have to send foreign currency into Thailand from overseas to generate 'foreign exchange transaction forms' to register the title to a foreigner at the land office. This means a lot of hoops for a bank to jump through simply to provide a mortgage. Foreigners are also viewed as flight risks by Thai banks and they do not wish to spend their time chasing foreign assets. This all means that a very high percentage of the foreign buyer market is cash based, which is good for the stability of that part of the condo market.
If you are tempted to try and take out finance applications to banks, be aware that the banks are looking for you to have some business in Thailand; perhaps to be married to a Thai national who preferable from the bank's perspective will have some degree of wealth for self-support; and that you have other assets in Thailand with a history of using and paying off credit such as credit cards.
3. There is an oversupply of condominiums in Bangkok at the moment and rental yields are traditionally low in terms of % compared to more expensive Asian neighbors – Hong Kong and Singapore, and further afield
A condo in a prime rentable area at a high investment price can remain rentable due to its extremely useful location and amenities. If such condo has a 24 hour supermarket in the basement of the retail area and dozens of restaurants, as a condo building I am thinking of does have such amenities, then it will remain rentable for some time if the property is maintained. However, another condo at the end of the same 'Soi' and post building and delivery could remain unrented after many months and even if the rent is cut to 50% of the market price. Don't just take my word for the state of the market for condo rentals in Bangkok, ask the agents.
In addition to this, the authorities are taking a closer eye at tax declarations and 'cracking down' on undeclared taxes – not just personal income tax, but the 'business tax' of 12.5% for renting units out. This all adds to the costs of investing and renting in a condo, and you must calculate this into your budget and forecasts to avoid living in fantasy land about dream returns.
3. You won't have any say in how the condominium is managed
Unless you buy up over half of the voting rights attached to units in the entire building, you will be a minority voice on issues like the raising of the common area fees; use of the 'sinking fund' – the fund to make capital repairs, changes to the rules and regulations and general maintenance decisions, even of some significance. Don't imagine standing up at an co-owners meeting voicing your opinions and somehow making headway in 'changing' the direction of the management of a building. The way in which a building is managed boils down to how the developer has structured ownership, whether the developer retains many units and a large % of the voting rights or not, and whether the developer plans to self-manage or outsource management of the asset to a reputable or not-so-reputable management company.
If you don't check the management plan then I can reference lots of analogous situations where you would take more care – if you buy a car, you should think if there are any decent repair centres nearby and at a reasonable price – Ferraris in Phuket aren't currently easy to maintain, I would imagine, as a non-Ferrari owner and observer of the state and condition of the roads in that Province. You also wouldn't, I hope, buy a smart phone without knowing you could have the phone service, fixed and various parts replaced on reasonably short notice. As a property is a far higher value of investment, a lot of investigation into the management plan is necessary.
4. Don't Believe the Hype – It's a Sequel
False Media, we don't need it do we? If you see a glossy marketing brochure and are told that the developer 'has to deliver on its promises by law' – be wary. To take one example, I bought a condo under which a 'private wine cellar area with personal secure wine bottle storage space' would be provided to every buyer. Amazingly, without any shame at all, the famous developer constructed an unchilled cheap wooden cabinet with glass doors, no locks next to 4 sofa chairs in the open space corridor between a swimming pool and the gym. If you wanted to fry an egg on the 'wine cabinet' then that was highly likely to have been possible.
These kind of things are not all 'horror stories' – I actually got a decent condo notwithstanding the missing items. However, you will often have to compromise when in more highly regulated and supervised jurisdictions, you would not. Compromise is a very common work in Thai society and it applies to business and consumer purchases too.
5. Set up your ownership for easy re-sale
If you are buying a condo as a 'foreigner' and paying cash, then you can buy your condo through a foreign company, and sell the company later. This is only worth doing if the cost of setting up and maintaining the foreign company is reasonable and the company you set up is 'saleable' and attractive to others. You should not carry out this kind of structuring to 'avoid tax'. However, you can set up this kind of structure, pay tax on the purchase, and subsequently deal with your company as you see fit, provided a buyer is willing to buy it. If such a company receives rental income, then even if it is foreign it is till liable to taxes as the use of the 'immoveable property' for generating revenue isn't deemed to be 'outside' of Thailand, and that applies even if the company tries to contract for and receive the rent outside of Thailand.
Desmond Hughes has operated and owned 2 law firms in Asia in 14 years spanning Thailand; Vietnam; Indonesia with clients in all of Asia and other markets investing inwards into the region with his existing firm Hughes Krupica possessing a large market shares in its fields of expertise. 
Phuket's hotel and property players look north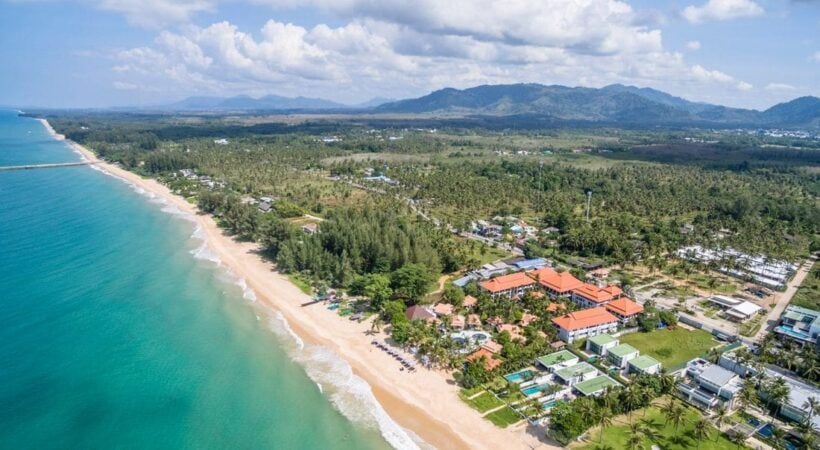 by Bill Barnett of c9hotelworks.com
One of Greater Phuket's real estate and hotel market's that has a decided buzz of late is the area north of Phuket over the Sarasin bridge in Phang Nga.
In Natai Beach, the entry of the Baba Beach Club and nearby Akyra has created renewed visibility for the broad West Coast stretch of white sand beach, extending north beyond Phuket.
Two upscale hotels are in the development phase in the vicinity, with one being flagged to an international hotel operator.
Up at the 1,000 plus rai Thai Muang mega-project, movement is once again underway, as is a nearby massive Japanese-led mixed-use project including a golf course.
Land values are currently running amuck in the Koh Kloi area where the AOT (Airports of Thailand) has reportedly acquired land for an upcoming Phang Nga airport which will provide Phuket with a second gateway alternative.
Premium land transactions are taking place, with the most notable being the recent trade of the former oceanfront site in Bodan that was to be at various stages first a Raffles and later a Ritz-Carlton Reserve.
Looking at Phuket's light-rail initiative, one knock-on effect will be the eventual linkage between the island and larger connection to a broader rail terminus in Koh Kloi. This will likely spur real estate speculators to acquire peripheral locations.
As Phang Nga's West Coast four land highway expansion moves forward to Khao Lak and beyond, Phuket's Northern neighbor is seeing a renewed push in its tourism, property and infrastructure.
Ocean Property launch first Phuket development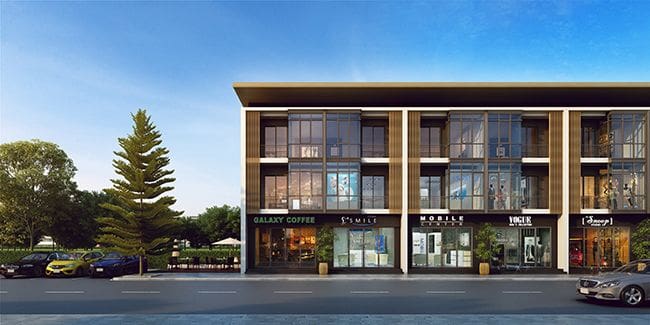 Thai real estate developer, Ocean Property, are continuing to expand outside of the capital with the launch of their first real estate development in Phuket – a townhome and modern commercial home office project "Ocean Town Muang-Ratsada".
Located in the heart of Phuket providing owners with easy access to all major infrastructure and island facilities, prices start from just 2.69 million baht.
With property interests in Bangkok, Pattaya and Khon Kaen already, Ocean Property recognises central government's considerable investment in the island's infrastructure and Phuket's strong tourism fundamentals, and are investing in Phuket confident of residential demand on the island.
"Ocean Property is confident in Phuket's property market. We see a trend of future growth and market expansion on the back of the island's ongoing development and tourism industry growth. Our research has identified a number of buyer groups, for example, civil servants, private-sector employees and entrepreneurs, that we believe will be interested in our Ocean Town Muang-Ratsada project," said Mr. Napong Paripontpochanapisuti, Acting Managing Director of Ocean Property Company.
"Government investment in the island is set to continue with planned expansion of the island's transportation network such as enlarging Phuket's international airport as well as a Light Rail Transit system from Phang Nga to the south of Phuket."
Ocean Town Muang-Ratsada is a quality townhome and modern commercial home office development located on more than 20-rai in Phuket City and with a total development value of 700 million baht.
The project comprises 187 units including two types of two-storey townhomes: "Tide" (116 units) and "Shallow" (55 units). Tide's architectural plan offers four bedrooms, three bathrooms and two parking spaces with a 5.7-metre wide frontage.
Sizes start from 20 square-wah with a usable area of 155 sq.m. Shallow's architectural plan offers three bedrooms, two bathrooms and one parking space, also with a 5.7 metre wide frontage, and sizes start from 20 square-wah with a usable area of 115 sq.m.
In addition, there are 16, three-storey commercial home office buildings known as "Crest".
All have a 5-metre frontage, sizes start from 23.80 square-wah and have usable area of 195 sq.m. The townhome prices start from 2.69 million baht and the commercial home office's from 4.89 million baht.
The properties use warm and relaxing colour tones together with quality materials, and include home innovations that help reduce the use of electric lighting through smart roofing systems which allow more natural light inside (Smart Touch Tech Roof and Sky Light Roof), the latest LED Panels which use considerably less electricity than more traditional bulbs, as well as new tech glass which allows 75% of natural light through and only 49% of the heat, helping to keep the property cooler.
There are additional green areas around the development and security onsite includes CCTVs, a key card system, Smart Home Security System and 24-hour guard team, giving resident's peace of mind.
Ocean Town Muang-Ratsada is located on Srisuthat Road in Phuket City. The area offers convenient travel to schools, universities, government offices, hospitals and shopping centres. Construction has started and is expected to be completed in the third quarter of 2020 with show homes to be open for visiting this coming May.
Units at Ocean Town Muang-Ratsada are available for reservation and purchase.
Register now at www.oceanproperty.co.th for more information.