"This is not a hotel" – Share economy exploits loopholes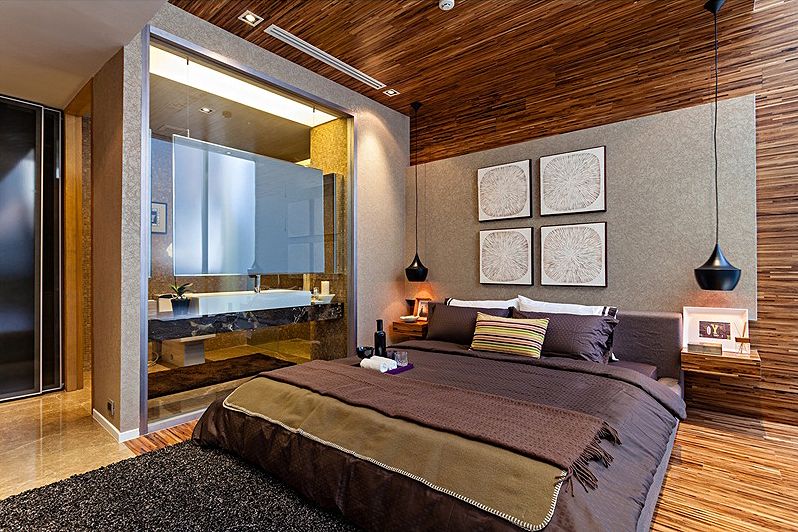 by Nophakhun Limsamarnphun
Explosion in short term rentals causes problems for hotels and reduces tax revenues.
Legal loopholes and lax regulation of the hotel business have led to a large number of unlicensed hotel operators and unregistered guests in major tourist destinations in Thailand, according to government and private sector officials. In addition, the widely-popular sharing economy has prompted new generations of property owners, consumers and holidaymakers to use online and mobile platforms to rent out their units or to book holiday rentals and other forms of accommodation.
Supawan Tanomkieatipume, president of the Thai Hotels Association, said the 'sharing' economy could not be stopped, because more and more consumers preferred to use these platforms rather than continuing to use the services of traditional hotels. However, she said, many hotel operators have also adopted the new technology behind the sharing economy and various online platforms to accommodate consumer behaviour changes.
"We're not discriminating against online sharing and other platforms but we hope all the parties concerned abide by the law," said Supawan.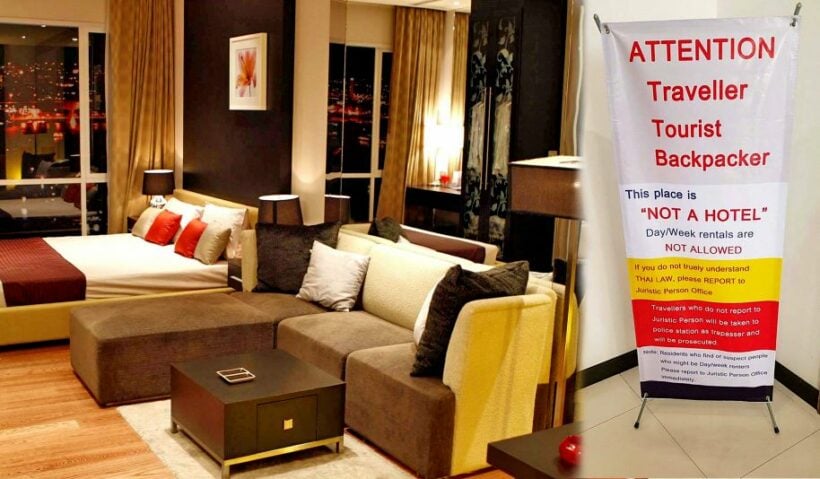 The government is supposed to ensure that accommodation owners register their guests properly and follow other regulations on safety, as well as forwarding their guests' identities to immigration authorities, she said. In addition, they are required to pay local and other taxes as licensed hotel operators do.
So far, the government has been lax on enforcing these regulations while the number of condominium and other privately owned accommodation units serving tourists and other guests continues to skyrocket. At present, the Interior Ministry and local government agencies have jurisdiction over hotel and other rental accommodation operators.
Tourism and Sports Minister Weerasak Kowsurat says current Thai hotel law allows individual property owners a maximum of four rental rooms that can accommodate a maximum of 20 guests. They can operate like a hotel or other accommodation providers without having to register as operators.
This is seen as a legal loophole and has led to a fast-growing number of condo and apartment units being rented to tourists, especially in Bangkok and other popular tourist destinations, as online booking and sharing platforms experience phenomenal growth, including Airbnb, Booking.com and Agoda. Airbnb and Booking.com representatives could not be reached for comment.
Critics have said unregulated accommodation operators have contributed to the rise of visa overstayers and cross-border criminals using the country as a hiding outpost. According to Supawan, Thailand has about 300,000 to 400,000 licensed hotel rooms but the actual number of hotel rooms and other rentals being used is thought to be double those figures.
A huge but largely unknown number of hotels and other forms of accommodation are neither registered nor paying taxes properly, said Supawan. This has negatively affected law-abiding hoteliers due to the widespread unfair competition.
"We have reported this situation to the government which is losing a lot of tax revenues from these unregistered hotel and accommodation providers," she said. Regarding Airbnb and similar private rental accommodation services, a court in Prachuap Khiri Khan province has ruled that renting out condo units to tourists is not legal.Udom Srimaha-chota, vice president of the THA and a hotel owner in the tourist resort of Hua Hin in Prachuap Khiri Khan, recently submitted a letter to the province's governor, urging local authorities to take legal action against those turning their condo units and other private properties into daily tourist accommodation.
Udom said some condo projects in Hua Hin and other nearby resort towns were also allowing tourists to stay in their unsold rooms and charged them on a daily basis, in violation of the hotel business law. The unregulated service, says Udom, has led to safety, security and other problems for tourism and other authorities, since guests are not properly registered with local and immigration authorities. There is also no proper tax collection.
Many online and other advertisements promote condo units and apartment rooms as tourist accommodation in Hua Hin without having the proper licenses, Udom added. On the sharing economy, Weerasak said the fast-growing trend among tourists to use online platforms such as Airbnb for accommodation had multiple consequences. In his opinion, the sharing economy was supposed to enable people with surplus accommodation to rent it out but this was being widely abused.
"For example, you may rent out a room at your own house to guests but this has turned into a commercial activity for many people who buy or invest in multiple condo units and rent them out to tourists on a daily basis, just like hotels," he said.
He admitted that there were legal loopholes in the Thai hotel business law, including an allowance for landlords to not need a hotel licence unless they had more than four rooms or guests exceeding a total of 20. In response to this trend, authorities have encouraged unlicensed operators to report their guests to authorities, but enforcement of this has not been strict.
Weerasak also noted that licensed hotel operators had faced unfair competition from these operators, who should be required to report the names of their guests to immigration officials as well as pay local government fees and taxes.
Furthermore, said Weerasak, there was also the matter of protecting other condominium residents, in particular the neighbours of units being rented out daily, whose quality of life was negatively |affected by the activities and behaviour of guests and tourists staying at the same building.

STORY: The Nation
Keep in contact with The Thaiger by following our
Facebook page
.
Never miss out on future posts by
following The Thaiger
.
TAT announces update to compulsory Covid-19 insurance for foreign visitors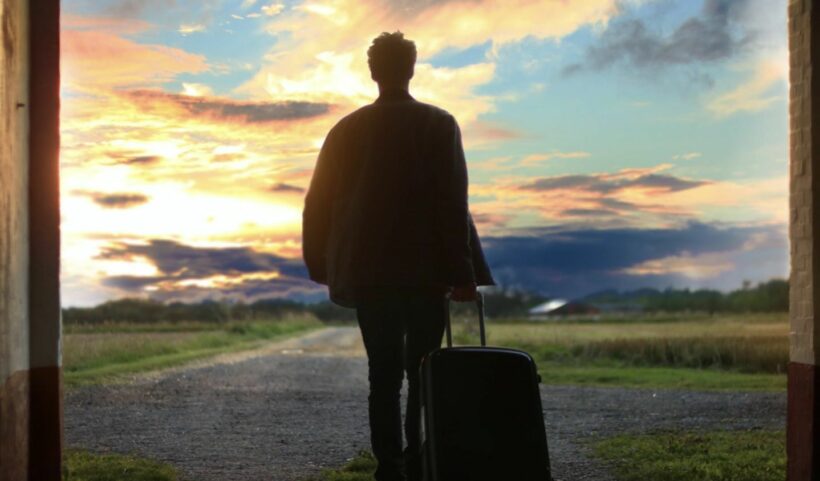 The Tourism Authority of Thailand has announced today an update about compulsory Covid-19 insurance. They say it's now "conveniently" available online in a one-stop-shop. Up to now the compulsory Covid-19 insurance, a pre-requisite before foreigners can come to Thailand, under any visa, was through selected insurance providers at their own websites. The Thailand Office of Insurance Commission has allowed the review of its policy, making it easier to find and purchase the compulsory insurance.
"Foreign travellers will enjoy the following advantages of purchasing an OIC-endorsed medical insurance policy, which is available online HERE."
The update provides additional clarity and ease for people looking to travel to Thailand at this time.
"The Tourism Authority of Thailand is pleased to share the latest announcement that foreign visitors will be able to purchase compulsory Covid-19 insurance policy online prior to visiting the Kingdom."
TAT Governor, Yuthasak Supasorn says the compulsory insurance is part of any package of documents that will need to be completed by foreigners entering Thailand at this time.
"A medical insurance policy with at least US$100,000 coverage or about 3.16 million baht for possible Covid-19 treatment is among the official documents required from foreign visitors planning to visit Thailand."
"TAT hopes the Covid-19 insurance protection program, under the regulation of the OIC, offers additional peace-of-mind for foreign visitors and hopefully makes it easier for inbound travellers before departing from their country of origin."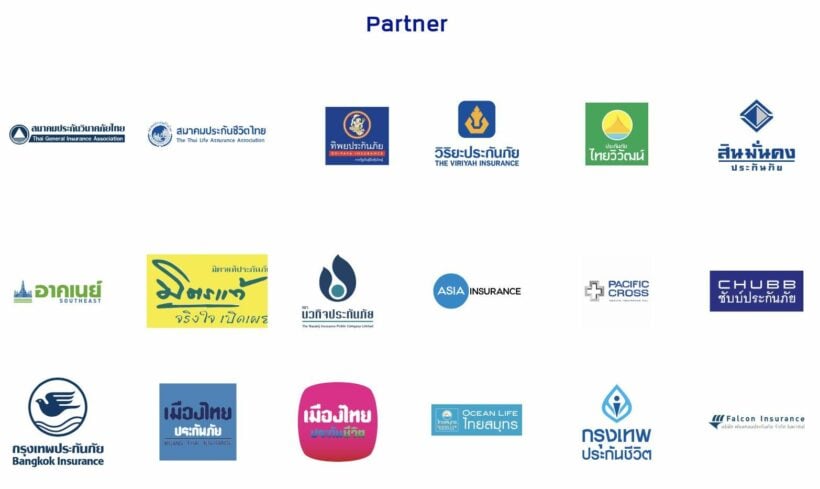 The Thai General Association and the Thai Life Assurance Association, plus 16 leading and non-life insurance companies in Thailand are partnering together with the oversight according to regulations from the OIC to offer the Covid-19 insurance protection program to foreign visitors.
The insurance policy has been approved by the Thai government and can be used in the Thai visa application process. Coverage begins immediately upon arrival in Thailand.
No need for advance payment or out-of-pocket expenses when admitted at private hospitals nationwide. Insurance coverage does not exceed US$100,000 or about 3.16 million Baht.
In the case of death from Covid-19 infection, the insurance company will provide a life insurance benefit of USD $100,000 or about 3.16 million Baht to the beneficiary.
The insurance premium cost is reasonable, the process is overseen by the OIC, and purchase can be done efficiently online.
Thailand's public health infrastructure and healthcare facilities, as well as healthcare professionals are recognised as some of the best in Asia for treating infectious diseases.
Here's an example of some of the costs for packages that vary from 30 days to 1 year. The premiums range from 1,600-4,800 Baht for 30 days of coverage; from 2,880-8,640 Baht for 60 days; from 3,840 – 12,160 Baht for 90 days; from 7,680 – 23,040 Baht for 120 days, and from 14,400 – 43,200 Baht for one year.
The Thaiger recommends that, before you make any other travel arrangements about a trip to Thailand, including the booking os flights or ASQ hotels, you should make general enquiries at the Thai Embassy or Consulate-General in your country.
SOURCE: TAT
Keep in contact with The Thaiger by following our
Facebook page
.
Never miss out on future posts by
following The Thaiger
.
The World's 50 Best Foods… Thai massaman curry tops the list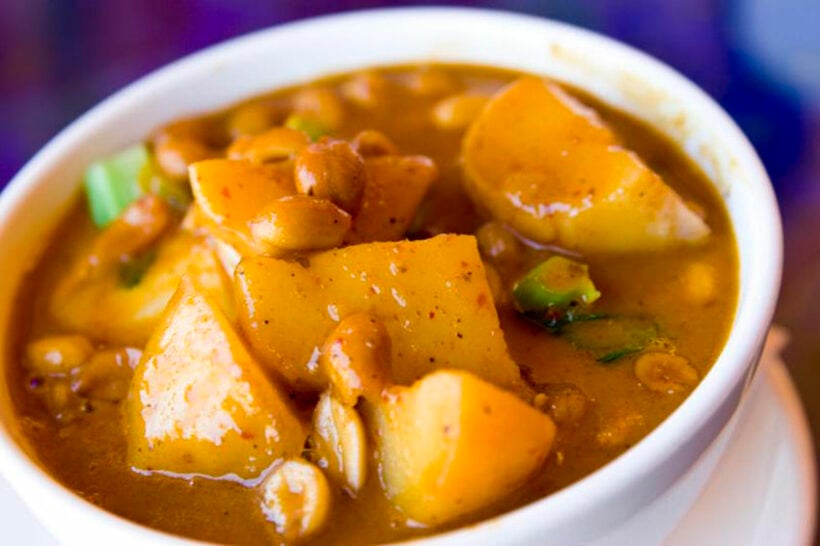 The humble Thai massaman curry has topped a list of the World's 50 Best Foods, compiled by the CNN Travel team. Thailand's smooth coconut milk and potato-based curry (add meat, tofu or vegetables of your choice) comes in at Number 1, with 2 other popular Thai dishes also making it into the World's Best food list.
The hot and spicy shrimp/prawn soup, Tom Yum Goong, comes in at Number 8, with papaya salad, aka somtam, in 46th place (mai phet please!) Tell us your favourite Thai dish, and why, in the comments section (below).
CNN Travel says its staff conducted extensive research on global cuisine to find the 50 best dishes ever created. Nice work if you can get it…
Italian pizza, Mexican chocolate, Japanese sushi, Chinese Peking duck, Penang Assam laksa, Malaysia and German Hamburger also top the delicious list.
Here's what the writers had to say about the 3 Thai dishes that made the top taste grade…
First Place, Massaman curryEmphatically the king of curries, and perhaps the king of all foods. Spicy, coconutty, sweet and savoury. Even the packet sauce you buy from the supermarket can make the most delinquent of cooks look like a Michelin potential. Thankfully, someone invented rice, with which diners can mop up the last drizzles of curry sauce. "The Land of Smiles" isn't just a marketing catch-line. It's a result of being born in a land where the world's most delicious food is sold on nearly every street corner.
Eighth Place, Tom Yum Kung
This best food Thai masterpiece teems with shrimp, mushrooms, tomatoes, lemongrass, galangal and kaffir lime leaves. Usually loaded with coconut milk and cream, the hearty soup unifies a host of favourite Thai tastes: sour, salty, spicy and sweet. Best of all is the price: cheap.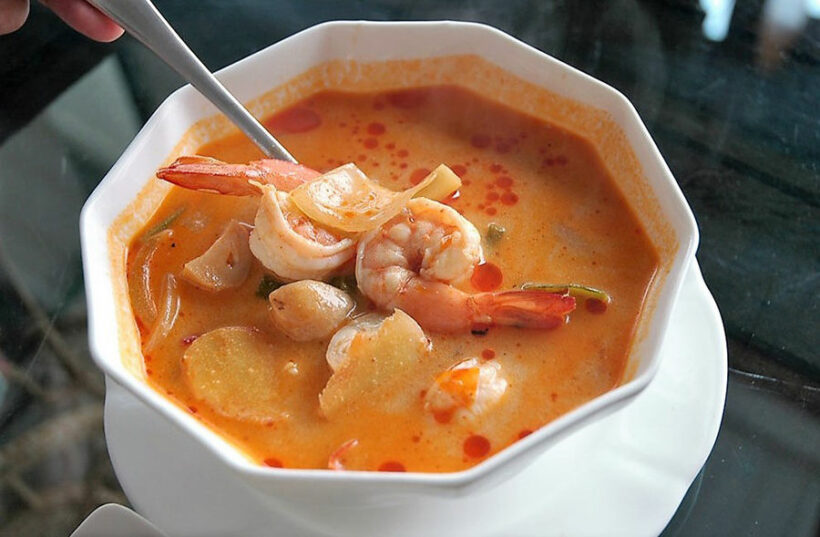 PHOTO: Richard Lee on Flickr
46th Place, Som Tam/Papaya salad
To prepare Thailand's most famous salad, pound garlic and chilies with a mortar and pestle. Toss in tamarind juice, fish sauce, peanuts, dried shrimp, tomatoes, lime juice, sugar cane paste, string beans and a handful of grated green papaya. Grab a side of sticky rice. Variations include those made with crab (som tam pu) and fermented fish sauce (som tam pla ra), but none matches the flavour and simple beauty of the original.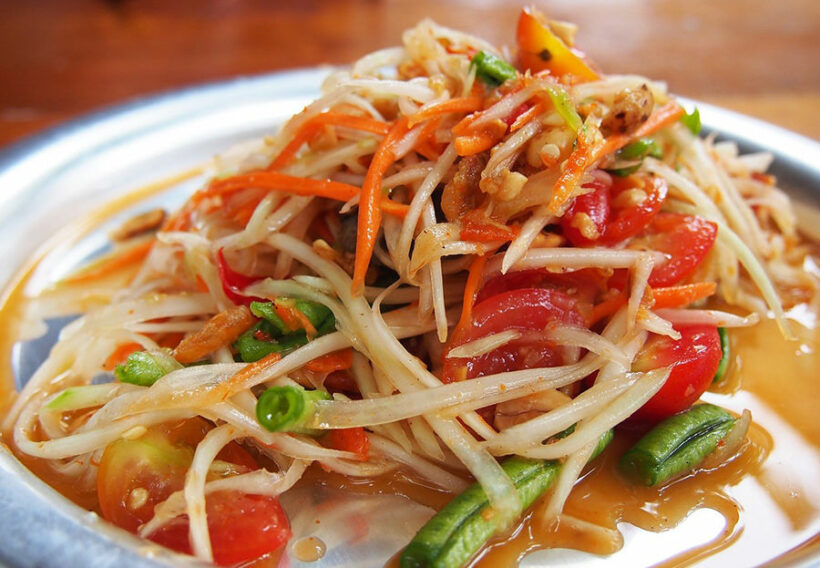 PHOTO: www.needpix.com
SOURCE: Thai Residents | CNN Travel
Keep in contact with The Thaiger by following our
Facebook page
.
Never miss out on future posts by
following The Thaiger
.
Preparations for the emergency session of the Thai Parliament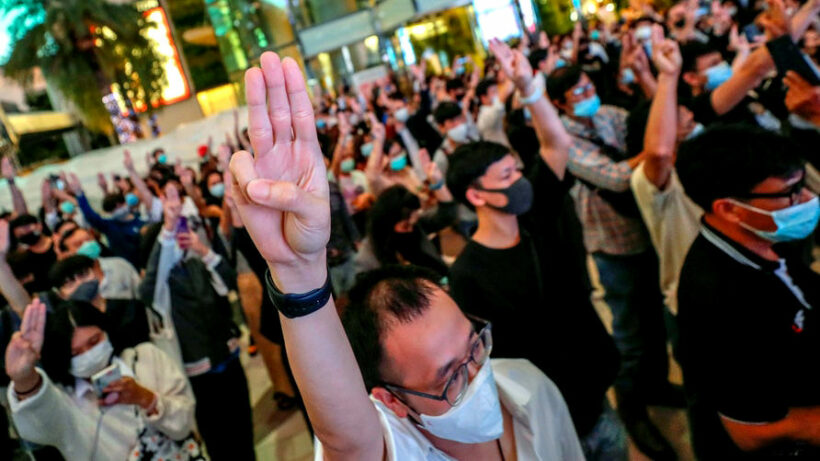 The Thai Parliament is getting ready for an extraordinary session called by the Lower House Speaker to debate the current impasse between the protester's demands and the PM and government. The session will be held on Monday and Tuesday. But even before the emergency session begins, government and opposition parliamentarians cannot decide on the terms of the debate.
Parliament president and lower house speaker, veteran Chuan Leekpai, hosted a meeting yesterday in preparation for the "extraordinary joint session" which will run over 2 days. He says the session will debate "ways to defuse the ongoing political crisis". The debates will involve both houses of parliament, constituting the elected MPs of the lower house and the hand-picked, unelected Senators of the upper house. The preparatory meeting included members of cabinet, government coalition parties, opposition and the upper house.
Outside of the unfinished Thai parliamentary building, police and security officials were preparing for expected return of protests and a large turnout for the next round of political rallies. The protesters have already made this Sunday night the deadline for the Thai PM to resign, having already decided to co-operate with the PM after his Wednesday night request for the protesters to "stand down' pending parliamentary discussions.
It's unlikely the PM will meet this deadline and will participate in the 2 day emergency session.
The 2-day special session is being held under Section 165 of the 2017 Thai constitution which states "the government can request a joint House-Senate sitting for a general debate". The next scheduled session of parliament was November 1.
But even the terms of the motion for the emergency session is causing debate before the doors even open for the emergency session. Opposition parties are demanding that their be the opportunity for a substantive vote following the session so that some concrete progress can be made to diffuse the current political crisis.
"We may refuse to be involved in the debates unless there is an opportunity to vote on the motions."
Sutin Klungsang, opposition whip from the Pheu Thai Party, says unless the topics covered actually address the protesters demands, there is little use in turning up to the sessions.
The Move Forward Party's (including remnants of the disbanded Future Forward party) Chaithawat Tulathon, says there must be a motion which includes the protesters' key demands… that PM Prayut Chan-o-cha resign, a new constitution be written and the role of the Tha monarchy be limited and codified.
"Parliament should serve as an example in discussing sensitive issues in an appropriate and mature manner."
SOURCE: Bangkok Post | Reuters | Nation Thailand
Keep in contact with The Thaiger by following our
Facebook page
.
Never miss out on future posts by
following The Thaiger
.