Thailand News Today – Tuesday, April 7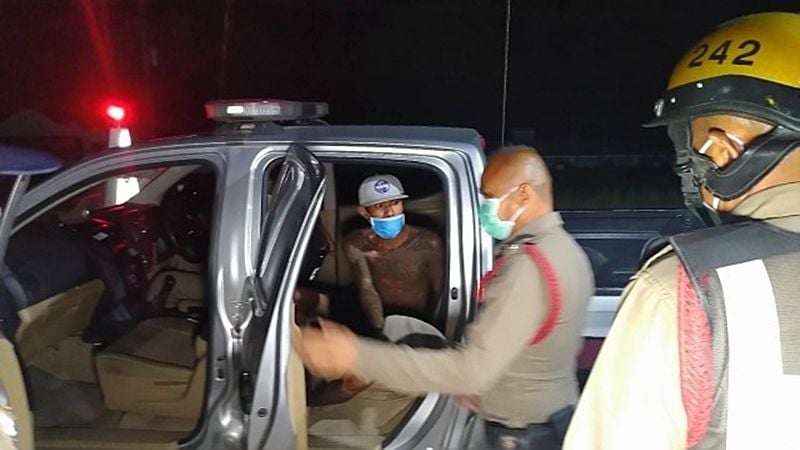 New coronavirus cases in Thailand fall to 38, 1 more death
In another dramatic drop in new case numbers, Thailand's Centre for Covid-19 Situation Administration reported only 38 new Covid-19 coronavirus cases in the previous 24 hours, and one additional death.
The cumulative death toll for Thailand now stands at 27.
The 38 new infections appears to show a declining trend from the 51 cases reported yesterday and and the 102 logged on Sunday, but officials warn there is no way to know the actual number of cases and how quickly the virus is spreading because, as is the case worldwide, very few people in Thailand have been tested.
Of the new 38 cases, 17 people were in close contact with previous patients. 11 of them were in Bangkok and contracted the disease from family members, colleagues and friends. 7 new patients worked in crowded areas or closely with foreigners: 
Other new cases included 3 health workers, 3 visitors to crowded places and 3 Thais who returned from overseas. 5 cases are still under investigation.
Surat Thani village headman kills monk and his assistant
Avillage headman in Surat Thani has been arrested after allegedly killing a monk and his assistant near the entrance to Khao Phela monastery. 
Police arrived at the scene at 2am where they found a pickup loaded with torches, fuel and coconut husks. A 48 year old man was lying dead on the back of the vehicle with a gunshot wound to his neck.
10 metres away was the dead body of a 49 year old monk lying on the ground. He had two gunshot wounds, one in the back of his head and the other in his chest.
A .32 handgun was found near his body.
55 year old Manop Kopin, the headman of a village in tambon Samor Thong, was waiting for authorities and surrendered himself. Police are continuing the investigation.
Indonesian cases spike, 24 doctors have now died
The Indonesian archipelago has announced its highest daily increase in Covid-19 coronavirus cases. There has also been a concerning rise in the deaths of doctors and health workers at the frontline of the national fight against the disease. Statistics have doubled in the last week.
The 209 confirmed deaths is the highest death rate and number of fatalities in Asia, outside of China. 
A spokesman for the Indonesian Doctors Association, also confirmed that 24 Indonesian doctors have now died from Covid-19 causing regional medical authorities to fear that the real rate of Covid-19 infections in Indonesia is much higher than reported.
CAUTION: Sterilising machines unsafe for humans
Thailand's Food and Drug Administration deputy secretary-general says that The World Health Oraganisation is encouraging people not to use any Covid-19 "sterilising machine services", including UV and spray tunnels.
He says they are harmful to the skin and exposure to the radiation or chemicals may even cause cancer.
"Most of the antiseptic used in the spray tunnels are those allowed for sterilising surfaces of various materials, but not for human skin. 
Don Mueang Airport uses hiatus to upgrade
Bangkok's Don Mueang international airport is turning the Covid-19 crisis into an opportunity to do a make-over whilst there is virtually no one in the terminal.
The coronavirus outbreak has forced the suspension of domestic and international flights, grinding air traffic into and out of Don Mueang airport to a complete halt.
So the airport is pushing ahead with a refurb costing 126 million baht.
There are three projects – a 99 million baht improvement of the air-conditioning system, a re-carpeting of most of the terminal priced at 18 million baht, and a nine million baht switch to LED lights to save energy.
Don Mueang is the country's second busiest airport, after Suvarnabhumi. A plan is also afoot to expand Don Mueang largely served by budget carriers.
Keep in contact with The Thaiger by following our
Facebook page
.
Thailand News Today – Monday, May 25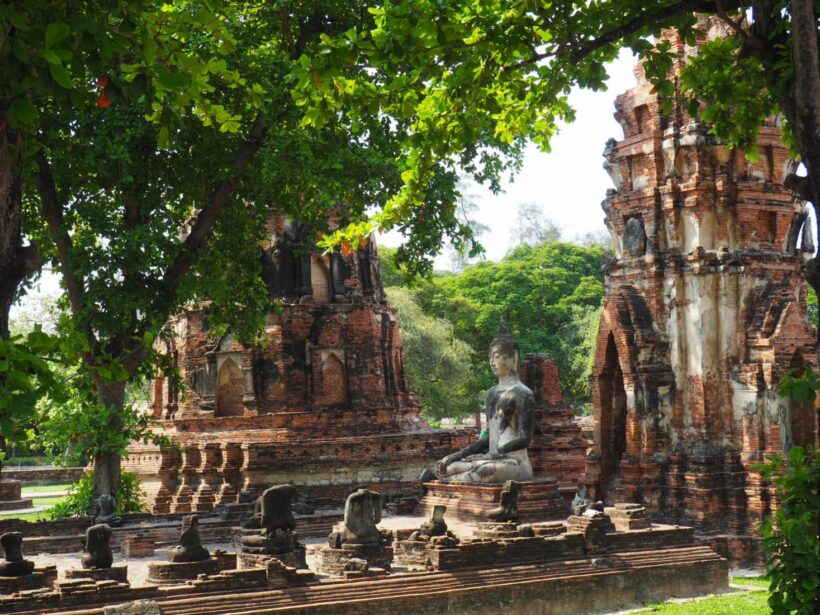 2 new cases of Covid-19 reported in Thailand with one additional death
Today there have been 2 new confirmed cases of the Covid-19 Coronavirus in Thailand with 1 additional death. 
The 2 new cases consist of 1 imported case from a Thai National being repatriated from Russia last Wednesday. She's currently under state quarantine in Chon Buri province.
The other was a 49 year old Chinese wife of an Italian who had been infected with the virus in Cherngtalay, Phuket. She has 3 children aged 15, 10 and 7 and currently showing no signs of any symptoms. Cherngtalay is the tambon bordering Bang Tao, which was a hotzone for new cases during April and early May.
The additional death was a 68 year old Thai woman in Chumphon, southern Thailand. She was reported to have had underlying issues when she succumbed to the disease.
From beauty queen Thailand's new face in Covid-19 reporting
Crowned Miss Thailand 2008, Dr Panprapa Yongtrakul returned to the spotlight last week as assistant spokesperson of the Centre for Covid-19 Situation Administration.
She'll be reporting about the pandemic every weekend from now on.
She's taken over the weekend duties from the reassuring face Dr Taweesin Visan-nu-yothin who has been an extremely professional daily voice of CCSA since it was established on March 26.
In 2008, Panprapa was crowned Miss Thailand at the age of 20. It had been her dream since childhood to become a beauty queen. Now she's the weekend face of the daily CCSA reports. She's yet to be tested when taking questions from the Thai and foreign media.
Phuket's lost summer – looking to 2021 for tourism recovery
In a solemn recognition of the reality of Phuket's stalled tourist industry, a spokesperson for the southern chapter of the Thai Hotels Association is saying most of the west coast hotels are unlikely to reopen until the last quarter of this year. 
For now, Phuket's International Airport remains closed to scheduled flights, and the Tha Chatchai road checkpoint at the top of the island is heavily curating who comes in and out with plenty of red-tape and paperwork. Nationally, the Civil Aviation Authority of Thailand still has a ban in place for all international travel into Thailand until at least the end of June – it could be extended further. The only exceptions are repatriation flights of Thai's returning home and the return of international diplomats.
Phuket's issue, as an economy that revolves almost completely around tourism, is that, even if it throws open the immigration gates at the airport and the doors of its almost 100,000 hotel and accommodation rooms, there are few markets that could provide incoming tourists at this stage. Where will they come from? Europe (including the UK), the US and now South America, are mired in their own pandemic outbreaks, and whilst trying to reopen their economies, are facing imminent second waves of Covid-19. 
Whilst other parts of Thailand have opportunities to reopen their businesses – manufacture, agriculture, IT, and large chunks of populations visit shops and general trading – Phuket has little of that. Some 50,000+ of the island's 450,000 permanent population have already departed the island, either before the borders were closed in mid-March, or as soon as they were able to return to their provinces when the road border re-opened for repatriating people at the start of May.
The vice-president of the Thai Hotels Association southern chapter, says that hotels along the west coast might reopen in September at the earliest. 
Opposition criticises Thai government over economic toll of Covid response
Opposition party Pheu Thai has condemned the government's management of the Covid-19 crisis, saying total shutdown has had a devastating effect on the country's economy. 
The party says the hard-hitting restrictions imposed across the country have led to high unemployment, with the International Monetary Fund saying Thailand's economy is the worst-affected in the region.
They add that the IMF is predicting the Thai economy will shrink by 6.7% this year, saying the country has one of the world's most negative GDP forecasts, despite appearing to have brought the virus under control quite quickly.
Ayutthaya welcomes visitors after restrictions lift
Ayutthaya is welcoming visitors again after months of empty temple grounds as another set of restrictions were lifted over the weekend, allowing temples and historical sites to open back up. 
The Tourism Council of Thailand president says reopening the historic sites and business for domestic tourists will give tourism operators in the area a "lifeline". The Buddhist temples had the most tourists over the weekend.
Keep in contact with The Thaiger by following our
Facebook page
.
Thai food giant to provide a million meals priced at 20 baht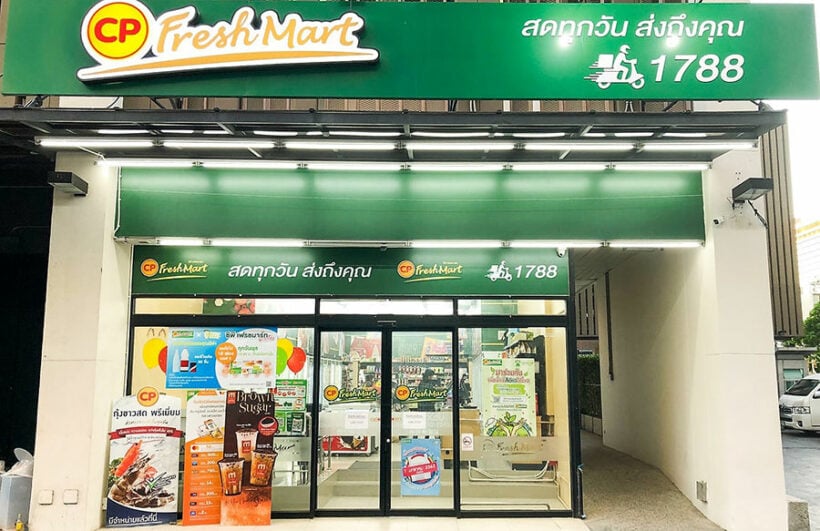 Thai food conglomerate Charoen Pokphand Foods says it plans to offer heavily discounted ready-to-eat meals for those facing financial difficulties as a result of the economic fallout of Covid-19.
CEO Prasit Boondoungprasert says a million meals will be distributed to Fresh Mart shops around the country and will cost just 20 baht. There will be a choice of dishes on offer and customers who purchase 5 meals at a time using the TrueWallet app will get an additional 5 baht discount .
"Six ready-to-eat meals will be offered under the campaign – rice with chicken breast in spicy sauce, rice with roasted chicken, rice with spicy chicken, fried rice with Korean-style roasted chicken, rice with garlic and liver and rice with omlette."
Nation Thailand reports that CPF is also delivering free food to impoverished homes in Bangkok on Tuesdays, Thursdays and Saturdays and distributing vouchers to village healthcare volunteers around the country so they can purchase items at discounted prices at Fresh Mart branches nationwide.
Charoen Pokphand Foods Public Company Limited a company of the Charoen Pokphand Group, is an agro-industrial and food conglomerate headquartered in Thailand. Approximately 64% of its revenue came from overseas operations, with 30% from its home market of Thailand, and 6% from export operations. It recently acquired Bellisio Foods, one of the largest frozen food suppliers in the United States, for US$1 billion, as well as Westbridge Foods, a major British poultry producer with turnover of over £340 Million.
The company's core businesses are livestock and aquaculture. Livestock operations include chicken broilers, chicken layers, ducks, and swine. In aquaculture, the two main marine animals are shrimp and fish – Wikipedia.
SOURCE: Nation Thailand
Keep in contact with The Thaiger by following our
Facebook page
.
Students to wear mask, get temperature checked at school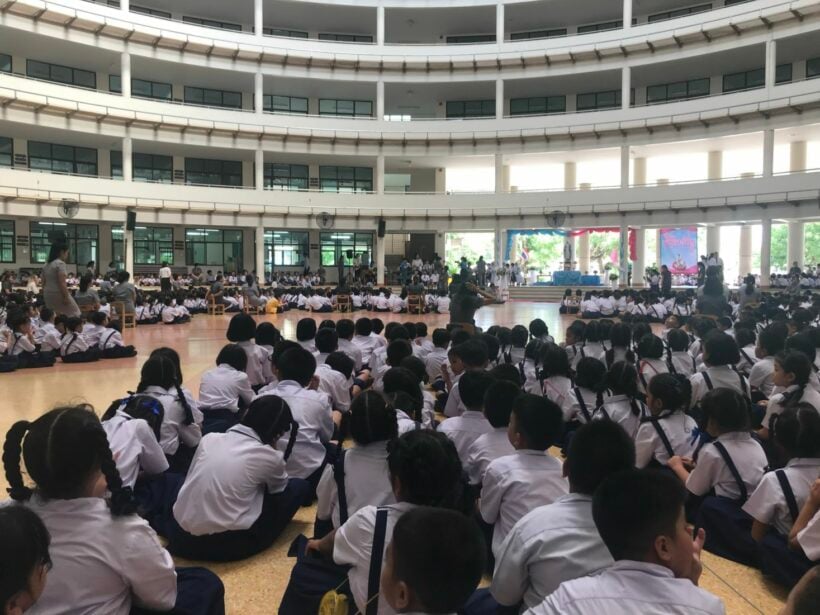 Students will need to wear a face mask and have their temperature checked before entering school. The Public Health and Education ministries recently put restrictions in place for the start of school set for July 1, according to Nation Thailand.
Schools are categorised as a high risk area for the potential spread of the coronavirus. In general, cold and flu bugs spread fast in schools. Now, with a more serious pandemic, teachers and school officials will need to work extra hard to keep students healthy and somehow find a way to make sure students are social distancing.
"Hand sanitising checkpoints are now required throughout school grounds. Door knobs, toilets and playgrounds must be cleaned often. If a student has symptoms, the school must inform public health authorities."
Some advisors are saying schools should wait longer to open, while others say children are less likely to show symptoms of the virus. The start date has already been pushed back and students are looking at a so-called "mega term" with little to no holiday break to make up for lost time until next year.
Thailand's chief virologist, Dr. Yong Poovorawan, from the Faculty of Medicine says reopening schools needs careful consideration.
"If they do reopen in July, class sizes must be reduced to make sure students are seated a safe distance apart. It's unclear how schools that are at capacity will lower class sizes."
Distance-learning classes have launched online, but the system has had a few early bugs, with many Thais without internet or some unable to access the classes.
SOURCES: Nation Thailand| Thai PBS World| Bangkok Post
Keep in contact with The Thaiger by following our
Facebook page
.