Thailand News Today – Monday, June 15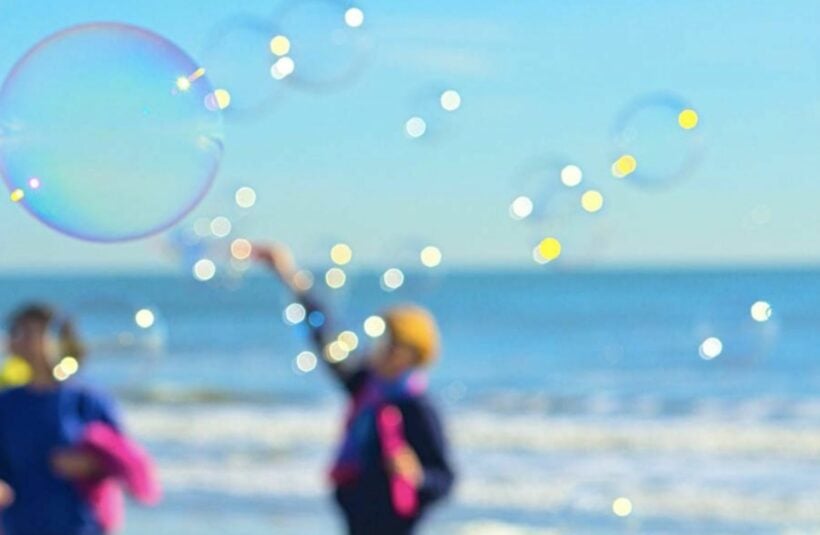 No new cases of Covid-19, either locally transmitted or imported from overseas, in the past 24 hours.
Up to 1,000 foreigners per day with smart phone tracking – plan to open Thailand up to foreigners
Foreigners from low-risk countries will be allowed to enter the country and travel in so-called "travel bubbles" without going through the 14 day quarantine period.
Well that's the good news. They'll be tracked through a smart phone application to make sure they stay in their "bubble" and will not be permitted just to travel any where they want.
Countries considered 'low risk' at this stage could include Taiwan, Hong Kong, Vietnam, Japan and perhaps Singapore and China…. But it's just speculation until the ideas are considered and announcements made after a meeting scheduled for Wednesday.
In the proposal, only 1,000 people would be able to enter the country per day, basically the equivalent of 3 – 5 plane-loads. In the proposal, the foreigners allowed in the country initially will be those entering for business purposes and patients seeking medical treatment.
Covid-19 screening tests will be required both before the visitors leave their countries and upon arriving in Thailand.
The plan has faced criticism as Thais returning home from overseas still face a 14 day quarantine while the plan proposes that certain foreigners won't have to go through quarantine.
Thailand enters Phase 4 of re-opening, curfew lifted
From today, 95% of Thailand's businesses have been given permission to reopen as the country enters Phase 4 of the easing of Covid-19 restrictions.
But nightlife establishments such as pubs, bars and karaoke venues remain closed, and the ban on international arrivals remains in force, with exceptions for repatriated Thais. and foreigners who hold work permits.
The national curfew has been lifted and restaurants are once again allowed to sell alcohol for consumption on the premises.
Here's a quick list of businesses allowed to re-open today….
• Conference and exhibition centres, training events or seminars, concert venues, cinemas, banquet halls and dance halls.
• Government buildings being used to host conferences and training events.
• Schools that have fewer than 120 pupils. The reopening of government schools is planned for July 1.
• Amusement parks, water parks and playgrounds with the exception of bouncy castles and ball pits.
• Sports venues can reopen but without spectators, but events can be televised.
• For restaurants that sell alcohol, promotional events such as happy hours are not permitted, nor is the use of alcohol hostesses or "beer girls".
• Buses are permitted to be up to 70% full and airlines are not required to leave every second seat empty, provided passengers wear masks for the duration of the flight.
Airbnb bookings rise by 13% as domestic travel restrictions in Thailand eased
Airbnb Thailand has reported a 13% increase in domestic bookings year-on-year, as travel restrictions across the country are lifted and Thais and expats begin to move around more.
Domestic holiday markets in Australia, New Zealand, Japan and South Korea are also reporting similar increases. Airbnb says that between June 5-7, and for the first time since February, the company recorded a global increase in bookings.
In Thailand, the most popular destinations in the last month include Pattaya, Hua Hin, Petchaburi and big cities like Bangkok and Chiang Mai.
Ranong slot machine. ATM glitch gives customers 10 times more cash.
An ATM in southern Thailand turned into a very generous slot machine as lucky customers were getting 10 times the amount they had asked to withdrew.
One person withdrew 2,700 baht, but the machine handed out 27,000. Another withdrew 1,200 baht and got 12,000.
Some people filed a report and handed the money immediately over to Ranong police over the weekend. Others may have figured it was their lucky day and pocketed the cash. The Siam Commercial Bank, SCB, is asking people to return the extra cash, or there will be consequences, saying they have the CCTV and records of the withdrawals to be able to track down dishonest customers.
Keep in contact with The Thaiger by following our Facebook page.
Never miss out on future posts by following The Thaiger.
Thailand News Today | Thai Airways in rehab, All go for Songkran | March 4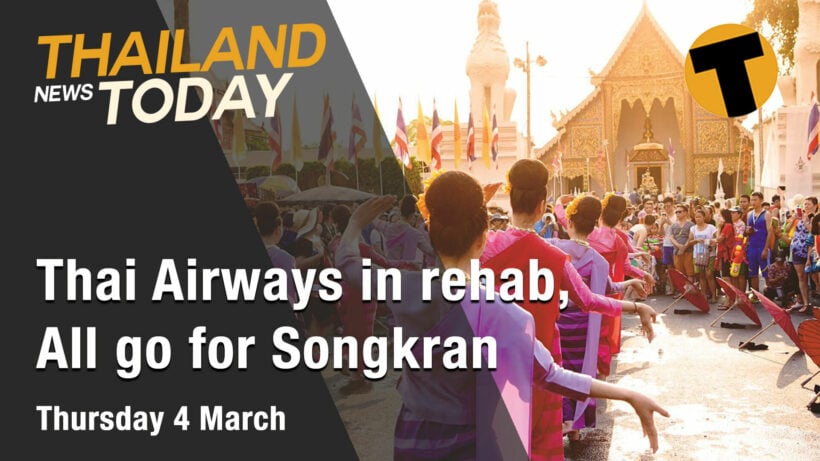 Thai Airways has submitted a rehabilitation plan in accordance with a Central Bankruptcy Court order after the the receiver's appointment last September. The airline's acting president says the rehabilitation plans aim to fully restructure and help the national flag carrier to regain profits.
The company has revealed its planned recovery to the media and says the savings and new profit centres will come from multiple aspects of the airline.
The Thai government is looking at offering free C‐19 vaccines to migrant workers who are covered under the nation's social security program. The Thai Ministry of Labour is set to discuss the move with the Social Security Board. If approved, over 2.3 million migrant workers would be inoculated for free, estimated to cost around 3 billion baht. The Labour Minister says migrant manual labourers are vital to Thai industries and the economy, therefore, they should not be left out of the vaccination program.
Chiang Mai has ranked as the 3rd most polluted city in the world yesterday, according to AirVisual, following Lahor in Pakistan and New Delhi in India. The northern Thai city's was recorded to have an average PM2.5 dust level higher than 200.
All 4 air quality monitoring stations in the municipal area reported the PM as exceeding the safe level, with the deputy chief of an air pollution command citing some 928 hotspots detected across the nation's 17 northern provinces.
The Thai musician and anti-government activist, known as "Ammy", has had his bail request declined. The singer was arrested at Ratchathani Hospital, in the central province of Ayutthaya on charges of lèse majesté, arson, and violation of the Computer Crimes Act. He is accused of being 1 of 3 people to set fire to a portrait of HM the King outside Bangkok's Khlong Prem Central Prison on the night of February 28.
Thailand has hosted the first group of international tourists to carry out a "golf quarantine". 42 golfers (41 from South Korea and 1 from Japan) flew into Thailand on February 19, entering quarantine at the Artitaya Golf Resort in the central province of Nakhon Nayok.
Guests following Thailand's golf quarantine program are required to remain in their rooms for the first 3 days of their stay, after which they can roam freely around the resort and play golf. During their stay, guests are tested 3 times.
Thailand's annual waste of water, the traditional Songkran festival, has been given the 'all clear' as long as the festivities are in line with C-19 prevention measures. PM Prayut Chan-o-cha says people will have to to abide by social distancing rules during the Songkran holiday from April 13 to 15. Looks like you're going to need a bigger water pump pistol as short range shooters may infringe on the social distancing guidelines.
Keep in contact with The Thaiger by following our Facebook page.
Never miss out on future posts by following The Thaiger.
Thailand classified as a "not free" country in Freedom House report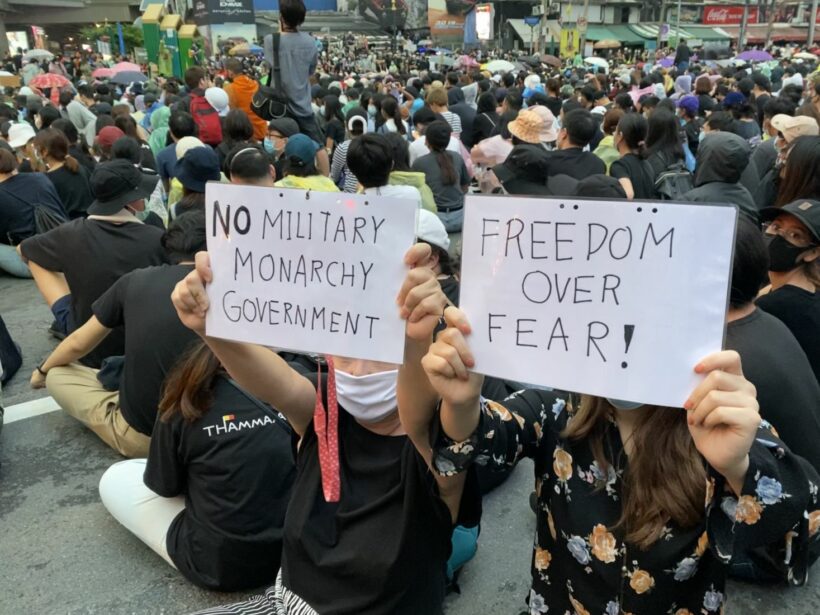 On a scale of 0 to 100, with 100 being absolute freedom, Thailand scores at 30, a "not free" country, according to the nonprofit Freedom House. Each year, the organisation reviews the political rights and civil liberties of countries around the world. According to their recent assessment, Thailand has declined in terms of rights and liberties, dropping on the scale from "partly free" to "not free."
The main reason for the drop on the freedom scale, the organisation says, is "due to the dissolution of a popular opposition party that performed well in the 2019 elections, and the military-dominated government's crackdown on youth-led protests calling for democratic reforms."
The Future Forward Party was dissolved in February 2020 after the court found that the founder, Thanathorn Juangroongruangkit, had made a large donation to the party that exceeded the legal limit. The party's leaders were then banned from politics for the next decade.
Youth-led protests started in February, but the demonstrations were put on pause due to Covid-19 restrictions banning large public gatherings. Protesters gathered in July as restrictions lifted, but some leaders then faced charges for holding a public gathering, which was still banned under emergency orders.
In October, the prime minister imposed what Freedom House calls a "severe" State of Emergency order in Bangkok that banned gatherings of more than 5 people. Some protesters were arrested for violating the order nearly immediately after it was imposed.
With activists pushing for monarchy reform and an end to the military's involvement in government, raising subjects considered taboo and unprecedented in Thai society, the Thai government has increased its use of the draconian lèse majesté law. Since November, dozens of activists have faced charges for insulting or defaming the Thai Monarchy.
Freedom House scores countries on topics like the electoral process, questioning if politicians and leaders were elected in free and fair elections, as well as freedom of expression and individual rights.
Thailand's military seized power in 2014 in a bloodless coup. The 2017 constitution was drafted by a committee appointed by the military's National Council for Peace and Order. In 2019, the country transitioned to what Freedom House calls a "military-dominated, semi-elected" government.
The 2019 elections were overseen by the Election Commission of Thailand, whose members were appointed by the military. All 250 senators were appointed by the military in 2019 to serve 5 year terms.
In 2020, the combination of democratic deterioration and frustrations over the role of the monarchy provoked the country's largest anti-government demonstrations in a decade. In response to these youth-led protests, the regime resorted to familiar authoritarian tactics, including arbitrary arrests, intimidation, lèse majesté charges, and harassment of activists. Freedom of the press is constrained, due process is not guaranteed, and there is impunity for crimes committed against activists.
SOURCE: Freedom House
Keep in contact with The Thaiger by following our Facebook page.
Never miss out on future posts by following The Thaiger.
Riot police officer in Bangkok tests positive for Covid-19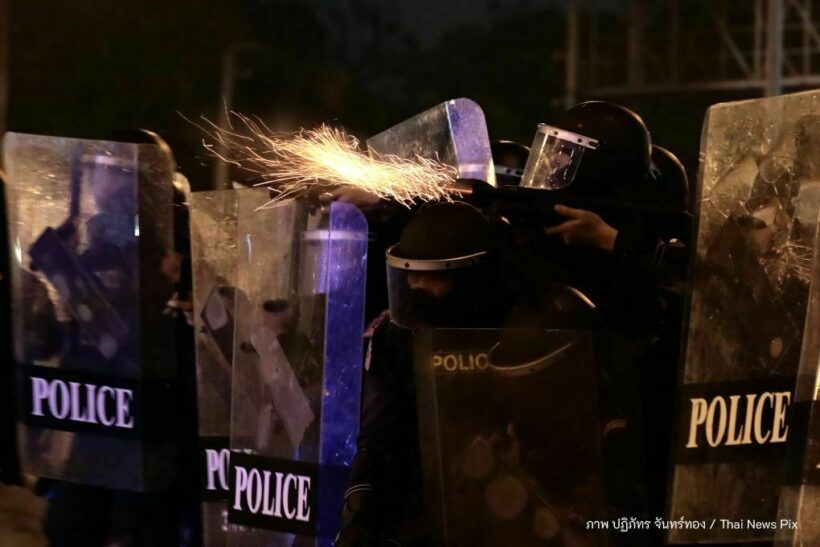 A riot police officer, who was deployed at the recent pro-democracy protests in Bangkok, has tested positive for Covid-19. His supervisor, chief of Wang Thonglang station Ekapop Tanprayoon, says the officer had visited Samut Sakhon, a coronavirus hotspot.
Riot police who worked closely with the infected officer, Somyot Nuamcharoen, are ordered to quarantine. The Wang Thonglang police station and any items the police officer handled are being disinfected, the chief says.
The officer had met up with friends during a visit to Samut Sakhon, just southwest of Bangkok. He travelled to the coastal province on February 18 and returned to Bangkok the next day.
On the 20th, he was deployed to a protest outside of parliament, just after returning from his trip to the "red zone" province. On Sunday, he deployed the protest outside the military barracks in Bangkok. The demonstration turned violent and numerous people were injured.
On Tuesday, his friend from Samut Sakhon tested positive for the virus. The infected officer was tested for Covid-19 that day and his result came back positive yesterday.
SOURCE: Bangkok Post
Keep in contact with The Thaiger by following our Facebook page.
Never miss out on future posts by following The Thaiger.