Thailand News Today, March 3, 2020 – Daily TV News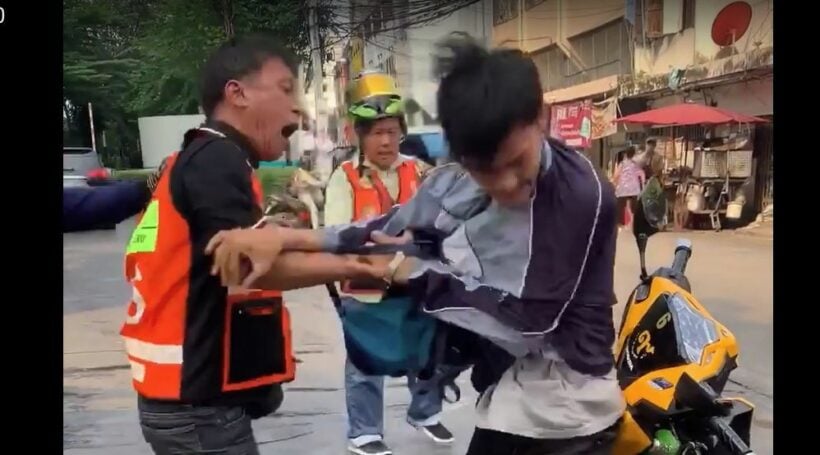 Thai Airways announces losses over 12 billion baht for 2019
Thai Airways International and its affiliates incurred a net loss of over 12 billion baht last year, that's 448 million baht more than the year before. The airline has been accumulating losses year on year for over a decade.
Speaking about the losses at the announcement yesterday, the vice president of finance and accounting says that the airline was affected by several negative factors, including a slowdown in global economic expansion, the US-China trade war, natural disasters, the strength of the baht, and price wars with other airlines.
Last week the national airline announced a reduction in salaries and other perks of between 15 – 25% for executives from the president down.
Central Thai junk shop raided for recycling tens of thousands of face masks
An enterprising junk shop in Saraburi, north of Bangkok, is being investigated after a raid found tens of thousands of recycled face masks being prepared for packing and re-selling.
Thousands of used face masks were found in washing machines, thousands more were piled up behind the shop.
Six young men are now being questioned. Some where separating the used masks, other doing the washing and others ironing and packing the recycled masks.
Mask, hand sanitiser shortages anger people across Thailand
Meanwhile, across the kingdom people are rattled by shortages of face masks and hand sanitiser amid the COVID-19 coronavirus outbreak.
Public demand has skyrocketed since the announcement of Thailand's virus-related death. The Private Hospital Association says its medical personnel are being seriously affected by the mask shortage.
A survey of drug stores in several Bangok districts yesterday, shows that many pharmacists and stores stocking face masks ran out of stocks months ago. They say they don't know when fresh supplies will be available.
Nong Nong forced to lift weights and perform for tourists at a Phuket zoo
A monkey has been filmed lifting weights and doing other 'tricks' for tourists at an unnamed zoo in Phuket.
Footage was shot by people recording the video for PETA, the global animal rights group, of the monkey being forced to lift weights and do press-ups as entertainment for the island's tourists. The monkey is an indigenous Macaque species and named 'Ning Nong'.
The undercover footage shows a handler forcing the monkey to lift metal weights above its head and do sit-ups. The monkey then has to slam-dunk balls into a net, ride a bicycle, stand on a tiny wooden stool and do press-ups.
It's not the first time Phuket animal attractions have come under fire with a huge local campaign protesting at the Dolphinarium before it opened and the sad stories of Milo the the orangutan and Dumbo the elephant at the Phuket Zoo.
Bangkok motorbike taxi drivers attack Grab driver in broad daylight
Three motorbike taxi drivers have been fined after attacking a Grab bike driver carrying a passenger in Bangkok's Khlong Tan district.
The Grab driver reported to police that he was picking up a customer at a condominium in Phra Khanong.
He says a local taxi motorbike driver in front of the condo allegedly stopped him and said he was not allowed to pick up customers, that the location was "their territory." He then told the Grab driver to leave, but both he and the the passenger refused.
As you can see it got a bit nasty….
Of course, two more local motorbike taxi drivers from the same stand in front of the condo joined in the assault. The three local drivers have been charged with causing bodily harm that led to injury. They have been fined 1,000 baht each and paid an additional 3,000 baht to the Grab bike driver and apologised for the incident.
📱 Download our app on Android or iOS for instant updates on your mobile
📧 Subscribe to our daily email newsletter
👍 Like/Follow us on Facebook
🔔 Subscribe to or Join our YouTube channel for daily video updates
BREAKING: Covid Provincial restriction update – latest from the CCSA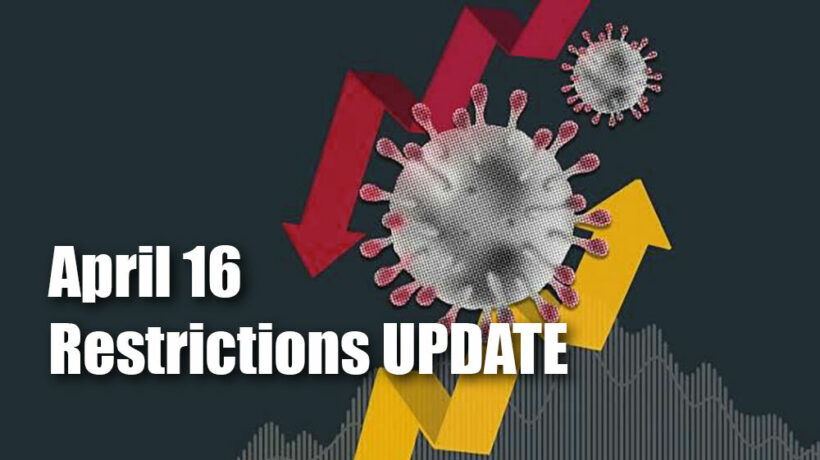 The CCSA has announced its updated restrictions for the 18 'red zone' provinces this afternoon. The new measures start on Sunday, April 18, and will be in place for at least 2 weeks. The restrictions are basically as we published earlier today. There are no 'lockdowns' or curfews despite a popular blogger jumping the gun and posting that there were curfews announced.
There's also no specific travel restrictions imposed although the PM 'discouraged' travel to Red Zone provinces. Provincial governors are still able to add their own local restrictions if they deem necessary.
Here are the key points as announced by the CCSA late this afternoon…
Across all provinces…
• Closures of schools, all nightlife venues, pubs and clubs
• No events can have more than 50 people
Provincial red zones (listed below)…
• Dining-in allowed until 9pm (but can do takeaway until 11pm)
• Serving of alcohol banned
• Shopping centres and fitness centres to be closed by 9pm
• Convenience stores, markets, supermarkets must be closed by 11pm
Everywhere else…
• Dining-in allowed until 11pm
• Serving of alcohol banned
• Shopping centres to be closed by 9pm
Additionally, people are being discouraged from traveling to "Red Zone" provinces. Businesses are also being 'asked' to allow staff to work from home or introduce other measures to minimise risk of infection at the workplace.
The Red Zone provinces are, in no apparent order…
1. Bangkok
2. Chiang Mai
3. Chon Buri
4. Samut Prakan
5. Prachuap Khiri Kan
6. Samut Sakhon
7. Pathum Thani
8. Nakhon Pathom
9. Phuket
10. Nakhon Ratchasima
11. Nonthaburi
12. Songkhla
13. Tak
14. Udon Thani
15. Suphanburi
16. Sa Kaeo
17. Rayong
18. Khon Kaen
Earlier today Public Health Minister Anutin Chanvirakul said that the government is "confident it can overcome the current Covid-19 crisis without needing to impose a nationwide lockdown".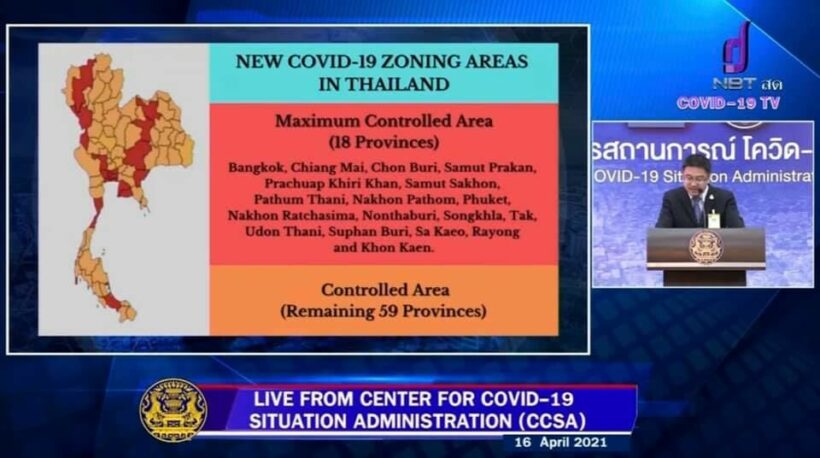 📱 Download our app on Android or iOS for instant updates on your mobile
📧 Subscribe to our daily email newsletter
👍 Like/Follow us on Facebook
🔔 Subscribe to or Join our YouTube channel for daily video updates
Friday's Covid-19 cases, province by province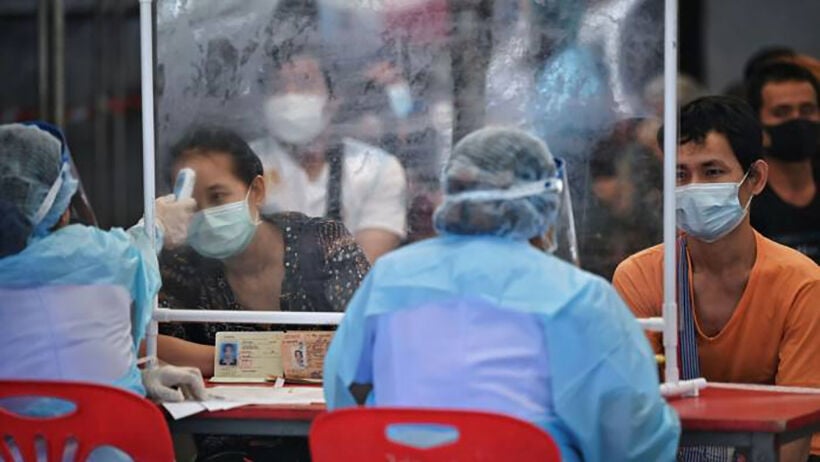 Today's provincial totals, as reported in the past 24 hours. Bangkok, Chiang Mai, Chon Buri (including Pattaya) and Prachuap Khiri Khan and Samut Prakan lead the way. Other prominent locations include Phuket with 30 new cases, Surat Thani, which includes the 3 Gulf islands of Samui, Pha Ngan and Tao, with 11, and Chiang Rai with 77. Infographic from NBT World.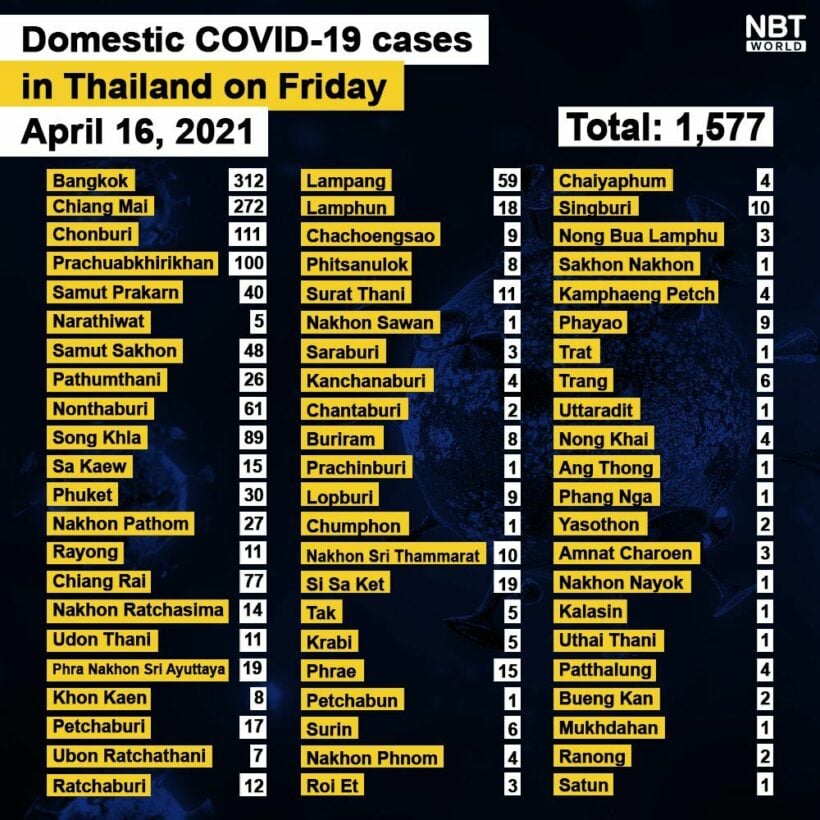 📱 Download our app on Android or iOS for instant updates on your mobile
📧 Subscribe to our daily email newsletter
👍 Like/Follow us on Facebook
🔔 Subscribe to or Join our YouTube channel for daily video updates
Songkran's 7 dangerous days campaign #6: 313 road accidents, 29 deaths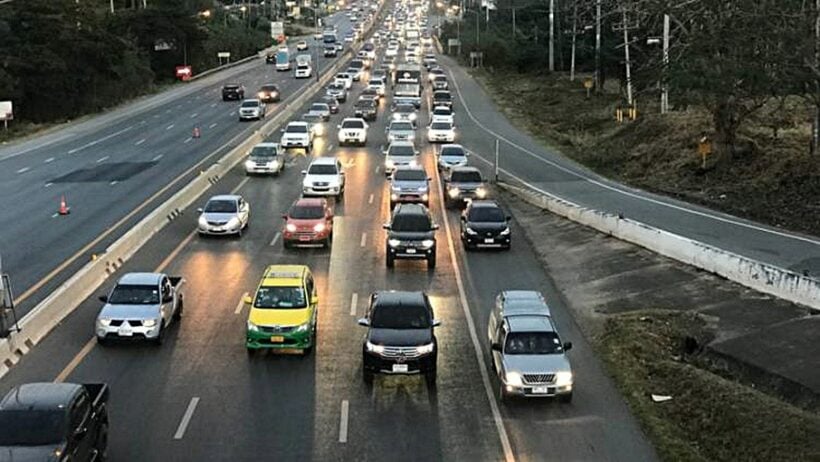 As we enter the final stretch of Songkran's infamous "seven dangerous days", 29 deaths were recorded and 313 road accidents across Thailand. Officials warn we are not yet through the yearly dangerous week of holiday travel that typically results in a sharp increase in traffic accidents, injuries and death. The silver lining of Covid-19 is that travel is significantly down, and so are fatalities. But as people return from their holidays back to work in their home towns, authorities warn of increased accidents. They are setting up more traffic checkpoints and sending out additional traffic officials to watch over dangerous routes in an attempt to prevent more accidents.
DAILY FIGURES
On the 6th day, the Ministry of Interior recorded 313 road accidents, with 310 injuries and 29 deaths total. In their daily press briefing, the Deputy Permanent Secretary of the Ministry of Interior went over the figures and causes. Not surprisingly, nearly 89% of accidents involved motorcycles. Different from previous days, drunk driving surpassed speeding as the number 1 cause of accidents, at a nearly even 31% and 30% respectively.
Late afternoon and early evening remained the most dangerous time to be on the roads, with almost 26% of road accidents occurring between 4 pm and 8 pm. Another noticeable change from previous statistics, whereas yesterday highway accidents were nearly even to local community crashes, today 43% of accidents occurred on local roads in villages and only 31% of accidents were on national highways. Again about 62% of accidents took place on straight routes. One last statistical change: the most accident-prone demographic skewed older with 30-somethings being overtaken by 40 to 49 year olds as the primary accident age bracket, about 16%.
Nakhon Sri Thammarat, with 15 road accidents yesterday, held the morbid distinction of the province with the most accidents, a title it has held several times. Prachin Buri had the most injuries yesterday with 15 reported. And 5 provinces tied for most fatalities with 2 each: Chiang Mai, Kanchanaburi, Nakhon Ratchasima, Nong Khao, and Rayong.
TOTALS
As we near the end of the "seven dangerous days", Thailand has recorded a total of 2,113 road accidents so far during this week. 2,116 people were reported to have been injured, while there were a total of 238 fatalities.
Nakhon Sri Thammarat has retained its lead, being the province with both the most accidents reported – 91 in total – and the highest number of injuries – 96 total. Chiang Mai is now the most deadly province, with 9 total road fatalities over the past 6 days.
SOURCE: The Pattaya News
📱 Download our app on Android or iOS for instant updates on your mobile
📧 Subscribe to our daily email newsletter
👍 Like/Follow us on Facebook
🔔 Subscribe to or Join our YouTube channel for daily video updates