Thailand meets its emissions target as richer nations fail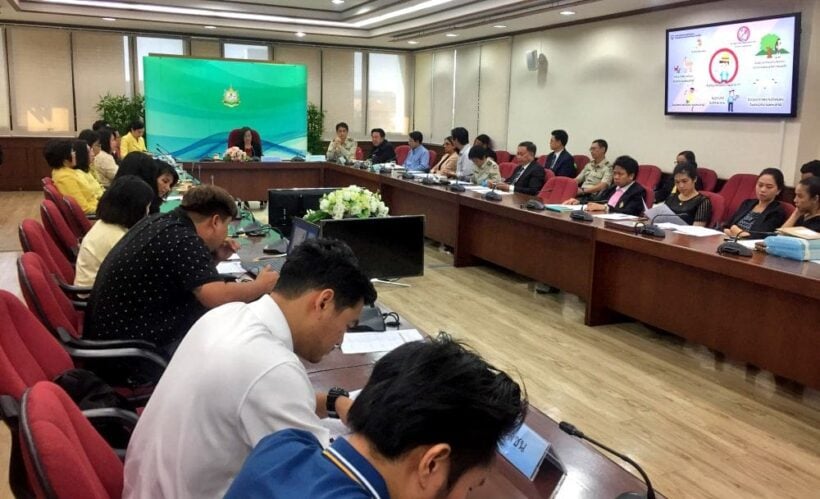 by Pratch Rukivanarom
"Emissions in Thailand have also been higher this year, with the energy sector having released 196.5 tonnes of CO2 in the first nine months of this year, marking a 0.98 per cent increase compared to the same period last year,."
The emissions of greenhouse gases has been rising for two years in a row, reversing efforts based on the Paris Agreement to control the rise in global temperatures and avert the impacts of climate change.
As world leaders gather at the UN Climate Change Conference (COP24) in Katowice, Poland, to find solutions, the International Energy Agency (IEA) has released a preliminary outlook for this year's energy-related greenhouse gas emissions.
It worryingly indicates that there has been a 0.5 per cent rise in global carbon dioxide (CO2) emissions this year compared to previous years.
The IEA report points out that energy-related CO2 emissions from wealthy countries in North America, Europe and Asia-Pacific regions has grown this year due to a higher consumption of oil and natural gas.
"Our data shows that despite a strong growth in solar and wind energy, emissions have started to rise again in advanced economies, highlighting the need for deploying technologies for energy efficiency," Fatih Birol, IEA's executive director, said.
"This turnaround should be another warning to governments as they meet in Katowice this week. Increased efforts are needed to encourage more renewables, greater energy efficiency, more nuclear and more innovation for technologies such as carbon capture, utilisation and storage and hydrogen, for instance."
Emissions in Thailand have also been higher this year, with the energy sector having released 196.5 tonnes of CO2 in the first nine months of this year, marking a 0.98 per cent increase compared to the same period last year, the Energy Policy and Planning Office (EPPO) said.
However, EPPO said that even though the power-generation sector is the largest CO2 producer, it is the only sector that is releasing a lower amount of greenhouse gases due to an increase in renewable energy, though the emission trend in other sectors is rising.
Meanwhile, Raweewon Bhuridej, secretary-general of the Natural Resources and Environmental Policy and Planning Office, said this increase in emissions will not affect Thailand's Intended Nationally Determined Contributions (INDCs). Thailand has pledged to lower its greenhouse gas emissions by 20 to 25 per cent by 2030 from the estimated emission rate in a business-as-usual (BAU) scenario.
"Since Thailand is a developing country, we do not have to lower our emission rate as significantly as wealthy nations, who ought to cut down their net CO2 emission rate every year," Raweewon said.
She added that Thailand has already performed well as per standards set for developing countries. In 2016, Thailand successfully cut its emissions by 45.72 million tonnes of CO2 equivalent, which is approximately 12 per cent below the estimated rate in a BAU scenario.
Raweewon pointed out that thanks to this positive reduction effort, Thailand has already achieved its Nationally Appropriate Mitigation Action, in which the country pledged to lower greenhouse gas emissions by 7 to 20 per cent within 2020.
"However, despite us having done great work in reducing emissions in Thailand's energy sector, there is still room for improvement in order to transform the country into a low-carbon society," she said.
"For instance, the government is investing in a mass transportation network so as to encourage people to use public transport instead of driving, in a move to lower emissions in the transportation and logistics sector."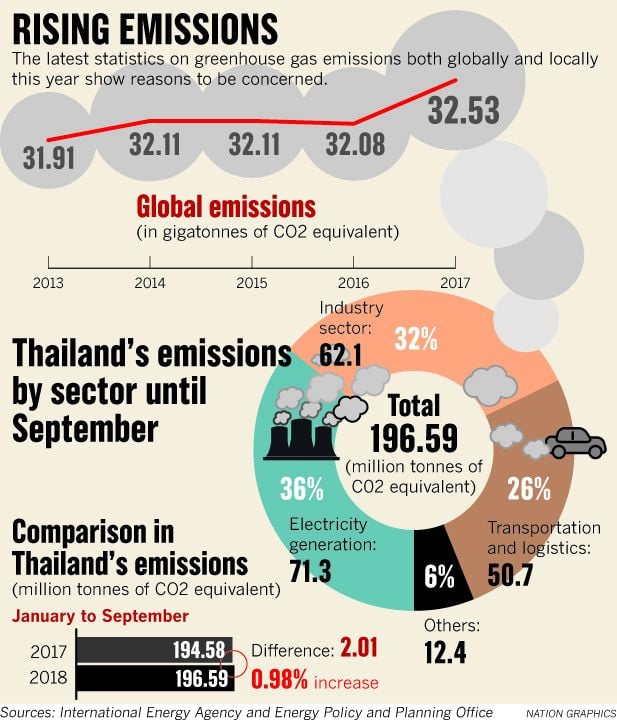 ORIGINAL STORY: The Nation


Read more headlines, reports & breaking news in Thailand. Or catch up on your Thailand news.
Prem Tinsulanonda dies of heart failure at 98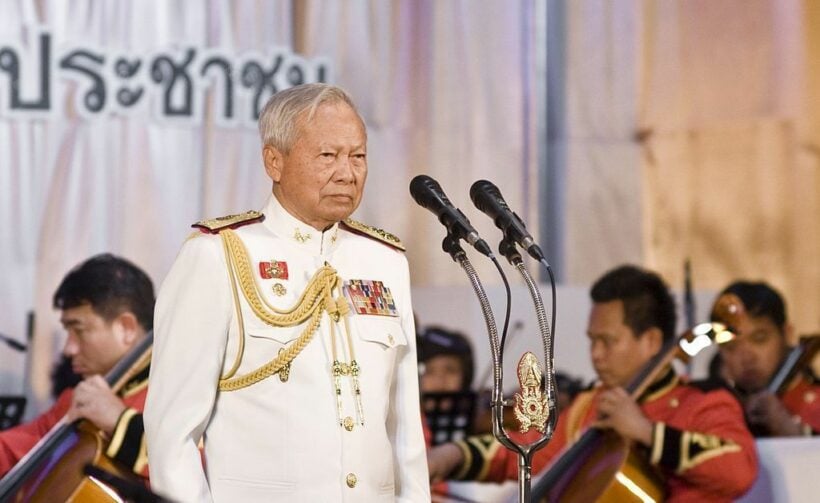 The President of the Privy Council, Prem Tinsulanonda (General Prem), is reported to have died of heart failure early this morning at the Phramongkutklao Hospital at the age of 98. He has had important roles in many levels of Thai society and politics for most of modern Thailand's recent history (since 1932).
Just three weeks ago he was participating in the coronation of HK The King.
He served as president of the Privy Council during late King Bhumibol's reign and, more recently, served HM King Maha Vajiralongkorn in the same role.
Between 1980 and 1988 he served as Thailand's 16th prime minister. Among many other achievements he is credited with ending a communist insurgency and presiding over accelerating economic growth in the developing country.
A retired army general, he was a statesman who played a pivotal role in Thai politics with a firm commitment to and belief in sacrifice for the Thai Monarchy.
SOURCE: Thai PBS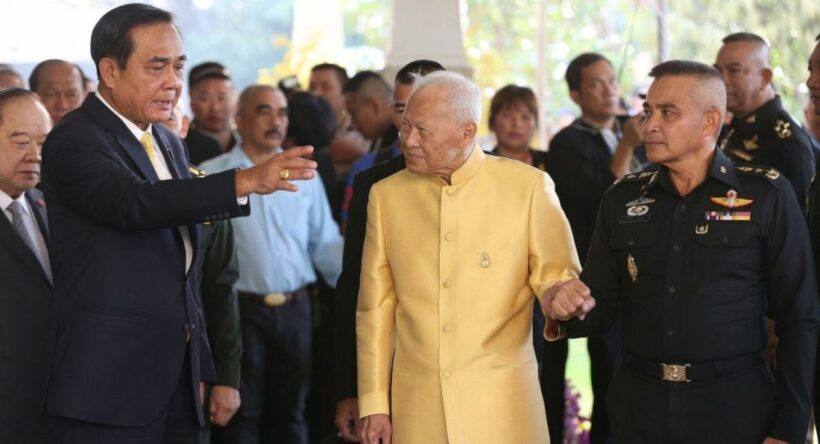 Former PM Chuan elected speaker of lower house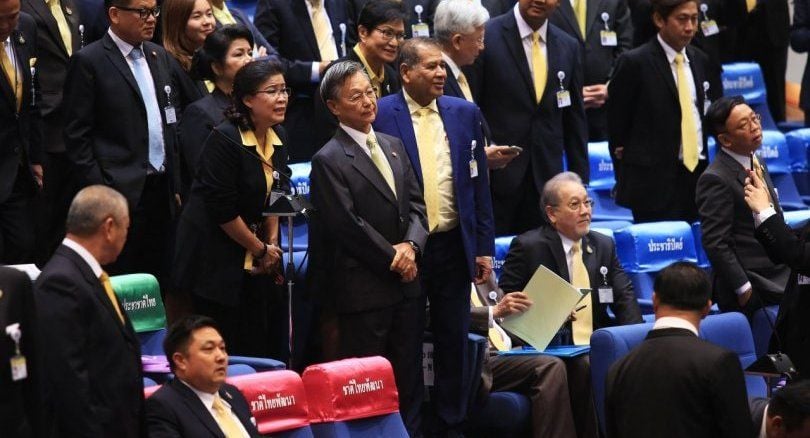 If the first item on the new parliament's agenda is any indication, it's going to be a very dynamic lower house. Things didn't go smoothly on the first day.
Ex-PM Chuan Leekpai, a Democrat candidate proposed by the pro-junta Phalang Pracharat Party, secured 258 votes to 235 for Pheu Thai nominee Sompong Amornvivat. One MP abstained. Some Pheu Thai PMs also broke ranks and voted for Chuan.
The election of the lower house speaker, the only item on the agenda at the first meeting of MPs, took more than eight hours after Phalang Pracharat stymied proceedings and proposed a postponement of the vote for unspecified reasons. Boos and heckles accompanied the bravado which went on for hours until he acting speaker decided to call a lunch break, telling MPs to return at 1pm with things sorted out.
There were simmerings of discontent in the pro-junta camp after Phalang Pracharat reportedly wanted to field its MP, Suchart Tancharoen, for the post of speaker but the the bloc nominated Chuan at the last minute.
Pheu Thai MP Jirayut Huangsap objected to the proposal to put off the vote. A prolonged debate between the two blocs led to pro tem speaker Chai Chidchob, the most senior MP and former house speaker, adjourning the house.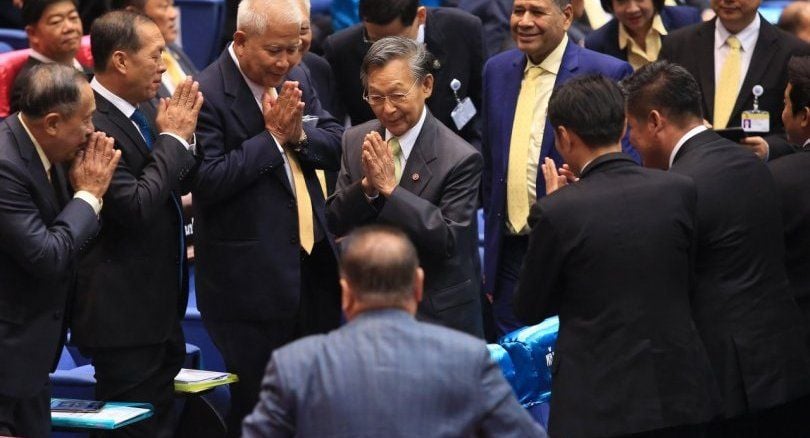 After a two-hour break, the house voted on the first motion to decide whether or not to reschedule the election of speaker.
The anti-junta camp, comprising seven parties that had signed a pact earlier, voted against deferring the election.
Finally, the house voted 248 to 246 with two absentions to elect the speaker on Saturday. Some of the pro-Suchart MPs also voted against the postponement.
The Phalang Pracharat-led bloc tried to swing the vote in its favour but failed.
The house hence had to vote to choose between Democrat Chuan and Pheu Thai's Sompong.
What does all this mean?
The vote for the house speaker is the first test of the votes of MPs in the lower house. The theatrics earlier in the day when Palang Pracharat forced a delay in the vote was to allow last minute lobbying to ensure they had the Democrats on side. But, at this stage, the Democrats have not formally thrown their votes behind a Palang Pracharat coalition. The pro-Junta MPs support of a Democrat (and twice former Thai PM) for the position of House Speaker can be interpreted as an act of good faith to provide more inducement to garner their coalition support.
Bhumjaithai has also kept their cards close to their chest and are yet to formally declare how they will vote in the future.
But the votes in the parliament showed that the division is fairly even with a few Palang Pracharat and Pheu Thai MPs breaking ranks and voting independently. With the crucial vote for the next Thai PM coming up in the next few days there is still no clear sign that the votes will fall one way or the other.
After last weeks meetings the Democrats and Bhumjaithai could, just maybe, form a third bloc of votes so the parliament would have three voting blocs and no majority government. Whoever becomes PM with this arrangement would be ruling over an unpredictable and fragile government.
SOURCE: The Nation
Thailand's hero of the day: Phitsanulok big-biker 'Tik'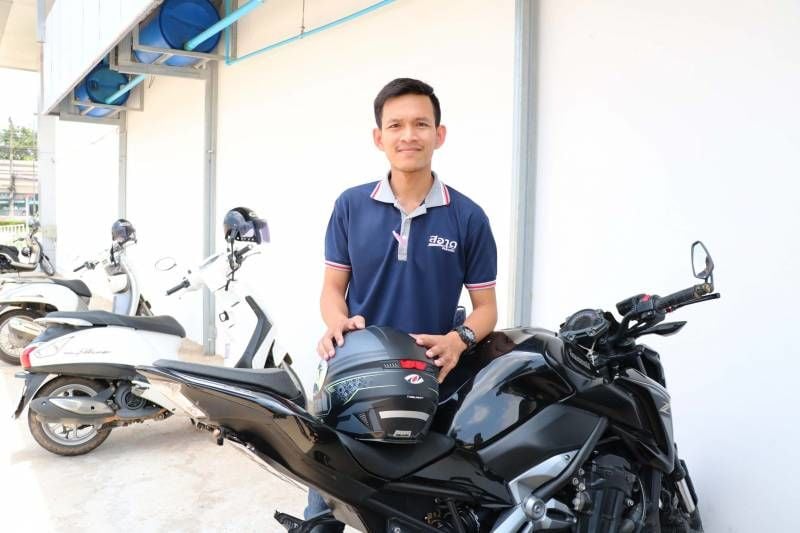 PHOTO: Itthiphon 'Tik' Petchphibunpong – Daily News
Kudos to Mr Big Bike, as he's been nicknamed, the hero of the moment, who took matters into hand to help a family needing urgent help and was stuck in traffic in Phitsanulok in northern Thailand.
28 year old 'Tik', aka. Itthiphon Petchphibunpong, was riding his bike in heavy traffic when he was driving past car with a family whose daughter had passed out. Tik works for Sa-art Electric in the north of Thailand.
She was starting to foam at the mouth and they were worried they wouldn't get her to the hospital in Phitsanulok in time.
Helmet-cam shows Tik parking his bike, knocking on the windows of cars around the family's car to try and clear a path through the heavy traffic. But he realised this was going to be a slow process so he took the girl's father to the hospital on the back of his bike as the cradled his sick daughter.
Watch the video on the link below…
https://web.facebook.com/tig1235/videos/2283241021994494/
They arrived in time and we're happy to report that the girl is recovering after being transferred to another hospital. More than 2.4 million Thais have viewed the video and commented on the story of the latest Thai hero.
SOURCE: Daily News