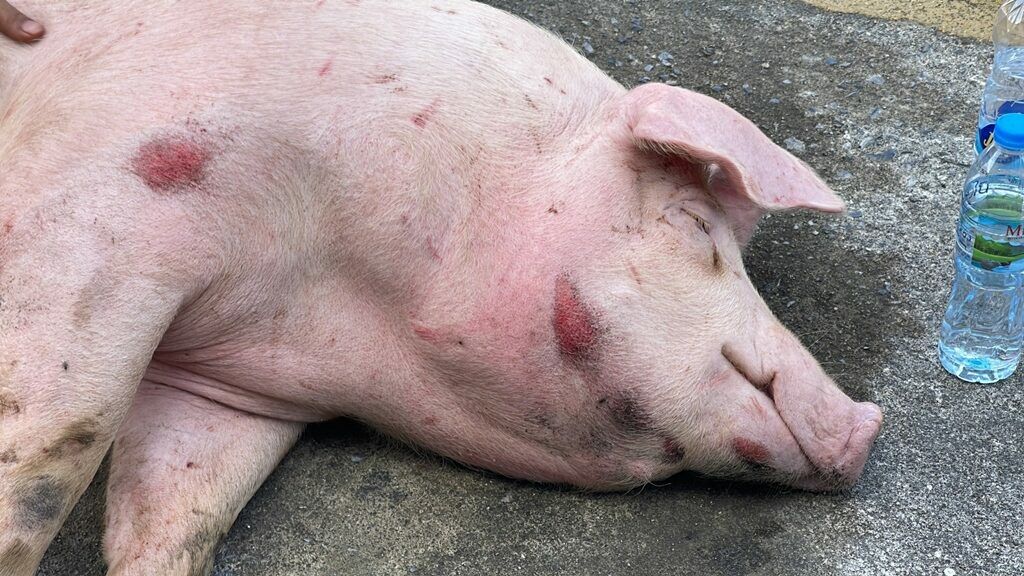 A Thai woman paid to save a pig from being slaughtered yesterday and plans to give the pig to monks at a temple. The pig reportedly fell off the back of a lorry in the central Nakhon Nayok province on its way to be slaughtered.
After the pig fell off the truck, it made its way to the car park of a shopping mall to chill and lie down. As the pig was lying in the car park, 46 year old Natthaporn spotted it. She found that the poor animal had several abrasions on its torso, Thai media reported. Natthaporn gave the poor injured animal some water.
Police officers were looking for the truck's driver, and Natthaporn told them that she wanted to buy it from the owner.
Only minutes later, the owner appeared. The owner, 39 year old Pranee, claimed she bought the pig for 13,000 baht and was planning to have it slaughtered for meat.
However, Pranee said that after learning that the pig had fallen off the truck, she would let it live if it was ever found.
Natthaporn told Pranee that she only had 5,000 baht on her for the pig. She told Pranee she would give the animal to monks at the temple she attends in Prachin Buri province. She said that monks would be happy to care for the pig. Luckily, Pranee said she was satisfied with the deal, and offered to bring the pig to the temple free of charge.
The pig was named Baramee, meaning deeply virtuous or having a high level of spiritual authority or integrity.
In Thailand, it's common for people to donate animals to temples, particularly in rural areas. This practice of releasing animals to temples, out of the confines of a cage, is a way for people to make merit in Thai Buddhism. Many people also bring animals to temples when they can no longer care for them. It is particularly common to see dogs, cats, and monkeys roaming around Thai temples.