Thai government being urged to legalise e-cigarettes and vaping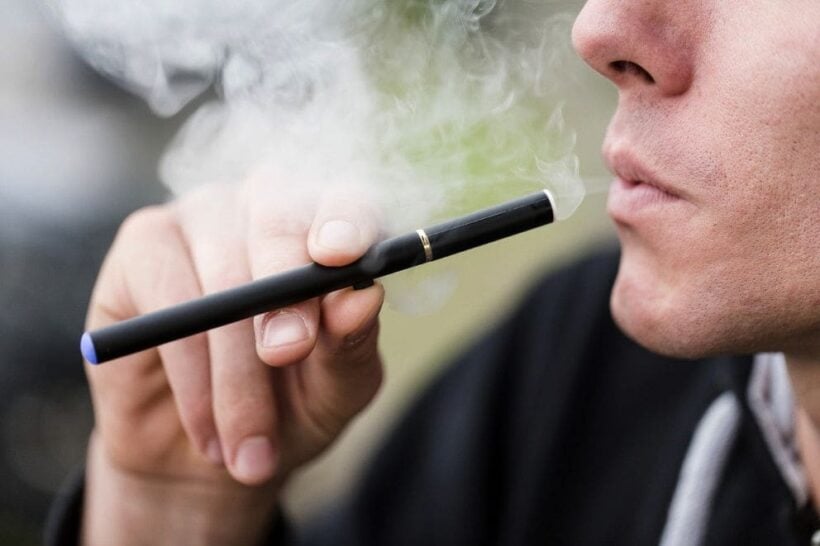 Allowing smoke-free products seen as more effective in discouraging tobacco smokers than the introduction of plain packaging for cigarette packets.

The Nation reports that a network of e-cigarette users and importers is suggesting that lifting the ban on smoke-free products and issuing appropriate regulations would be a more-effective measure to discourage people from smoking rather than selling cigarettes in plain packages.

The Public Health Ministry is in the process of announcing a new regulation requiring cigarettes to be sold only in plain packages, with 10 new pictures and warning messages designed by the ministry. The new regulation will come into force next year.

Citing research that plain packaging helps reduce the craving for cigarettes, this new regulation will make Thailand the first country in Asia and 11th in the world to adopt "negative" packaging to discourage smoking, officials said earlier.

However, Maris Karanyawat, representative of the End Cigarette Smoke Thailand group (ECST), says plain packaging will do little to cut down on cigarette consumption, citing the number of smokers staying at 11 million over the past decade in Thailand despite the inclusion of warning pictures on packets since 2005.
"Thai laws (relating to smoking) include severe punishment, but whether they can be really or seriously enforced is the problem," he added.
ECST had earlier submitted 40,000 signatures in a campaign for legalising e-cigarette and suggesting that it be turned into a "controlled" rather than "banned" substance.
The Commerce Ministry has banned production, import, sale and consequently possession of e-cigarettes since 2014.
Maris met with concerned agencies late last month about lifting the ban, but came away without a resolution. However, the Commerce Ministry did say it will set up a panel to study the proposal's feasibility, he said.
Meanwhile, Gerald Margolis, managing director of Philip Morris (Thailand), said revoking the ban on smoke-free products and appropriately regulating cigarettes will achieve more than selling them in plain packaging. He added that his company was not opposed to plain packaging, but was more focused on efforts to secure appropriate regulations for products that have been scientifically substantiated as being less harmful.
He said Philip Morris International is working to create a smoke-free future, and that the priority of the company was to provide less harmful alternatives to adult smokers who will otherwise continue to smoke.
"Today's issue is not about packaging, it is about the cigarettes inside that really cause harm when people light and smoke them," he said.
He cited statistics showing that in countries where smoke-free products are prohibited, such as Australia and Singapore, smoking rates have not changed significantly over the last several years despite increasingly aggressive regulatory and fiscal efforts.
By contrast, in countries where smoke-free alternatives are allowed, such as the UK, Europe Union, Sweden and Japan, smoking rates have dropped to historic lows, he added.
Margolis said regulatory measures for cigarettes should be complemented by policies that allow and encourage smokers to switch to better, smoke-free alternatives to cigarettes, he said.
Read the rest of the story HERE.
Keep in contact with The Thaiger by following our
Facebook page
.
Never miss out on future posts by
following The Thaiger
.
Twitter suspends Thai royalist linked account which spread pro-government propaganda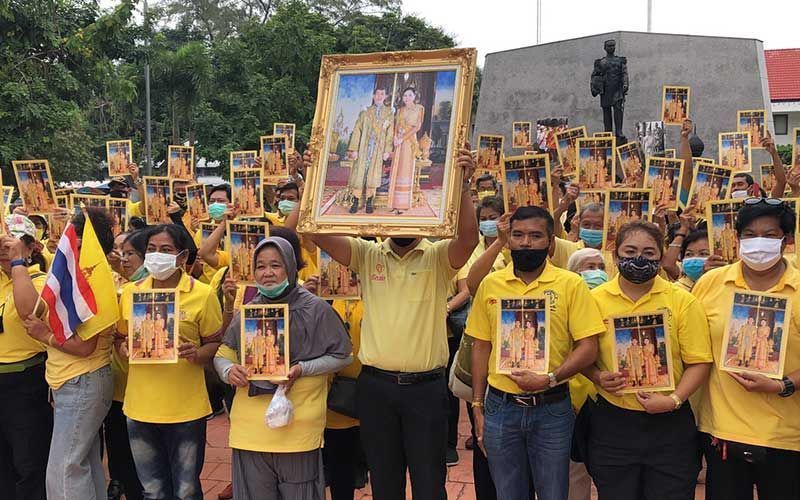 A Thai royalist-linked account was suspended on Twitter following a review by Reuters reporters that found the account spread posts in favour of His Majesty the King and the monarchy in what appeared to be a tactic to sway the public opinion.
While ongoing protests are calling on monarchy reform with statements considered unprecedented and taboo in Thai society, Reuters says they found tens of thousands of tweets from accounts amplifying the pro-government agenda, which an expert claims is a move to counter the pro-democracy movement.
While not directly linked, internal army training documents leaked to reporters show the Royal Thai Army used Twitter to spread pro-government propaganda and discredit the now-disbanded Future Forward Party. Hundreds of the Twitter accounts linked to the Army were suspended in October.
The account @jitarsa_school, created in September with 48,000 followers, was suspended after Reuters reporters reached out to Twitter for comment about the pro-monarchy accounts. A representative from Twitter told Reuters that the account violated the rules and that the suspension was not due to the reporters' review.
"The account in question was suspended for violating our rules on spam and platform manipulation."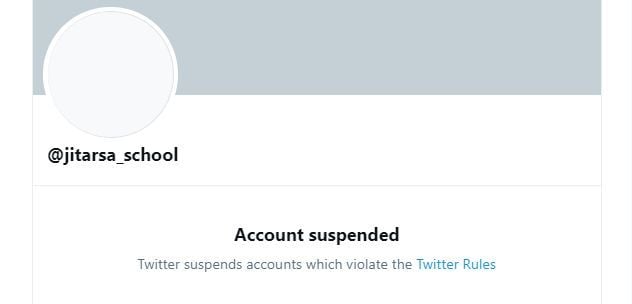 Reuters found that of the 48,000 accounts following @jitarsa_school, 80% of them were created since the start of September. Reuters says thousands of the "bot-like" accounts only promoted royalist hashtags. Some hashtags shared by @jitarsa_school translate to #StopViolatingTheMonarchy, #ProtectTheMonarchy, #WeLoveTheMotherOfTheLand, #WeLoveTheMonarchy and #MinionsLoveTheMonarchy.
While the account does not appear to be associated with the Royal Thai Army, the activity is similar. In October, Twitter suspended 926 accounts linked to the Royal Thai Army which were "amplifying pro-government propaganda." At the time, the army said they were not associated with the accounts.
Recently, a 28-page document showing the army's plan to target opponents and spread pro-monarchy messages was leaked. The army claims the plan was used as a public relations training exercise.
While Twitter only suspended 926 accounts, the documents says that 17,562 Twitter accounts were run by 9,743 army officers. The army officers were split into a "White Team" and a "Grey/Black Team." According to the document, the accounts were aimed to appear like authentic accounts and officers were instructed to tweet with coordinated hashtags and retweet each other's posts.
SOURCE: Reuters
Keep in contact with The Thaiger by following our
Facebook page
.
Never miss out on future posts by
following The Thaiger
.
Ban on sales and promotion of alcohol online starts December 7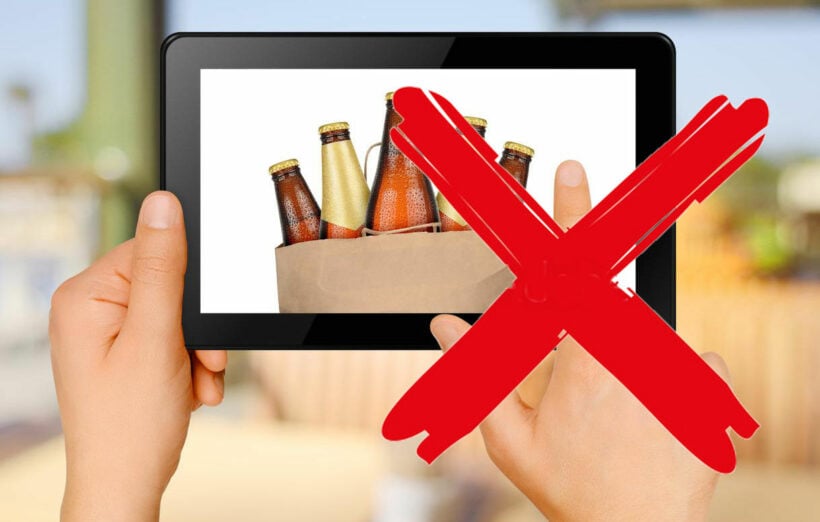 From December 7 you'll no longer, officially, be able to purchase alcohol online in Thailand, according to a posting in the Royal Gazette back in September, the Thai government will prohibit the sales and promotion of alcoholic drinks on every online platform from December 7.
The ban includes direct sales, promotion and introduction of alcoholic products online, but will not include electronic payments of purchases at retail stores, restaurants and bars.
Selling and buying beer, wine and spirits online has become more popular, but the Thai PM says that internet alcohol sales are harder to control than sales at local liquor stores. The announcement said that it's difficult to check that the provisions of the Alcoholic Beverage Control Act are being followed online, like no alcohol sales before 5pm or on certain holidays (although many local stores didn't follow the rules anyway).
"The Royal Gazette had published the announcement of 'Prohibition of the sale of alcoholic beverages via electronic sales nationwide' on September 8 noting that alcohol has become more easily accessible online due to the popularity of social media platforms and specialist Apps.
"No person shall sell alcoholic beverages or provide services related to alcoholic beverages on electronic channels. Online payment for trading such beverages at actual stores are excluded."
With Thai officials obsessed with the perceived evils of alcohol, Thailand already has a ban on the sale of alcohol before 11am, between 2 – 5pm, and after midnight. It's also illegal to brew your own beer at home or to post pictures of branded alcohol online, either as a private citizen or as a company. But the government's latest announcement, that drinkers won't be able to purchase alcohol online that really ignited the Twittersphere and social media.
Deputy PM and the Minister of Public Health, Anutin Charnvirakul, told AP after a meeting of the alcohol control committee on November 7, that they'd agreed to draft guidelines, under the revision of the Public Health Ministry, to inform the Public regarding the Royal Gazette announcement of banning online alcohol trading.
"Violators of the new ban will be subject to up to six months in prison and/or a fine of up to 10,000 baht."
People will still be able to use electronic methods of payment, like bank transfers, when buying alcohol at stores, restaurants or other establishments, just not purchase from online portals.
The Ministry is going to launch a publicity campaign about the new bans in the week leading up to December 7.
Keep in contact with The Thaiger by following our
Facebook page
.
Never miss out on future posts by
following The Thaiger
.
Thai netizens say pro-government royalists carried out Wednesday's protest shootings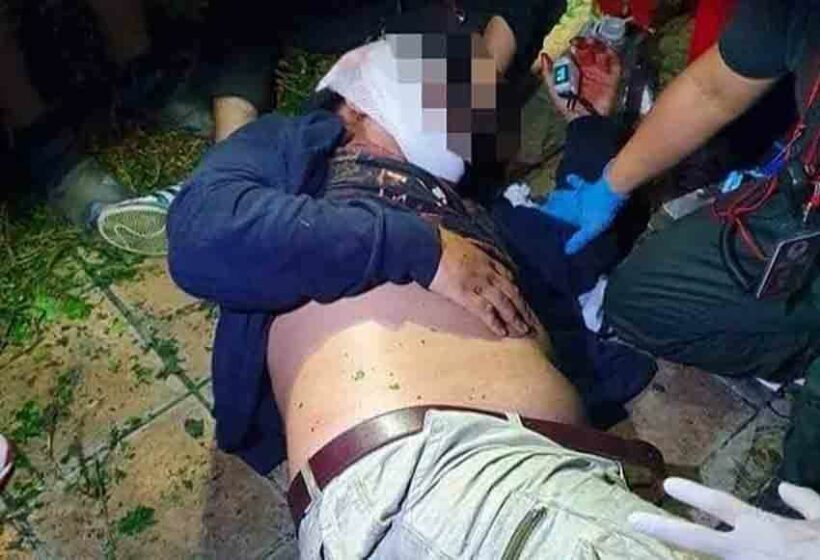 Thailand's netizens are refuting police's claims that pro-democracy protesters carried out Wednesday's rally shootings. The shootings occurred at the rally site near Bangkok's Siam Commerical Bank head office, where the rally site was originally planned but was then moved after protesters tried to avoid a clash with pro-government royalists. However, shots were fired, with police arresting a suspect on charges of attempted murder, shooting in public without reason, and carrying a firearm in public.
The netizens found footage of the scene, in which they say they identified the faces of the offenders. The revelation came after Deputy Metropolitan Police Bureau commissioner Piya Tawichai blamed Ratsadon guards for the shootings and injuries.
Further muddying the investigation, the shooters allegedly claimed they supported the pro-democracy movement, prompting netizens to scour videos that were taken of the rally. In light of the video evidence, Thairath TV has apologised for "blindly accepting" the police statement by accusing the pro-democracy protesters of causing the violence. PM Prayut has also ordered an investigation into the shooting, citing that the government may be blamed for the attack after authorities were reportedly only supposed to maintain peace in the rally, a job that clearly failed.
Meanwhile, the pro-democracy leaders have been called into questionby donors to the movement, as they have criticised how the leaders have used the donations, when a guard was shot and injured. Netizens took to social media to ask what "fairy godmother" Inthira "Sine" Charoenpura and Pakorn "Hia Bung" Pornchewangkurn were buying with the donation money with some online comments mentioning the display of yellow ducks and props as a poor use of donation funds. Some criticisers pointed towards using the donations to buy protective gear for protesters after the shootings occurred, prompting the 2 leaders to issue a statement that they would now use such funds for the injured guards.
SOURCE: Nation Thailand
Keep in contact with The Thaiger by following our
Facebook page
.
Never miss out on future posts by
following The Thaiger
.