Thailand
Thai farmer makes 1 million baht per month selling buffalo semen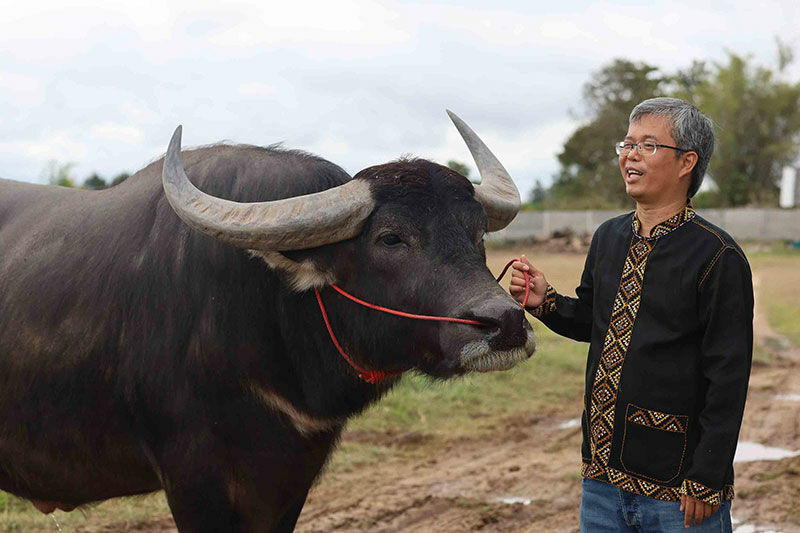 A farmer in Kalasin province in northeast Thailand makes 1 million baht every month by selling semen from one special water buffalo named "Big Billion."
Water buffalo ("kwai" in Thai language) breeders all around the kingdom pay high prices for the semen of Big Billion, a 'textbook' Thai water buffalo worth 30 million baht.
Breeders use Big Billion's seed to artificially inseminate female buffalo in hopes of giving birth to a new generation of beautiful buffalo that will grow up to sell for millions like their father.
The prized buffalo's owner Mongkol Mongphet stressed that while the Big Billion generates a lot of income with his semen, he is in fact a working farm animal too.
Big Billion is an animal of many talents. Mongkol compares him to a 'tractor' without the costs. Big Billy's manure is used as fertilizer which nourishes rice and crops without the use of expensive and unhealthy chemicals, he added.
But Thailand's buffalo scene isn't all about farming. Buffaloes are bred for their beauty and strength and compete in national pageants. The winners sell at auction at many of Thailand's buffalo festivals for millions of baht.
Mongkol, who is also the mayor of Kham Bong subdistrict, said that his family has bred kwai for generations. Since birth, Mongkol has seen his family raising buffaloes for labour. He said that his family sells buffaloes to generate money to send their children to school.
Mongkol has been a witness to the ever-decreasing role of buffaloes in Thai society. He said that villagers don't like to raise them the same way they once did. Farmers use tractors instead of buffalo because they are faster and more convenient and opt for chemical fertilizer rather than manure, said Mongkol.
The farmer said he has a close relationship with buffaloes and feels indebted to them for all they have done for him and his family. Mongkol's family have always raised buffaloes because they are docile animals, easy to raise, strong, patient, and more disease-resistant than cows, he said.
There are over 20 pageant buffaloes at Mongkol's farm, but Big Billion is the "hero," he said.
Mongkol bought Big Billion six years ago for a price of 500,000 baht. Generally, pageant buffaloes cost 40,000 – 50,000 baht.
After Big Billion won several provincial beauty contests, Mongkol was offered 30 million baht for Big Billion, but he refused the offer. Breeders everywhere wanted to buy Big Billion's semen, which now generates 1 million baht every month.
Mongkol said there are about 350 breeders in his circle in Kalasin who collectively own about 10,000 pageant buffaloes. For some time, the industry died down, but now people are gaining interest again, he said.
Another farmer, 36 year old Prompong Pimphao from Kalasin, bought Big Billion's semen from Mongkol.
Prompong said he bought a female kwai from the slaughterhouse named Boonrod for 20,000 baht and artificially inseminated her with Big Billion's semen.
Boonrad's skin became beautiful when she was pregnant, said Prompong, and someone offered him 200,000 baht for the mother and unborn baby. However, Prompong refused.
Boonrad gave birth to a male kwai named Petch Puthai who is now two months old. Petch Puthai is very beautiful and looks much like his award-winning father, said Prompong.
Another farmer has offered 500,000 baht for Boonrad and baby Petch Puthai. However, Prompong won't sell the pair and intends to raise them himself. The farmer said Petch Puthai will go on to be a top breeder like Big Billion.
In March last year, a genetically-rare albino buffalo sold for 2.5 million baht at the 10th Uthai Thani Buffalo Festival.
A few weeks ago, a drunk English tourist destroyed an artist's albino buffalo sculpture exhibited outside Samyan Mitrtown in Bangkok, enraging and upsetting kwai lovers around the country.