Sports tourism flourishing in Phuket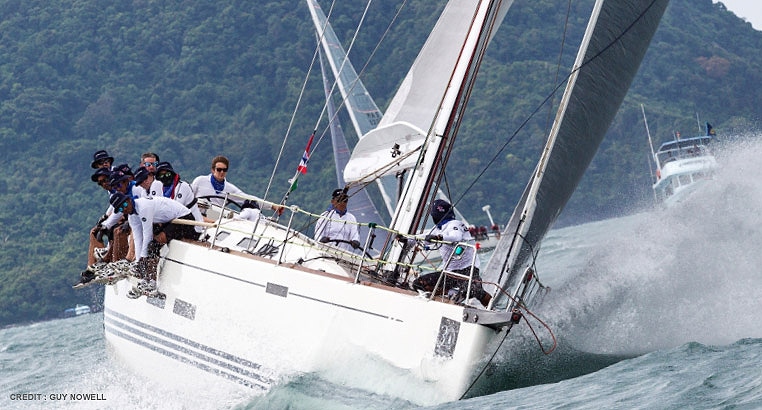 By Paul Poole, Thailand's sponsorship guru
Few places in Thailand host more sporting events than Phuket, and every year thousands of tourists – both local and foreign – head to the island to participate in or witness a sporting event.
Hardly a month goes by without a sporting event taking place on Phuket. Be it swimming, biking, running, golfing or sailing, the island is fast becoming one of the premier sports tourism destinations not only in Thailand but also in the wider region. With Thailand being ranked as the top MICE destination among Asean countries in 2016, Phuket is one of the top contributors to the industry, according to research by Thailand Convention & Exhibition Bureau and C9 Hotelworks Market Research.
One example of sporting events that have traditionally attracted large numbers of visitors to Phuket are the island's many regattas and yachting events. Sailing has a long history in Thailand, and over the years the country has become one of the most active racing destinations in Asia, with events such as Phuket King's Cup Regatta, Kata Rocks Superyacht Rendezvous and Cape Panwa Hotel Phuket Raceweek drawing sailors and spectators from near and afar every year.
These events play an important role to the local community. Speaking at a press conference in Bangkok earlier in the year, Kobkarn Wattanavrangkul, Minister of Tourism and Sports, said: "Sports tourism is an area in which we see a lot of growth potential for the country. Marine events attract high-spending tourists, many of whom are repeat tourists coming back to Thailand throughout the year."
Indeed, according to research done by Infinity Communications & Consultants, a marketing communications agency in Thailand specialising in sporting events, an estimated 40 million Baht is spent during the week of the Phuket King's Cup Regatta on food and drink alone. The number does not include expenditure on travel, entertainment, event entry fees, boat maintenance and other expenses. "Sports tourism is an important and growing sector on Phuket," says Norraphat Plodthong, Governor of Phuket. "Sporting events are highly beneficial to the local economy because they tend to attract a large number of visitors who support local hotels, restaurants and other services. Our beautiful natural environment, world-class facilities, good connectivity and warm hospitality make Phuket the perfect sports tourism destination."
Another example of a sporting event that has placed Phuket on the sporting map is Laguna Phuket Marathon, which is expected to attract over 8,000 runners from more than 50 countries when it returns for the 13th time in June next year. While the race is commonly referred to as South East Asia's leading destination marathon, the event is also well-known for its friendly atmosphere, offering race distances for all ages and abilities and thus encouraging mass participation.
There is no doubt that an event like Laguna Phuket Marathon has a significant impact on the local economy. According to research by Frost & Sullivan, a business consulting firm, Laguna Phuket Marathon was the prime motivation for travelling to Phuket for 1,750 local and expat visitors in 2017, while the number was 2,333 for foreigners. Furthermore, the event has seen a significant increase in average spending for both locals and foreign visitors, with the former seeing a 124 percent increase from 2016 to 2017 to 4,322 Baht and the latter seeing a 92 percent increase in average spend to 10,641 Baht during the same time. In addition, the race is held during a time when Phuket usually sees a slowdown in tourist numbers; it is estimated that the total economic output of the 2017 edition of the race was 215 million Baht.
Sports tourism on Phuket is not only about large international events. The island also regularly hosts smaller amateur events that may not attract the attention of international athletes but nevertheless play an important role in driving local sports tourism. According to research by Thailand Convention & Exhibition Bureau and C9 Hotelworks Market Research, domestic travellers accounted for more than 70 percent of total MICE travellers in 2016.
Paul Poole (South East Asia) Co., Ltd. offers a number of sponsorship opportunities for sporting events on Phuket, including Thailand Yacht Show, Kata Rocks Superyacht Rendezvous and Laguna Phuket Marathon. For more information click HERE.
- Tim Newton
Thaiger Radio News – Sunday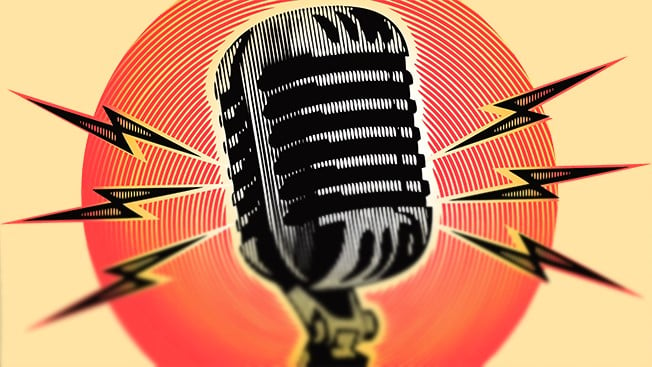 Narathiwat: 40 pipe bombs seized at a checkpoint on busy highway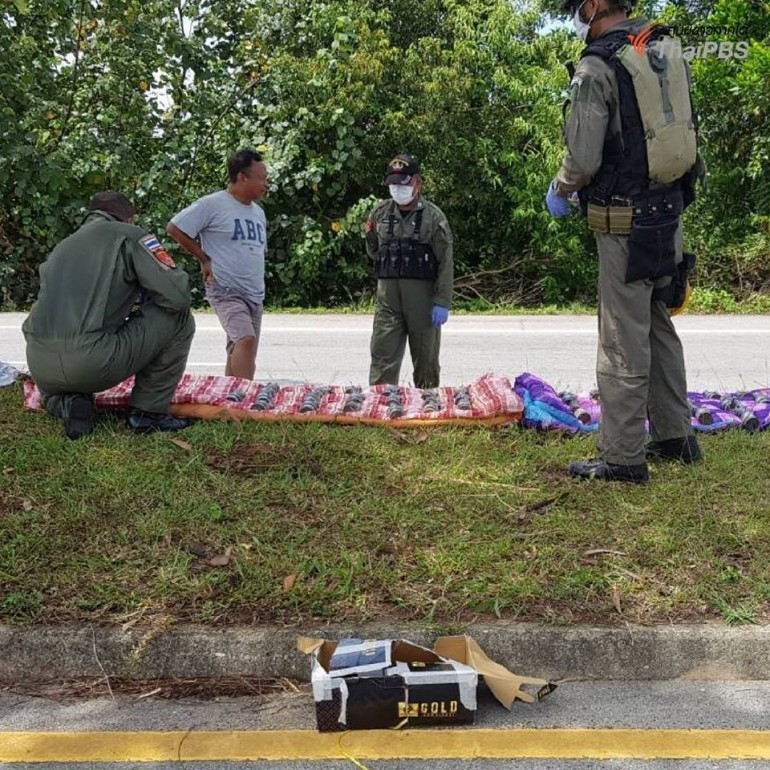 Police in Narathiwat have uncovered 40 pipe bombs together with other potential bomb-making paraphernalia from a pickup truck at a checkpoint. The pick-up was travelling on the Sungai Kolok-Takbai highway in the southern province of Narathiwat.
Thai PBS are reporting that highway police set up a checkpoint on the main north-south highway.  Around midday, a gold-coloured Isuzu pick-up approached the checkpoint and was stopped for a routine search.
A suspect, 36 year old Sanusee Yatae, was arrested while another, identified by police as Abdul-arsi Sama, managed to elude police and remains at bay whilst police continue searching.
The police unfolded two quilts in the passengers' cabin of the pick-up and found the 40 pipe bombs.  The explosives ordnance disposal unit was then called in to check out the bombs.
Besides the 40 pipe bombs, there were two radio transmitters, four torches, two boxes of radio circuitry, 36 boxes of timer circuits set for five minutes, one box of timer circuits set for ten minutes, two boxes of time circuits set for 30 minutes and one steel pipe bomb.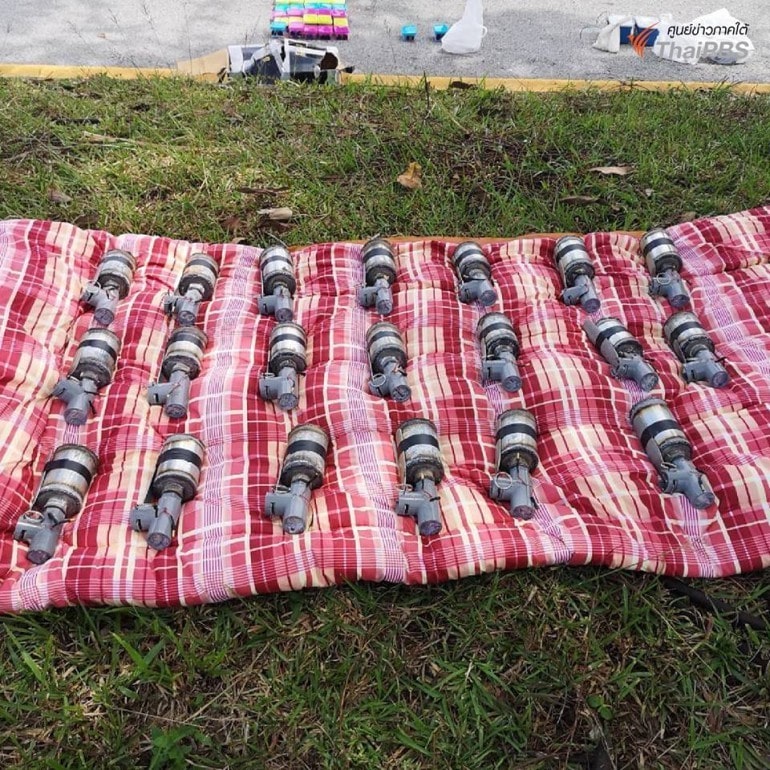 SOURCE: Thai PBS

Thaiger Radio News – Saturday