Sports tourism flourishing in Phuket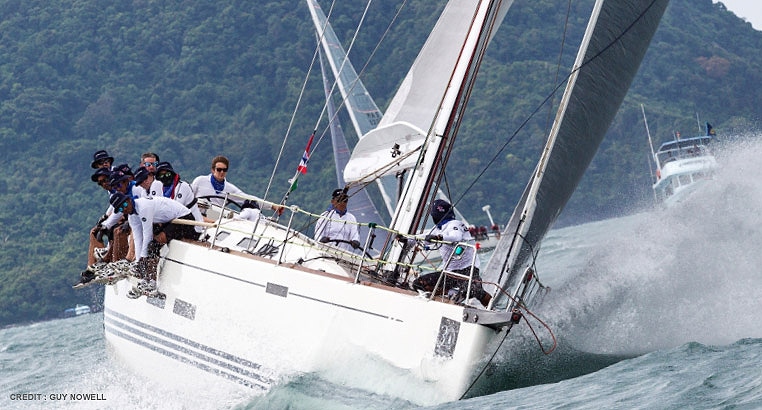 By Paul Poole, Thailand's sponsorship guru
Few places in Thailand host more sporting events than Phuket, and every year thousands of tourists – both local and foreign – head to the island to participate in or witness a sporting event.
Hardly a month goes by without a sporting event taking place on Phuket. Be it swimming, biking, running, golfing or sailing, the island is fast becoming one of the premier sports tourism destinations not only in Thailand but also in the wider region. With Thailand being ranked as the top MICE destination among Asean countries in 2016, Phuket is one of the top contributors to the industry, according to research by Thailand Convention & Exhibition Bureau and C9 Hotelworks Market Research.
One example of sporting events that have traditionally attracted large numbers of visitors to Phuket are the island's many regattas and yachting events. Sailing has a long history in Thailand, and over the years the country has become one of the most active racing destinations in Asia, with events such as Phuket King's Cup Regatta, Kata Rocks Superyacht Rendezvous and Cape Panwa Hotel Phuket Raceweek drawing sailors and spectators from near and afar every year.
These events play an important role to the local community. Speaking at a press conference in Bangkok earlier in the year, Kobkarn Wattanavrangkul, Minister of Tourism and Sports, said: "Sports tourism is an area in which we see a lot of growth potential for the country. Marine events attract high-spending tourists, many of whom are repeat tourists coming back to Thailand throughout the year."
Indeed, according to research done by Infinity Communications & Consultants, a marketing communications agency in Thailand specialising in sporting events, an estimated 40 million Baht is spent during the week of the Phuket King's Cup Regatta on food and drink alone. The number does not include expenditure on travel, entertainment, event entry fees, boat maintenance and other expenses. "Sports tourism is an important and growing sector on Phuket," says Norraphat Plodthong, Governor of Phuket. "Sporting events are highly beneficial to the local economy because they tend to attract a large number of visitors who support local hotels, restaurants and other services. Our beautiful natural environment, world-class facilities, good connectivity and warm hospitality make Phuket the perfect sports tourism destination."
Another example of a sporting event that has placed Phuket on the sporting map is Laguna Phuket Marathon, which is expected to attract over 8,000 runners from more than 50 countries when it returns for the 13th time in June next year. While the race is commonly referred to as South East Asia's leading destination marathon, the event is also well-known for its friendly atmosphere, offering race distances for all ages and abilities and thus encouraging mass participation.
There is no doubt that an event like Laguna Phuket Marathon has a significant impact on the local economy. According to research by Frost & Sullivan, a business consulting firm, Laguna Phuket Marathon was the prime motivation for travelling to Phuket for 1,750 local and expat visitors in 2017, while the number was 2,333 for foreigners. Furthermore, the event has seen a significant increase in average spending for both locals and foreign visitors, with the former seeing a 124 percent increase from 2016 to 2017 to 4,322 Baht and the latter seeing a 92 percent increase in average spend to 10,641 Baht during the same time. In addition, the race is held during a time when Phuket usually sees a slowdown in tourist numbers; it is estimated that the total economic output of the 2017 edition of the race was 215 million Baht.
Sports tourism on Phuket is not only about large international events. The island also regularly hosts smaller amateur events that may not attract the attention of international athletes but nevertheless play an important role in driving local sports tourism. According to research by Thailand Convention & Exhibition Bureau and C9 Hotelworks Market Research, domestic travellers accounted for more than 70 percent of total MICE travellers in 2016.
Paul Poole (South East Asia) Co., Ltd. offers a number of sponsorship opportunities for sporting events on Phuket, including Thailand Yacht Show, Kata Rocks Superyacht Rendezvous and Laguna Phuket Marathon. For more information click HERE.
Want more from the Thaiger family?
📱 Download our app on Android or iOS for instant updates on your mobile
📧 Subscribe to our daily email newsletter
👍 Like/Follow us on Facebook
🔔 Subscribe to or Join our YouTube channel for daily video updates
Like Songkran, Sri Lanka New Year's brings Covid-19 wave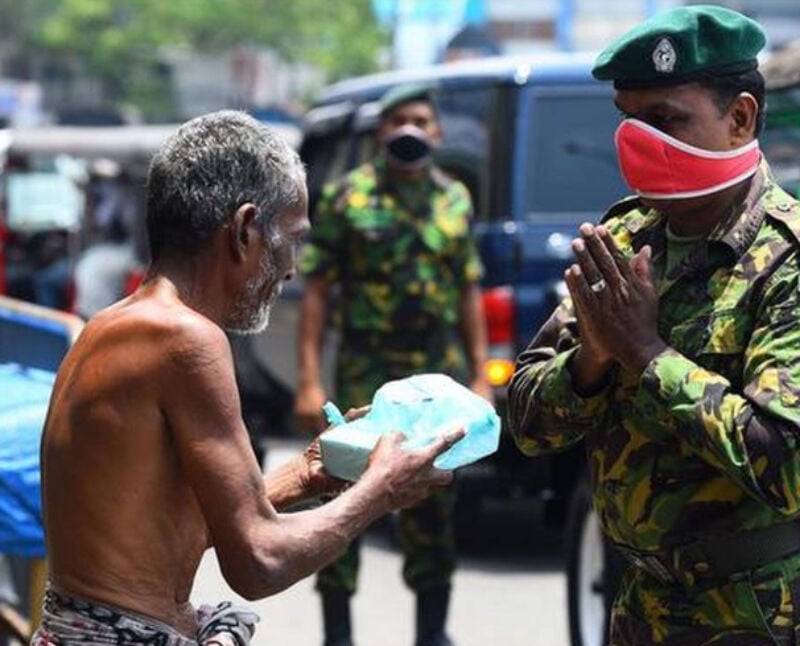 Sri Lanka has seen a huge wave of new Covid-19 infections in part due to large New Year's celebrations in mid-April at the same time as Thailand's Songkran Festival. From the beginning of April until now, the island nation has experienced a fivefold increase in daily cases, with 1,895 infections reported yesterday. February had previously been the worst month in Sri Lanka's Covid-19 history, but figures are much worse now.
On April 13 and 14, large gatherings crowded the street to celebrate Sri Lanka's New Year's holiday. The day before, Sri Lankan President Gotabaya Rajapaksa address the nation with hope, saying that after cancelling festivities the previous year, everyone working together to reduce Covid-19 had allowed New Year's activities to take place this year. Authorities felt that Covid-19 was contained in Sri Lanka and, while they did stress health and safety guidelines, the president encouraged the celebration of the holiday.
"It is my hope and expectation that all citizens without any discrimination will join the Sinhala and Tamil New Year celebrations with fresh hopes, determination, and righteous thoughts."
But the celebration was too soon, and by April 27, Sri Lanka was recording 1,000 Covid-19 infections per day, the first time this milestone had been reached since the Covid-19 first appeared. Lockdowns in more than 100 areas began, with private functions banned and school shuttered, but it was too little too late. 13 of the 25 administrative regions of Sri Lanka are now in lockdown, as the nation fights to rein in this Covid-19 wave.
As of now, the deadly Indian variant has not been found just across the water in Sri Lanka, but the B.1.1.7 variant has been prevalent in the recent quick spread of infections. Now Sri Lanka looks towards mass Covid-19 vaccination as the only solution, but jabs are in short supply. An order of 600,000 AstraZeneca vaccines from India's Serum Institute did not arrive and only 1 million out of 21 million Sri Lankans have been fully vaccinated. 5 jabs have been given per 100 people, less than half that of India, which has inoculated 12 out of every 100 people.
Sri Lanka has now isolated itself from neighbouring India, sealing its border. The Navy is patrolling the waters to keep Indian fishing boats away from their shores. All flights from India have been cancelled and banned as well. Sri Lanka has followed in the footsteps of Nepal and Bangladesh before them in closing itself off from their Covid-19 infested neighbour in hopes of limiting the spread and not reaching the levels of catastrophe that India has.
SOURCE: CNN
Want more from the Thaiger family?
📱 Download our app on Android or iOS for instant updates on your mobile
📧 Subscribe to our daily email newsletter
👍 Like/Follow us on Facebook
🔔 Subscribe to or Join our YouTube channel for daily video updates
With Indian neighbours sealing borders, Maldives welcomes tourists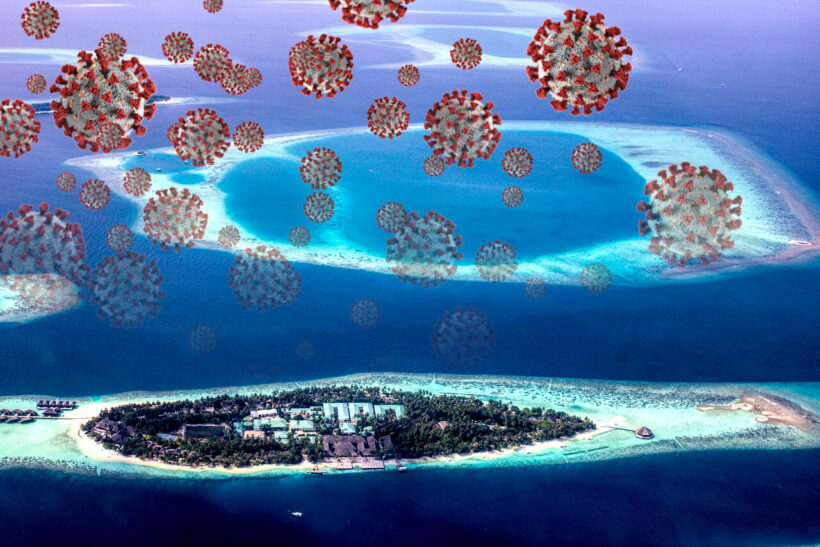 Tuesday saw a new Daily Record for Covid-19 cases in the 26 islands of the Maldives, with 601 new infections. The tiny nation's Health Emergency Operations Centre reported this week that hospitalisations due to Covid-19 had tripled in a few days and they suspect that a new variant may now be present in the country. The capital city of Malé and the areas around it are by far the most densely populated part of the sparse country and has now enacted a curfew from 9 pm to 4 am. People can go out only for essential reasons, and delivery services are allowed to operate only with a permit from the police.
At just 298 square kilometres, the Maldives is Asia's smallest nation by land and its population of just over 557,000 people is the second smallest, bigger than only Brunei. The Maldives is doing better than neighbouring countries on its Covid-19 vaccination process, with more than 400,000 doses already administered. That's 76 vaccines per 100 people as compared to India's 12 jabs per 100. But still, only 21% of the Maldivians population has been fully vaccinated.
But the Maldives is a country extremely reliant on tourism and they were the first to triumphantly reopen their borders after 3 months of lockdown last July. Just last month, government officials had announced vaccines on arrival for travellers, in an effort to attract the so-called vaccine tourism market, where people from countries unable to provide vaccines have looked to go abroad to get their jab. The plan was to be implemented only after the citizens of the Maldives were fully vaccinated against Covid-19 though and has not taken effect yet.
Their biggest tourism problem though is that 23% of their visitors are from the Covid-19 plagued nation of India. According to the Maldives Ministry of Tourism, the neighbouring country has received 70,000 Indian visitors just in the first 3 months of 2021, more than double the total number of tourists from India in 2020. Even now, as all of India's neighbours rushed to seal their borders, the Maldives still has no restrictions from India, welcoming wealthy and elite travellers, including many Bollywood stars.
Read about the current Covid-19 situation in countries around South and Southeast Asia: Cambodia, India, Indonesia, Nepal, Sri Lanka and Thailand.
SOURCE: CNN
Want more from the Thaiger family?
📱 Download our app on Android or iOS for instant updates on your mobile
📧 Subscribe to our daily email newsletter
👍 Like/Follow us on Facebook
🔔 Subscribe to or Join our YouTube channel for daily video updates
Covid-19 reaches new heights in Nepal with Mt Everest infections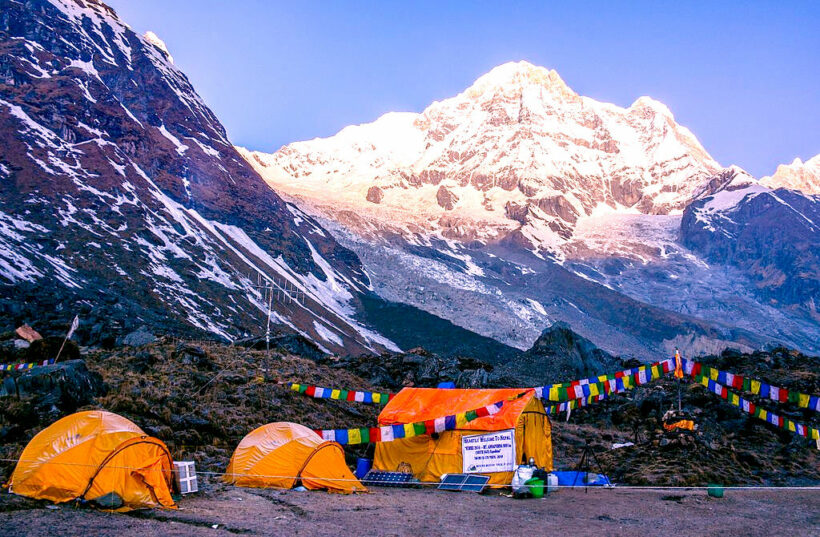 Nepal, India's neighbour to the north, is facing a similar Covid-19 crisis with a 1200% increase in new infections, triggering hospital shortages. According to the International Federation of Red Cross and Red Crescent Societies, the government had said that 44% of Covid-19 tests administered in Nepal had come back positive last weekend. The country is reporting about 20 new cases per 100,000 people, a statistic similar to what India had 2 weeks previously. But the alarming testing numbers indicate that there may be a lot more Covid-19 infections that haven't been identified yet.
With 28 million people, Nepal has a lower vaccination rate than India and also fewer doctors per capita than its large neighbour. Many attribute the new wave of Covid-19 infections in Nepal to its long and insecure border with India, allowing the crisis there to spill over across the border. Many Indians have crossed over into Nepal to escape the crisis in their country, hoping to get medical treatment in Nepal or to use it as a hopping off point to another country.
Nepal likely has the topographically highest outbreak of Covid-19 in the world, as 17 cases have been confirmed at Mount Everest Base Camp 5364 metres above sea level, according to base camp officials. May usually has a small window of 10 to 15 days for weather suitable to ascend the world's highest peak, but Covid-19 symptoms are cropping up in people preparing for the climb.
A population reluctant or lazy to take strong action against the Covid-19 outbreak in Nepal along with slow government response to the pandemic have been blamed for the current spread. Festivals, large traditional weddings, political events, and mass public gatherings have all contributed to the country's dire situation. Nepal's Red Cross chairperson looked at India as a harbinger of what to come.
"What is happening in India right now is a horrifying preview of Nepal's future if we cannot contain this latest Covid surge that is claiming more lives by the minute."
The Ministry of Health and Population said this week that the Covid-19 situation in Nepal is getting worse and worse each day and may spiral out of control soon. The country has attempted to strengthen security at the borders and has now imposed lockdowns in Kathmandu and some of the hardest-hit areas. But now hospitals are becoming overwhelmed with an influx of new Covid-19 patients and are struggling to care for those in need. Nepal is now pleading for medical aid from other countries as their Covid-19 pandemic worsens.
Want more from the Thaiger family?
📱 Download our app on Android or iOS for instant updates on your mobile
📧 Subscribe to our daily email newsletter
👍 Like/Follow us on Facebook
🔔 Subscribe to or Join our YouTube channel for daily video updates