Scientists say Thailand bats could spread similar coronaviruses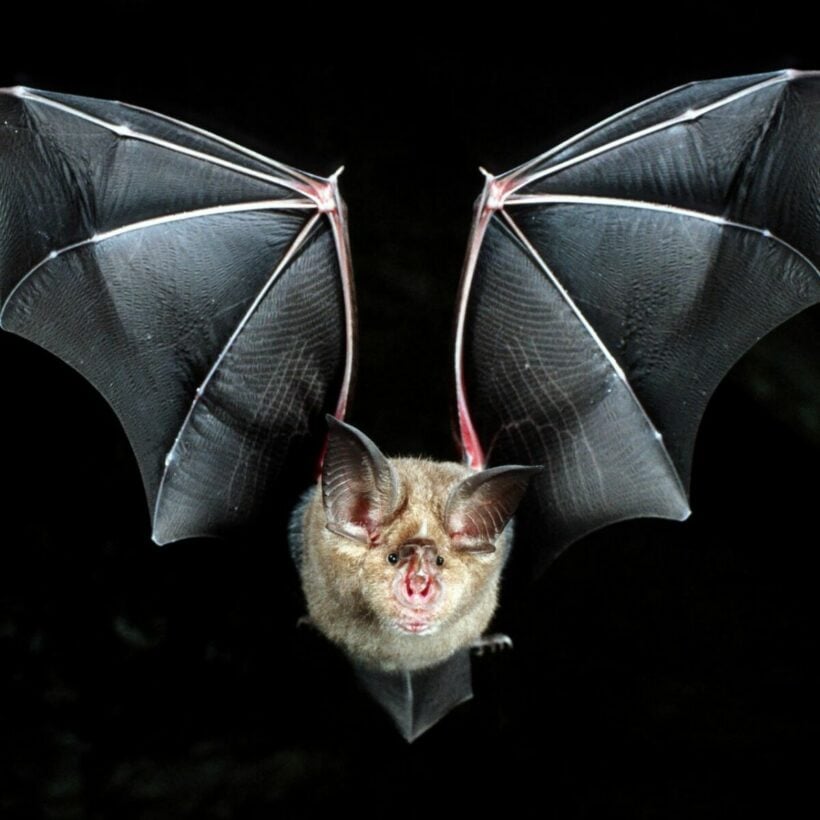 Scientists say bats in Thailand could spread other coronaviruses related to Sars-CoV-2, or Covid-19, joining what is thought to be many other bats doing the same thing across Asia. The revelation comes after scientists found bats at a wildlife sanctuary in eastern Thailand to feature a virus that closely matches that of the virus that causes Covid-19.
The team that discovered the bats featuring the virus in Thailand is led by Lin-Fa Wang of Duke-NUS Medical School in Singapore. The virus found is named RacCS203, and is over 91% similar to the Covid-19 virus in terms of genomes.
It is also closely related to another coronavirus, RmYN02, which is found in bats in Yunnan, China as its genomes display a 93.6% match to Covid-19.
"We need to do more surveillance in animals. In order to find the true origin, the surveillance work needs to go beyond the border of China."
One big concern is the ability of such coronaviruses to move between different mammals as scientists still attribute the outbreak of Covid-19 to the virus being transferred from bats to a secondary host and then to humans. But the bats in Thailand at the wildlife sanctuary are insect-eating, which workers at the sanctuary have told visitors to not be concerned about the flying creatures.
However, insect-eating bats can spread deadly illnesses and according to a New York Times article, a virologist says horseshoe bats, may be to blame for the current Covid-19 virus. Horseshoe bats are, indeed, found in Thailand caves, and are also insect eaters.
The discovery of the possible connection between horseshoe bats and the coronavirus linked to Covid-19 prompted Dr. Supaporn Watcharaprueksadee, the deputy chief of the Center for Emerging Infectious Disease of Thailand and a specialist in bat-borne viruses, to look into whether bats in Thailand, may share a similar virus.
Infectious diseases such as SARS, MERS, Hendra, Ebola and Nipah, are thought to have emerged from bats, making research into Asian bats all the more necessary.
SOURCE: BBC News
Keep in contact with The Thaiger by following our Facebook page.
Never miss out on future posts by following The Thaiger.
Samut Sakhon shrimp market, recent Covid-19 wave's epicentre, is back open and bustling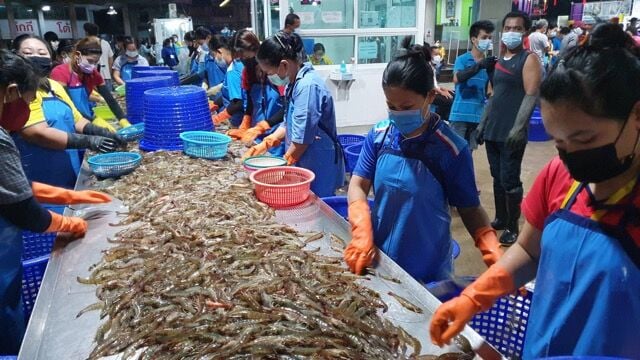 The Samut Sakhon seafood market, the epicentre of the recent wave of Covid-19 infections, has reopened. The Central Shrimp Market had been shut down, sealed off and sprayed down after hundreds of vendors, migrant workers and visitors were infected with the coronavirus. Now, 10 weeks later, the market at a fishing hub just southwest of Bangkok, is not only back open, it's bustling.
A waiting area now has rows sectioned off by plastic dividers to ensure social distancing. Those bringing fish to the market to sell must take a queue card and sit in the proper seat. The seafood will also be now sorted on a raised platform.
Market operators, vendors and customers are required to follow disease control measures. Screening points are set to check all vehicles entering the area including trucks delivering seafood as well as vendors and customers.
Workers are required to wear face masks, gloves, rubber boots and rubber aprons. Members of the market must have documents from a recent health screening.
SOURCE: Bangkok Post
Keep in contact with The Thaiger by following our Facebook page.
Never miss out on future posts by following The Thaiger.
CCSA Update: 80 new Covid-19 cases, active infections on a downward slope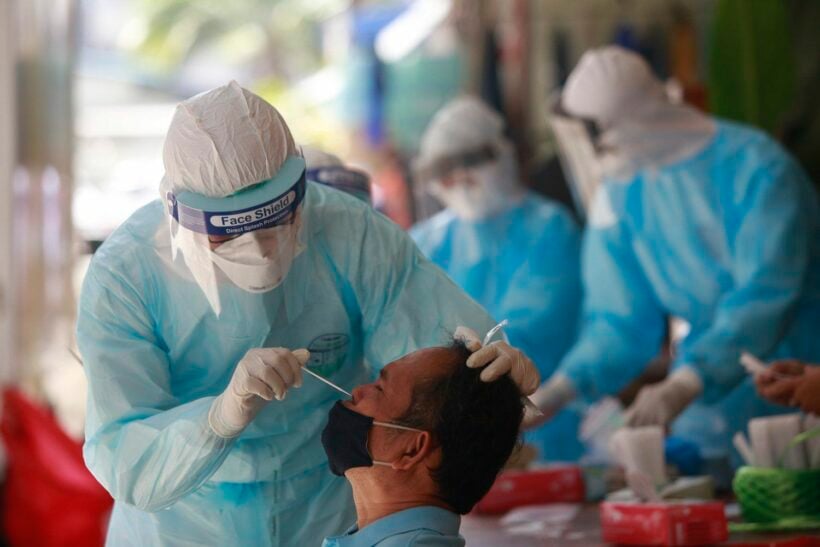 80 new Covid-19 cases were reported today in the Centre for Covid-19 Situation Administration's daily briefing while 142 new cases were reported on Saturday and Sunday. Since the start of the pandemic, Thailand has reported 26,031 coronavirus infections and 83 deaths.
There are currently 624 active Covid-19 infections, a record low for Thailand since the December outbreak at a Samut Sakhon seafood market. The number of active Covid-19 over the past month drastically dropped after health officials slowed down mass testing efforts in high risk areas.
Out of the 80 new cases reported today, 28 were exposed to the virus in areas considered to be at "high risk," including 19 in Samut Sakhon, 3 in Tak, 2 in Nakhon Pathom, 2 in Bangkok, 1 in Chon Buri and 1 in Ratchaburi.
36 cases were detected through proactive testing, including 35 cases in Pathum Thani and 1 in Nonthaburi.
The other 16 cases were detected in quarantine for those arriving to Thailand from overseas.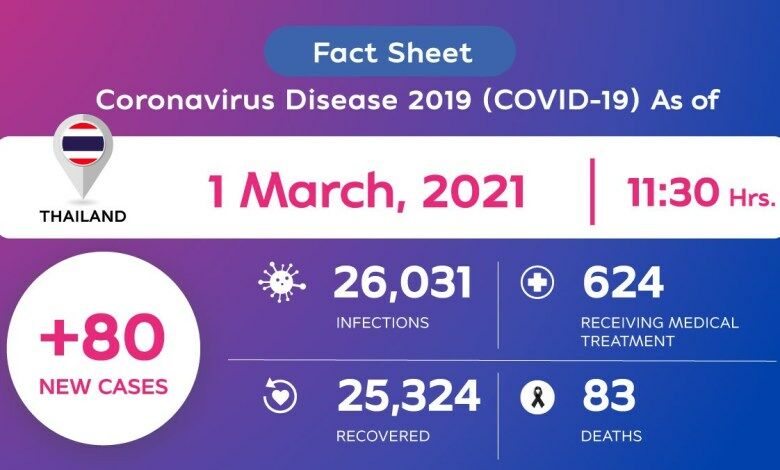 SOURCE: Nation Thailand
Keep in contact with The Thaiger by following our Facebook page.
Never miss out on future posts by following The Thaiger.
Thai PM says Covid-19 jab is safe, urges people to get vaccinated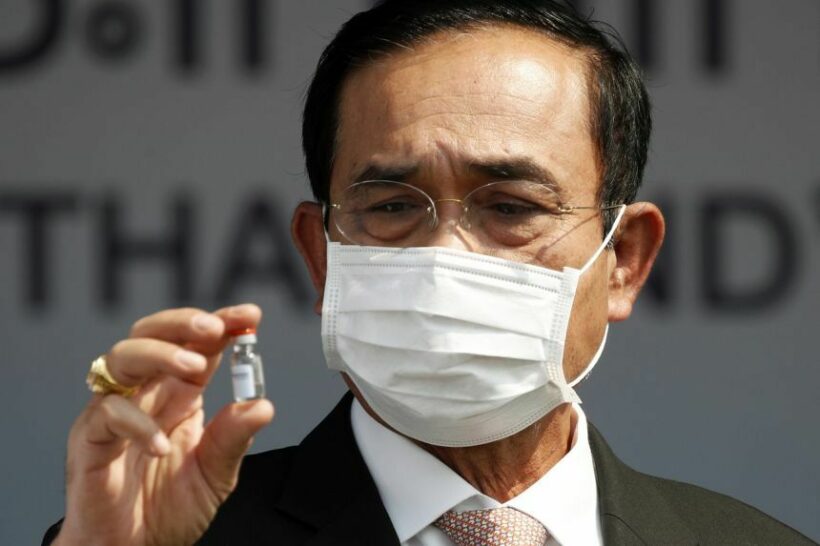 The Thai PM, Prayut Chan-o-cha, has assured people the Covid-19 vaccine is safe as he called on citizens to get vaccinated. Nation Thailand reports that the PM was speaking at a vaccination drive taking place at Bamrasnaradura Infectious Diseases Institute, in the central province of Nonthaburi.
It's understood Prayut himself will receive the AstraZeneca vaccine, having been deemed too old for China's Sinovac jab. However, it is unclear when he might be vaccinated, with the delay put down to issues with the AstraZeneca paperwork.
Public Health Minister Anutin Charnvirakul was the first person in Thailand to receive a Covid-19 vaccine, when he got the Sinovac jab yesterday. It's understood he has not experienced any adverse reaction. A number of other politicians and prominent medics also got the vaccine, including Opas Karnkawinpong from the Department of Disease Control and the Public Health Deputy Minister Sathit Pitutecha.
The PM says the vaccines are safe and is calling on everyone to get inoculated when the time comes.
"The government and medical personnel have overcome this crisis many times so far. This shows that Thailand can contain the spread of Covid-19 effectively."
SOURCE: Nation Thailand
Keep in contact with The Thaiger by following our Facebook page.
Never miss out on future posts by following The Thaiger.