Phuket Gazette: Women with kind hearts preyed upon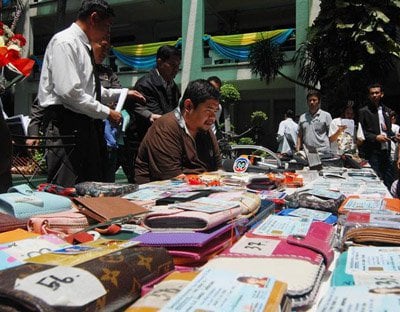 PHUKET MEDIA WATCH
– Thailand news selected by Gazette editors for Phuket's international community
'Suicidal' man preys on women with kind hearts
Phuket Gazette / The Nation

PHUKET: A woman noticed a "suicidal man" on a Web board, felt his pain and decided to reach out with a caring heart.
While the man soon said she had become the light of his life, the truth was that he had told many women the same thing and viewed them all as his victims.
"He has committed more than 100 crimes during the past three years," Metropolitan Police commissioner Lt-General Kamronwit Toopkrajang said yesterday.
One of the victims of suspect Chakorn "Ome" Boonchern, aged 33, was so angry that she slapped him in the face at the Metropolitan Police Bureau yesterday.
Chakorn was arrested on Sunday night at a flat in Bangkok's Lat Phrao district. Found in his room were 136 apparently stolen items, namely, handbags, ATM cards, credit cards, computer notebooks and cellphones.
"I can't explain why I was so gullible. But I believe all of us would feel the same for another fellow human being when he said he was thinking about committing suicide," the victim said, speaking on condition that her name was withheld.
"I offered words of encouragement and we began chatting online and on the phone," she said. "After a week, he invited me to meet him and his parents, saying that he wanted to thank me in person."
He described himself as a son of a famous politician and claimed his surname was "Thienthong", she added. When they met, he told her to get a facial massage before meeting his parents, so that she had a "neat" look.
"He offered to carry my handbag for me. I didn't suspect anything because he also put his wallet and cellphone in there," she said. "But after I came out of the massage room, I found that he was gone."
She headed straight to Lat Phrao police station to file a complaint and found that four other women had already lodged similar complaints.
Another victim said she had met Chakorn online in the same way and, at his insistence, agreed to meet him at a coffee shop in Bang Na district.
"He suggested that I get my hair washed and set before meeting his parents. I agreed, only to find out that he had run off with my bag [while I was being treated]," she said.
She said she hoped her case would serve to remind women not to fall victim to such a ruse because of a soft heart. "Don't believe anyone too fast," said the woman, who has since founded a Facebook page called "Hunt Down Ai Ome". As of yesterday, the page had 2,866 "likes".
Kamronwit said five women had also lodged rape complaints against Chakorn.
Chakorn, who appeared stressed at yesterday's press conference, said: "I plead guilty to all theft charges, but not to sexual assault. You can check the recordings from security cameras, all those women walked out of the rooms normally and some even held my hand."
Chakorn said he had lived off his victims for the past three years, during which time he had also given his wife and their child 15,000 baht a month.
Maj-General Pisit Pisutsak, deputy commissioner of the Metropolitan Police, said Chakorn had regularly moved from one rented place to the next so as to avoid arrest and suspicion.
"We managed to track him down this time because he contacted a professional photographer who had just lost his camera on Saturday night. Chakorn claimed he would return the camera if he got a 30,000 baht reward," Pisit said. "The photographer alerted the police."
— Phuket Gazette Editors
Keep in contact with The Thaiger by following our
Facebook page
.
Never miss out on future posts by
following The Thaiger
.
News of American sued over bad Koh Chang hotel review has everyone talking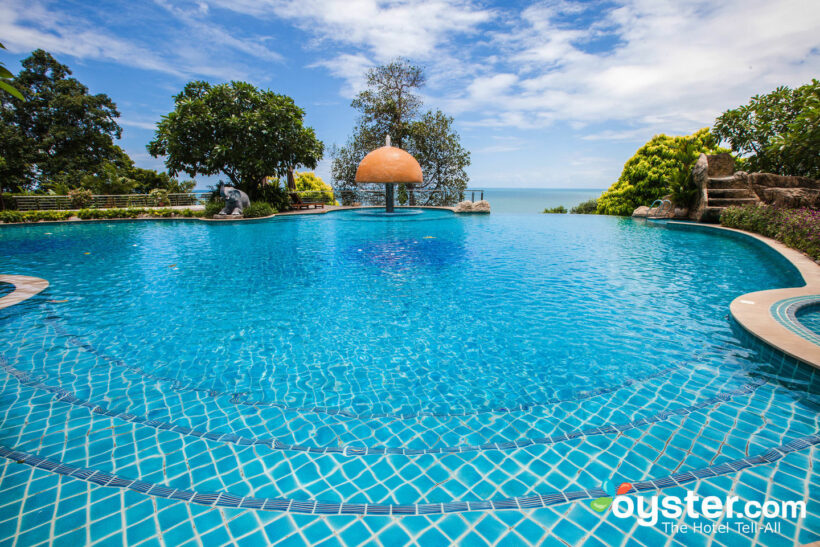 After news hit of an American being arrested and sued for defamation over leaving a bad review about a Koh Chang hotel on TripAdvisor, many are taking to the internet to voice their opinions on the issue. The Sea View Resort owners say it tried in vain to negotiated with Wesley Barnes after he posted the reviews, but he continued to post completely untrue comments.
The owners released a five-page statement after the news of it suing the American gained widespread attention. You can read their response HERE. Then, Barnes submitted his own response detailing the situation which was also published online.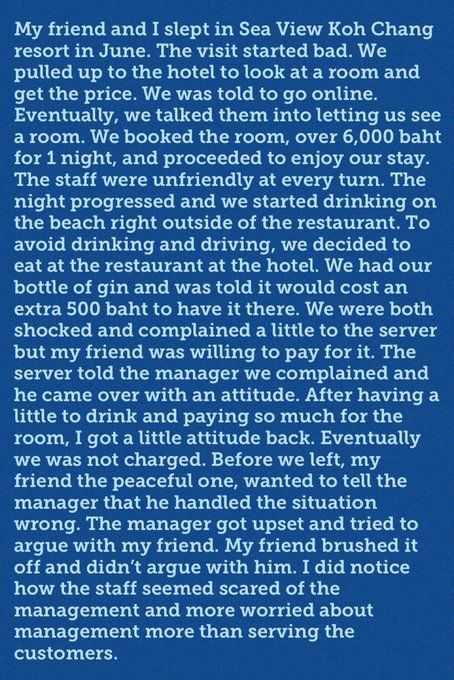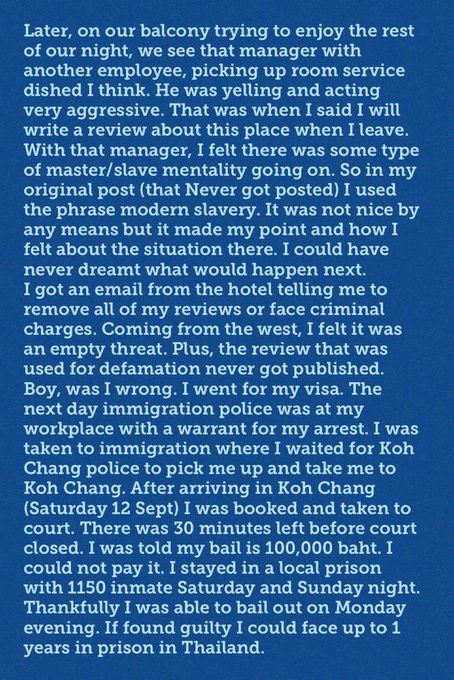 Now, the story has gained even more attention as netizens have begun posting their opinions on the controversial issue of Thailand's defamation laws. Below, are some of those posts on The Thaiger's Facebook page.
"Can someone clarify for me Thailand's position on people leaving honest bad reviews as my girlfriend says it's fine to leave a bad review of a business and it's not defamation if honest of course? I have heard people say that you simply can't leave bad honest reviews at all here but that sounds ridiculous. The thing about many Thais is that they think they're beyond reproach. They can't accept criticism because it's not aligned with their grandiose self-image. Many also have a torrid time when it comes to ownership of their own actions and decision making."
"OMG! He is arrested for a review.?! I know of an expat in Malaysia that wrote a bad review about a Thai-owned resort in Penang and he was sued as well. Be careful with what you share in that neck of the woods."
"It's one thing to leave a bad review but to throw in "modern slavery" remarks escalates to thai defamation law. He shouldn't be arrested for his comments but you need to respect the country laws no matter how crazy they seem compared to your own country. This press is going to negatively affect the business way more than that review would have done though."
"The owner should have settled with the review platforms privately and move on. I would hardly hold up Trip Advisor as a beacon of truth, however some people write extremely personal and vindictive comments that go beyond a review, in an attempt to gain product or refunds in return, this is an absolute fact, and hopefully this might make people think before they start writing reviews that are not exactly honest, I have read stories critical of the General Managers because they didn't contact the guests, some really petty reviews by rather petty people."
If Barnes is indeed found to be guilty of defamation, he could spend up to 2 years in prison and pay up to a 200,000 baht fine.
SOURCE: Chiang Rai Times
Keep in contact with The Thaiger by following our
Facebook page
.
Never miss out on future posts by
following The Thaiger
.
Phuket police arrest 6 after finding large amounts of methamphetamine in raid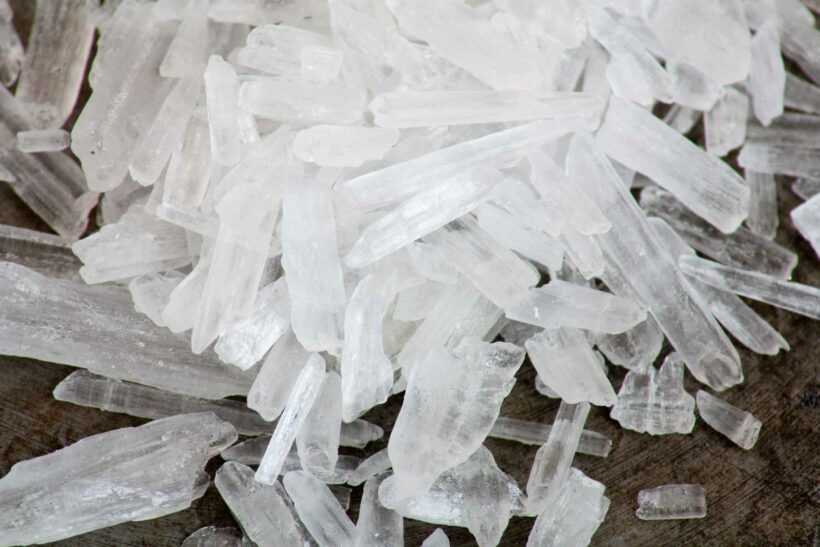 Phuket Provincial Police have arrested 6 people after finding large amounts of methamphetamine and other drugs during a raid. One suspect alone allegedly had 7.6 kilograms of crystal meth (ya ice) and over 12,500 methamphetamine pills (ya bah). 29 year old Surasak 'Bank' Wijit and 27 year old Panida 'Mei' Saeyang were arrested at an apartment car park in Soi Lookkaew, Moo 6, Rassada, in eastern Phuket, after they were found in possession of the drugs.
Police also found 2 mobile phones and a red Honda PCX, registered in Phuket, as evidence. Both suspects have been charged with posessing a Category 1 drug with the intent to sell.
Other suspects arrested at the same time include 36 year old from Chiang Rai, 42 year old Sarawut 'An' Srichanon, from Ranong and 31 year old Pornthep 'Iew' Thepchampa, who were charged with the same crimes in Chalong after police found more drugs in their possession. 33 year old Kamon 'Kung' Sae-ngow, was arrested as well after police found kratom juice and leaves at a house in Rassada. He was taken to Phuket City Police station and was charged with a Category 5 drug possession.
SOURCE:The Phuket News
Keep in contact with The Thaiger by following our
Facebook page
.
Never miss out on future posts by
following The Thaiger
.
Phuket Muay Thai fighter is the first Thai national to compete in UFC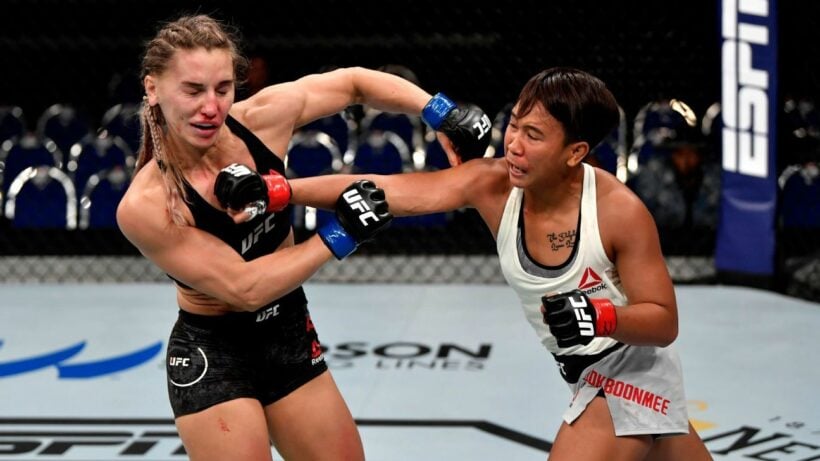 The upcoming Ultimate Fighting Championship Fight Night event in Abu Dhabi will feature Thailand's only national marking her third fight with the UFC, the world's largest mixed martial arts competition. 24 year old Loma Lookboonme, from Burirram in northeastern Thailand, will fight in the event on October 3, 2020.
Loma is a Muay Thai fighter who has adapted her MMA skills to fight in the UFC where she currently trains at the Tiger Muay Thai gym in Phuket. Loma qualified for the national team at the age of 19 and has fought in over 12 nations worldwide. She currently trains 6 days a week starting daily at 6:30am with a 3 kilometre run. In the UFC, she will be competing against China's Angela Lee who is the undisputed champion of the 52 kilogram fist weight category.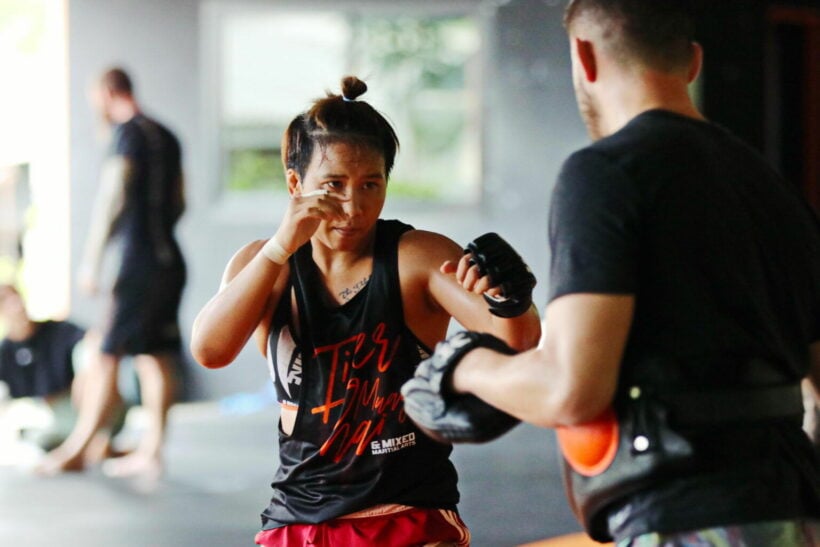 Loma's parents are former Muay Thai fighters and her 2 sisters currently compete as well. She reportedly started training at 8 years old after being inspired by her father, whom she describes as her "hero."
Like most Thais in such fighting sports, Muay Thai offers a way to rise out of poverty-and fighting for the UFC can be financially lucrative. But Loma says her only Thai sponsor is the gym where she trains, with the rest of her sponsors being from foreign brands. She says she is trying to get more Thai sponsors but feels that maybe she needs to win the UFC first before Thai brands notice her.
Loma lost her last fight and says her new opponent gives her nothing to lose. She says her goal is to get into the Top 10, but is not sure when it will happen. Loma says for now, it would be good to fight against someone in the Top 10 to help her prepare for her future.
FULL INTERVIEW: Thisrupt.co
Keep in contact with The Thaiger by following our
Facebook page
.
Never miss out on future posts by
following The Thaiger
.