Phuket Gazette Thailand News: Truce in Bangkok; Suthep calls for People's Assembly; More officials face rice-pledge probe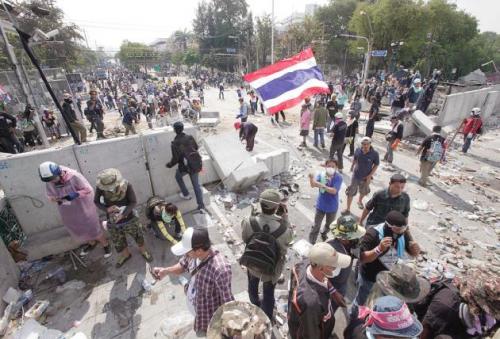 PHUKET MEDIA WATCH
– Thailand news compiled by Gazette editors for Phuket's international community
Tactical truce reached in Bangkok
The Nation / Phuket Gazette
PHUKET: The month-long political confrontation came to a pause yesterday as the nation prepares for His Majesty the King's birthday tomorrow.
In a televised statement, Prime Minister Yingluck Shinawatra urged all Thais to unite, to show their love for the King, who will turn 86.
Yingluck said disagreements continued but she wanted to see all Thais, including the protesters, begin talks to try to provide real solutions.
"I would like to invite all Thais including academics, businessmen, protesters, and experts from all sectors to join the open forum to find solutions for political reform." She also called on the media to be constructive and avoid causing hatred.
The speech explained what happened in the morning. Police guarding two key strongholds – Government House and the Metropolitan Police Bureau – simply stopped their resistance against protesters attempting to breach barricade. This surprise move, caused an immediate halt to the growing list of casualties and caught all sides and pundits off-guard.
Meanwhile, Suthep Thaugsuban, in his capacity as secretary-general of the People's Democratic Reform Committee (PDRC), unveiled his plans for "national reforms" for the first time last night. He said these would start with the setting up of a People's Assembly, which would initially act as a legislative body to set up reform policies and promulgate necessary organic laws before selecting a prime minister.
Under Article 7, if there is no provision in the Constitution, then the issue shall be decided in accordance with the Constitutional practice of a democratic regime with the King as head of state.
Speaking last night in front of a large crowd of PDRC supporters, Suthep did not provide a timeframe for the process, but said it would be completed as soon as possible. This legislative body, or People's Assembly, would work out a master law to devise "people's reforms" and other laws, including those needed to regulate fair elections and anti-corruption efforts.
A non-politician would be selected as a prime minister to run an interim national government that would administer the reform policies, he said. The PDRC would, in the meantime, set up offices in all 77 provinces to accomplish the reforms.
Suthep went on to say that large-scale events with about a million people gathering to mark His Majesty the King's birthday tomorrow would be held at all three locations occupied by PDRC protesters, including the Finance Ministry compound and Democracy Monument.
But vowing to continue fighting against the so-called "Thaksin regime", Suthep said PDRC gatherings would continue in Bangkok and elsewhere in the country.
Foreign Minister Surapong Tovichakchaikul, as the newly-appointed director of the government's Centre for the Administration of Peace and Order (CAPO), said the country would like to see what "Suthep's blueprint" is all about, and whether the general public would approve of it and in what way.
Bangkok police chief Pol Lt Gen Camronwit Toopgrajank said he made a decision to let the protesters enter the police compound, because he saw that protesters seizing many state offices around the country did not ransack or torch them.
At the police compound, protesters and police exchanged handshakes, embraces and took photos of themselves together.
Later, police were instructed to abandon their positions. Similar things happened at Government House. Some protesters entered and had lunch in the compound.
Interior Minister Charupong Ruangsuwan and Public Health Minister Pradit Sintavanarong later visited a number of people injured by police tear gas and projectiles at hospitals in another gesture of goodwill.
The two opposing sides looked relaxed yesterday. And the PM also appeared less tense. She was seen talking to Army commander General Prayuth Chan-ocha during an oath taking ceremony for His Majesty the King at the Army Club tomorrow. Protest leader Suthep Thaugsuban also looked happy to learn about the symbolic sieges. He even had an ice cream after lunch.
The public, however, as well as the huge number of supporters for both sides, remained left in the dark on whether these scenes were a tactical retreat by the government and whether the People's Democratic Reform Committee (PDRC) could really claim victory, at least for now.
However, the fight is not over. An hour after these gestures at both locations, Suthep made a statement proclaiming a partial victory and vowing to continue with his efforts to dislodge the so-called "Thaksin regime", calling on supporters, especially those who have travelled from the provinces, to remain in Bangkok.
Suthep, who has said he would not accept a House dissolution or resignation of the premier to end the protest, made it clear to the cheering crowds that the fight would continue to uproot both the regime and the government.
"Today we can enjoy our victory but it is only partial. Our fight will continue as (Prime Minister) Yingluck Shinawatra, her government and the tyranny of the Thaksin regime are still intact and effective," he said, in a statement in the Government Complex in Chaeng Wattana, still occupied by PDRC supporters.
He envisaged that if Yingluck resigns, her sister Yaowapa, or brother-in-law Somchai Wongsawat could take the reins. And that if she dissolves the Parliament, her party members would surely use any means to allow them to come back.
Caught in this impasse, Yingluck assigned Deputy Prime Minister Phongthep Thepkanjana and Justice Minister Chaikasem Nitisiri to open a forum and invite academics to discuss and help find a way out of the deadlock, government spokesman Teerat Ratanasevi said.
Phongthep said a law or charter amendment may be needed in order to create a solution. He said Suthep had mentioned a legal amendment. He said the forum may have a format similar to a political reform forum initiated by the premier in August.
To date, the protests have led to 4 deaths and more than 100 people being injured. Her Royal Highness Crown Princess Maha Chakri Sirindhorn yesterday gave gifts to victims of the violence now in hospital, via her aides. Public Health Minister Pradit Sinthawanarong also apologised on behalf of the government for the casualties.
Director of the government's Centre for the Administration of Peace and Order Surapong Tovichakchaikul, who is foreign minster, made a statement saying that peace had returned and thanked all Thais for their cooperation, as well as police and soldiers for doing their duty.
The political crisis in Thailand has drawn much international attention. A week after a message of concern from the US, the European Union's head of delegation and heads of mission in Thailand issued a statement, hoping that all parties will find a peaceful way forward within the democratic and constitutional framework of Thailand.
"We were saddened to see the loss of life and the violent escalation of previously peaceful demonstrations during this weekend. We were also very concerned to see the occupation of public office buildings, television broadcasting stations and intimidation of the media. We believe that the response of the Thai authorities has so far been restrained and proportionate," the statement said.
Range of options exist within charter to end political impasse
1st day of Songkran road safety campaign – 356 injuries, 25 deaths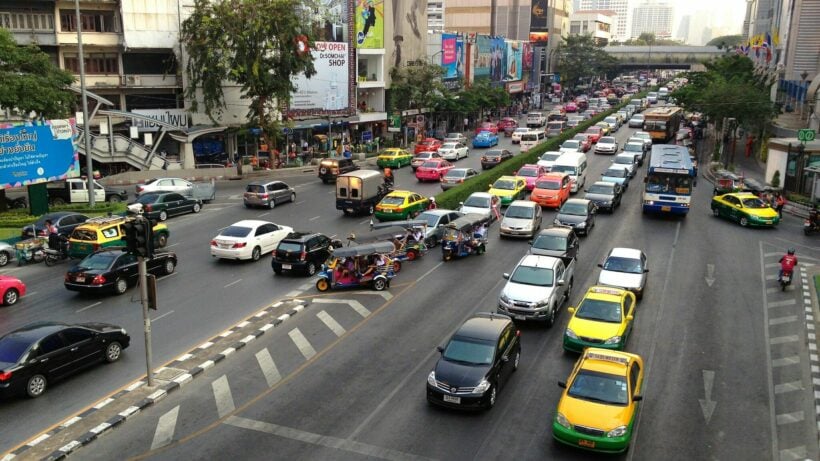 The Songkran road safety campaign is off to a moderate start with a reported 25 deaths and 356 injuries across Thailand on Saturday. The Disaster Prevention and Mitigation Department director-general reports that there were 348 road accidents in the country on the first day of the campaign.
Though the figures don't sound like an achievement, they are actually a fair bit lower than the average road death toll each day in Thailand throughout the year. Officials say that the real rush back home for the annual holiday will probably be tomorrow.
About 83% of the accidents involved motorbikes, 7.5% involved pick-up trucks and 4% were with cars. The biggest percentage of incidents happened between 4 and 8 pm, with 28% of accidents occurring in the late afternoon and early evening. Around 20% of crashes were between 8 am and noon, and 17% between noon and 4 pm.
Speeding is the number one cause of traffic accidents, with 32% of incidents a result of people driving too fast. Sudden lane switches, regardless of speed, contributed to about 20% of crashes. Alcohol was another major contributing factor, with intoxicated drivers involved in 23% of accidents that were attributed to drink-driving.
Bangkok, Chon Buri and Chiang Mai saw 2 fatalities on the roads of each province, while Phatthalung province in Southern Thailand had 22 injuries from 20 traffic accidents, the most in any province in Thailand.
As part of the Songkran road safety campaign, 342,000 cars, trucks and motorbikes were stopped and inspected by over 60,000 officials across Thailand yesterday. There are 1.913 main road checkpoints set up throughout the entire country. More than 58,000 citations were handed out to drivers for many different infractions, notably over 16,000 drivers were caught without a license and nearly 15,000 people were violating Thailand's helmet laws by riding without one.
SOURCE: Bangkok Post
Keep in contact with Thaiger by following our Facebook page.
Never miss out on future posts by following Thaiger.
Thailand road accidents cost 500 billion baht per year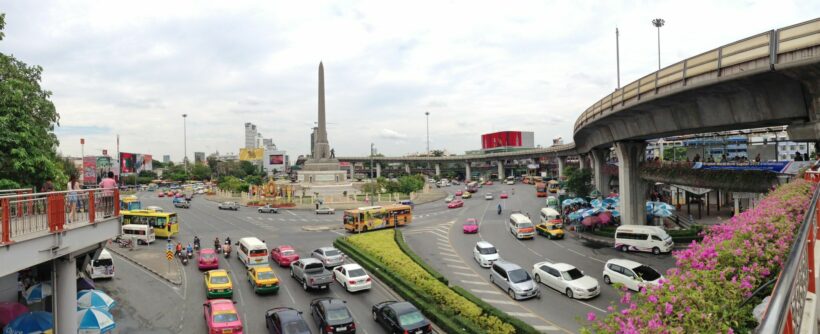 Thailand is notorious for its road and driving conditions, and a disproportionate number of driving accidents. The World Health Organisation now reports that road accidents cost an estimated 500 billion baht in 2019 alone. The WHO report placed Thailand as the number one country in ASEAN with a 32.7 per cent death rate, the highest in Southeast Asia. The Road Accident Victims Protection Co explains that the WHO calculates the financial damages of driving deaths in different countries around the world. Thailand's 500 billion baht loss amounts to about 3 per cent of the country's entire 2019 gross domestic product of 16.87 trillion baht.
By analyzing statistics and making projections about road deaths from 2021 to 2027, the estimates during the next 6 years that Thailand is facing an average of about 15,400 deaths per year in the best case, and looking a worst case scenario of over 18,600 deaths per year in traffic accidents. Adding an extra depressing edge to this gruesome statistic, the report shows that nearly 40% of those killed in traffic accidents are the heads of households. With the loss of the family head, an average of 2.43 people per death lose the support of their primary family earner, putting them in peril. The death of younger household leaders, and other untimely and unnatural deaths also may contribute in the longterm to a disparity in an aging population.
2020 saw a strong drop in road accidents and deaths, from 22,000 in 2019 to just under 18,000 fatalities, though this drop is mainly due to the national lockdown in April and general decrease in travel due to the Covid-19 pandemic. If Covid-19 improves in the coming month and the country springs back to life, the number of deaths are likely to spring back as well. Estimates show that road fatalities could return to 19,000-20,000 in all of 2021, which is about 1 death every 26 minutes. Worldwide about 317,000 people die in driving accidents every year, or about 1 every 23 seconds.
SOURCE: The Nation Thailand
Keep in contact with Thaiger by following our Facebook page.
Never miss out on future posts by following Thaiger.
Songkran activities cancelled in Ayutthaya due to Covid-19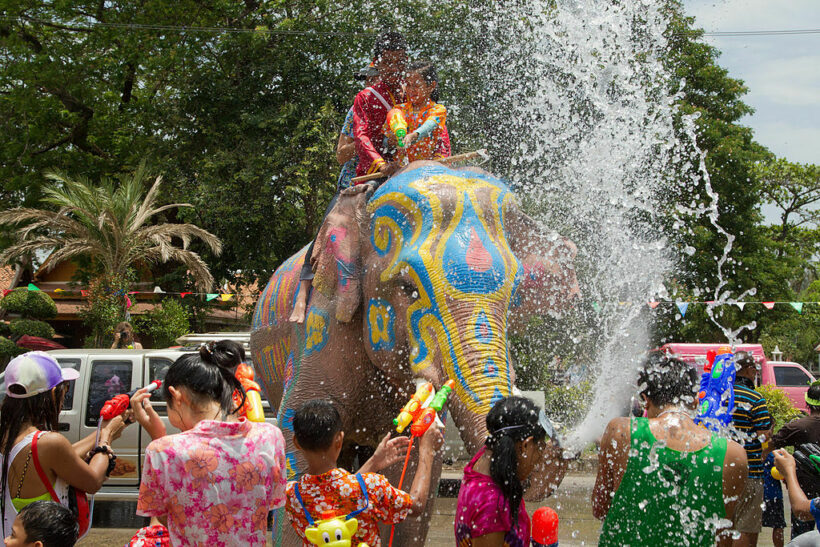 After the recent outbreak of Covid-19 across Thailand, in a large part due to entertainment activities, Thailand's former capital city of Ayutthaya has now officially cancelled all Songkran festival activities for the upcoming holiday. All events previously planned to mark the Thai New Year's holiday between April 13 and 15 have now been called off. An urgent declaration by the provincial governor today informed the public of the decision. Many people across the country are cancelling Songkran events or any observance of the holiday at all.
The decision by the province's Songkran committee and the Tourism Authority of Thailand's Ayutthaya office was directed especially at tourists who may be planning to travel to the area for traditional festivities. Complex and ornate events had been planned, scheduled to be held on Si Sanphet road, with the sudden cancellation announcement abruptly ending the preparations for holiday merriment.
TAT and the local government agreed that the cancellation was necessary to prevent the possible spread of the Covid-19 pandemic, especially in light of the current outbreak across Thailand. In Ayutthaya, 86 people have been infected with 21 new cases diagnosed yesterday. In an effort to slow the spread of Covid-19, the Ayutthaya Hospital issued a statement limiting visits for hospital patients. The hospital encourages people to do video calls with their relatives as the hospital will only allow one relative to spend time with each patient. This overall situation led to the official decision to call off all Songkran festivities.
SOURCE: Bangkok Post
Keep in contact with Thaiger by following our Facebook page.
Never miss out on future posts by following Thaiger.