Phuket Gazette Thailand News: Thai Gulf oil spill; Special Admin Zone on cards for Deep South; Drug lord extradited; School caught in mudslide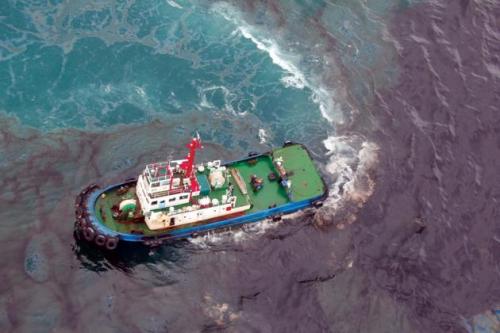 PHUKET MEDIA WATCH
– Thailand news compiled by Gazette editors for Phuket's international community
Legal action sought over oil spill
The Nation / Phuket Gazette
PHUKET: Environmental activists are pushing for legal action and compensation against PTT Global Chemical following an oil spill in the Gulf of Thailand, which experts say could cause severe damage to the marine ecosystem.
PTT Global Chemical (PTTGC) is seeking help to control the crude oil on the sea surface and has employed specialists to address the environmental impact.
At the same time environment agencies – Bangkok-based Greenpeace Southeast Asia and the Stop Global Warming Association (SGWA) – yesterday called for state agencies to take legal action and seek damages from the company.
Ply Pirom, campaign manager for Greenpeace Southeast Asia, said PTTGC must take responsibility and compensate for all cleaning up processes, the environmental impact and damage to tourism industries and local fisheries caused by the crude oil spill.
He said the company must also disclose all information related to the cleanup process as well as the chemical substances used to remove the crude oil from the sea surface.
The environmental watch agency also called for a fresh study of the establishment of new oil platforms, like on Surat Thani province's Koh Samui Island, that could cause environmental risk to marine ecosystems in the future.
SGWA's president Srisuwan Janya said he would file a lawsuit against four government agencies if they neglected to comply with the Environmental Quality Protection and Promotion Act BE 2535 to take legal action and seek compensation from the alleged polluter.
This compensation should be used to establish a special fund to help the public who might be affected by the crude oil spill, he added.
Rayong provincial Governor Wichit Chatphaisit said the surveillance team, standing by around the clock to monitor spread of the crude oil, had reported that, as of Sunday afternoon, the spill covered 500 square metres of the sea surface. It was only two kilometres from Samet Island, a popular destination for tourists.
The Democrat MP for Rayong, Sathit Pitutecha and a group of local fishermen had called for PTTGC to take responsibility for the damage to fisheries in the short and long term. Aggrieved local people might also file lawsuits against the oil company, he said.
PTTGC has asked the Singapore-based Oil Spill Response Limited to send a jet boat to spray solution to disperse spread of the crude oil on the sea. The company has also sent environmental specialists to collect seawater samples to analyse the impact on the marine environment.
Marine and Coastal Department director-general Noppon Srisuk said he had instructed his officials to set up a surveillance centre to monitor the impact on the marine ecosystem and aquatic animals. But due to heavy seas and strong winds, he said he could not send his officials out yet.
"When the waves and strong winds [ease], we will send the officials [out to make inspections]," he said.
The Marine and Coastal Department would also consider asking for compensation from the oil company after the clean up process, he added.
The Pollution Control Department's director-general Wichien Jungrungruang said he had asked the PTT to collect samples of seawater. The department will take the samples to analyse the quality of seawater and toxic contamination.
Special admin zone possible solution for South
The Nation / Phuket Gazette
PHUKET: National Security Council chief Lt-General Paradorn Pattanathabutr hinted during his latest interview with
Sunday Nation
's Pakorn Puengnetr that a "Special Administrative Zone' could be the last resort to end the decades-long Muslim separatist insurgency that escalated since 2004 in the four southernmost provinces. Below are excerpts from the interview.
Has there been a visible reduction in violence during Ramadan?

There have been four insurgency-related incidents [as of July 23], the rest were to do with drugs and local political conflict. This is actually a normal pattern of events. We always have two main hypotheses – violence either involves the insurgency or there are other motives, however, security officials tend to sway towards insurgency as the motive so that they can [quickly] close the case. Once the case reaches court, it is dropped. We have to "improve" this mindset.
What do you mean by improvements exactly?
The Southern Border Provinces Administration Centre appointed a joint security panel to promote peace during Ramadan this year, chaired by Fourth Army Region chief of staff Maj-General Charin Amornkaew. The panel asked the BRN via the Malaysian peace facilitator, if the BRN was responsible for the incident in question.
They either accept responsibility for the incident or report that groups opposed to the peace process were responsible for the incident. We use this approach, as jointly agreed in peace negotiations, to find out who is responsible.
During the first 7 days of Ramadan, an insurgent suspect was injured in a shooting and a teacher was shot dead. Security officials concluded that personal conflicts were a possible motive, but the BRN told the Malaysian peace facilitator that state officials were responsible for the two cases. How will this be resolved?
It was not so. The BRN knows what really happened. With regard to these two cases, the BRN believed it might have provoked other groups to take revenge although the motive was personal conflicts, both are sensitive to security.
Are you sure that Hassan Taib is the real leader of the BRN?
Hassan is the ideological leader. If he had the ability to link every group, our burden would be reduced. He can talk to most of them, but some people or local leaders are still a problem.
Do security officials have problems with local leaders?
Yes, they fight about issues not related to the insurgency.
What is the final outcome of the peace dialogue?
Our last hope to end the insurgency is [an independent] administration but we must adhere to our Constitution. Surveys done locally indicate that people do not support separatism so the BRN has to alter their model of independence. They have five to six models but details of these have not been revealed.
Conservative BRN members believe they cannot be independent from Thailand as they must depend on both Thailand and Malaysia, so they think having a special administrative zone would be better. However, younger generations of BRN believe they can be totally independent.
The difficulty is to make Thai people understand because we would have to pass it (a special administrative zone) into law.
Former PM Thaksin Shinawatra has played a big role in bringing about this peace dialogue. Does he have any special model?
His way is to live together peacefully.
Do you know who is who at the operation level of the BRN?

We know the operation level in local areas.
What do you think is the recipe for success?
The leader of the peace talks must be open-minded like an ocean that can take both good and bad water.
How do you describe the relations with the BRN and have you gained more trust in them?

It is good.
— Phuket Gazette Editors
Want more from the Thaiger family?
📱 Download our app on Android or iOS for instant updates on your mobile
📧 Subscribe to our daily email newsletter
👍 Like/Follow us on Facebook
🔔 Subscribe to or Join our YouTube channel for daily video updates
British tourists come forward about being attacked on Koh Tao in 2013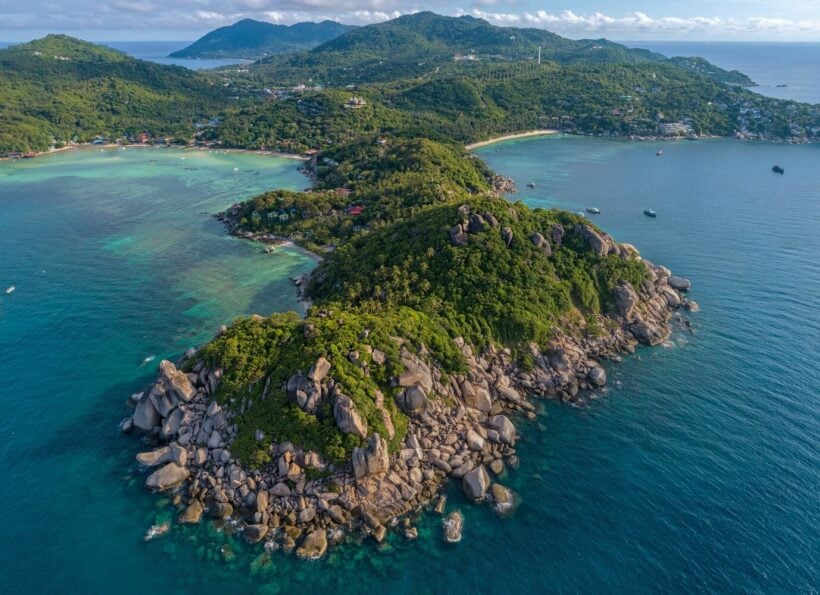 Many continue to contend that Zaw Lin and Wai Phyo, the 2 Burmese young men convicted for the 2014 murder of 2 tourists on Koh Tao's Sairee Beach, are innocent. Now 2 tourists who were attacked on the same beach, just a year before the murder, are now coming forward to help prove that the conviction could have been unreliable.
In September 2014, the bodies of British tourists 23 year old Hannah Witheridge and 24 year old David Miller were found on the beach. Police say Hannah had been raped and David had been hit several times on the head with a garden hoe.
Zaw and Wai were arrested soon after the killings. Some say the investigation was accelerated in an effort to gain back tourist confidence and keep visitors coming to the island. Numerous activists, criminologists, and others have spoken out against the conviction, saying the evidence was bungled.
Just a year before, British tourists Sam Venning and Carla Bartel survived an attack on the same beach. Sam, who was 22 at the time, was talking to Carla, who was 20, on the beach when 2 men wearing V for Vendetta masks attacked them, hitting Sam in the head with a rock.
Sam and Carla came forward to Thai officials after the killings to help with the investigation, but say no one got back to them. Sam says he had emailed the Thai Embassy in London, but no one contacted him. Carla says she contacted the UK Foreign Commonwealth Office who then passed her on to the UK National Crime Agency. She was told that the information was sent to Thai police, but officers did not follow up with her.
SOURCE: Mirror.UK
Want more from the Thaiger family?
📱 Download our app on Android or iOS for instant updates on your mobile
📧 Subscribe to our daily email newsletter
👍 Like/Follow us on Facebook
🔔 Subscribe to or Join our YouTube channel for daily video updates
Fishermen find space debris off the coast of Phuket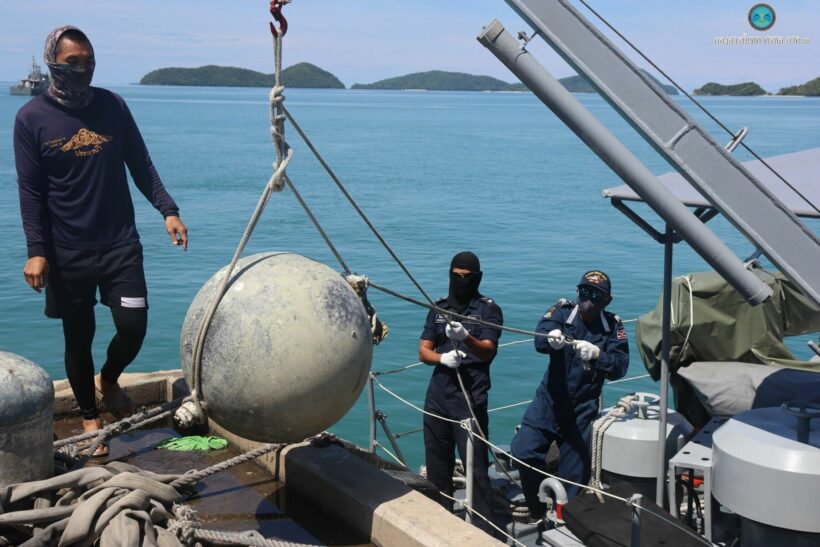 Local fishermen found space debris, possibly from a satellite or space shuttle, on the seabed just 6 metres below the surface by Koh Ael in Phuket. At first, no one knew exactly what it was.
Specialists from a Navy explosive ordnance disposal unit were first called to look at the round, hollow metal object which was about 45 centimetres in diameter. 3rd Naval Area commander Vice Admiral Choengchai Chomchoengpaet told reporters at a press conference that the team took photos of the object and found it appeared to be a rocket fuel tank, possibly used to launch a satellite or shuttle into space. He said it matched photos online.
Both the Geo-Informatics and Space Technology Development Agency, or GISTDA, and the National Astronomical Research Institute of Thailand, agree that the object was most likely a fuel tank for a rocket.
Since the fuel tanks usually contain harmful chemicals like ammonia or hydrogen, divers examined the space debris to make sure there were no chemical leaks before bringing the object to shore and taken to the navy headquarters. The space debris will be taken to the GISTDA to be studied.
"If other objects similar to this one are found elsewhere, people should not touch them. They could contain hazardous chemicals. They should immediately inform Region 3 Thai-MECC or local officials."
SOURCE: Bangkok Post
Want more from the Thaiger family?
📱 Download our app on Android or iOS for instant updates on your mobile
📧 Subscribe to our daily email newsletter
👍 Like/Follow us on Facebook
🔔 Subscribe to or Join our YouTube channel for daily video updates
UPDATE: 2 Americans and a Thai arrested over Bangkok kidnap attempt, Thai policeman involved | VIDEO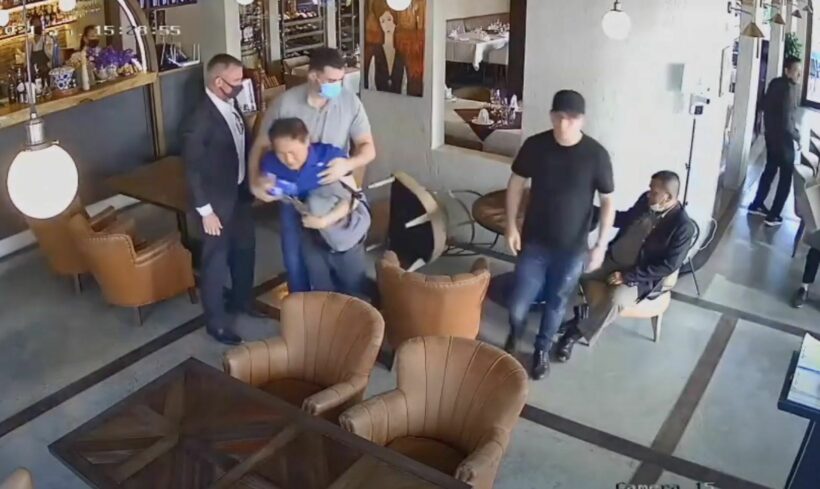 Screenshot: THAICRIME
UPDATE:
Following up from the earlier story involving 2 Americans, a Thai, a Taiwanese businessman, and an Israeli security goon, we have the following update (original story below)…
Police have examined CCTV from the restaurant in Thong Lor where the Taiwanese businessman was kidnapped. It's also been revealed that a "senior Thai policeman" was involved in the alleged abduction case. The abduction took place on March 28.
The meeting had been called to "resolve" some disagreements over a large purchase of rubber gloves that had gone wrong.
After arriving at a meeting at the L'Oliva restaurant in Sukhumvit Soi 26, Mr. Wen Yu Chung was manhandled, put in a headlock and dragged out of the premises. Daily News reports that a "lieutenant colonel" ranked Thai policeman was also captured on the CCTV supervising the events as they happened inside the restaurant. He is reported as being a former traffic policeman.
Mr. Chung was then held to ransom at the condo NT Court. Attempts were made to contact Mr Chung's family and business associates to extract a ransom – allegedly 1 and 2 million baht – but they refused to pay.
The 3 men have been identified as 41 year old Jeremy Hughes Manchester, 52 year old Louis William Ziskin, both Americans, and Ekbodin Prasitnarit, Thai.
Mr Louis Ziskin has a somewhat chequered history with his story catalogued on Wikipedia. Summarised…
Ziskin was taken into custody in December 7, 2000 and charged over transactions from November 1999 to December 22, 1999. Ziskin was convicted of smuggling 700 pounds of ecstasy into Southern California via FedEx and other various shipping companies, the largest-ever US government seizure of the drug. There was another indictment a year later.
Following his incarceration, Ziskin lost a double jeopardy appeal for the second indictment. The US government settled all claims against Ziskin for a 188 month sentence and a US$9 million fine.
Daily News also reported a man 'Mike' who allegedly invited the policeman to be involved in the incident. Earlier this man was described as "Mr. Michael Greenberg, an Israeli operating a detective company".
Here's video showing the arrest of Mr. Ziskin…
EARLIER STORY:
Thai police have arrested 2 American citizens and a Thai for the alleged kidnap of a Taiwanese businessman for ransom. 5 other arrest warrants are also waiting to be executed over the incident. Police allege a "business conflict" over the purchase of plastic 'nitrile' gloves as the motive.
The 3 men have been identified as 41 year old Jeremy Hughes Manchester, 52 year old Louis William Ziskin, both Americans, and Ekbodin Prasitnarit, Thai. All 3 have denied the charges including illegal assembly, attempted murder, abduction for ransom and extortion. They were formally charged at the Thong Lor police.
According to Bangkok Post, in late 2020 Mr Ziskin appointed the Collection Company to negotiate the purchase of a large quantity of plastic gloves with the Paddy The Room Trading Company.
Police allege that there was an ongoing conflict between the two sides which was responsible for Mr Ziskin accumulating 93 million baht in damages.. So, according to police, Mr Ziskin hired Mr. Michael Greenberg, an Israeli operating a detective company in Thailand to negotiate and retrieve the losses.
Police allege that Mr Greenberg hired Thai and foreign collaborators to plan an abduction as leverage in the retrieval of their losses. They contacted a 60 year old Taiwanese man from the Collection Company in Thailand to procure a supply of rubber gloves from Paddy The Room Trading Company.
They made an appointment to meet Wen Yu Chung at a restaurant in Bangkok's in Bangkok's Tong Lor are off Sukhumvit Road on March 28. Police allege that Mr Greenberg and hired associates arrived, handcuffed the Taiwanese businessman and then took him to the NT Place, 200 metres further south down the same Soi, Sukhumvit 36.
They then called Mr Chung's boss demanding US$2 million, and then called the man's family demanding another US$1 million. Both contacted police and did nothing to accede to the demands for ransom..
The abductors then headed to a restaurant in Soi 24, with Mr. Chung, eventually letting him go. The Taiwanese man went, first to hospital, then to Thong Lor police station to relate his story. Eventually 8 arrest warrants were issued over the alleged abduction. Soon after police arrested Mr Manchester, Mr Ziskin and Mr Ekbodin.
We'll continue to follow this story.
SOURCE: Bangkok Post
Want more from the Thaiger family?
📱 Download our app on Android or iOS for instant updates on your mobile
📧 Subscribe to our daily email newsletter
👍 Like/Follow us on Facebook
🔔 Subscribe to or Join our YouTube channel for daily video updates