Phuket Gazette Thailand News: Protests may cost B40bn; Tourism fears rise; Army maintains no coup; OAG stirs elections wasteful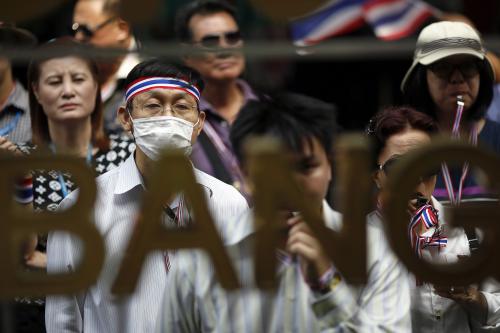 PHUKET MEDIA WATCH
– Thailand news compiled by Gazette editors for Phuket's international community
Prolonged siege may cost Bt40 bn
The Nation / Phuket Gazette
PHUKET: The Bangkok Shutdown is expected to whack Bt40 billion off the economy or 0.2 percentage point off its growth as consumers cut back on daily living and travel expenses, according to the University of the Thai Chamber of Commerce.
"The lower confidence from the political chaos could cause huge losses in the economy from slowdowns in spending, investment and consumption as well as limited travel for both Thais and foreigners," Thanavath Phonvichai, director of the university's Economic and Business Forecasting Centre, said yesterday.
"Because of the weak sentiment, consumers are expected to spend about Bt500 million less a day, while daily tourism income would drop by between Bt200 million and Bt500 million."
A UTCC poll found that consumer confidence had plummeted to its lowest level in two years, mainly because of the political tensions, while consumer sentiment to purchase a new car or home, to travel or to start a new investment, especially among small and medium-sized enterprises, had dropped to the lowest in seven and a half years.
Spending in Greater Bangkok is expected to fall by 5-10 per cent a day, while spending in other provinces could slip by 1-5 per cent.
Assuming a loss of between Bt700 million and Bt1 billion a day and the metropolis being paralysed for two weeks from next Monday until the election on February 2, the cumulative loss could reach Bt40 billion.
Gross domestic product might grow by only 3-4 per cent this year instead of 4-5 per cent as previously expected.
The political turmoil is the major factor draining confidence. The economy is now quite fragile and sensitive to the political situation, Thanavath said. If the problems have not been solved by this month, first-quarter GDP could contract.
As the situation is expected to normalise, consumer confidence should recover next quarter.
According to the opinion survey of 2,242 respondents from January 2-7, the consumer confidence index slipped for the ninth straight month from 75 points in November to 73.4 in December. That level has not been seen since January 2012. Scores below 100 indicate negative confidence.
Confidence in future employment opportunities dipped from 68.2 points in November to 66.7 points last month, while confidence in future incomes also slid from 91.8 to 90.3.
Confidence in the political situation dived dramatically from 55 to 47.7. The index for politics has declined to the lowest figure in 40 months, since September 2011. Based on the responses of 1,200 consumers and 800 businessmen, about half of the consumers are extremely worried about the "Bangkok shutdown" planned by an anti-government group, while more than half of the businesspeople were highly concerned about the situation.
Wachira Kuntaweethep, assistant director of the centre, pointed out that consumers would likely stock up on goods for fear of the capital's seizure, while most businesses expect their sales and profits to suffer.
Companies are afraid that their production costs will soar and strain their liquidity.
However, businesses are not yet completely convinced that circumstances will be dire, as they said they would not lay off employees. But investment plans could be delayed.
PM worried about impact of crisis on tourism sector
The Nation / Phuket Gazette
PHUKET: Prime Minister Yingluck Shinawatra is concerned about the adverse impact of the current political crisis on the tourism sector, which is expected to suffer losses of Bt18 billion in January with visitor numbers estimated at 2.1 million in the month, short of the 2.5 million target, according to the Tourism Council of Thailand (TCT).
The premier convened a meeting yesterday with the National Economic and Social Development Board, the Tourism and Sports Ministry, the Federation of Thailand Industries (FTI), and the TCT to discuss the impact of the political demonstrations.
TCT president Piyaman Tejapaiboon said Yingluck was concerned about the impact of the political situation on the tourism sector. Due to the prolonged political rally in January, the TCT expects the tourism sector to suffer losses in January of around Bt18 billion. Visitor numbers are expected to decline to 2.1 million from the target of 2.5 million, a 15 per cent drop.
If the political situation does not turn violent, revenue of at least Bt2.05 trillion (Bt1.35 trillion from foreigners) could be achieved during the year while the number of tourists could reach 29.9 million.
Supawan Tanomkieatipume, chairwoman for public relations at the Thai Hotels Association, who attended the tourism industry's meeting with Yingluck yesterday told The Nation that while assuring tourism business operators there would be no violence, the premier asked the hoteliers to prepare well for the situation. Supawan said Bangkok was expected to experience a 50-per-cent drop in tourist arrivals during January 12-14 and 30 per cent for the whole month.
However, the tourism situation in other provinces remained good, except Pattaya which has been slight affected, as some tourists have bypassed Bangkok and moved to other destinations such as Phuket and Chiang Mai, she said.
"Everyone is now waiting to see what's going to happen on January 13. If there is no violence, they [tourists] will return quickly," said the THA chairwoman.
Yutthachai Soonthornrattanavate, president of the Association of Domestic Travel, said Thailand's outbound tourism has also been affected as there are fewer chartered planes flying in the country during this period and hence there are fewer planes available to serve outbound travellers.
So far, the overall impact on the tourism industry is not too harsh because the country has many upcountry tourism spots that have gained in popularity like Chiang Mai, a favourite destination among Chinese travellers, he said.
Despite being plagued by the ongoing political turmoil, the MICE (meetings, incentives, conventions, and exhibitions) industry outlook in the long term is projected to be still positive, thanks to the country's strong economic fundamentals. However some businesses would be hit, especially meetings and tourism incentive groups, according to industry executives.
Patrapee Chinachoti, president of Thai Exhibition Association, viewed the overall trade exhibition business as still good in the long run. Clearly, exhibitors viewed Thailand's economy would keep growing. The decision to do business with Thailand was not based only on political problems. Thailand still offers business opportunities, and many would seek a foothold.
The current political movement is still acceptable as there has been no violence and clashes between groups. Also, exhibitors understand the situation, as they have learnt from the previous ones.
As a result, he expected the trade exhibition business to grow about 20 per cent this year, on the assumption that the stalemate would not continue until March. If the stalemate prolongs, it would make exhibitors less confident, especially to invite participants and they may postpone their events.
Clearly at present, exhibition space has been booked continuously and the venue rate is going up. There is no cancellation from exhibitors. The industry has not suffered much during this time from the poli
— Phuket Gazette Editors
Keep in contact with The Thaiger by following our
Facebook page
.
Never miss out on future posts by
following The Thaiger
.
Human rights lawyer Anon Nampa arrested, flown to Chiang Mai for sedition charges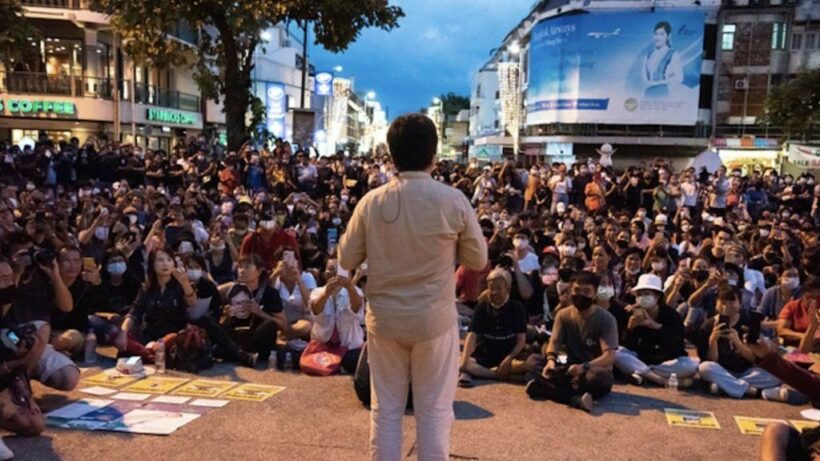 After being arrested in Bangkok early this morning, along with numerous other protesters, human rights lawyer and pro-democracy activist leader Anon Nampa is apparently being flown up to Chiang Mai to face sedition charges for allegedly criticising the Thai Monarchy at a past event in the northern province.
In Bangkok today, at least 20 protesters, who intended to camp out at the Government House for a few days to put pressure on PM Prayut Chan-o-cha to resign, were arrested after the State of Emergency was imposed early this morning.
Following his arrest, Anon wrote on Facebook saying that he had been denied a lawyer, a violation of his human rights. Thisrupt shared the post by Anon saying police had forced him in a helicopter to Chiang Mai and that he fears for his safety.
The activist's Facebook page was later deactivated. Journalist Andrew MacGregor Marshall posted on Twitter saying the situation is "extremely worrying."
"The Facebook page of protest leader อานนท์ นำภา aka Anon Nampha has been deactivated. He was arrested earlier today and taken to Chiang Mai. He is denied access to lawyers under the new emergency decree. This is extremely worrying."
BREAKING—The Facebook page of protest leader อานนท์ นำภา aka Anon Nampha has been deactivated. He was arrested earlier today and taken to Chiang Mai. He is denied access to lawyers under the new emergency decree. This is extremely worrying. pic.twitter.com/CBPbVRrxIC

— Andrew MacGregor Marshall (@zenjournalist) October 15, 2020
PHOTO ABOVE: With thanks to Will Langston
SOURCE: Nation Thailand
Keep in contact with The Thaiger by following our
Facebook page
.
Never miss out on future posts by
following The Thaiger
.
Chiang Mai tourism slowdown takes a toll on local businesses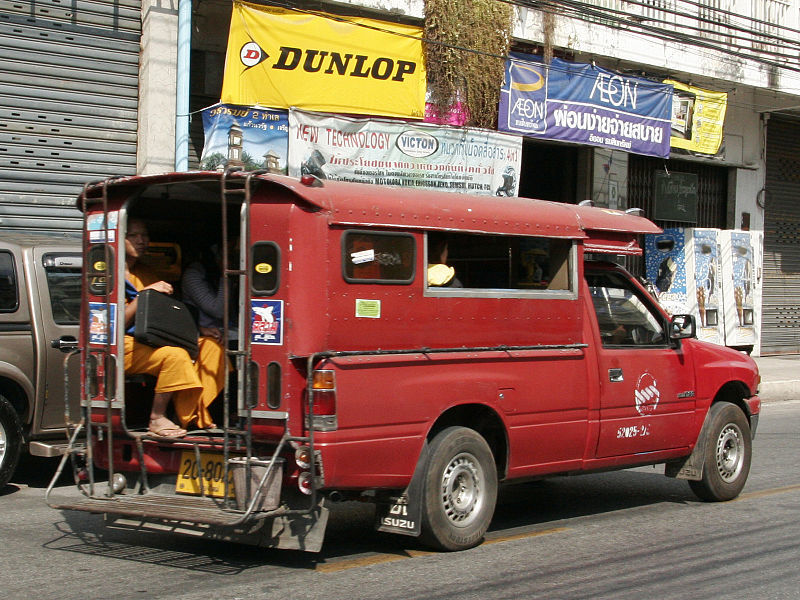 Chiang Mai's tourism industry has drastically slowed down from the lack of travel due to the affects of the Covid-19 pandemic – the lockdowns and the travel restrictions. Tourists "vanished" during the April lockdown, according to president of the Tourism Association of Chiang Mai, Anantorn Hochindarat. Now, as the chilly, cool season approaches, when the northern province is the most popular for locals, Chiang Mai's tourism sector is likely to remain "slow".
The impacts from reaction to the pandemic has effected various people and business groups in Chiang Mai. Only 35% of the hotels have reopened, and those that are open report lower occupancy rates, Anantorn says. Many tourism businesses like spas, souvenir shops and tour agencies remain closed. The drivers of the red trucks, known as songthaews, used to do 3 to 4 round trips per day. Now only 1 trip per day is the average, and that's with some drivers taking temporary leave.
"Over 1,000 tour guides are unemployed, while dozens of hotels have been put on sale after owners faced a liquidity crisis."
Last year, Chiang Mai recorded 100 billion baht in revenue from 10.8 million visitors. 70% of the visitors where Thais while the other 30% were foreigners. After domestic travel restrictions were lifted, local travellers were only 20% from the same period last year. There have been travel promotions and events to help boost domestic tourism across Thailand, but some Thai nationals are still hesitant to travel because of health safety concerns.
"As the international market is stalled, if Chiang Mai can simply get the same chunk of the domestic market back within a year, typically 70% of the total, we should be happy enough."
Apparently the slowdown of international tourists has been happening before the pandemic. After the 2018 Phuket incident where 2 tourists boats capsized in a storm, killing 46 people, tourist confidence was "shattered," according to the director of Tourism Authority of Thailand's Chiang Mai office, Pakkanan Winijchai. The Phuket tourist boats were carrying Chinese tourists, and many Chinese lost confidence in Thailand, she says. Chinese visitors make up one-third of overall international arrivals.
For the past 6 months, there has been a ban on international tourists, crippling travel destinations that relied on the foreigners for income. Thailand has been working on a way to get tourists in, but even the new Special Tourist Visa was a bust when authorities said they were preparing for a group of tourists from China to arrive in Phuket, but no one had actually applied for the visa. Even if the scheme does start up soon, Chiang Mai cannot benefit because it does not have any alternative state quarantine facilities to house the tourists for their mandatory 14 day quarantine upon arrival.
SOURCES: Bangkok Post | Wikapedia
Catch up with the latest daily "Thailand News Today" here on The Thaiger.
Keep in contact with The Thaiger by following our
Facebook page
.
Never miss out on future posts by
following The Thaiger
.
Chiang Mai woman arrested for allegedly hiring hitman to kill her ex-husband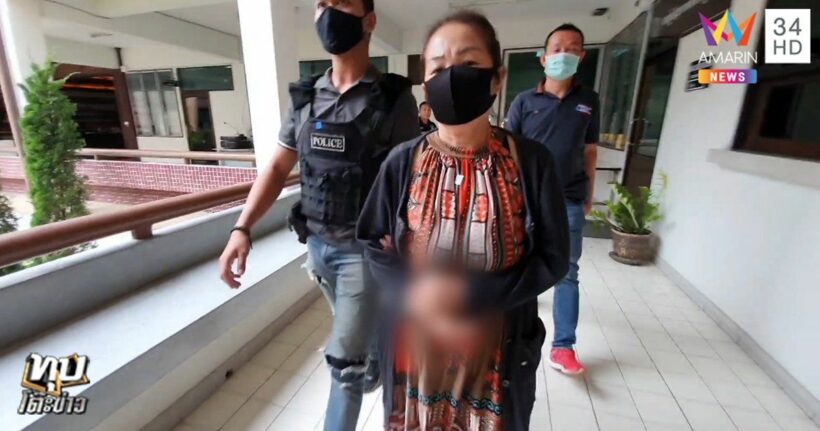 A 63 year old Chiang Mai woman has been arrested for allegedly hiring a hitman to kill her ex-husband because she wanted his life insurance payout. Bualoi Tala is also being investigated for her alleged involvement in other possible murders after a number of people died after being poisoned and Bualoi received payouts from their life insurance policies.
Police say that 58 year old Anan Thongmarn, Bualoi's ex-husband, was killed last week. His neck and face had been slashed. The alleged hitman, 48 year old Pankaew KhanKaew, has confessed to the murder, according to police. Phone records trace back to Bualoi, and police say they believe the woman hired a hitman to kill her ex-husband so she could claim the death benefit in the insurance policy valued at hundreds of thousands of baht, according to the Nation Thailand.
Bualoi told police she didn't want her ex-husband to die, she just wanted him to be hurt really bad. She told police she offered PanKaew 40,000 baht to kill her ex-husband was just a "joke," she just wanted him to maim her husband.
Police are investigating 6 other possible homicide cases where Bualoi was listed as a beneficiary for the deceased mens' life insurance policies. Police say the victims were all poisoned and Bualoi received life insurance benefits following their deaths.
SOURCE: Nation Thailand
Keep in contact with The Thaiger by following our
Facebook page
.
Never miss out on future posts by
following The Thaiger
.