Phuket Gazette Thailand News: Protesters take more ministries; Water-plan forum shut down; Funds dwindle for fight against Aids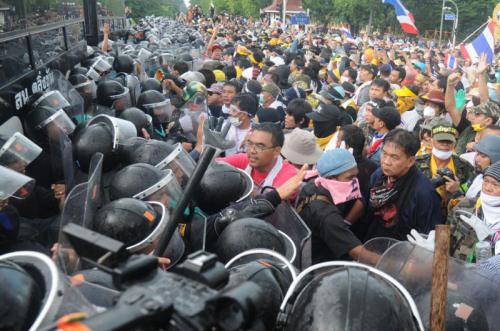 PHUKET MEDIA WATCH
– Thailand news compiled by Gazette editors for Phuket's international community
Protesters lay siege to more ministries; some officials express support
The Nation / Phuket Gazette
PHUKET: For a third day yesterday, anti-government protesters continued to lay siege to key government offices in order to challenge Prime Minister Yingluck Shinawatra's government and her brother Thaksin's authority.
The protesters earlier managed to lay siege to two key government offices – the Finance Ministry and the Foreign Ministry – and they had entered the Government Complex in Chaeng Wattana, where tens of thousands of state officials work.
The protesters yesterday visited different ministries, calling on officials to join forces to help root out the so-called "Thaksin regime" and pushing them to go on strike.
The protesters showed up at the Industry, Energy, Labour, Public Health, Commerce, Natural Resources and Environment, Social Development and Human Security, Science, and Culture ministries, the Department of Special Investigation Office and Government Complex.
After marching for four hours, the protesters led by former Democrat MP Suthep Thaugsuban moved from the Finance Ministry to the Government Complex on Chaeng Wattana Road.
He said he would stay overnight before moving on to the next place. The protest might lead to suspension of government operations.
Meanwhile, national police chief General Adul Saengsingkaew said the situation in Bangkok and nearby areas would be under control thanks to the Internal Security Act. He said there was no need at present to issue an emergency decree, which allows officials to easily and widely control the movement of people.
In its eighth announcement, the Peacekeeping Centre said yesterday that it was prohibiting the carrying of weapons in specific areas. Items listed as weapons include slingshots, metal balls, metal sticks and fireworks.
The raucous, whistle-blowing protesters were met by several flag-waving, whistle-blowing civil servants at some ministries. A hundred officials at the Public Health Ministry gathered outside the Office of the Permanent Secretary's building to greet the protesters, while several were also waiting to meet the anti-government crowd at the Commerce Ministry.
"Frankly speaking, I don't like this government," a Telephone Organisation of Thailand employee, who asked to remain anonymous, told DPA. "There have been many irregular practices under this administration."
Thousands of people rallied in front of the Department of Special Investigation (DSI office near the Justice Ministry at Government Complex yesterday.
The DSI closed its doors at 11am yesterday as director-general Tarit Pengdith reported for work at Parliament to help Justice Minister Chaikasem Nitisiri set up a war room.
Separately, hundreds of protesters sealed off the Commerce Ministry, which is located on Sanambinnam Road in Nonthaburi, at 9.30am yesterday and returned at 12.40pm as part of their visits to every ministry.
A large company of police officers was deployed to protect the ministry and officials were sent home. A foreign envoy from a European country was left stranded for a while at the Commerce Ministry compound, but was eventually safely escorted out.
Srirat Rastapana, permanent secretary to the ministry, said all officials had been told to save their data on a flash drive so they could work from home.
Other ministries targeted by the protesters have kept their gates closed, while some, such as the Foreign Ministry, have allowed their officials to either go home or work from a different venue.
Time for Thailand to 'stand on its own two feet' in HIV/Aids fight
The Nation / Phuket Gazette
PHUKET: Previously lauded as a successful country in combating the Aids epidemic, Thailand's attempt to fight HIV/Aids is facing a big challenge as funding from international agencies continues to drop.
This concern, raised by health advocates, has prompted the National Aids Committee to consider setting up an Aids Prevention Fund, supported by domestic financial resources, to support its campaign.
Aids activists worry that the reduced international budget will affect their massive HIV campaign – the launching of HIV-testing mobile units in 30 provinces to help people know their HIV status and to get earlier treatment.
"The HIV/Aids-prevention campaign has deteriorated during the past few years," said Dr Sorakij Bhakeecheep, director of the National Health Security Office's Bureau of Secretary and Tertiary Care Support.
The reason: Thailand faces financial problems caused by the external financial donors reducing their support.
In 2011, the country's spending on HIV/Aids-prevention was only 13 per cent of the total national Aids programme. It mainly relied on external resources like the Global Fund, an international financing institution to fight AIDS, tuberculosis and malaria. Most money under the fund was distributed to non-governmental organisations working on HIV/Aids.
In 2010, Thailand's expenditure on the campaign was Bt7.7 billion, and in 2011 Bt9.9 billion. About 73 per cent of this amount was allocated for treatment and 13 per cent on prevention.
During 2003 to 2008, as a low-income country, Thailand received about US$170 million (5.4 billion baht) in funding to support campaigns and activities against HIV/Aids. As Thailand was classified as a low middle-income country by the World Bank, it was eligible for funding support for the HIV/Aids-prevention programme by the Global Fund. The allocation was based on the recipient's financial condition and HIV/Aids prevalence, as well as the effectiveness of disease-control programmes.
When the World Bank placed Thailand in the middle-income country category for 2011-2014, Thailand won only $63 million for HIV/Aids-prevention programmes.
The amount is set to fall further due to the country-ranking upgrade by the World Bank. Thailand will be allowed only 30 per cent of the total fund of the Global Fund. That means Thailand has to consider relying more and more on domestic financial resources.
"Of course, non-government organisations would face a crisis as their financial resources also relied mainly on international donors like the Global Fund," said Dr Nakorn Premsri, a director of the principal recipient administrative office of Thailand's Global Fund.
Nimitr Tian-udom, director of the Aids Access Foundation, said his organisation now plans to expand the HIV-testing mobile units programme to 30 provinces. People who test positive would be able to get the anti-retroviral treatment at an earlier stage.
Because of the lack of funds, channels to communicate with people for such a service are limited, he said.
To boost the campaign against HIV/Aids in Thailand, the National Aids Committee has initiated the setting up of a national Aids fund to support both governmental and non-governmental agencies' work on HIV/Aids-prevention programmes. They aim to reduce new HIV infections from 10,000 cases per year to 2,000 cases within five years.
Citing calculations by the Disease Control Department, Sorakij said the government would allocate 200 million baht to 300 million baht for the first year of the fund's establishment.
The spending under this fund would focus on preventing the spread of disease among the key affected populations – such as men who have sex with men,
— Phuket Gazette Editors
Keep in contact with The Thaiger by following our
Facebook page
.
Never miss out on future posts by
following The Thaiger
.
New visa amnesty allows foreigners to stay in Thailand until October 31, with 60 day extensions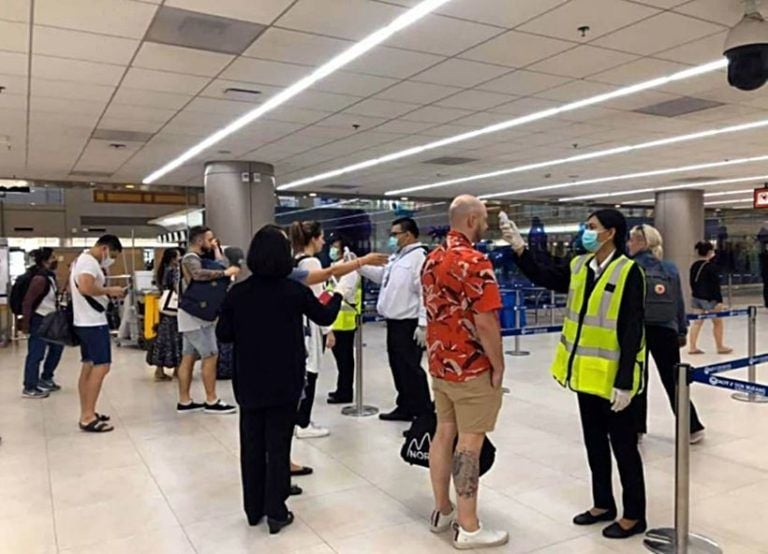 The visa amnesty, twice extended, expired on September 26. Then another amnesty was launched yesterday which allows foreigners, without visas or with lapsed visas, until October 31 to sort out their visa situation. The grace period acknowledges the problems many foreigners are having organising flights back to their home countries at a time much of the world has an acceleration of cases. Extensions will now be 60 days each.
Dr. Taweesin Wisanuyothin, spokesperson for the CCSA, read a message from the Thai PM.
"As Covid-19 is still causing harm and there are many infections around the world, more than 30 million cases, some foreigners have to stay in Thailand, and cannot travel out of the Kingdom of Thailand to go back to their home countries, and they cannot follow Section 35 and Section 37 (5) of the Immigration Act 2522 and other related laws."
Up to the end of last week, Thai Immigration officials predicted there were some 150,000 foreigners still in Thailand without a valid visa.
In July, following weeks in April and May when much of Thailand was in a lockdown, immigration officials granted automatic visa extensions to September 26. In the lead up to last Saturday's sunset of the visa amnesty, many foreigners jumped through the Immigration department's hoops to either get a new visa, or a 30 day extension to their old visa. The last minute rush caused confusion, queues and pleas for another extension.
Now, a new immigration regulation will allow foreigners to apply for 60 day extensions to stay in Thailand if they are "unable to leave due to limited flights or other issues". The extensions, prior to this announcement, required a letter from applicants' embassy and a payment of 1,900 baht. The extension was only applicable for 30 days. The new extensions will last for 60 days.
Front line immigration officials, expats and visitors alike will feel aggrieved this morning after the announcement. Officers had to face long lines of angry and confused foreigners last week at their offices around the country. Now the countdown starts again as it ticks down to the October 31 date for foreigners to get their visa affairs in order.
Keep in contact with The Thaiger by following our
Facebook page
.
Never miss out on future posts by
following The Thaiger
.
Former party-list MP candidate convicted of drug smuggling, sentenced to 50 years in prison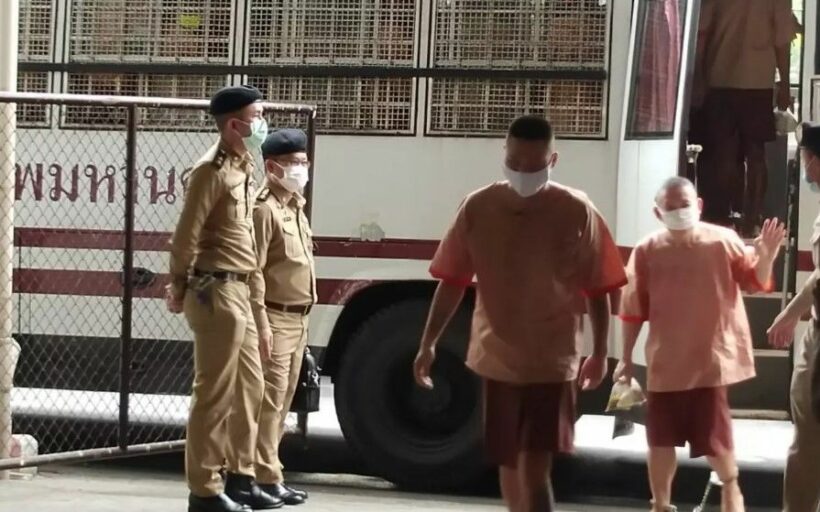 A former party-list MP candidate is sentenced to 50 years in prison for smuggling crystal methamphetamine. Suban Mahachanon was on the MP candidate list for Seri Ruam Thai Party in the March 2019 election, but his bid was unsuccessful. Just a few months later, he arrested for drug trafficking a large amount of methamphetamine into the Philippines.
Suban was busted when a fire broke out at Chon Buri's Laem Chabang sea port, damagin shipping containers at the port. Police inspected the scene after the fire and found a container rented under Suban's name was carrying 985 kilograms of methamphetamine hidden in Emperor brand tea packages. The shipping container also had boxes of shoes and bags of chopsticks, all ready to be shipped out to the Philippines.
Police also arrested 3 other men involved in trafficking the methamphetamine. Along with sentencing Suban to 50 years in prison, the Criminal Court also sentenced 2 Chinese nationals, 25 year old Huang Guoxiong and 45 year old Zhou Qingchu, to life in prison and a Thai man, 62 year old Joi Sae Fong, to 50 years in prison.
At first, the Court sentenced the 2 Chinese men to death, but it was lowered to life in prison. The Bangkok Post says the 2 men were responsible for concealing the drugs and loading the container. The Thai man Joi, also rented the container under his name with Suban. Joi and Suban were initially sentenced to life in prison. Their sentences were reduced to 50 years in prison.
SOURCE: Bangkok Post
Keep in contact with The Thaiger by following our
Facebook page
.
Never miss out on future posts by
following The Thaiger
.
Thailand News Today | Rumours of amnesty extension, 22 new Covid cases | September 28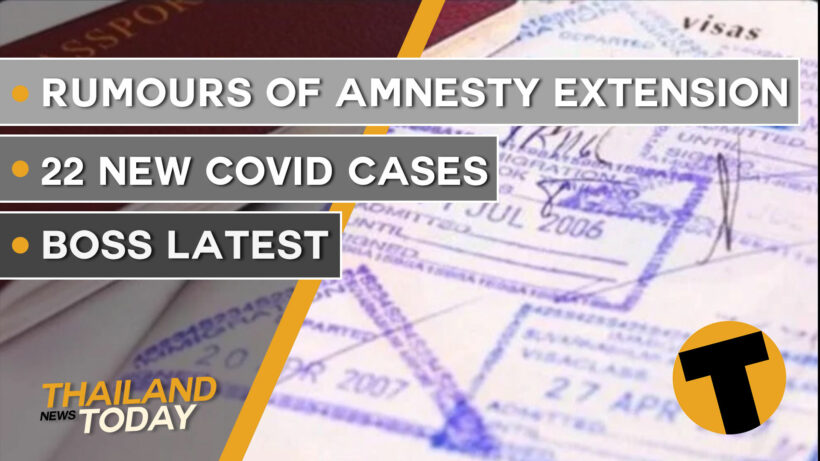 Daily TV news and updates from around Thailand on The Thaiger and on Youtube at Thaiger TV.
22 new cases of Covid-19 detected in Thailand
Out of nowhere, the Thai government's CCSA has reported 22 new cases of Covid-19 in the past 24 hours this morning, raising the country's total of infections to 3,545.
22 cases is the largest number of daily cases announced in a 24 hour period since April 5 this year when Thailand was emerging from its first wave.
16 of the new cases have come from imported cases, and became apparent whilst they were in quarantine during routine tests. The people have arrived from South Sudan, 4 people from India, 1 from Pakistan and 1 from the Philippines.
Thai doctor warns about short-cuts in quarantine
Meanwhile, a doctor from the Faculty of Medicine at Bangkok's Chulalongkorn University says reducing the quarantine period for foreign tourists would be inviting disaster.
Dr. Thira Woratanarat made his statement after a suggestion from the Tourism and Sports Minister that quarantine could be halved if all goes well when Thailand re-opens its borders to a limited number of foreign tourists.
"In Thailand, if we decide to follow the proposal to reduce the quarantine time to 7 days, it would be an invitation to disaster."
Rumours of a new visa amnesty, up to October 31
Thai Immigration offices have been flooded with foreigners trying to find a last minute solution to stay in the country and figure their situation out before the end of the visa amnesty… September 26, last Saturday.
The end of the amnesty, allowing visitors with lapsed visas to remain in the country, put many in a difficult situation, especially after a warning from the government the people could face fines and jail time for overstaying. But foreigners could have 1 more month to figure it out.
The news will come as a massive annoyance to those who went through the hoops last week to meet the deadline, although many thousands simply failed to get an appointment or satisfy the extension requirements, or simply had no flights to leave the country.
The government estimated around 150,000 foreigners were living in the country on amnesty.
Now there's an "unofficial" letter, on official Thai government letterhead, floating around, claiming that the visa amnesty will be extended until October 31. It's said the letter is waiting to be signed by PM Prayut Chan-o-cha which would then be published in the Royal Gazette. The letter title translates loosely as "extension for foreigners staying in Thailand".
Meanwhile, The Phuket News is reporting that their local immigration office plans to start charging people with overstays from tomorrow.
There's still a lot of confusion over the finish, or not, of the visa amnesty. We will bring you all the latest details, as soon as they come to hand, at thethaiger.com
"Boss" commission chief says Thai justice system in need of reform
Former National Anti-Corruption Commissioner, Vicha Mahakun, who led the recent inquiry into the handling of the case against Vorayuth "Boss" Yoovidhya, says Thailand's justice system is in need of reform.
The Red Bull heir and grandson of co-founder Chaleo Yoovidhya, "Boss", stood accused in a 2012 hit-and-run case that caused the death of a 47 year old Bangkok police officer who was hit by Boss's Ferrari and dragged over 100 metres, before the car fled the scene.
Boss was never brought to justice and is believed to be living outside Thailand, having managed to flee the Kingdom in 2017. Now, the chairman of the investigating panel says the whole Boss fiasco proves that Thailand's legal system needs to be reformed. He says the decision to drop all charges in the case clearly came about as a result of systemic corruption in the ranks of Thailand's police and judicial departments.
"Why was the case, that should have been closed within a year, delayed for 8 years? There's a legal proverb 'justice delayed is justice denied'. An attempt to delay it gives a clue."
1,202 gambling websites to be blocked in Thailand
Thailand is cracking down on online gambling websites. Internet providers will have 15 days to block 1,202 gambling websites before charges are pressed for violating Thailand's Computer Crime Act.
Although gambling is technically illegal in Thailand, underground and online gambling thrives in pockets of the country. The Digital Economy and Society Ministry was ordered by PM Prayut Chan-o-cha to crack down on illegal online gambling. The PM ordered the ministry to block the hundreds of gambling websites within the next 15 days. The ministry has requested 1,202 court warrants citing Computer Crime Act violations.
The National Broadcasting and Telecommunication Commission is collaborating with the ministry to block access to the gambling websites. The strict order is aimed at keeping teenagers away from online gambling.
More rain fronts on the way around Thailand today and tomorrow
The Thailand Meteorological Department is forecasting more isolated heavy rain over many parts of the country over the next few days.
Last night there were heavy rains and flooding in parts of inner city Bangkok. Cars were stuck in knee-deep water and footpaths were inundated in several inner city suburbs, including Phra Khanong. Phuket also had a rough night of high winds and rain. For most of Thailand, the most rainfall is accumulated in September and October making them the wettest months. We have a special story about Thailand's monsoon… the link is under here in the description.
Keep in contact with The Thaiger by following our
Facebook page
.
Never miss out on future posts by
following The Thaiger
.