Phuket Gazette Thailand News: Prayers, parties see in New Year; HM wishes health, wealth and happiness; Road death toll climbs; Alcohol advertising arrests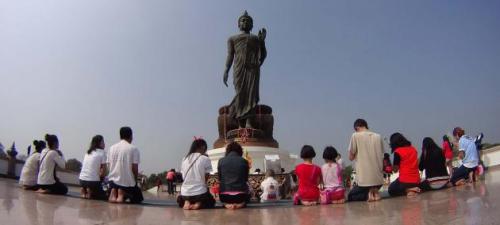 PHUKET MEDIA WATCH
– Thailand news compiled by Gazette editors for Phuket's international community
Thais opt for prayers, parties to see in 2014
The Nation / Phuket Gazette
PHUKET: As an alternative to celebrate the New Year, temples nationwide offer "cross-year Buddhist prayer" for people who like to attend for good luck, while many others celebrated with friends and loved ones in cities or tourist destinations.
Acting Supreme Patriarch and abbot of Wat Paknam Bhasicharoen, Phra Maharajamangkhalajahn, yesterday granted a New Year blessing to the Thai public in rhyme, which in summary wished all to be happy and united.
The revered monk also urged people to practice self-control, seek knowledge, be kind to and unite with one another in society, perform their duties and be loyal so they could succeed, be happy and prosper in life.
Phra Maharajamangkhalajahn also said the Sangha Supreme Council had resolved that Buddhist temples in Thailand and abroad would host "cross-year prayer" last night and early today. Bangkok's Wat Paknam Bhasicharoen and Wat Saket (Golden Mountain), as well as Buddhamonthon Buddhist Park in Nakhon Pathom were centres for such activity in Greater Bangkok.
Elsewhere, provincial head monks' temples would be centres for such mindful activity.
The council also added the full "seven legends" prayer and the Dhammacakkappavattana Sutta into the "cross-year prayer" programme for all temples to use, to enhance auspicious omens and help protect people from harm, he explained.
Amulets for the devoted

Many Bangkok temples planned to hand out amulets to participants. Wat Saket in Pom Prap area was due to hand out 100,000 "Luang Por Doungdee" amulets, holy water and talisman cloth, while Wat Thewarat Kunchorn in Dusit planned to hand out "Phra Kring Yai Thewarat" amulets, and Wat Nai Rong in Bangkok Noi was due to hand out "Bia Kae" talismans.
Meanwhile, Prime Minister Yingluck Shinawatra posted on her Facebook, Twitter and Instagram a New Year 2014 message to wish Thais to re-unite and love each other and those with differences of opinion, belief and political ideology to turn to each other and talk to seek peaceful solutions for the country.
She affirmed she would work with determination and patience despite the anti-government protest, vowing to work hard to create unity and reconciliation while also protecting national, religious and monarchy institutions.
She also prayed for the power of the Buddhist Three Gems (Buddha, Dharma, Sangha) and the power of Their Majesties the King and Queen to keep the country at peace and to protect all Thais to be safe and healthy and have their wishes fulfilled.
Meanwhile, many opted to usher in the New Year at "countdown party" sites such as Bangkok's Central World Plaza and Asiatique, plus Phuket and Pattaya. Others braved winter chills in the North and Northeast to celebrate amid nature and mountains.
The atmosphere at Chaiyaphum's Phu Lankha National Park, featuring a prehistoric stone garden dubbed "Thailand's Stonehenge", was buzzing with over 20,000 campers setting up tents. It was so crowded many were forced to camp along a one-kilometre stretch of road to the mountaintop camping site.
His Majesty wishes Thais happiness, prosperity
The Nation / Phuket Gazette
PHUKET: His Majesty the King Tuesday night delivered a self-made New Year postcard, and addressed the general public in a televised announcement, in which he wishes for happiness, success and prosperity to the Thai people, and peace to the country.
"You all please well take care of your physical and mental health so that you can fully perform your duty. "More importantly, whatever you do, please think of the interest for the general public and Thainess. "Then the country's work can go smoothly and achieve the happiness, prosperity and the peace as you wish," His Majesty said.
Bid to get around blockades in South
The Nation/ Phuket Gazette
PHUKET: Candidates in the South were once again stopped from registering for the February 2 election yesterday by members of the People's Democratic Reform Committee (PDRC) even though election officials agreed to host the registration at a police-run facility in one province.
Election commissioner Somchai Srisuthiyakorn said a decision to change venues had been made solely by officials at the constituency level and the central Election Commission had nothing to do with it.
Police and constituency poll officials reportedly coordinated the move, which saw the ruling party and others register at a border police camp in Nakhon Si Thammarat at 3am.
"The decision to move venues was not unanimous. Some candidates registered at the 42nd Border Patrol Police Camp in Thung Song district at night, which is not fair for other candidates and might lead to legal problems later. So the provincial and constituency election commissions should report to the EC about this," he said.
In Nakhon Si Thammarat 15 candidates from Pheu Thai, Chart Thai Pattana, Palang Sahakorn and Bhum Jai Thai parties allegedly registered for seven of the nine constituencies at 3am yesterday.
The Pheu Thai candidates were then escorted to the Fourth Army Region Airport by the border patrol police, who also flew Chart Thai Pattana candidates into the registration venue in a helicopter.
With at least two parties registering, the candidates will no longer have to comply with the election regulation that requires them to win at least 20 per cent of eligible votes – otherwise they may have to undergo several elections until the meet the minimum votes required.
Pheu Thai spokesman Prompong Nopparit said he and representatives of other parties will meet with the EC today to ask that the deadline for registration of candidates in the South – due to end today – be extended due to the disruptions.
Meanwhile, Democrat Party spokesman Chavanond Intarakomalyasut warned that the move to register candidates in different venues in Nakhon Si Thammarat's Thung Song district might result in the election being declared invalid.
He said following incorrect procedures may result in the election being cancelled like what happened in 2006.
The EC and members of the Democrat Party met yesterday to try and resolve the problem of failed candidacy registration in provinces in the South. The outcome was not available as of press time last night.
Chavanond also said Democrat Party leader Abhisit Vejjajiva will give a speech at 8am today via the Blue Sky TV channel on a seven-point reform blueprint.
He said feedback to the blueprint would be sought from chambers of commerce and anti-corruption agencies tomorrow and on Friday before the reform plan is finalised.
Somchai said EC representatives would also explain to Democrat leaders today why the election must be held. They had wanted to explain this to the PDRC, he said, but an invitation for talks had yet to be accepted.
He said registration of candidates in Songkhla and Phuket has been cancelled.
Separately, an unknown gunman sprayed the house of Thanapol Sukpan – legal adviser to Pheu Thai candidate for Chumphon, Rujinart Srisuwan – with M16 bullets on Monday night. Thanapol believes this attack may be politically motivated.
In an
— Phuket Gazette Editors
Keep in contact with The Thaiger by following our
Facebook page
.
Never miss out on future posts by
following The Thaiger
.
Pattaya City council pushes for action against abandoned Waterfront condo project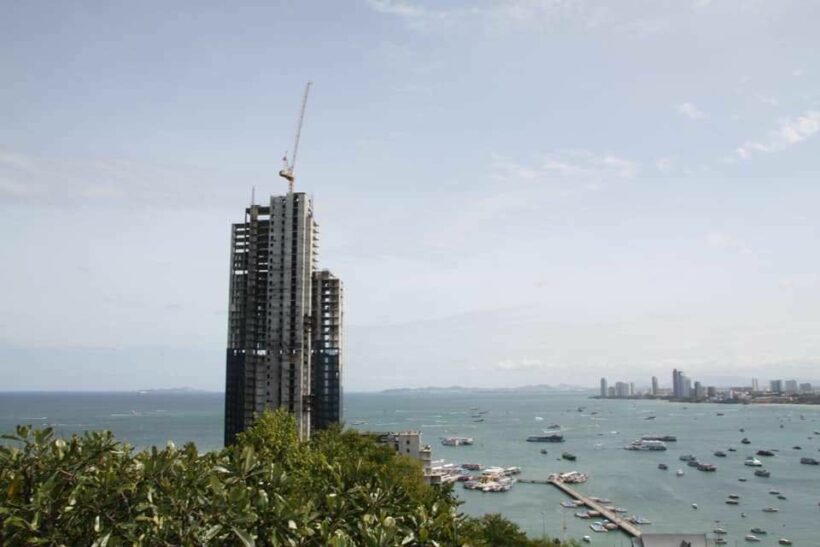 The Pattaya City Council is pushing for action, any action, against the abandoned 53 story Waterfront Suites and Residence luxury condo after it has been left as an eyesore for many years overlooking the Bali Hai Pier. The Waterfront Suites and Residence is a half-finished condo project that was stalled in 2014 after safety inspectors discovered that the building's fire escapes and elevator systems designs varied from the already approved construction designs.
Thai Engineering, however, allegedly ignored the stop-work order and continued, but the company says it was not informed from the developers to stop. The project was originally launched and proposed back in 2004.
In July, 2014, Pattaya city officials halted construction of the condo and hotel project following an internet firestorm after photos showing the tower obstructing a "classic" Pattaya viewpoint. The majority of comments were negative, claiming the project ruined the viewpoint hill and the area around Bali Hai pier and was an "eyesore". The mayor at the time, Itthiphol Kuneplome spoke up for the project and said that it had continually followed correct and fully transparent legal processes.
Then the condo's Israeli-owned Bali Hai Company, due to complaints about the condo's obstruction of the natural landscape and land permit issues, filed a petition with the Central Bankruptcy Court in Bangkok for debt restructuring which subsequently failed as the company went bankrupt.
The Pattaya Court has ordered for the condo to be legitimately demolished but due to legal proceedings against the company dragging along, the condo continues to sit abandoned. Furthermore, Pattaya City authorities were rejected by the departments that would carry out the demolition citing that the authorities were not specialised in estimating the cost of such a demolition. Now the authorities are still trying to get estimates from 11 different companies to outsource the demolition which is contributing to the delay.
But the Pattaya City Council chairman says that law firms should take control and use photographs and other documents before collecting the evidence to speed up the process. Regardless, the demolition of the condo is in limbo as pending lawsuits are preventing it from moving forward.
SOURCE: The Pattaya News
Keep in contact with The Thaiger by following our
Facebook page
.
Never miss out on future posts by
following The Thaiger
.
Elderly Dutch man's body found floating near Pattaya Beach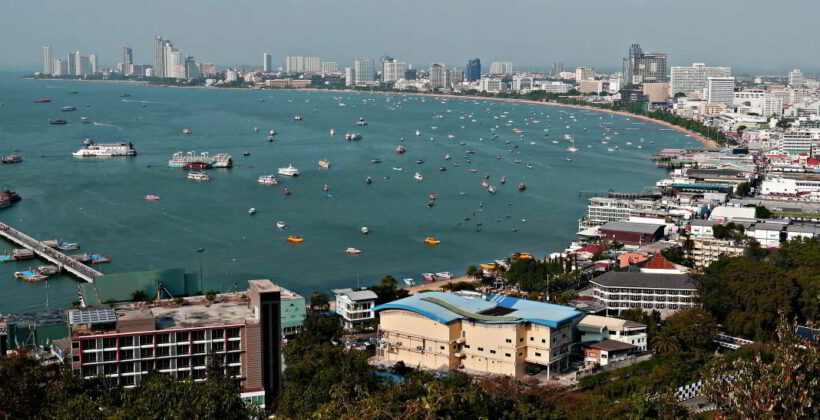 An elderly Dutch man's body has been found floating near a Pattaya beach in South Pattaya after telling his wife he was going to go swimming. The 74 year old man's wife Ms. Sukjai Bungutum, a 41 year old Thai woman, was found by rescue workers crying near his body.
"My husband told me he was going to go swimming. He had not returned after many hours. I was worried as he had personal health issues after a recent accident. I called Pattaya police for help until I was informed that his body was found."
Rescue workers say they found the man's body yesterday evening at 7pm. They say his body was face down in the water and there appeared to be no signs of a struggle or of being in distress, but was wearing only underwear.
The Dutch man's name is being withheld, according to The Pattaya News, pending the notification of his embassy. Police say an autopsy will be conducted to determine the man's exact cause of death.
SOURCE: The Pattaya News
Keep in contact with The Thaiger by following our
Facebook page
.
Never miss out on future posts by
following The Thaiger
.
Pattaya men allegedly posed as police officers, extorted 50,000 baht from a woman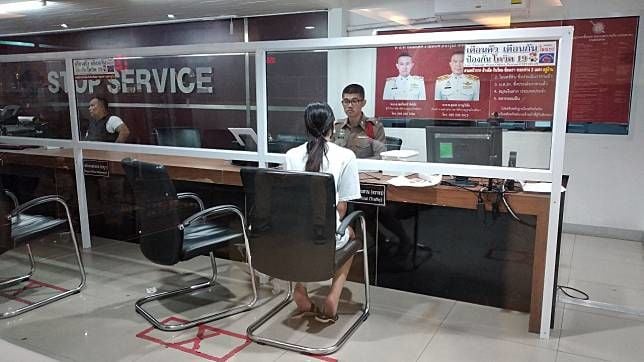 A group of 4 men in Pattaya allegedly posed as police officers and extorted 50,000 baht from a woman. The 20 year old woman says the men claiming to be police officers raided her condominium and a friend visiting had drugs in his possession.
In the report filed with Pattaya City Police, the woman says the men asked both her and her friend for a bribe of 25,000 baht each. If they didn't pay up, the men said they would arrest them on drug charges, according to the complaint. The woman says she gave the men 50,000 baht.
The men who allegedly posed as police officers were not in uniform and did not show any identification or badges, the woman says. After giving it some thought, the woman became suspicious and decided to file a complaint with police. Police are still investigating.
SOURCE: Pattaya News
Catch up with the latest daily "Thailand News Today" here on The Thaiger.
Keep in contact with The Thaiger by following our
Facebook page
.
Never miss out on future posts by
following The Thaiger
.