Phuket Gazette Thailand News: Oil spill update; Pension issues; Thaksin clip was foreigners; Emergency decree before amnesty bill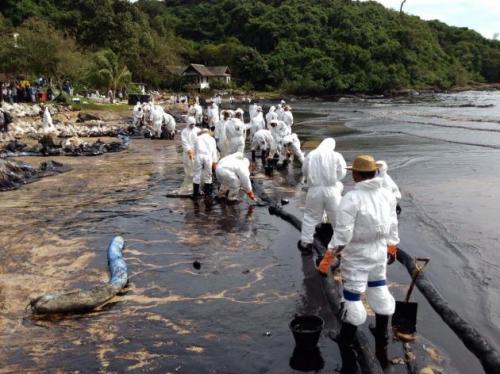 PHUKET MEDIA WATCH
– Thailand news compiled by Gazette editors for Phuket's international community
Black day for Samet
The Nation / Phuket Gazette
PHUKET:Authorities yesterday feared the entire tourist island of Koh Samet in Rayong would be affected by Saturday's oil spill.
The island's Ao Phrao (Phrao Bay) is being closed for three days to permit a cleanup of spilled crude oil that has washed ashore.
Koh Samet was yesterday declared a marine disaster area, according to Rayong Governor Wichit Chatphaisit, who said action was being taken to prevent the leaked oil from spreading from Ao Phrao to other beaches on the island.
"The spill is definitely having an impact on the environment, but we have not detected any deaths of marine animals yet," he said.
It is expected to take about 15 days to restore the polluted beach of Ao Phrao, according to Sumet Saithong, chief of the Laem Ya Samet Islands National Park.
He said about 500 officials from the Pollution Control Department; Depart-ment of Environment Quality Promotion; petrochemical firm PTT Global Chemical, from whose pipeline the oil leaked; and those sent by the Rayong provincial governor, were cleaning up oil that had washed ashore.
Film from the floating crude oil has spread over eight kilometres west of Ao Phrao, on the western coast of Samet, and about 400 metres into the bay, he said.
The Stop Global Warming Association yesterday asked the government to demand compensation from PTT for allegedly causing damage to the country's natural resources and the environment. It would take legal action by itself if the government failed to do so, the association's representatives said.
Koh Samet, about 3 kilometres off the coast of Rayong, is a popular getaway for Bangkok residents. The island attracts about 1 million visitors a year, mostly on weekends. Known for its quieter scene and serene beach, Ao Phrao is now blackened by waves of oil lapping on the shore.
The leak reportedly struck an offshore pipeline belonging to PTT Global Chemical on Saturday morning, releasing about 50,000 litres of crude oil into the Gulf of Thailand. The pipe is about 20 kilometres off Rayong's coast. Authorities had contained much of the oil spill by Saturday evening, although portions evaded the floating barriers used to try to contain the spill.
"We closed off Ao Phrao to tourists so authorities can clean up the water and beach," said Chuchart Oncharoen, the Tourism Authority of Thailand's director for Rayong. "Ao Phrao is on the west coast of Samet, but most of the island's hotels and resorts are on the east coast, which has not been affected by the spill," he said.
Immediate priority
Rayong Deputy Governor Supeepat Chongpanish said the immediate priority was to clean the oil from the sand and water, and to make sure the spill didn't spread to other beaches. "This is a very beautiful, white, sandy beach, so we want to clean up the spill as soon as possible," he said.
Authorities said it would take some time to assess the environmental damage caused by the spill. However, the tourism industry has already felt some impact.
"The black waves have been rolling in since [Sunday] night and by [yesterday] morning the beach was all tainted with oil," Kevin Wikul, the assistant front-desk officer of a resort in Ao Phrao, was quoted as saying by The Associated Press. "We have advised our guests against going near the beach and some have asked for early check-outs."
Chuchart, TAT's Rayong director, said: "We've had some hotel cancellations on Samet. Whether this will have a long-term impact on the island depends on how quickly PTT cleans the mess up."
PTT Global Chemical president Bowon Vongsin-udom said yesterday the company would eliminate the oil slicks as soon as possible.
According to the company, hundreds of soldiers are helping in the effort to remove oil from the beach. However, it would take some time before oil slicks on the sand and between stones could be removed, it said.
Energy Minister Pongsak Ruktapong-pisal said the ministry had set up a fact-finding committee headed by PTTGC chairman Prasert Bunsumpun to determine the cause of the oil leak. He said it was the fourth oil spill to have hit Thailand, and the largest in terms of the amount spilled.
Prasert expressed regret over the incident, adding that the company would determine the cause as soon as possible.
Foreigners 'had a hand in Thaksin death-threat clip'
The Nation / Phuket Gazette
PHUKET: Deputy Prime Minister Pracha Promnog yesterday said anti-government groups with both Thai and foreign members were responsible for a YouTube clip in which a death threat was issued against ex-PM Thaksin Shinawatra by a man dressed to look like a terrorist.
Pracha refused to reveal the nationality of the suspected foreigners, saying it could damage bilateral relations, though he insisted they did not come from Malaysia.
Meanwhile, intelligence officials have obtained information identifying the three men in the clip, two of whom had their faces covered and were armed with assault rifles. He said police would first check with intelligence community sources in several countries before deciding whether to prosecute those featured in the clip, especially since one of the men revealed his face.
Pheu Thai to push emergency decree ahead of amnesty bill
The Nation / Phuket Gazette
PHUKET: Pheu Thai Party's Strategic Committee will propose the imposition of the Internal Security Act to control any protest after the Parliament reopens, a source said after the panel's meeting yesterday.
The committee will consult with police about the issue first before proposing it to the government, the unnamed source said.
Meanwhile, security at Parliament and Government House was beefed up yesterday as a precaution against protesters, as the controversial amnesty bill is tabled next Wednesday. Concrete barriers were placed at all entrances and exits of Government House yesterday in a move to keep out the Pitak Siam group, which is expected to show up on Sunday morning.
A police truck was also seen parked nearby along with a vehicle armed with a long-range acoustic device that emits an ear-splitting siren.
Two police tents were also set up and a photograph of the group's leader posted on a metal barricade near one of the tents.
However, police said it was not a "wanted" poster. Deputy House Speaker Wisut Chainarun said 700 police would be deployed near Parliament on the days the controversial bill is debated.
Pension Network lodges complaint over failure to launch savings plan
The Nation / Phuket Gazette
PHUKET: The Pension Network for the People Sector is stepping up pressure on the government to demand that it start the National Savings Fund (NSF) scheme before the end of 2013.
Yesterday, the group lodged a complaint at the Central Administrative Court against Prime Minister Yingl
— Phuket Gazette Editors
Keep in contact with The Thaiger by following our
Facebook page
.
Alcohol bans tomorrow and Monday in Thailand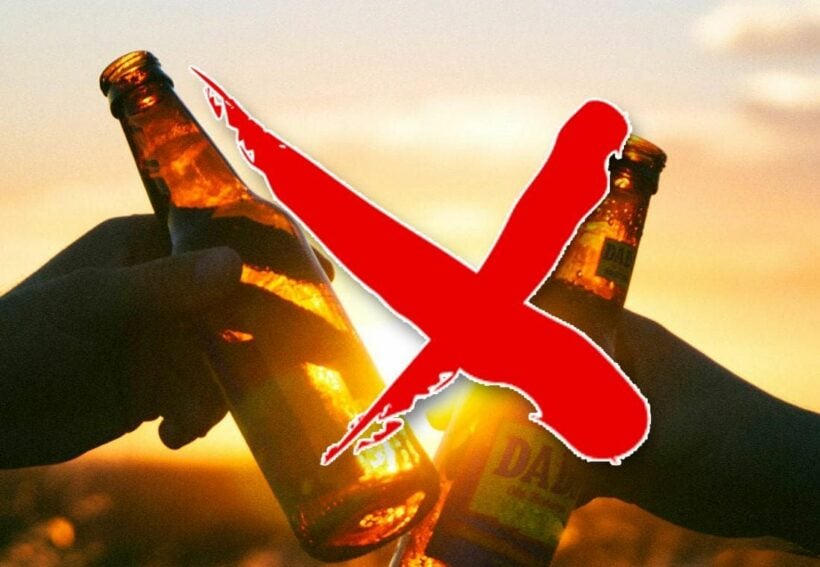 2 Buddhist holidays, Asahna Bucha Day, and the start of Buddhist Lent, fall on this weekend. As a result the government has added Monday, July 6, as a national holiday.
There will be an alcohol ban tomorrow, Sunday (July 5) and Monday (July 6). No alcohol will be sold or served on these days.
The dates of these important Buddhist holidays, and the ensuing long weekend and alcohol ban, falls just days after pubs, bars and entertainment venues have been allowed to re-open. The alcohol bans will put a dint in the re-opening plans for many small businesses who have been hit hard by the enforced closures and the ban on tourists coming into Thailand.
Various news outlets around the country have published a variety of confusing headlines on the matter. Because of the confusion you may have to 'roll with the punches' as the ban is applied in your particular area and is managed by the local police. For now, you have at least a day or so to stock up.
Asanha Bucha Day is a public holiday in Thailand marking the day when the Lord Buddha delivered his first sermon at Benares in India over 2,500 years ago. The exact date of the holiday is determined by the waxing moon and the lunar months, but is usually held in July or August.
The Buddha preached his first sermon at a deer park and from this sermon the Dharma (doctrine) of the Buddha was symbolised as a wheel. The Dharmachakra is also known as the Wheel of Life, Wheel of Law or Wheel of Doctrine and can be seen on flags in temples and buildings all across Thailand. Similarly, pictures or models of deer can often be seen at temples or in depictions of the Buddha.
Keep in contact with The Thaiger by following our
Facebook page
.
Covid-19 update: 40 days with no locally transmitted cases (July 4)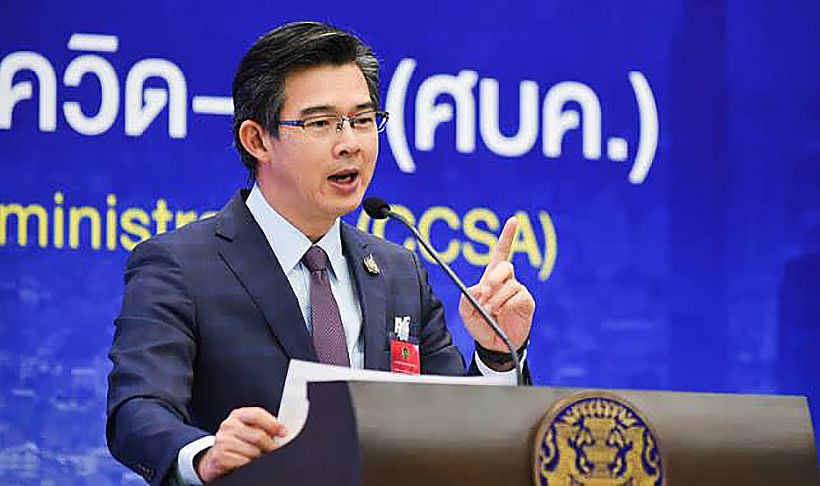 The Centre for Covid-19 Situation Administration confirmed this morning that Thailand has not recorded a single locally transmitted case of Covid-19 in 40 days. 5 imported cases were reported today of repatriated Thai nationals – 1 from Kuwait, 1 from the UK and 3 from Sudan. All were discovered in state quarantine facilities.
CCSA spokesman Dr Taweesilp Visanuyothin says Thailand remains on guard, and social distancing measures will continue to be enforced despite the 40 day milestone, as factors such as illegal immigrants remain a potential danger of contagion. Border control is a top priority for Thailand and although limited international travel is resuming, very strict precautions remain.
Only very limited groups of foreigners can enter, and numbers are severely restricted. These groups include those with work permits and medical reasons, but entry requires extensive paperwork, quarantines and is approved on a case-by-case basis.
General travel and tourism remain closed for the foreseeable future due to the threat of Covid-19 resurgence around the world, according to Taweesilp. Thailand is exploring potential "travel bubbles" with some countries that are deemed to have controlled the virus, as determined by the World Health Organisation.
As of today Thailand has had a total of 3,185 cases, of whom 3,066 of those recovered. There have been 58 deaths related to the virus.
SOURCE: The Pattaya News
Keep in contact with The Thaiger by following our
Facebook page
.
Major international retailers banning monkey-picked coconuts – VIDEO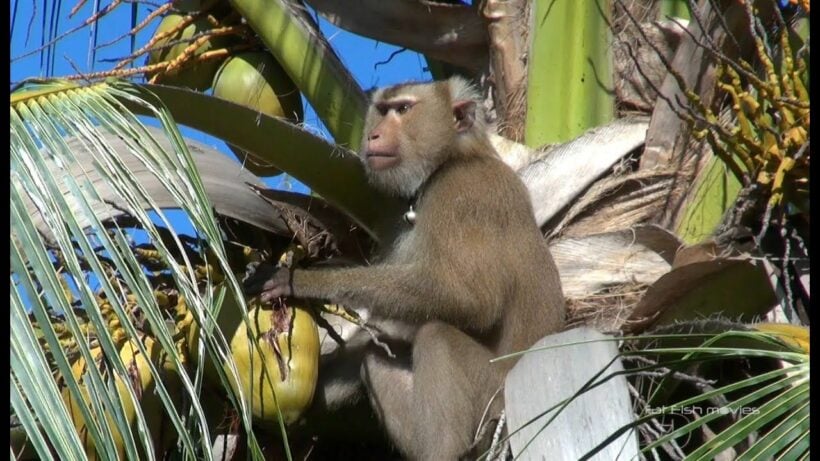 Allegations of animal abuse are prompting major Western retailers to pull Thai coconut products from their shelves, amid accusations that the coconuts are picked by monkeys treated inhumanely. People for the Ethical Treatment of Animals claim monkeys are snatched from the wild and trained to pick up to 1,000 coconuts a day. The animal rights group says pigtailed macaques are treated like "coconut-picking machines".
PETA claims monkeys are used by farms supplying 2 of Thailand's best known coconut milk brands: Aroy-D and Chaokoh, which are exported to many countries, including Europe and the US.
"Following PETA Asia's investigation, more than 15,000 stores will no longer purchase these brands' products, with the majority also no longer buying any coconut products sourced from Thailand monkey labour."
The BBC reports that in the UK, major retailers Waitrose, Ocado, Co-op and Boots are pledging to stop selling some coconut products from Thailand.
"Our own-brand coconut milk and coconut water does not use monkey labour in its production and we don't sell any of the branded products identified by Peta. We don't tolerate these practices and would remove any product from sale that is known to have used monkey labour during its production."
The Morrisons chain said it has already removed products made with monkey-picked coconuts from its shelves. Sainsbury's, the UK's second largest grocery chain, told the BBC…
"We are actively reviewing our ranges and investigating this complex issue with our suppliers."
A PETA statement says it has found 8 farms in Thailand where monkeys are forced to pick coconuts for export around the world. Male monkeys are reportedly able to pick up to 1,000 coconuts a day; it's thought that a human can pick about 80.
"Other coconut-growing regions, including Brazil, Colombia and Hawaii, harvest coconuts using humane methods such as tractor-mounted hydraulic elevators, willing human treeclimbers, rope or platform systems, ladders, or they simply plant dwarf coconut trees."
The group says it's also discovered "monkey schools," where the animals are trained to pick fruit, as well as ride bikes or play basketball to entertain tourists.
"The animals at these facilities, many of whom are illegally captured as babies, displayed stereotypic behaviour indicative of extreme stress. Monkeys were chained to old tyres or confined to cages that were barely large enough for them to turn around in."
"One monkey in a cage on a lorry (truck) bed was seen frantically shaking the cage bars in a futile attempt to escape, and a screaming monkey on a rope desperately tried to run away from a handler."
SOURCE: Bangkok Post
Keep in contact with The Thaiger by following our
Facebook page
.