Phuket Gazette Thailand News: Govt House sealed off; Flood victims get counselling; Red Shirts remember 1973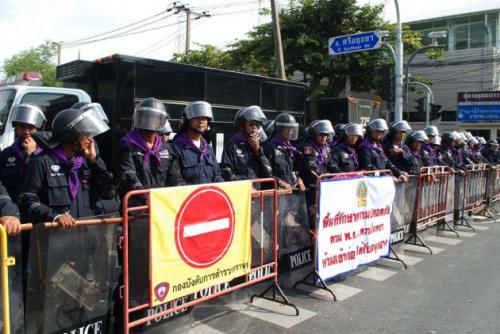 PHUKET MEDIA WATCH
– Thailand news compiled by Gazette editors for Phuket's international community
Govt House sealed off after threat of protest
The Nation / Phuket Gazette
PHUKET: Police yesterday began closing 14 roads around Government House to traffic for fear that anti-government protesters may move their rally to the area.
The move came as an anti-government group threatened to hold a large rally and a nationwide strike.
Checkpoints were set up along perimeter roads and only people who could prove that they worked or lived in the area were allowed to pass, according to Metropolitan Police Bureau spokesman Maj-General Adul Narongsak.
Road closures began at 2pm yesterday, he added.
"Vehicles and people are not allowed to enter the area, unless they get permission from authorities.
People who live and work in the area must show their ID cards as proof," said Adul, who is also a Metropolitan Police Bureau deputy commissioner.
He said police intelligence showed that the anti-government protesters – now gathering at Lumpini Park and Urupong Intersection – were planning to move to Government House, which is off-limits to protesters under the Internal Security Act (ISA) invoked last week.
The government's Centre for Administration of Peace and Order (CAPO), which enforces the ISA, yesterday issued an order prohibiting the use of sections of 14 roads: Ratchasima, Phitsanulok, U Thong Nai, Likhit, Rama V, Sukhothai, Ratchavithi, Ratchadamnoen Nok, Look Luang, Phichai, Nakhon Sawan, Sri Ayutthaya, Nakhon Pathom and Krung Kasem.
National Security Council secretary-general Paradorn Pattanatabut yesterday said the road closures were a precautionary measure and a move to send a signal to the protesters that they should not attempt to move on Government House.
He said that the Urupong Intersection, where the group of protesters were holding their street rally, was not far from Government House and that it would take the protesters only a short time to move their operations from there.
CAPO spokesman Pol Maj-General Piya Utayo yesterday said it was expected that the protesters would change their rally site a number of times and would not end their protest easily.
Thaikorn Pholsuwan, coordinator of the anti-government group known as the People's Army to Overthrow the Thaksin Regime, said yesterday the group would announced a large rally today and a campaign for a nationwide strike. He said that the 40th anniversary of the 1973 student-led uprising today was the appropriate occasion for people to rise up and protest against the country's problems.
He also said his group would resume protesting outside Government House and that it planned to mobilise more protesters, who would come from the provinces.
The Cabinet last Wednesday resolved to invoke the ISA in Bangkok's Dusit, Phra Nakhon and Pom Prab (Sattru Phai) districts, with effect from last Wednesday to this Friday. The districts are of political significance as they are home to Government House, Parliament House, Democracy Monument and Sanam Luang.
The government's move to invoke the ISA came just a day after the People's Army began its rally outside Government House. Leaders of the group later agreed to end their rally there ahead of a visit by Chinese Prime Minister Li Keqiang last Friday. However, some of the protesters were unhappy with their leaders' decision and began gathering at the Urupong Intersection, just outside the ISA area.
Flood victims get counselling
The Nation / Phuket Gazette
PHUKET: A flood in Nakhon Ratchasima yesterday claimed the life of a 64-year-old farmer who was worried about his paddy fields.
Somnuek Cherdkornburi's body was found in strong currents in Khon Buri district. His death raised the flood toll to 43.
Police said the farmer left his house to check his ripening crop in submerged fields because he feared they would die. He may have slipped from an earthen dyke, fallen into the water and drowned.
Meanwhile, an overflow from the Lam Prapleung Reservoir has reached Chok Chai district, and left several hundred houses and paddy and cassava fields under water. An estimated 30,000 rai of cassava fields were damaged.
The base of the 900-year-old Pakoh Stupa in the same district was under about one metre of water. The flood washed over Highway 224 Ratchasima-Chokchai at the 29km-30km markers. Authorities put up a sign warning motorists to drive carefully because of the flood.
In Sa Kaew, Her Royal Highness Princess Srirasmi visited flood victims in Aranyaprathet. She was accompanied by Deputy Health Minister Sorawong Thienthong, who said 26 provinces were inundated.
The ministry had dispatched mobile medical teams to several areas to give treatment and these had reached about 300,000 households over the past 26 days. About 90,000 people were treated, mostly for athlete's foot, followed by colds and aches and pains.
The medical teams also gave psychological counselling to people affected by the deluge. About 946 people suffered from stress and pressure because of the flood and 475 needed close care. The teams were also told to give special psychological support for people affected by bad flooding, he said.
The Disaster Prevention and Mitigation Department reported that 116 districts in 25 provinces remained under water with nearly a million people affected by the floods.
The situation has improved in 17 provinces, including in Chiang Mai, Mae Hong Son, Phayao, Lampang and Chumphon.
World's best say quality teaching makes great schools, not tests
The Nation / Phuket Gazette
PHUKET: Over the past four decades, Finnish education has improved to an extent that it is recognised by teachers as the best in the world. Its approach is also noticeably different from global trends. As a result, there is a solid reason for educators everywhere to learn from what Finland has done.
Pasi Sahlberg, head of the Centre for International Mobility and Cooperation at Finland's Ministry of Education and Culture, revealed many secrets behind his country's educational successes at EDUCA 2013.
Organised by PICO (Thailand), this annual congress for teachers' professional development has brought together the world's leading educators. Keynote speakers have come from successful countries like Finland, and Hong Kong. More than 50,000 teachers registered for the event, which ran from October 9 to October 11.
"While others are preoccupied with setting the same standard for all schools, we believe that standardisation will block creativity," Sahlberg said. "While others encouraged competition as a means to improve educational quality, we trust that collaboration will work better."
He said his country encouraged shared responsibility based on trust, not on tests that have kept students, teachers and school executives under check in many countries, including Thailand.
"Equity is also very important," Sahlberg said.
In sum, when it comes to educational improvement, Finland goes for collaboration, customisation, trust-based responsibility and equity.
The Global Education Reform Movement, meanwhile, has embraced competition, standardisation, test-based accountability and school choice.
"Our goal is never about delivering the best educati
— Phuket Gazette Editors
Want more from the Thaiger family?
📱 Download our app on Android or iOS for instant updates on your mobile
📧 Subscribe to our daily email newsletter
👍 Like/Follow us on Facebook
🔔 Subscribe to or Join our YouTube channel for daily video updates
Illegal border crossings bringing in new Covid-19 infections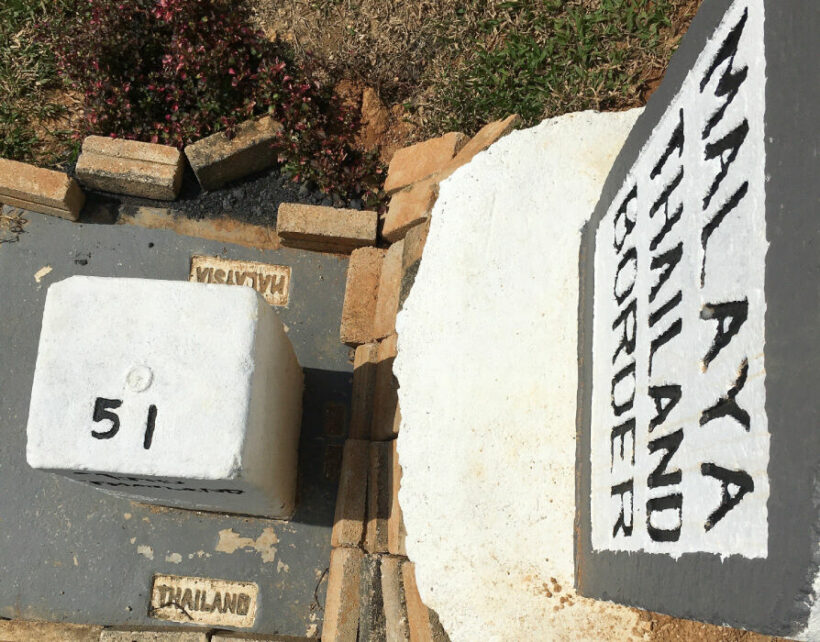 Authorities are worried about illegal border crossings into Thailand bringing in the Coronavirus after 5 recent Covid-19 infections from such crossings. Bypassing all health and security checkpoints along the border, 5 Thai nationals were identified today as being positive for Covid-19 after they snuck into the country, according to the Centre for Covid-19 Situation Administration.
Authorities nabbed 2 after border crossings from Malaysia illegally on April 28 and May 3rd, while another snuck across the Burmese border into Tak on May 2. The last 2 came from Cambodia on Thursday across the Sa Kaeo border. All 5 illegal border crossers are now in state hospitals for Covid-19 treatment.
According to CCSA data in the first four months of 2021 a total of 15,378 people were arrested by Thai authorities while sneaking across borders. Even after security forces increased patrolling along the borders, people managed to sneak in from Myanmar, Malaysia, Laos, and Cambodia. 6,700 of those who crossed the border were Burmese citizens, while another 1,700 of them were Thai nationals.
With nearly 400 lives lost to Covid-19 and over 83,000 people having been infected in the pandemic, the CCSA declared that Prime Minister Prayut Chan-o-cha and National Security Council Secretary-General Natthapol Nakpanich agree that these illegal border crossers without Covid-19 screening are a serious problem.
Many Thai people work in Malaysia and as the pandemic drags on they are sneaking across the border, desperate to make it home to their family. Another recent case found illegal Burmese border hoppers in a taxi en route to Hat Yai after they crossed into Thailand from the Malaysian border. They were trying to travel incognito across Thailand in order to cross the border again back into their home country of Myanmar.
The dilemma is even worse at the Burmese border as the often violent protests following the February 1 military coup has been pushing much of the country into poverty, and creating refugees who are flocking to the border in hopes of crossing over to safety. Many are seeking to escape the conflict and find work in Thailand.
SOURCE: Bangkok Post
Want more from the Thaiger family?
📱 Download our app on Android or iOS for instant updates on your mobile
📧 Subscribe to our daily email newsletter
👍 Like/Follow us on Facebook
🔔 Subscribe to or Join our YouTube channel for daily video updates
Thailand Consumer Confidence Index hits record low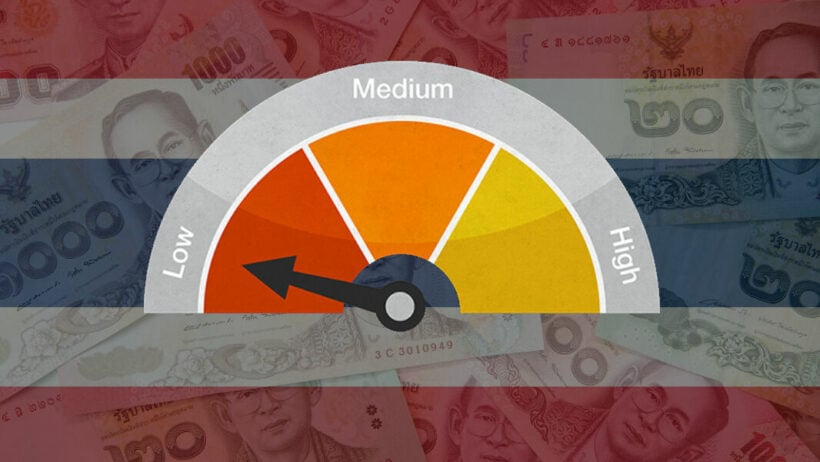 The University of the Thai Chamber of Commerce has reported that the Consumer Confidence Index has hit another new record low of 46.0 in April. The Covid-19 global pandemic has had a devastating effect on the economy and consumer confidence has fallen frequently to the lowest points that it has seen since 1998.
The president of the UTTC believes that consumers generally don't feel like there has been much of a recovery for the economy since the global pandemic began and without a stimulating event to motivate economic growth, the index is expected to continue to fall further. The university estimated that if the third wave of Covid-19 continues past the end of May the economy can expect to lose 400 to 600 billion baht.
The UTTC president stressed that the government should hasten to step up relief measures and make sure they continue relief and economic stimulus throughout the pandemic to avoid economic catastrophe. He predicted that the economy and the Consumer Confidence Index will continue on a downward slope without any hope of improvement until the vaccine rollout gets well underway towards herd immunity, and new Covid-19 infections are decreased dramatically.
Today saw another 2,101 new Covid-19 infections and 17 deaths in Thailand. Vaccination efforts are continually being stepped up, but still remain woefully slow.
The Consumer Confidence Index first started falling last year, with a drop below the previous record low in 1998 in April of 2020, when it fell to 47.2. A few months later, by July of last year, it had recovered significantly, climbing back over 50. But by March of this year, the index had fallen again to 48.5. With April's tumble of 2.5 points, the Consumer Confidence Index pushes once again to a new record low.
SOURCE: Thai Business News
Want more from the Thaiger family?
📱 Download our app on Android or iOS for instant updates on your mobile
📧 Subscribe to our daily email newsletter
👍 Like/Follow us on Facebook
🔔 Subscribe to or Join our YouTube channel for daily video updates
Thailand searches for cow vaccine for lumpy skin disease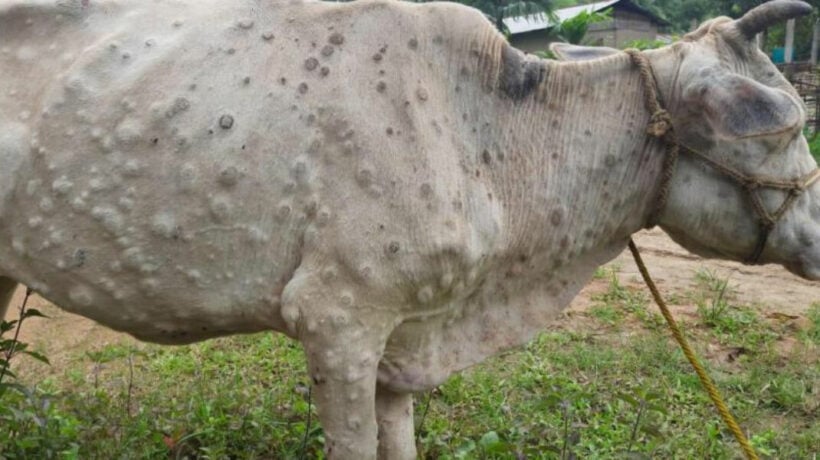 Move over Covid-19 there's a new disease sweeping the country as Thailand's cow population is afflicted with a lumpy skin disease. The Department of Livestock Development is now working on procuring vaccines from overseas manufacturers to import and treat the cattle population in Thailand. The lumpy skin is caused by pustules that are the most visible symptom, perhaps more detectable than other bovine signs such as drooling, loss of appetite and drowsiness.
The cow disease is spreading in the North, Northeast, and Central Plains area of Thailand and has been found in 18 provinces total. First identified in Roi Et, it has now spread in Chiang Rai, Kalasin, Kanchanaburi, Khon Kaen, Maha Sarakham, Nakhon Pathom, and Nakhon Phanom. The first case of the lumpy skin disease was reported in Don Daeng village last month and on April 9th officials reported it to the World Organisation for Animal Health.
The lumpy skin disease is found in cow pens and spread through flies, ticks, and mosquitoes, but the DLD says not to panic, it is not transmissible to humans. The department is distributing important information about symptoms and how the disease spreads to breeders and farmers in the area. They're requiring the breeders to monitor their cattle closely and have imposed measures to control the disease in heavy hit areas.
To prevent the spread of disease in livestock, traders are being requested to not buy and sell cattle within 50 km from disease-stricken regions. And for farmers caring for cattle, the DLD recommends spraying insecticide in all areas to prevent transmission via insects. Finally, in case the cattle were jealous of traveling humans, the DLD is advising farmers to prevent disease spread by isolating any new cow that comes into their farms with a 28-day bovine quarantine where they should be kept under nets to keep insects away.
SOURCE: Bangkok Post
Want more from the Thaiger family?
📱 Download our app on Android or iOS for instant updates on your mobile
📧 Subscribe to our daily email newsletter
👍 Like/Follow us on Facebook
🔔 Subscribe to or Join our YouTube channel for daily video updates