Phuket Gazette Thailand News: Bangkok readies for shutdown; Yingluck denies coup call; Corruption costs B300bn a year; DNA confirms another Nui victim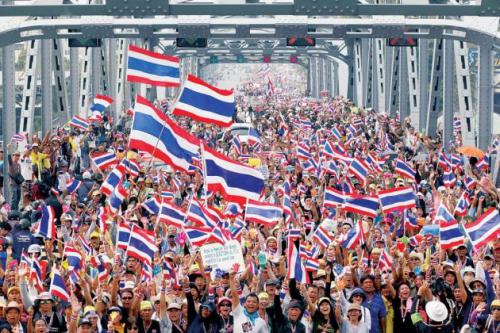 PHUKET MEDIA WATCH
– Thailand news compiled by Gazette editors for Phuket's international community
Retailers gear for shutdown
The Nation / Phuket Gazette
PHUKET: Wholesalers and retailers have scrambled to adjust their inventory and logistics strategies to ensure that they have adequate supplies of consumer goods and foods and don't need to raise prices during the "Bangkok shutdown" planned by anti-government forces next Monday.
Speaking after a meeting with wholesalers, retailers, fresh-market enterprises and modern traders, Yanyong Phuangrach, caretaker deputy commerce minister, insisted that retail stocks and prices would be kept under control by businesses while the capital city comes under siege.
The Commerce Ministry has also set up a centre designed to mitigate the impact on consumers during this unusual situation.
The centre will prepare a 24-hour hotline number, 1569, to receive consumers' reactions or complaints about the protest group's activities. It will also provide contact numbers, (02) 507 5879-81, during office hours.
"Businesses have increased their inventories of essential goods and foods from 10 days to 15-30 days. They have also prepared transport such as motorcycles and tuk-tuks to ensure that their shipments are not interrupted," Yanyong said.
The businesses are prepared to absorb some of the costs of these measures rather than burdening their customers, he added.
The ministry's Internal Trade Department will also send out a special task force to inspect prices at supermarkets, fresh markets, and retail shops across Bangkok during the siege.
Somchai Pornrattanacharoen, president of the Thai Wholesaling and Retailing Association, said small and medium-sized enterprises had already adapted to the political uncertainty and closed down temporarily in some areas.
"Although facing higher costs, they have adjusted to the situation. Prices should be stable or not go up too much," he said.
Voravit Charoenwattnanapan, president of the Thai Transportation and Logistics Association, said logistics providers would serve their clients normally.
Logistics
He pointed out that goods traders had already increased their stocks by 5-10 per cent. Logistics providers have also prepared various means of transport including small trucks to deliver goods from warehouses outside Bangkok to traders and consumers on time.
Voravit said about 60 per cent of deliveries would be to modern traders, and 35-40 per cent to small retailers.
He suggested that the Commerce Ministry set up warehouses in the capital to ensure that whatever happens, Bangkokians would be ensured of an adequate supply of goods.
Suwit Kingkaew, senior vice president of CP All, operator of 7-Eleven convenience stores, said the company had instructed its branches in metropolitan Bangkok to stock two or three times more goods than normal.
He said the demonstration should not affect goods deliveries for 7-Elevens, as normally these are done after midnight.
Suwit added that prices would not be changed, while 7-Eleven outlets in demonstration areas would have higher sales.
Netithorn Praditsarn, director of corporate affairs at Big C Supercenter, said the company had a business continuity plan (BCP) that enabled the company to adjust and synchronise all aspects of its operations to run smoothly, including store operations, safety, delivery, stocking and employees' commutes, to ensure maximum customer convenience.
"We will closely monitor the situation and adapt our operations to ensure availability of necessities and commodities at Big C's signature lowest prices. As for deliveries, we are re-routing them to avoid major intersections and also exploring the option of using smaller vehicles that can use smaller roads and sois instead of main roads.
"Stores in affected areas have stocked additional quantities of necessities such as water, instant noodles, dry food and so on to ensure sufficient supplies for our customers," Netithorn said.
He added that at this point, the company planned to keep all formats of Big C stores (Big C Supercenter, Extra, Jumbo, Big C Market and Mini Big C) open on January 13. Salinla Seehaphan, corporate affairs director of Tesco Lotus, said all of its stores would be open normally during the "Bangkok shutdown" period to ensure customer convenience.
"We have ordered higher volumes of goods, especially products necessary for daily life, such as dried foods and instant noodles, from our suppliers. This is to serve higher demands of shoppers, which are expected to increase significantly by this weekend as they stock up on products for the demonstration period," she said.
"We have strong experience in serving our customers during times of crisis, such as the massive flood in 2011. We also have an emergency plan so that we will be able to look after our clients, employees, and communities quite effectively," Salinla said.
Corruption costs the country Bt300 bn every year, claims Abhisit
The Nation / Phuket Gazette
PHUKET: The Democrat Party yesterday unveiled its anti-corruption proposal as part of its national reform blueprint.
Democrat leader Abhisit Vejjajiva said corruption is costing Thailand Bt300 billion per year, or 2 per cent of gross domestic product. With that amount of money, the country could build 30 Parliament Houses, 201 BTS stations, or 5,100 large secondary schools, he said.
The party yesterday held a press conference to announce its blueprint for national reform after it decided to boycott the February 2 election and spend time considering the reform measures.
Abhisit declared the anti-corruption mechanism as the first point in a seven-point national reform blueprint. He said the proposal has 20 measures.
For example, laws should be amended so that corruption cases have no statute of limitations, National Anti-Corruption Commission investigations should be increased, and so too the role of the Office of the State Audit and the Auditor-General. Moreover, there should be retroactive examination of politicians' and senior government officials' tax payments.
Laws should be amended to control the government's use of advertising budget, and judicial officers should be banned from sitting on state-enterprises' boards of directors, the party's proposal said.
Information related to state enterprises should be transparent in the same way as listed companies. The party also proposed setting up a fund to support civil movements against corruption.
While Abhisit was speaking, a man who declined to be named blew a whistle at him. "I respect my vote. Please stop creating political speeches because your party [the Democrat Party] has never won an election," the man said. Abhisit replied by saying "Thank you", before the Democrats' supporters took the protesting man out of the room.
Yingluck denies coup rumours
The Nation / Phuket Gazette
PHUKET: Caretaker Prime Minister Yingluck Shinawatra yesterday rejected rumours that she had struck a deal with the military to conduct a coup in an effort to pave the way for reforms within a year before elections.
"Who consulted whom? I don't think so. There are too many rumours. May I ask the public to listen to news and regard rumours with caution," she told repor
— Phuket Gazette Editors
Keep in contact with The Thaiger by following our
Facebook page
.
Never miss out on future posts by
following The Thaiger
.
No vaccine, no entry – the world's next travel challenge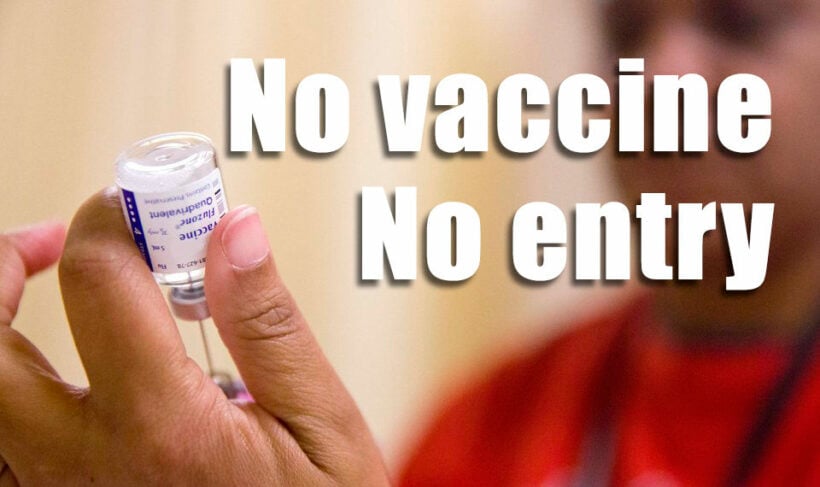 OPINION
UPDATE: Australia's national airline has already said it will impose "proof of vaccine" on all inbound and outbound international flights, a situation that IATA says they are likely to follow. Read more HERE.
ORIGINAL POST: With the announcements this week about several vaccine candidate trials, either being completed or at the end of their Phase 3 testings, and the applications to government bodies for 'emergency approval', we now have to face the next question.
What restrictions will be imposed on those people who don't have the vaccine, or even actively choose not to have the vaccine?
And more locally…
Will Thailand allow people to enter Thailand without first having the Covid-19 vaccine?
Given the Thai Government's low-risk strategy, well almost zero-risk strategy, and reluctance to take any chances with a second wave of Covid 19, it is highly likely there will be a stipulation that anyone entering Thailand will need a vaccine certificate or stamp in their passports.
Couple this with the Thai population's continued fear of allowing foreigners back into the country at this time, in poll after poll, and it's a safe bet there will be a "no vaccine, no entry" restriction imposed.
On a positive note, the Thai government may drop the 14 day quarantine for people that have had the vaccine (but not in the early days).
At this stage we know that most of the vaccine trials have had a 95% efficacy. We also know that the leading BioNTech/Pfizer vaccine needs an original jab plus a booster and has to be transported at extremely low temperature.
To complicate matters, there is not yet sufficient evidence that having had a bout of Covid-19, whether asymptomatic or not, guarantees you immunity. Or, if it does, for how long?
All these factors will mean that some level of quarantine will probably be in force as the Thai government slowly re-opens its borders to a wider groups of vaccinated travellers. This would remain in force until the world has a better knowledge of both the proven efficacy of the vaccine, or vaccines, and the re-infection rates.
So, even if we start getting groups of the world's populations vaccinated before the end of the year, and that's still a very big IF, there's a lot more water to pass under the bridge until a coherent, reliable vaccine strategy can be understood and implemented.
Then there will be a rump of people, either hard core anti-vaxxers, or others who are at least skeptical of a new vaccine, who will want to wait or not want the vaccine at all. Public education, some strong science and a successful roll out of the early vaccines will be a key to winning over a lot of the world's population.
Somehow governments and health authorities are going to have to wind back much of the disinformation floating around the internet about vaccines that is so factually out of whack with reality, it's going to be one of the greatest public health challenges of all time, to reassure people about the science of vaccines and vaccination.
All this, in the middle of a pandemic that, for now, is still on the ascendency as far as new cases and deaths are concerned.
But there is little doubt rejoining the world of international travel, even local travel, could become restricted to only those who are vaccinated. The rest will be stuck roaming around their own countries, or states, for… years with a raft of restrictions on their lives. Who knows.
Will shopping centres or public buildings also impose a "no vaccine, no entry" policy? Hotels? Public buildings? Job applications?
On top of the economic stress which has fallen on a lot of the world, with so many governments now facing the headwinds of deep recession, the vaccine 'haves' and 'have nots' will add even more public disquiet.
At this stage nobody is sure how the vaccine will be rolled out in Thailand. The Thai government has already signed up for several of the leading vaccine candidates and will most likely provide the vaccine for free to citizens under its public health system.
What does that mean for foreigners living here? If you are covered, with a work permit, under the country's public health, are you able to get the vaccine for free too? Will the thousands of foreigners on private health insurance be covered?
Surely the insurers will want its customers to be vaccinated. Sick customers cost them money. So, will insurance renewals be limited to only people who have been vaccinated? Will visas be renewed only if you have been vaccinated?
At this stage there are no firm answers to any of these questions.
And then there is the SARS Cov2 virus (Covid-19) itself, a living virus which has the ability to mutate and adapt. Will these new vaccines be effective against all mutations? Again, this is all ahead of us.
We're certainly now entering a new phase of this pandemic. New challenges, new questions. The rising numbers of cases throughout 2020 is only the first chapter of a book that will be many more years in the making.
Keep in contact with The Thaiger by following our
Facebook page
.
Never miss out on future posts by
following The Thaiger
.
Thailand News Today | Holiday road toll, protests tomorrow, GDP recovery | November 24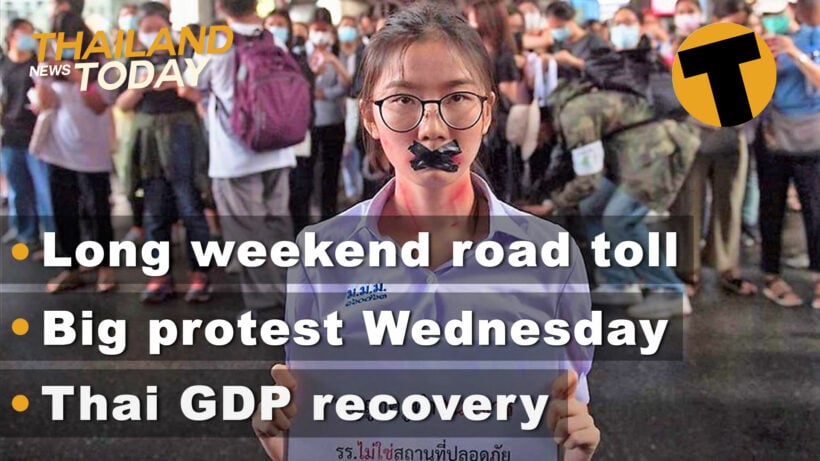 There's been some heavy downpours around sections of Bangkok over the past few days. We start with some video of the flooded streets. Then, into the news…
139 killed, 653 injured, as Thailand's holiday weekend sees surge in road accidents
The Ministry of Transport has confirmed that hundreds of road traffic accidents have taken place over Thailand's 4 day holiday weekend.
139 people have died and 653 have been injured in the course of the 4 day break, which was introduced to boost domestic tourism.
455 car accidents were recorded, with nearly 79% of them being caused by excessive speed. 82 people died in car accidents, with another 466 injured.Another 153 accidents involved motorbikes, with 47 bike riders killed and 165 injured.
Public transport vehicles and trucks accounted for 21 accidents, with 13 caused by trucks, 5 by buses, and 3 by trains. Over 10.7 million people took to public transport between last Wednesday night and Sunday night.
Protesters target the Crown Property Bureau tomorrow, taking direct aim at the country's Monarchy
Tomorrow the protest road show moves to the Crown Property Bureau in Phitsanulok Road, taking aim directly at the the management of the Thai monarch's affairs.
Protesters, who first brought up the issue of the role of the Thai Monarchy in July this year, say they have "a big surprise" in store. This will be the first time when the entire focus of the protest will be Thailand's Head of State, previously considered a taboo topic in Thai society and the media.
The Crown Property Bureau is the quasi-government agency responsible for managing the property of the Thai Monarch. The bureau is legally defined as a juristic entity and is not a government agency. It also has no tax obligations.
In speeches during last week's protests, speakers at the rally said… "we demand the return of taxpayers' money".
But Thai PM Prayut Chan-o-cha questioned the protester's plans…
"Why they want to get close to the Crown Property Bureau? I think you know their purpose."
There's a longer article with some history about the Crown Property Bureau at TheThaiger.com
Protester slammed for dressing as schoolgirl to highlight sexual harassment in Thai schools
2 government MPs have criticised a member of the "Bad Students" protest movement after she dressed as a schoolgirl to highlight sexual harassment in Thai schools.
In an online protest, the activist put on a school uniform and held up a sign condemning sexual harassment in the Thai education system.
Whilst her actions have generally been supported by netizens, some pro-establishment figures have hit out at the protester including 2 Palang Pracharat MPs, who says the protester's decision to wear a school uniform will bring Thai schools into disrepute.
His accusation comes as sexual harassment figures from the Office of Basic Education Commission have been released, showing hundreds of sexual harassment incidents recorded between 2013 – 2017. In January this year alone, there were over 700 cases reported of sexual harassment. The report says that many other victims remain too scared to come forward.
Finance Minister says Thailand's GDP will take 2 years to recover
Thailand's finance minister says the country's GDP will take 2 years to recover the 9% it has lost since the Covid pandemic ravaged the economy.
The Finance Minister says the economy would have expanded by 3% this year if it weren't for the pandemic.
"The pandemic crisis will make the economy contract by around 6% in 2020, therefore there is a 9% gap that needs to be recuperated. If Thailand's GDP growth could arrive at 4% in 2021 and 2022, this would propel the country's economic growth momentum to return to a normal ratio."
As for the 2022 budget, he says it is still being designed to support economic growth through public investments in infrastructure and energy, with some projects relying more heavily on help from the private sector.
Police have yet to investigate illegal hiring of foreign teachers at international school in Phuket
Chalong police in Phuket say they have yet to start investigating the illegal hiring of foreign teachers at an international school in Rawai.
Palm House International School allegedly hired foreign teachers illegally where 2 were arrested by Phuket Immigration police on November 4.
The Chalong police leading investigations into the case, says the 2 Brits were informed that police were processing a charge of working illegally in the country against them, where both denied the charges. The 2 men have been released on bail.
But he says the investigation is yet to begin with police saying they haven't even questioned the owner of the school.
"The investigation into the school will take time. The investigation into the two British people must be finished first."
Keep in contact with The Thaiger by following our
Facebook page
.
Never miss out on future posts by
following The Thaiger
.
Positive test for ketamine was a "technical error"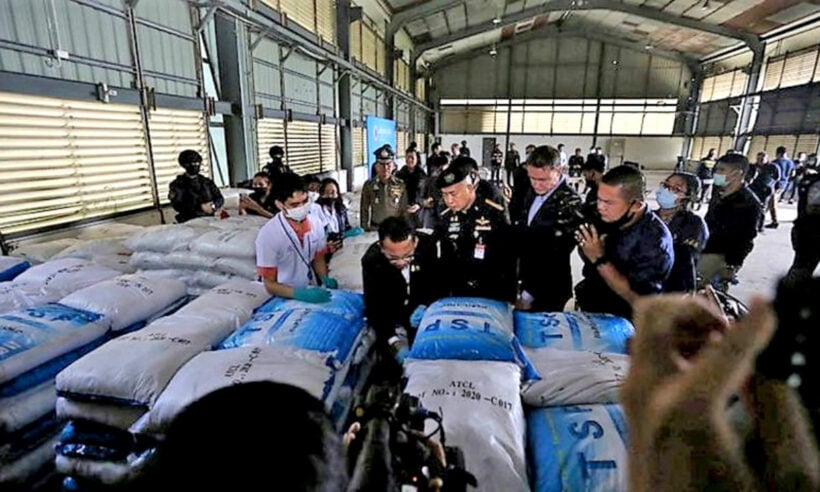 A "technical error" in field testing had led to the false claim that 11.5 tonnes of ketamine had been seized at a warehouse in Chachoesngsao province. Justice Minister Somsak Thepsuthin, made the admission at a media briefing called to clear up the matter.
The 475 sacks containing were seized by ONCB officials during a raid on a warehouse at tambon Tha Kham in Bang Pakong district, in Chachoengsao province, on November 12 which prompted authorities to tout the discovery as the biggest drug bust ever. But officials jumped the gun as the testing fluid that turned purple, indicating ketamine was found, was wrong after 66 sacks were further tested.
The further testing revealed the sacks were filled with trisodium phosphate, a compound used legally as a food additive and stain remover. Somsak said a "technical error in the field" led to the assumption it was ketamine as trisodium phosphate would also turn the testing fluid purple. The large TSP labels on the sacks could have been a valuable clue as Thai police paraded proudly in front of the contraband.
"No matter, we have admitted the mistake, and it may not be corrected in the short term."
Asked if the blunder could affect the credibility of the Justice Ministry and the ONCB, Somsak said he accepted all criticicism and to make the matter clear, he would ask the police Forensic Science Division, the Department of Medical Science and the ONCB to make lab tests with results being known this week.
"I accept the fact it might have been premature to hold a press conference to announce the seizure of a substance suspected to be a kind of drug. But in this case, the ONCB had been informed of the seizure of ketamine in Taiwan, investigated and found an undeniable link to it. It would have been a mistake if I did not make it public."
"The United Nations Office on Drugs and Crime said this also happened two or three times in other countries. This was the first time in Thailand. Moreover, on the day I held the press conference, I did not say it was 100% ketamine."
Authorities are saying they would find out where the substance in the warehouse came from, and for what purpose as they believed it could be used to conceal illicit drugs, including ketamine. The ONCB chief said the man who rented the warehouse to store the sacks had fled before the raid and avoided arrest. However, they are currently compiling a case to apply for a court warrant for his arrest in connection with the seizure of ketamine in Taiwan.
SOURCE: Bangkok Post
Keep in contact with The Thaiger by following our
Facebook page
.
Never miss out on future posts by
following The Thaiger
.