Phuket Gazette Thailand News: B12bn credit union embezzlement charge; Monk's B95mn cars; Ramadan soldiers turn civil; HK sex slaves saved; Thailand to honor 119yo man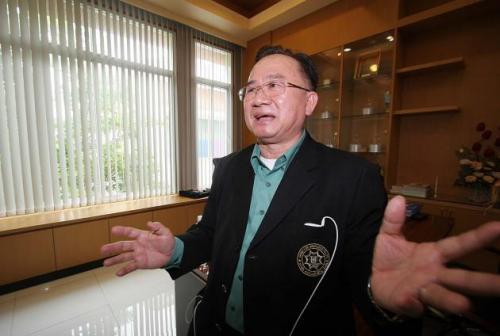 PHUKET MEDIA WATCH
– Thailand news compiled by Gazette editors for Phuket's international community
Credit Union execs accused of embezzling Bt12 billion
The Nation / Phuket Gazette
PHUKET: Mounting evidence that Klongchan Credit Union Cooperative Ltd embezzled nearly Bt12 billion has led the Department of Special Investigation (DSI) and the Anti Money Laundering Office (AMLO) to launch an investigation into the company and its executives.
More than 100 customers have lodged complaints against the cooperative's chairman, Supachai Srisupaaksorn, other executives and officials, after they were unable to withdraw money from their accounts with the cooperative, a source revealed yesterday.
A joint team from the DSI and AMLO searched the cooperative and Supachai's houses yesterday. AMLO official Noppadon Uten said Supachai and other executives allegedly owned more than 300 plots of land. "Some of the plots are worth more than Bt90 million," he said.
AMLO has already frozen the assets of the suspects.
"Evidence suggests that they have embezzled more than Bt10 billion in cash using the cooperative's cashier cheques and false documents," AMLO secretary-general Seehanat Prayoonrat said.
Supachai has maintained that he has done nothing wrong and is ready to clear up any doubt. He has accused the cooperative's former executives of taking away some crucial documents and made a plea for them to "return the documents to facilitate the probe".
According to Seehanat, Supachai will meet with relevant authorities to officially provide an explanation.
DSI official Kittikong Kanajan warned suspects against intimidating witnesses.
"We have found that the suspects have constantly intimidated witnesses. Such intimidation is punishable under Thai law," he said, adding that key witnesses were already in protection.
Jet-setting monk found to have bought 22 luxury cars
The Nation / Phuket Gazette
PHUKET: After discovering that Luang Pu Nenkham Chattigo, who also goes by the moniker Phra Weerapol Sukpol, spent Bt95 million to buy 22 Mercedes Benz cars, the Department of Special Investigation (DSI) will also investigate to see if the monk was part of a money-laundering racket.
DSI chief Tarit Pengdith said investigators had learned that between the years of 2008 and 2011, the monk had purchased 22 luxury cars in cash, of which 21 of them were in his own name. The 22nd car, worth Bt7.59 million, was bought under the name of his disciple Pansaeng Chumang.
The DSI yesterday also conducted a DNA test on an 11-year-old boy in Si Sa Ket, who is believed to be the monk's son. Luang Pu Nenkham allegedly had a sexual relationship with the young boy's mother when she was only 14. The result of the test should be ready in two days.
The DSI has also tried contacting the monk's parents for DNA samples, and said if they did not cooperate, the agency will seek help from court. A DSI senior official said the agency will ensure justice for all sides.
Tarit said that according to the Central Institute of Forensic Science, the photograph depicting Luang Pu Nenkham lying next to a person believed to be a woman, had not been doctored. However, the institute is unable to confirm the other person's sex.
Saying Wat Or Noi abbot Luang Pu Buddha Issara would submit "confidential" information about the monk to DSI today, Tarit warned the monk's followers not to tamper with evidence or threaten witnesses or they could be charged for obstructing the authority.
According to the website
www.alittlebuddha.com
, Luang Pu Nenkham and his three companions had left France for the United States yesterday. The Foreign Ministry also said yesterday that they had not been asked to help locate the monk.
National Buddhism Office chief Nopparat Benjawatananun said if the report was true, they could contact US authorities for the monk's extradition. The office is also working on revoking the monk's passport.
Soldiers to lie low during ramadan
The Nation / Phuket Gazette
PHUKET: As part of a truce agreement with the Barisan Revolusi Nasional (BRN), police and defence volunteers will replace soldiers in villages in the Muslim-dominated border provinces in the South during Ramadan, which began yesterday, National Security Council chief Paradorn Pattanathabutr said.
Paradorn, who heads the Thai delegation in the peace dialogue with the BRN, said yesterday that his group had proposed a "rearrangement of troops" to the BRN on the weekend.
However, he dismissed talks of Thailand bowing to BRN's demand for a total withdrawal of security forces from the restive area.
"We will only cut down on checks, laying siege and searching villages except in the case of emergency incidents," he said.
He added that under the proposal, soldiers would be removed from villages and stationed in their local barracks, but would be on standby to move in case of insurgency attacks. Police and defence volunteers will replace soldiers in carrying out security work.
Paradon downplayed reports that the BRN had cancelled a truce agreement for Ramadan, saying they had only deferred the announcement and both sides had agreed to wait for Malaysia to announce the truce agreement.
Responding to questions about opponents of the truce agreement putting up posters attacking the government, Paradorn admitted that insurgents were split over the peace deal.
Meanwhile, Muslims in the deep South began observing Ramadan yesterday and many came out to shop for fresh food for their celebratory dinner after sunset.
The market at Yala municipality was crowded with people buying up ingredients for their first meal of the day. Security measures have been boosted and checkpoints set up, with all vehicles being checked for weapons.
The office of the Chularatchamontri, the Islamic spiritual leader in Thailand, announced that Ramadan officially began yesterday. He has also called on authorities to allow Muslim officials in the deep South time to relax during the fast and attend prayer ceremonies.
Two women rescued from HK brothel
The Nation / Phuket Gazette
PHUKET: Two Thai women rescued from a Hong Kong brothel have recalled to investigators how they were forced into prostitution after being lured to the Special Administrative Region with the promise of Bt90,000-month jobs working as masseuses.
The women said the brothel owner told them they wouldn't be released until they had serviced 200 customers to repay travel expenses. Women from China and Russia were also being held captive at the brothel, the two said.
Social Development and Human Security Minister Pavena Hongsakul, whose Pavena Foundation for Children and Women received the victims' call for help, told a press conference yesterday that the women were lured to Hong Kong with the promise of the jobs by another Thai woman aged 38 – who also provided them with plane tickets for the trip on July 4.
The duo were forced to have sex with men from 7am to 2am without pay, until they escaped on July 6 and hid at the Hong Kong airport.
Having no money to buy tickets home, they called the Pavena
— Phuket Gazette Editors
Want more from the Thaiger family?
📱 Download our app on Android or iOS for instant updates on your mobile
📧 Subscribe to our daily email newsletter
👍 Like/Follow us on Facebook
🔔 Subscribe to or Join our YouTube channel for daily video updates
'Safe zone' in Thailand for refugees fleeing Myanmar violence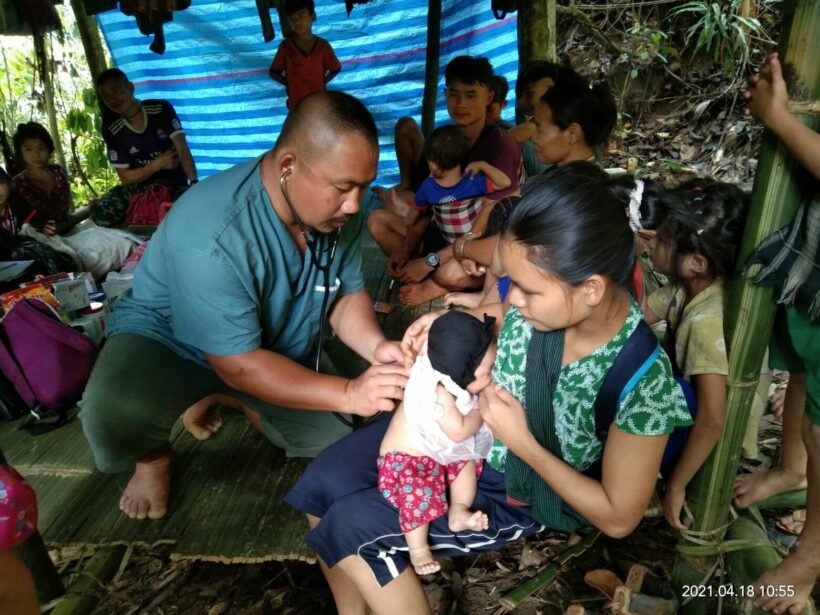 Due to the ongoing violence between the Myanmar military and ethnic troops, the Thai military has set up a "safe zone" for thousands of refugees in Mae Hong Son near the Salween River, the natural border between Thailand and Myanmar.
The prominent armed wing of the Karen National Union has openly supported the anti-coup movement in Myanmar, leading to clashes with the military junta. Recently, the Karen National Liberation Army reported took over a military outpost near the Thai border. Those just across the Salween River in Thailand said they could hear the gunshots and explosions.
Defence Ministry spokesperson Kongcheep Tantravanich says shelter and humanitarian assistance are being provided for around 2,200 people who have fled Myanmar.
Kongcheep says the "safe zone" is under tight security and only those authorised can enter. There are strict health and disease control measures are in place to prevent the spread of Covid-19.
His statement comes after the local civil rights group People of Salween River Basin Network called on the Thai government not to push refugees back, claiming that Thai soldiers had been ordered to tell the refugees to return to their home country due to a potential negative impact with border trade.
They say the Myanmar military has been carrying out airstrikes on Karen army bases and many Karen villagers fear for their safety.
Mae Hong Son governor, Sitthichai Jindaluang, also told a United Nations representative last week that refugees have been given shelter and assistance.
SOURCE: Bangkok Post
Want more from the Thaiger family?
📱 Download our app on Android or iOS for instant updates on your mobile
📧 Subscribe to our daily email newsletter
👍 Like/Follow us on Facebook
🔔 Subscribe to or Join our YouTube channel for daily video updates
Covid UPDATE: 1,630 new cases and 22 deaths, provincial totals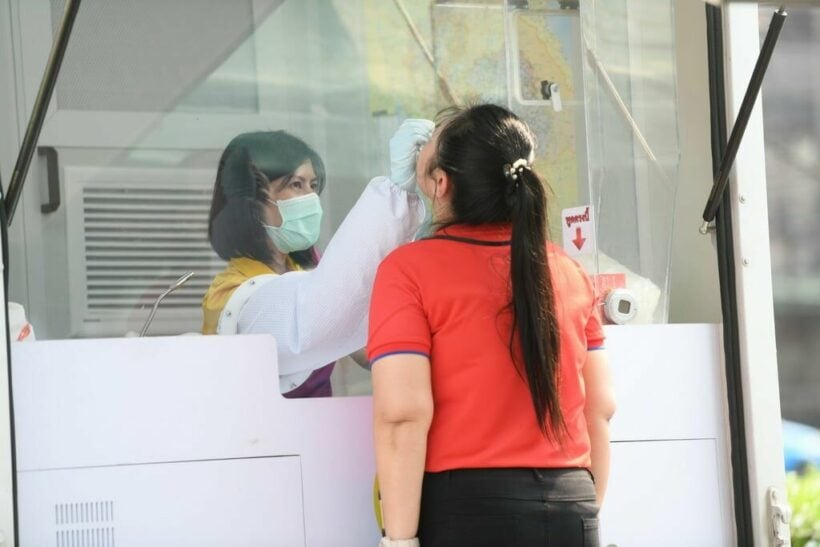 1,630 new Covid-19 cases and 22 coronavirus-related deaths were reported today in the Centre for Covid-19 Situation Administration's daily briefing. There are now 29,376 active Covid-19 cases. Since the start of the pandemic last year, the CCSA has reported 85,005 Covid-19 cases and 421 Covid-related deaths.
Out of the 22 deaths, most of the patients had chronic illnesses. Many contracted the virus from family members or close friends.
Most of the new cases were detected in Bangkok, particularly in districts with crowded communities and markets. While cases in Bangkok continue to be high, CCSA spokesperson Natapanu Nopakun says the number of new cases in most other provinces in Thailand is decreasing.
Health officials are rolling out proactive case finding campaigns in several high-risk communities, testing 9,000 to 10,000 per day, Nopakun says, adding that officials are working to provide the appropriate treatment as quickly as possible.
Those who test positive for Covid-19 and are asymptomatic must stay at an official field hospital for 14 days and then self-isolate at home for another 14 days.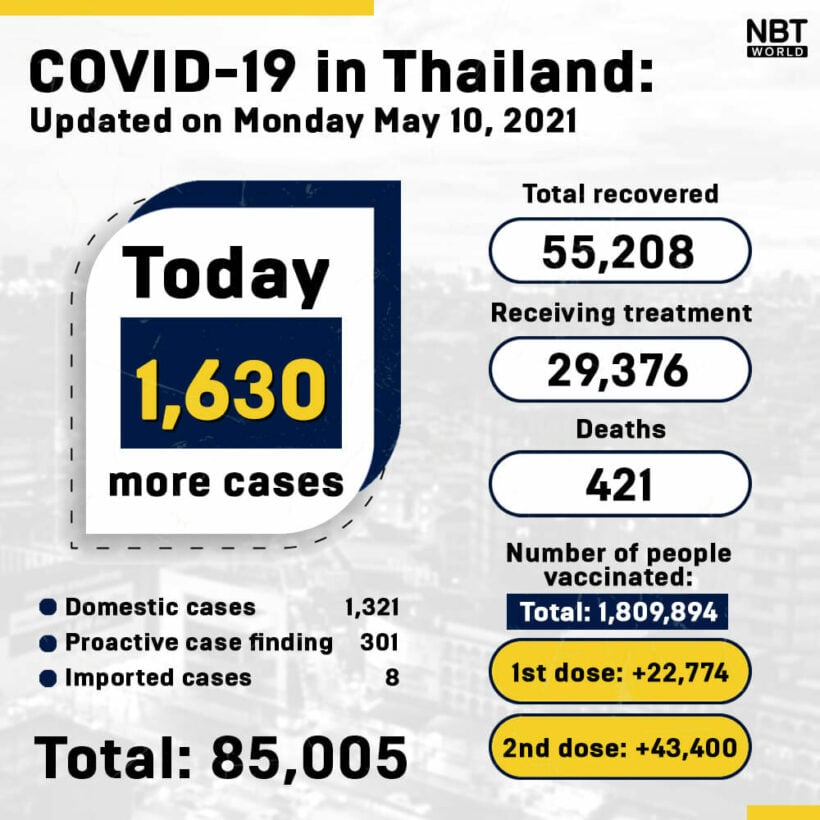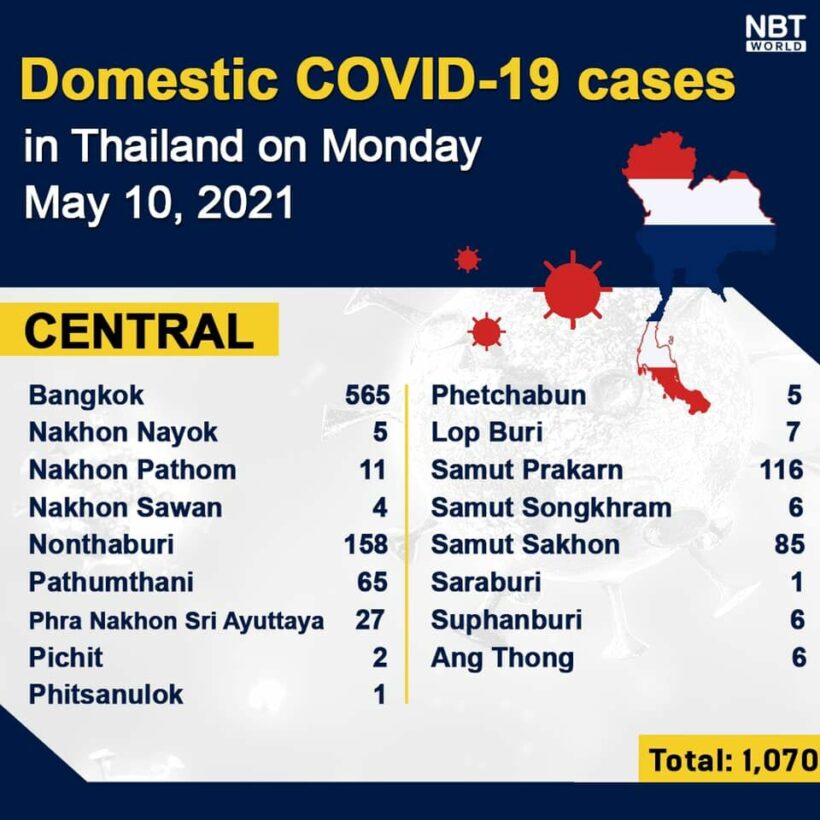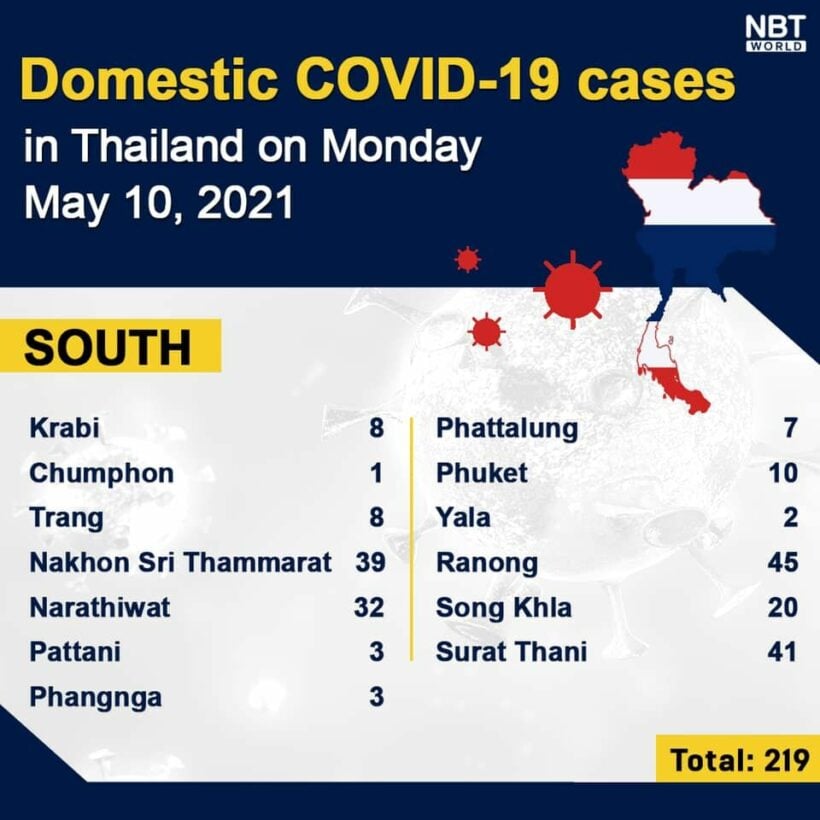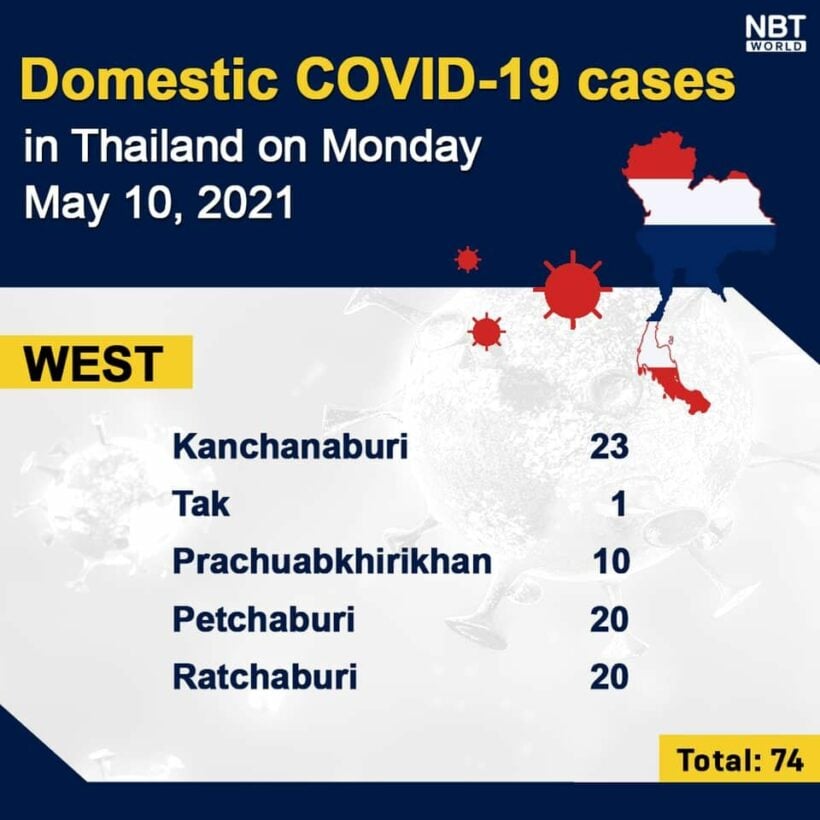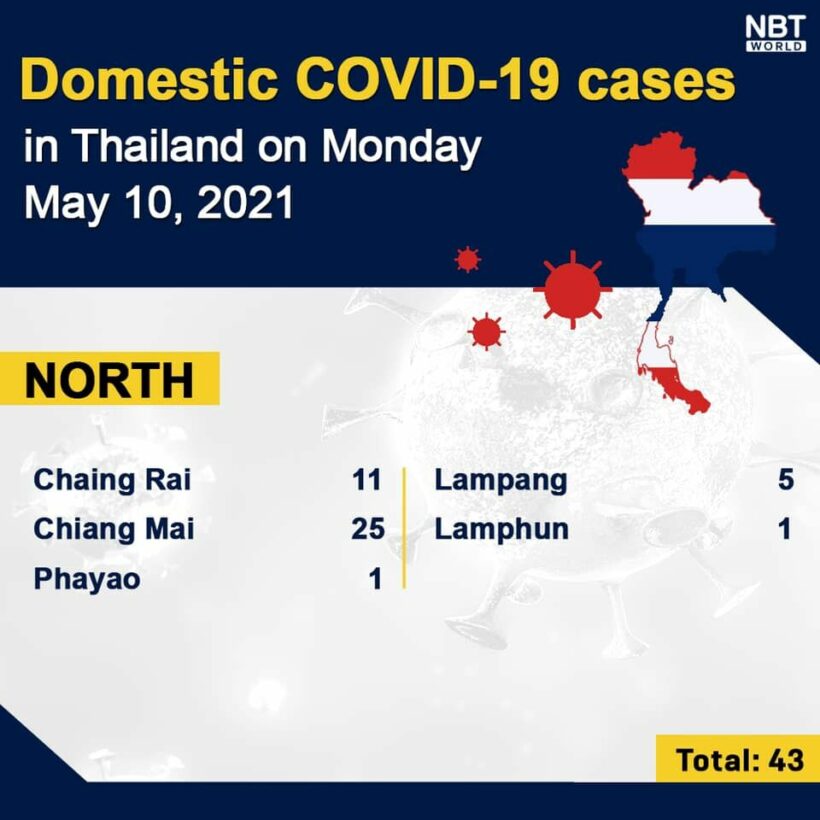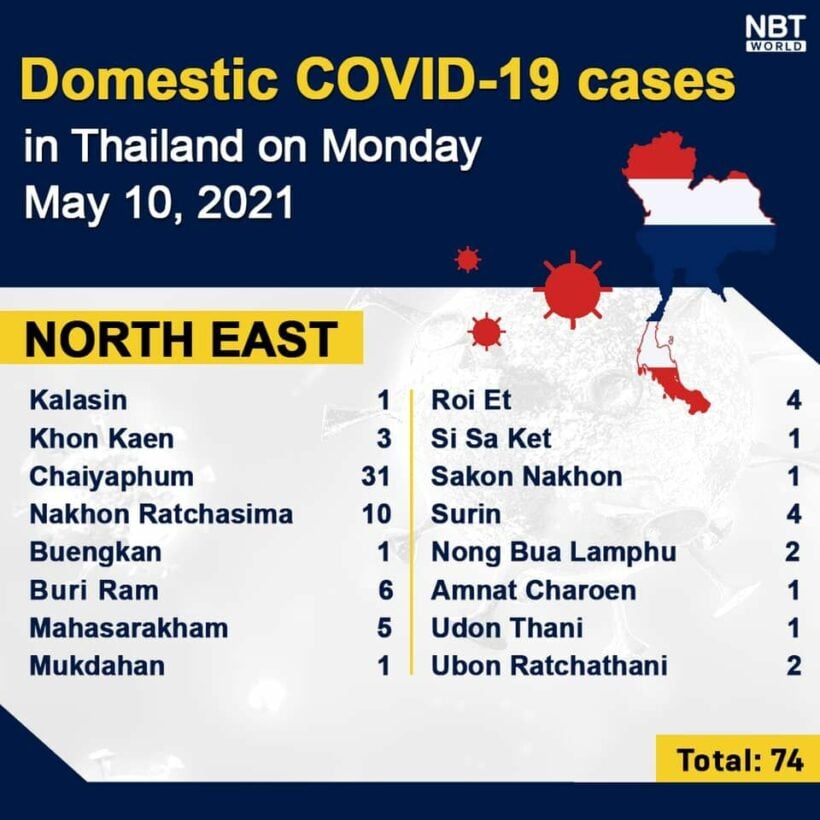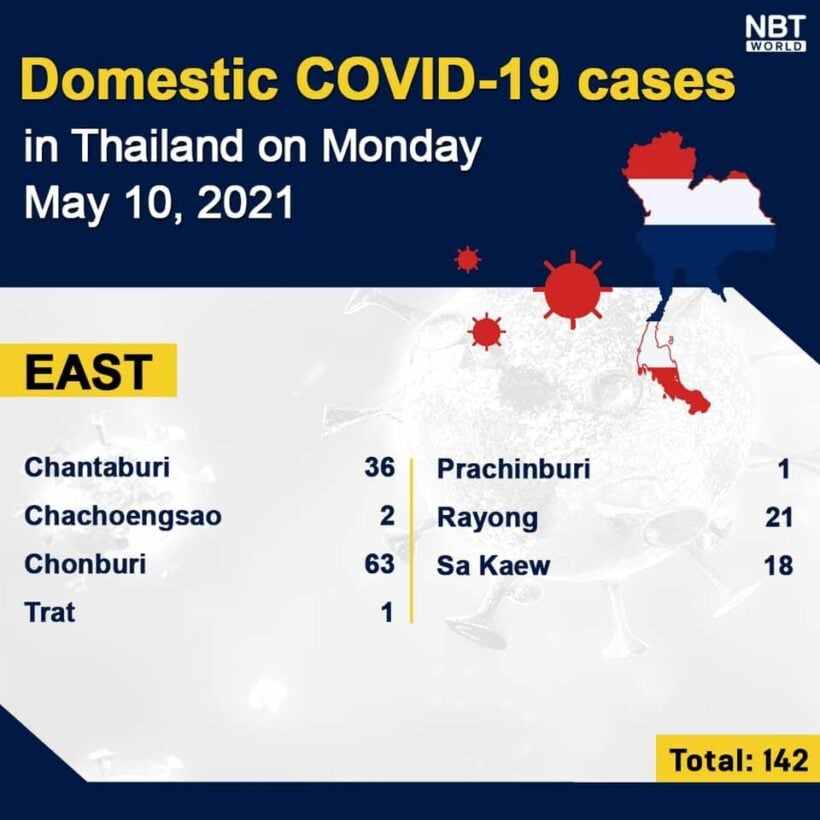 Want more from the Thaiger family?
📱 Download our app on Android or iOS for instant updates on your mobile
📧 Subscribe to our daily email newsletter
👍 Like/Follow us on Facebook
🔔 Subscribe to or Join our YouTube channel for daily video updates
Thailand donates cash, equipment to Laos to help combat Covid-19 outbreak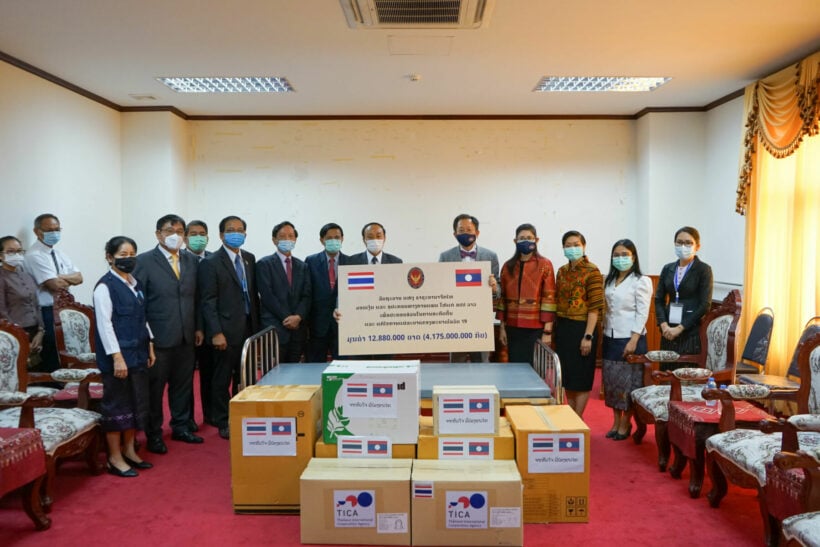 With Laos, just north of Thailand, under lockdown measures to control a spike of Covid-19 infections, the Royal Thai Embassy to Laos helping the country combat the outbreak and has donated cash and materials valued altogether at more than 16 million baht.
While cases have remained low in Laos since the start of the pandemic last year with active cases typically under 10, there was a spike in cases in mid-April and active cases are now at 1,302. The country reported its first coronavirus-related death yesterday.
Donations from Thailand help supply mobile biosafety labs to conduct swab Covid-19 testing and beds for Covid-19 patients as well as protective equipment such including 50,000 medical masks and more than 2,000 Personal Protective Equipment, or PPE, outfits.
An order of supplies valued at 8.5 million baht is set to be delivered by the end of the month. That order will have 2,000 more PPE outfits, Covid-19 test equipment, DNA/RNA extraction kits, and 2,500 test kits. Other equipment provided by Thailand include a defibrillator, patient monitoring machine, infrared thermometers, oxygen regulators, and pulse oximeters.
SOURCE: Nation Thailand
Want more from the Thaiger family?
📱 Download our app on Android or iOS for instant updates on your mobile
📧 Subscribe to our daily email newsletter
👍 Like/Follow us on Facebook
🔔 Subscribe to or Join our YouTube channel for daily video updates