Phuket Gazette Thailand News: B12bn credit union embezzlement charge; Monk's B95mn cars; Ramadan soldiers turn civil; HK sex slaves saved; Thailand to honor 119yo man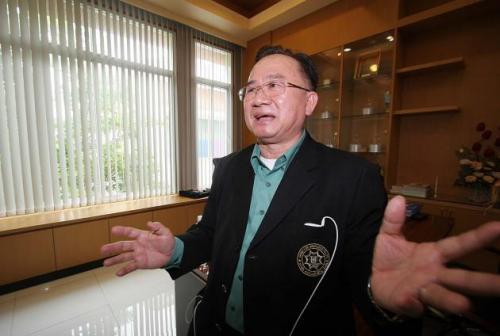 PHUKET MEDIA WATCH
– Thailand news compiled by Gazette editors for Phuket's international community
Credit Union execs accused of embezzling Bt12 billion
The Nation / Phuket Gazette
PHUKET: Mounting evidence that Klongchan Credit Union Cooperative Ltd embezzled nearly Bt12 billion has led the Department of Special Investigation (DSI) and the Anti Money Laundering Office (AMLO) to launch an investigation into the company and its executives.
More than 100 customers have lodged complaints against the cooperative's chairman, Supachai Srisupaaksorn, other executives and officials, after they were unable to withdraw money from their accounts with the cooperative, a source revealed yesterday.
A joint team from the DSI and AMLO searched the cooperative and Supachai's houses yesterday. AMLO official Noppadon Uten said Supachai and other executives allegedly owned more than 300 plots of land. "Some of the plots are worth more than Bt90 million," he said.
AMLO has already frozen the assets of the suspects.
"Evidence suggests that they have embezzled more than Bt10 billion in cash using the cooperative's cashier cheques and false documents," AMLO secretary-general Seehanat Prayoonrat said.
Supachai has maintained that he has done nothing wrong and is ready to clear up any doubt. He has accused the cooperative's former executives of taking away some crucial documents and made a plea for them to "return the documents to facilitate the probe".
According to Seehanat, Supachai will meet with relevant authorities to officially provide an explanation.
DSI official Kittikong Kanajan warned suspects against intimidating witnesses.
"We have found that the suspects have constantly intimidated witnesses. Such intimidation is punishable under Thai law," he said, adding that key witnesses were already in protection.
Jet-setting monk found to have bought 22 luxury cars
The Nation / Phuket Gazette
PHUKET: After discovering that Luang Pu Nenkham Chattigo, who also goes by the moniker Phra Weerapol Sukpol, spent Bt95 million to buy 22 Mercedes Benz cars, the Department of Special Investigation (DSI) will also investigate to see if the monk was part of a money-laundering racket.
DSI chief Tarit Pengdith said investigators had learned that between the years of 2008 and 2011, the monk had purchased 22 luxury cars in cash, of which 21 of them were in his own name. The 22nd car, worth Bt7.59 million, was bought under the name of his disciple Pansaeng Chumang.
The DSI yesterday also conducted a DNA test on an 11-year-old boy in Si Sa Ket, who is believed to be the monk's son. Luang Pu Nenkham allegedly had a sexual relationship with the young boy's mother when she was only 14. The result of the test should be ready in two days.
The DSI has also tried contacting the monk's parents for DNA samples, and said if they did not cooperate, the agency will seek help from court. A DSI senior official said the agency will ensure justice for all sides.
Tarit said that according to the Central Institute of Forensic Science, the photograph depicting Luang Pu Nenkham lying next to a person believed to be a woman, had not been doctored. However, the institute is unable to confirm the other person's sex.
Saying Wat Or Noi abbot Luang Pu Buddha Issara would submit "confidential" information about the monk to DSI today, Tarit warned the monk's followers not to tamper with evidence or threaten witnesses or they could be charged for obstructing the authority.
According to the website
www.alittlebuddha.com
, Luang Pu Nenkham and his three companions had left France for the United States yesterday. The Foreign Ministry also said yesterday that they had not been asked to help locate the monk.
National Buddhism Office chief Nopparat Benjawatananun said if the report was true, they could contact US authorities for the monk's extradition. The office is also working on revoking the monk's passport.
Soldiers to lie low during ramadan
The Nation / Phuket Gazette
PHUKET: As part of a truce agreement with the Barisan Revolusi Nasional (BRN), police and defence volunteers will replace soldiers in villages in the Muslim-dominated border provinces in the South during Ramadan, which began yesterday, National Security Council chief Paradorn Pattanathabutr said.
Paradorn, who heads the Thai delegation in the peace dialogue with the BRN, said yesterday that his group had proposed a "rearrangement of troops" to the BRN on the weekend.
However, he dismissed talks of Thailand bowing to BRN's demand for a total withdrawal of security forces from the restive area.
"We will only cut down on checks, laying siege and searching villages except in the case of emergency incidents," he said.
He added that under the proposal, soldiers would be removed from villages and stationed in their local barracks, but would be on standby to move in case of insurgency attacks. Police and defence volunteers will replace soldiers in carrying out security work.
Paradon downplayed reports that the BRN had cancelled a truce agreement for Ramadan, saying they had only deferred the announcement and both sides had agreed to wait for Malaysia to announce the truce agreement.
Responding to questions about opponents of the truce agreement putting up posters attacking the government, Paradorn admitted that insurgents were split over the peace deal.
Meanwhile, Muslims in the deep South began observing Ramadan yesterday and many came out to shop for fresh food for their celebratory dinner after sunset.
The market at Yala municipality was crowded with people buying up ingredients for their first meal of the day. Security measures have been boosted and checkpoints set up, with all vehicles being checked for weapons.
The office of the Chularatchamontri, the Islamic spiritual leader in Thailand, announced that Ramadan officially began yesterday. He has also called on authorities to allow Muslim officials in the deep South time to relax during the fast and attend prayer ceremonies.
Two women rescued from HK brothel
The Nation / Phuket Gazette
PHUKET: Two Thai women rescued from a Hong Kong brothel have recalled to investigators how they were forced into prostitution after being lured to the Special Administrative Region with the promise of Bt90,000-month jobs working as masseuses.
The women said the brothel owner told them they wouldn't be released until they had serviced 200 customers to repay travel expenses. Women from China and Russia were also being held captive at the brothel, the two said.
Social Development and Human Security Minister Pavena Hongsakul, whose Pavena Foundation for Children and Women received the victims' call for help, told a press conference yesterday that the women were lured to Hong Kong with the promise of the jobs by another Thai woman aged 38 – who also provided them with plane tickets for the trip on July 4.
The duo were forced to have sex with men from 7am to 2am without pay, until they escaped on July 6 and hid at the Hong Kong airport.
Having no money to buy tickets home, they called the Pavena
— Phuket Gazette Editors
Keep in contact with The Thaiger by following our
Facebook page
.
Never miss out on future posts by
following The Thaiger
.
News of American sued over bad Koh Chang hotel review has everyone talking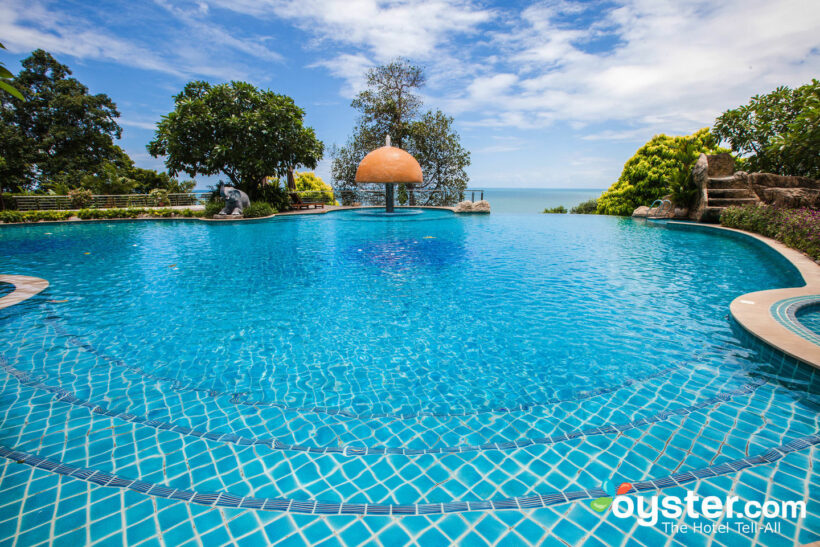 After news hit of an American being arrested and sued for defamation over leaving a bad review about a Koh Chang hotel on TripAdvisor, many are taking to the internet to voice their opinions on the issue. The Sea View Resort owners say it tried in vain to negotiated with Wesley Barnes after he posted the reviews, but he continued to post completely untrue comments.
The owners released a five-page statement after the news of it suing the American gained widespread attention. You can read their response HERE. Then, Barnes submitted his own response detailing the situation which was also published online.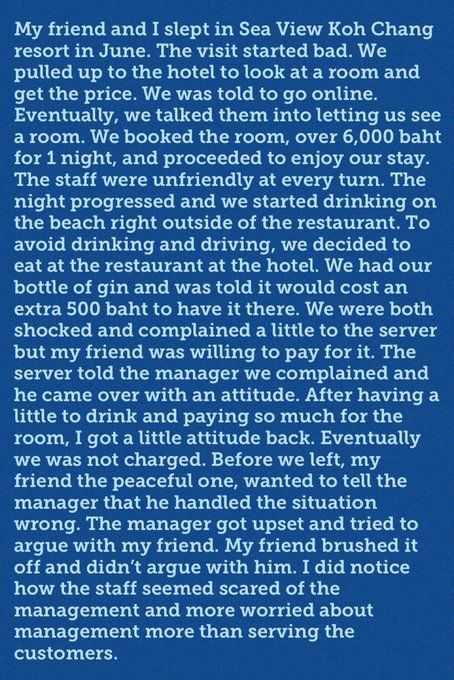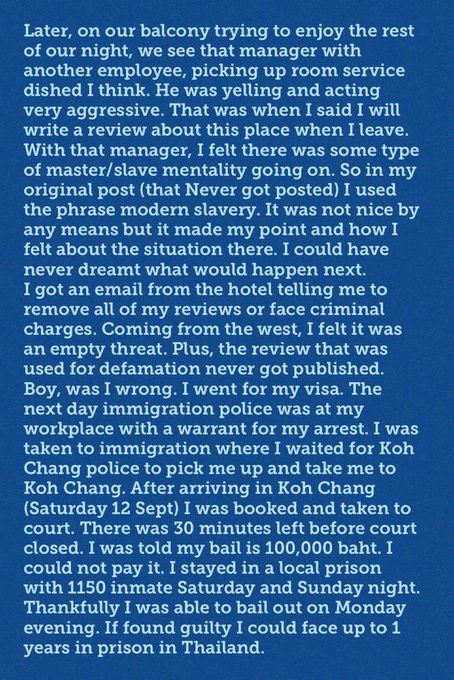 Now, the story has gained even more attention as netizens have begun posting their opinions on the controversial issue of Thailand's defamation laws. Below, are some of those posts on The Thaiger's Facebook page.
"Can someone clarify for me Thailand's position on people leaving honest bad reviews as my girlfriend says it's fine to leave a bad review of a business and it's not defamation if honest of course? I have heard people say that you simply can't leave bad honest reviews at all here but that sounds ridiculous. The thing about many Thais is that they think they're beyond reproach. They can't accept criticism because it's not aligned with their grandiose self-image. Many also have a torrid time when it comes to ownership of their own actions and decision making."
"OMG! He is arrested for a review.?! I know of an expat in Malaysia that wrote a bad review about a Thai-owned resort in Penang and he was sued as well. Be careful with what you share in that neck of the woods."
"It's one thing to leave a bad review but to throw in "modern slavery" remarks escalates to thai defamation law. He shouldn't be arrested for his comments but you need to respect the country laws no matter how crazy they seem compared to your own country. This press is going to negatively affect the business way more than that review would have done though."
"The owner should have settled with the review platforms privately and move on. I would hardly hold up Trip Advisor as a beacon of truth, however some people write extremely personal and vindictive comments that go beyond a review, in an attempt to gain product or refunds in return, this is an absolute fact, and hopefully this might make people think before they start writing reviews that are not exactly honest, I have read stories critical of the General Managers because they didn't contact the guests, some really petty reviews by rather petty people."
If Barnes is indeed found to be guilty of defamation, he could spend up to 2 years in prison and pay up to a 200,000 baht fine.
SOURCE: Chiang Rai Times
Keep in contact with The Thaiger by following our
Facebook page
.
Never miss out on future posts by
following The Thaiger
.
Phuket police arrest 6 after finding large amounts of methamphetamine in raid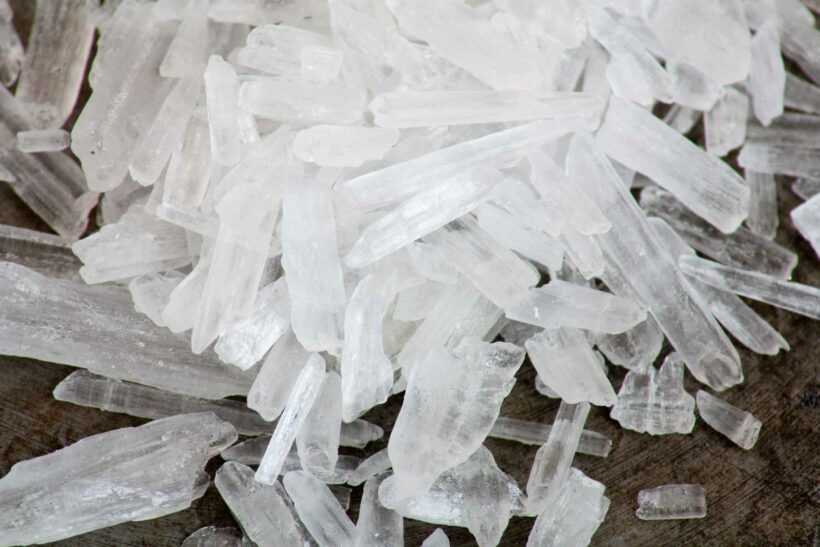 Phuket Provincial Police have arrested 6 people after finding large amounts of methamphetamine and other drugs during a raid. One suspect alone allegedly had 7.6 kilograms of crystal meth (ya ice) and over 12,500 methamphetamine pills (ya bah). 29 year old Surasak 'Bank' Wijit and 27 year old Panida 'Mei' Saeyang were arrested at an apartment car park in Soi Lookkaew, Moo 6, Rassada, in eastern Phuket, after they were found in possession of the drugs.
Police also found 2 mobile phones and a red Honda PCX, registered in Phuket, as evidence. Both suspects have been charged with posessing a Category 1 drug with the intent to sell.
Other suspects arrested at the same time include 36 year old from Chiang Rai, 42 year old Sarawut 'An' Srichanon, from Ranong and 31 year old Pornthep 'Iew' Thepchampa, who were charged with the same crimes in Chalong after police found more drugs in their possession. 33 year old Kamon 'Kung' Sae-ngow, was arrested as well after police found kratom juice and leaves at a house in Rassada. He was taken to Phuket City Police station and was charged with a Category 5 drug possession.
SOURCE:The Phuket News
Keep in contact with The Thaiger by following our
Facebook page
.
Never miss out on future posts by
following The Thaiger
.
Phuket Muay Thai fighter is the first Thai national to compete in UFC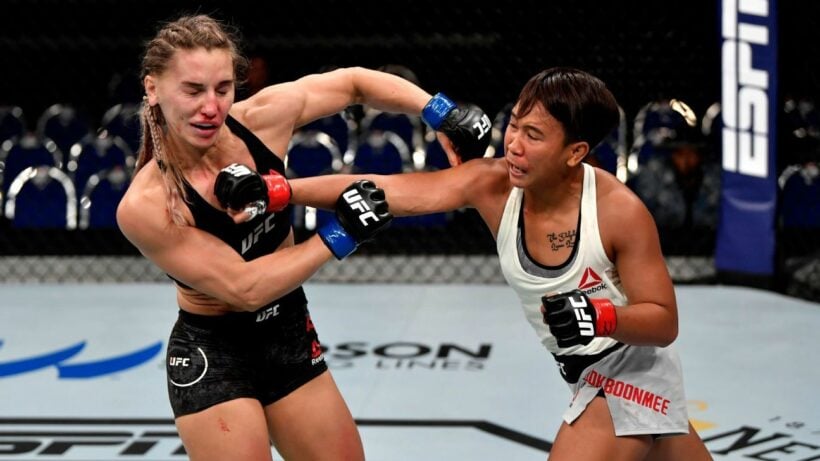 The upcoming Ultimate Fighting Championship Fight Night event in Abu Dhabi will feature Thailand's only national marking her third fight with the UFC, the world's largest mixed martial arts competition. 24 year old Loma Lookboonme, from Burirram in northeastern Thailand, will fight in the event on October 3, 2020.
Loma is a Muay Thai fighter who has adapted her MMA skills to fight in the UFC where she currently trains at the Tiger Muay Thai gym in Phuket. Loma qualified for the national team at the age of 19 and has fought in over 12 nations worldwide. She currently trains 6 days a week starting daily at 6:30am with a 3 kilometre run. In the UFC, she will be competing against China's Angela Lee who is the undisputed champion of the 52 kilogram fist weight category.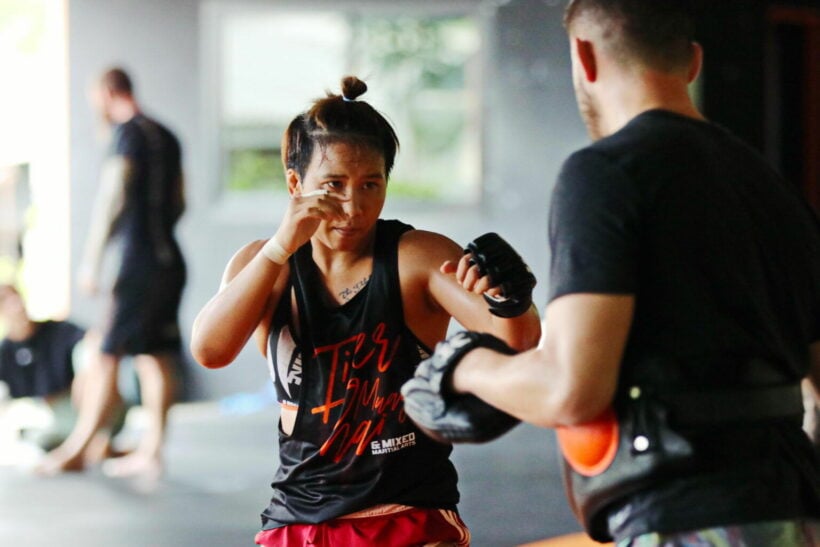 Loma's parents are former Muay Thai fighters and her 2 sisters currently compete as well. She reportedly started training at 8 years old after being inspired by her father, whom she describes as her "hero."
Like most Thais in such fighting sports, Muay Thai offers a way to rise out of poverty-and fighting for the UFC can be financially lucrative. But Loma says her only Thai sponsor is the gym where she trains, with the rest of her sponsors being from foreign brands. She says she is trying to get more Thai sponsors but feels that maybe she needs to win the UFC first before Thai brands notice her.
Loma lost her last fight and says her new opponent gives her nothing to lose. She says her goal is to get into the Top 10, but is not sure when it will happen. Loma says for now, it would be good to fight against someone in the Top 10 to help her prepare for her future.
FULL INTERVIEW: Thisrupt.co
Keep in contact with The Thaiger by following our
Facebook page
.
Never miss out on future posts by
following The Thaiger
.