Pet registration bill rethink after public outcry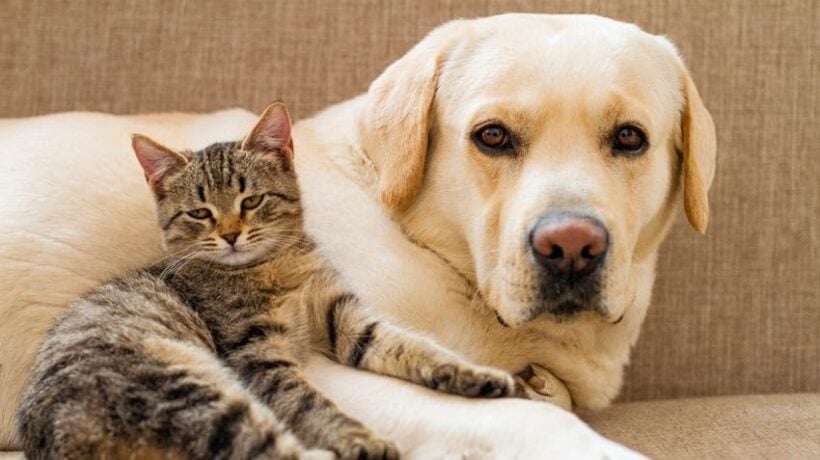 by Kornwaree Panyasuppakun
A Bill approved by the Cabinet, making it mandatory to register dogs and cats, has ben derailed after pet lovers cried foul over the high fee for the registration documents, threatening to abandon their pets.
The bill, approved by Cabinet on Wednesday, allows municipalities to charge a maximum fee of 450 – 500 baht for registration, 100 baht for a book of identity and 300 baht for identification tools such as microchips.
It sets the maximum fine for violation at 25,000 baht. However, the bill does not specify where the money will go or how it would be spent to improve animal welfare.
"We don't object if the government charges registration fees, but the amount must be appropriate and the agency must explain how the income is spent," wrote the Watchdog Thailand page.
"Personally, I think it [the registration bill] doesn't tackle the problems, but makes them worse. Who will want to adopt stray cats and dog?" wrote the admin of Moh Maew Yak Bok Tard Maew Facebook Page (What a cat doctor wants to tell cat lovers).
"The pricey fees will discourage owners from adopting pets and may even encourage some to abandon their dogs and cats on the street or in the care of temples to avoid paying the fees," according to comments in social media in response to the bill.
"If the bill was passed into the law, more dogs would be abandoned, uncared for, starve and spaying or neutering is harder. The dogs will also be at greater risk of rabies," said Dr Thiravat Hemachudha, a rabies expert and professor at Chulalongkorn University's Faculty of Medicine.
"Instead of charging high fees from people who help take care of unwanted dogs and cats out of kindness, the government should ask for their cooperation to get the animals spayed and neutered as well as vaccinated for rabies," he said.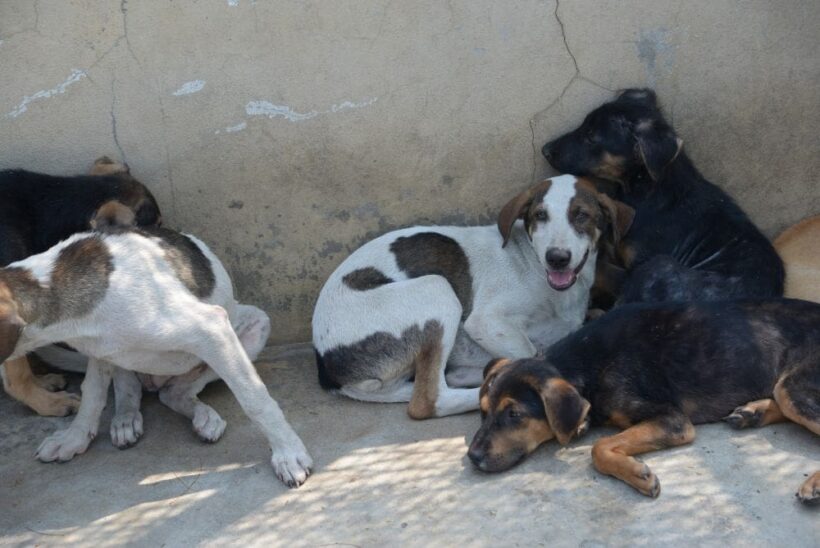 Following the public outcry, the Cabinet says it will reconsider the bill. At its core, the bill intends to regulate family pets and reduce the number of strays, but the Cabinet promised not to make registration a burden for people.
"The PM Prayut Chan-o-cha was worried that if the registration move led to people abandoning their pets, the municipality, the City Hall, or the Agriculture Ministry would not be able to take care of these unwanted pets," Deputy Prime Minister Wissanu Krea-ngam said yesterday.
The Livestock Development Department agreed to take the bill back for reviewing, as it might create too much burden for the people, director-general Sorawit Thaneto said yesterday.
The bill, in fact, aims to prevent pet owners from abandoning their pets and to provide welfare for the unwanted ones. With such a law, families would be required by law to provided good care for their pets, and thus reduce the number of stray dogs and cats, he explained.

STORY: The Nation


Read more headlines, reports & breaking news in Thailand. Or catch up on your Thailand news.

New WHO world road death report – Thailand drops to number 8 but still high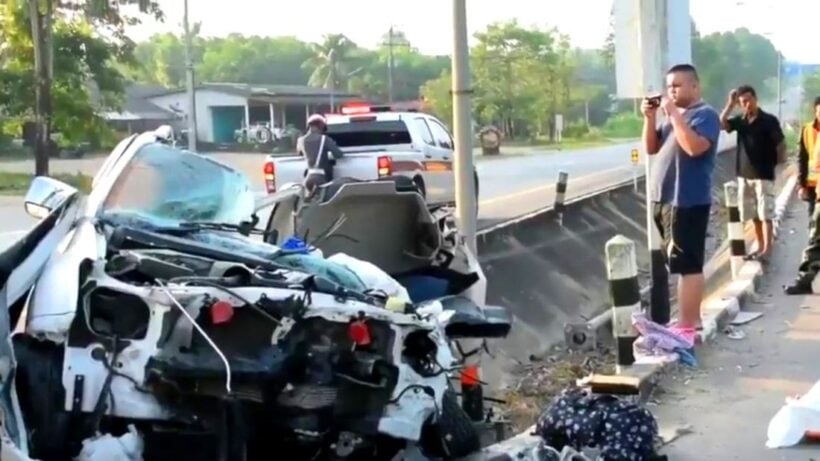 Thailand's roads remain some of the deadliest in the world. But the Kingdom has dropped from its previous number two position to number eight, behind a collection of backwater African states and other undeveloped countries.
A new report by the World Health Organisation shows that the road safety situation in Thailand hasn't improved. The shocking news is outlined in a the WHO report, Global Status Report on Road Safety 2018,
The report indicates the death rate per 100,000 population in Thailand was 32.7. This ranks Thai roads as at least the deadliest in ASEAN and amongst the deadliest in the world.
Only seven other nations fared worse than Thailand, while the countries with the highest road traffic death rate per 100,000 population were Liberia, Saint Lucia, Burundi and Chad.
The report, compiled using data from 2016 from 175 countries, shows that Europe has the safest roads with 9.3 deaths per 100,000 population. The African continent had the worst rates.
The report shows that there is an average of 22,491 people killed on Thai roads every year. South east Asia, where motorcycle-related deaths account for 43 percent of the total road toll, had an average of 20.7 deaths per 100,000 population.
Globally, the report found that the situation regarding road traffic deaths is worsening, with someone killed in a road accident every 24 seconds somewhere in the world.
The WHO road death Hall of Shame…
1. Liberia – 35.9 (per 100,000 people)
2. Saint Lucia – 35.4
Equal 3. Burundi and Zimbabwe – 34.7
Equal 4. Democratic Republic of Congo and Venezuela (Bolivarian Republic of) – 33.7
5. Central African Republic – 33.6
6. Thailand – 32.7
7. Burkina Faso – 30.5
8. Namibia – 30.4
9. Cameroon – 30.1
10. Mozambique – 30.1
Floating clinic opens in Kanchanaburi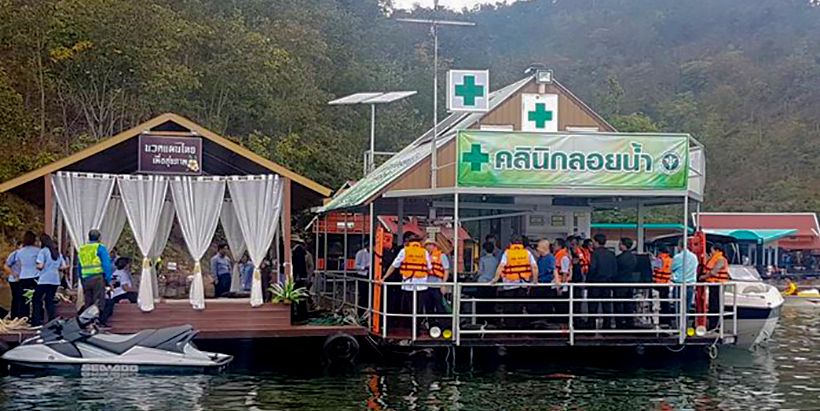 PHOTO: Pattaya Mail
Last week saw residents and visitors to Srinakaring Dam in Sri Sawat district, Kanchanaburi, in Thailand's west, witness the first day of operations of a new floating medical unit.
The Bangkok Post reports that the dam is a huge tourist magnet which attracts 800,000 tourist a year in an area where 140 businesses operate and over 600 towing rafts reside. Due to reports of accidents (sometimes with fatal results) the Public Health Ministry's Health Region 5 came up with the 'floating clinic'.
The clinic boasts a solar cell power system able to function during power outages, as well as modern and efficient communications systems in case of emergencies. The floating clinic is equipped with beds for check-ups, respirators, medical supplies and basic lifesaving equipment.
The project will provide help to tourists and locals in case medical attention is required. Depending on the severity there are referral vessels such as jet skis and speedboats available for quick access to local hospitals, with helicopter landing pads planned for the near future.
SOURCE: The Bangkok Post 
Top 10 most popular Asian cities 2018 – Agoda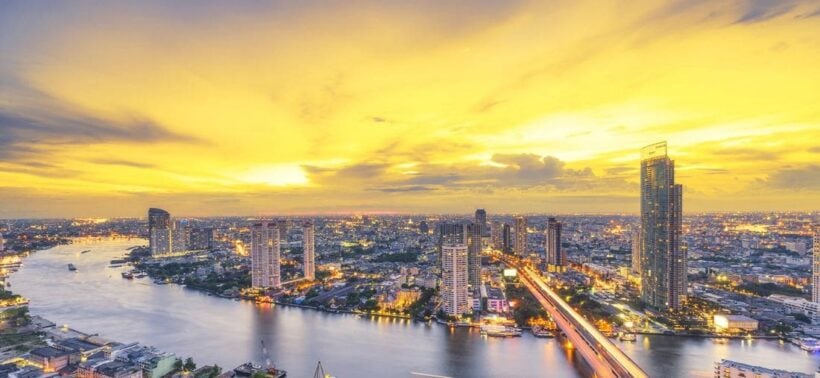 Bangkok ranks on top of the list of most-visited Asian city tourist destination for 2018. This is from Agoda, a fast-growing online travel booking platform. With millions of online bookings each year they have the data to back up their findings.
Other cities in the top 10 include Tokyo, Kuala Lumpor, Hong Kong, Osaka, Taipei, Seoul, Singapore, Bali and Pattaya.
Agoda says both Thai and foreign tourists would normally lodge in Bangkok for a night or more before continuing to the other destinations.
Agoda also reported that Thailand was placed second after Japan among Asian countries most visited by tourists because of the country's rich cultural and historical tourist attractions, clean beaches and world-class cuisine.
The 10 most popular cities among Thai tourists are Bangkok, Pattaya, Chiang Mai, Hua Hin, Phuket, Tokyo, Khao Yai, Chon Buri, Krabi and Chiang Rai.
The most-favoured country for sight-seeing among Thai tourists is Japan followed by Singapore.