UPDATE: Mor Chana App – mobile app to track Covid situation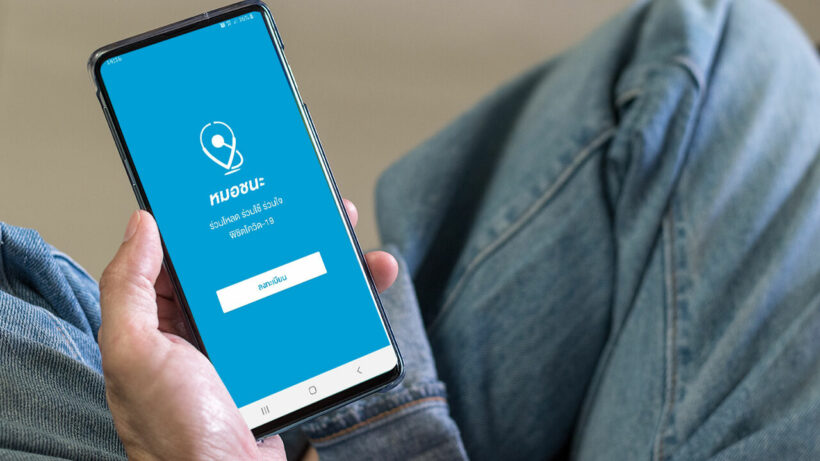 The CCSA is calling on people, particularly those in 5 provinces with high risk and strict control measures, to download Mor Chana (download links below), a new mobile app to help identify individuals who have been exposed to infected patients using GPS and Bluetooth technology to track their location.
People travelling from the 28 Red Zone areas will likely be required to load the App onto their phone and fill out the details.
Once downloading the app, you will be asked to do a self-assessment for coronavirus infection risk and will be classified in different colour codes…
Green QR code is for 'very low risk' – a person who doesn't have any cold symptoms, hasn't travelled overseas or had contact with people with risks.
Yellow QR code is for 'low risk' – a person may have cold symptoms but with no history of travelling aboard or have any closed friends, family members or colleagues travelling abroad during the past 14 days.
Orange QR code is for 'risky' – a person who travelled abroad or had contact with ones who travelled abroad during the past 14 days and have outstanding Covid-19 symptoms or asymptomatic. People in this group are required to self-quarantine for 14 days and see a doctor as soon as possible if any symptoms show.
Red QR code is for 'High Risk' – a person who shows Covid-19 symptoms and travelled abroad or had contact with people with high risks.
The acquired data from the app will be sent to the central database automatically. This way, users will also be notified if they are in the areas considered high risk while receiving real-time updates on confirmed cases and other useful information about the Covid-19 situation so that they can be more cautious for their travelling plans across the country.
The app will also help health authorities to identify those who have been in close contact with infected people. This may also help prevent medical practitioners from contracting the disease.
Download on Google Play HERE.
Download on Apple Store HERE.
SOURCE: Bangkok Biz News | Bangkok Post | DGA | Daily News
Keep in contact with The Thaiger by following our Facebook page.
Never miss out on future posts by following The Thaiger.
State Railway of Thailand furloughs 57 locals trains from Tuesday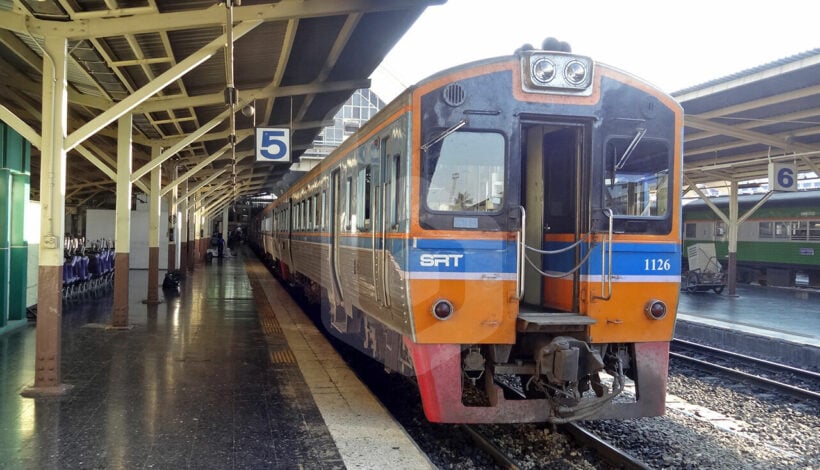 Thailand State Railway governor says that cancellations will affect 13 local services on the northern line, 18 on the northeastern routes, 12 in the southern region and 14 eastern trains.
"Most of the cancelled trains will start at Hua Lamphong station, including trains that are popular with tourists, including services to Kanchanaburi and Hua Hin."
Niruj Maneepun says the move is to support the Centre for Covid-19 Situation Administration's effort to curb the virus' spread by maintaining travel restrictions.
"Already all sightseeing and most long-haul trains have been temporarily cancelled due to Covid-19."
Thailand has logged 13,500 confirmed infections and 73 deaths since the start of the pandemic in January 2020. The current outbreak that began on December 20, with the epicentre centred around seafood markets in coastal Samut Sakhon, has spread to 63 Thai provinces.
Recently, Bangkok has allowed the reopening of 13 types of businesses as long as they follow strict guidelines surrounding safety measures to prevent the spread of Covid-19.
Businesses allowed to reopen under these measures…
Banquet venues, which will need authorisation from BMA for events with over 300 participants
Beauty salons, tattoo and piercing shops
Fitness centers, but personal trainers and communal steam rooms are not allowed
Game Arcades; but all points of contact must be regularly disinfected and facemasks worn at all times.
Internet cafés
Senior nursing homes, but with limited activities
Sports venues, except for boxing rings and race tracks, but no audiences allowed
Spas, Thai massage shops, excluding massage parlours
Gymnasia and boxing venues for training only
Bowling alleys and ice skating rinks, but no competitions or audiences allowed
Dancing academies
Martial art schools, but no tournaments or audiences allowed
Amulet shops and markets
Other provinces in Thailand, such as Chonburi, are waiting for the green light to reopen businesses and travel. Chonburi has reported 0 cases of Covid for 3 days in a row, prompting locals to become frustrated with the strict measures that won't ease up until at least the end of the month.
SOURCE:Bangkok Post
Keep in contact with The Thaiger by following our Facebook page.
Never miss out on future posts by following The Thaiger.
Thai researcher details her Covid-19 vaccination experience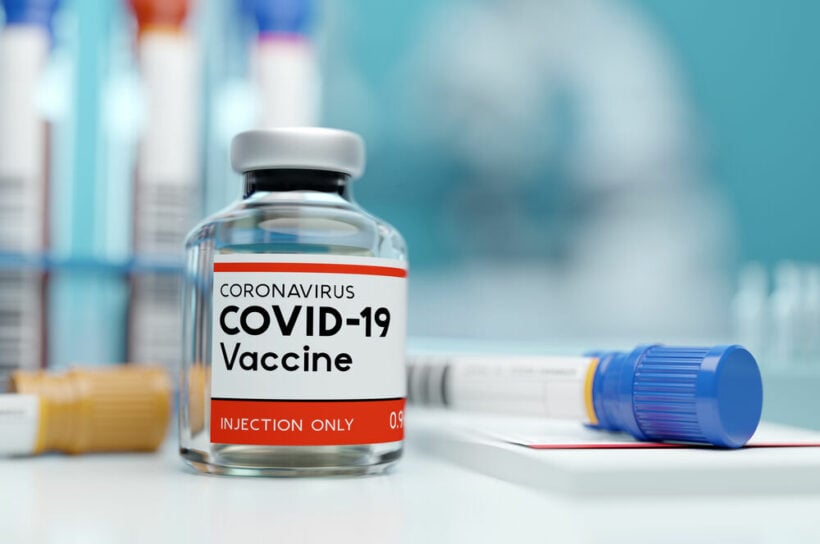 "General post-vaccination symptoms include a mild fever, headache, muscle pain and shivering."
A Thai post-doctorate researcher at the University of Chicago is detailing her Covid-19 vaccination experience and offering insight into its effects. Siriruk Changrob has received 2 doses of the Pfizer-BioNTech vaccine but says just the vaccine won't immunise people from getting Covid.
Siriruk says a person who is inoculated with the vaccine can still become infected and should continue to practice social distancing and wearing a mask until a herd immunity is developed by 60% of the population, or the virus dissipates. She says she received the first vaccine about 20 days ago and upon arriving for the 2nd dose, a nurse asked her about any side effects and whether she had tested positive for the virus in the past 90 days.
She says she didn't feel anything until about 8 hours after the 2nd injection, when she started to feel feverish and some pain at the injection site. She noted that all her colleagues warned her that the 2nd injection would give her more painful symptoms.
The Pfizer vaccine requires 2 doses that must be administered at least 21 days apart. But Sriiruk warns that if you can't get the 2nd injection within the recommended time frame, to hold off from the injection until the time frame can be followed. She also said that anyone who requires daily medication to treat other ailments should consult their doctor before being vaccinated, to ensure that the efficacy of the vaccine will not be affected by that medication.
She says the general post-vaccination symptoms include a "mild fever, headache, muscle pain and shivering", positive signs that the body is developing an immunity. She warns that taking medication to prevent such symptoms as a fever, is not recommended as the vaccine only protects a person from developing symptoms, rather from being infected by the virus.
SOURCE: Thai PBS World
Keep in contact with The Thaiger by following our Facebook page.
Never miss out on future posts by following The Thaiger.
50,000 to be tested for Covid-19 in Samut Sakhon, 198 new infections reported in Thailand today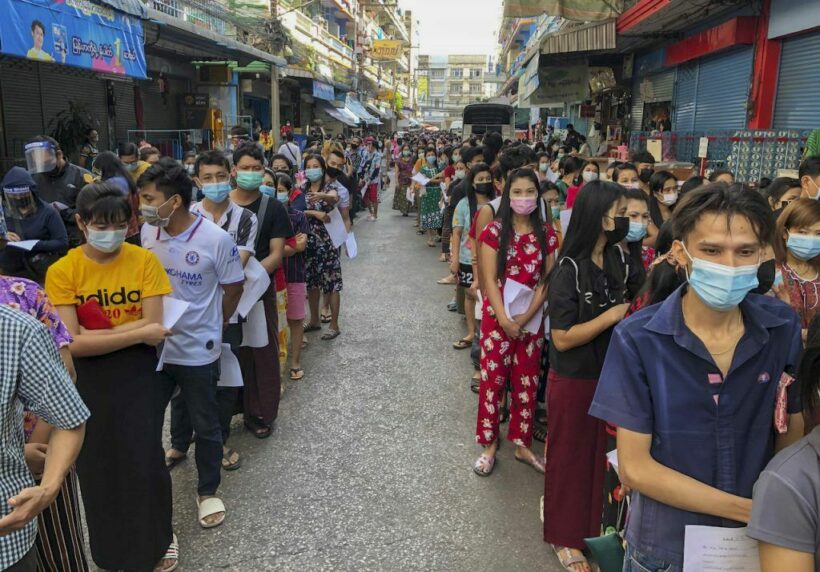 50,000 people are lining up to be tested for Covid-19 in the hotspot of Samut Sakhon over the next 5 days as health officials step up pro-active testing in the hard-hit Thai province. The target of 10,000 people to be tested per day will focus on factory workers, communities and dormitories in an effort to change Krathum Ban and Muang districts from red to yellow and then green zones.
Apisamai Srirangsun, the CCSA deputy spokesperson, says they expect to find 2,000-3,000 new cases as a result of the increased tracking, tracing and testing. She says health officials are trying to track down and free Samut Sakhon of new infections.
"Officials are optimistic that that the pandemic will ease during the 2nd week of February."
Samut Sakhon is the centre of the 2nd core wave of Covid in Thailand as a cluster of infections broke out late last year in the provincial seafood markets along the coast, just south west of Bangkok. She also said that educational institutes, in some areas of Samut Sakhon, may be allowed to reopen during the next month, if the situation improves.
"But many businesses may have to wait to reopen."
So far, 70,000 people in the province have been tested for the virus with 5,332 found to be infected. Most of those infected are migrant workers from Myanmar, with the infection rate around 7%.
According to the CCSA, 198 new Covid-19 cases were recorded today, including 191 locally-transmitted infections and 7 imported. 1 more fatality was reported, bringing the national total death toll to 73.
The latest victim was a 73 year old woman from Samut Sakhon, who also suffered from dementia, high blood pressure and epilepsy. She was found to have been infected by family members on January 9 and was admitted to the hospital suffering from fatigue and a severe lung inflammation. The woman was placed on a respirator and was transferred to Thaksin Hospital, but she passed away yesterday after her condition worsened.
SOURCE: Thai PBS World
Keep in contact with The Thaiger by following our Facebook page.
Never miss out on future posts by following The Thaiger.