Methamphetamine worth 51 million baht found washed up on Koh Samui beach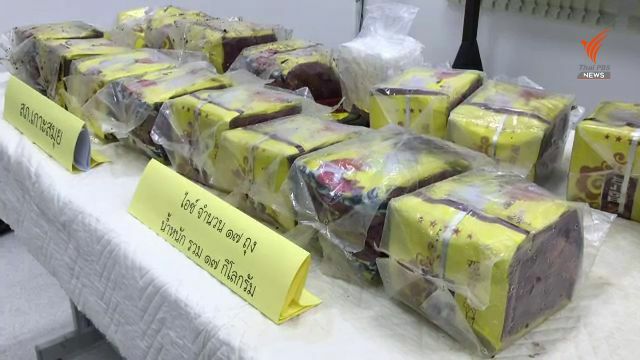 Packages of crystal methamphetamine worth around 51 million baht were found washed up on Koh Samui's Hat Koh Taen beach yesterday. Police suspect the drugs are from a vessel which sank off the coast of Vietnam while carrying a large shipment of drugs.
Police say 100 kilograms of methamphetamine was found on the coast of Vietnam on December 10. Just last week, 3 other 1 kilogram packages of crystal methamphetamine were found on Chaiya's Hat Niyom beach. Police suspect the drugs are from the same shipment.
On Koh Samui, villagers found 17 yellow packages, each with 1 kilogram of crystal methamphetamine. The packages were tightly wrapped in 3 layers with pictures of carps and Chinese characters. Thai police say the packages are similar to those found in Chaiya.
SOURCE: Bangkok Post
Keep in contact with The Thaiger by following our Facebook page.
Never miss out on future posts by following The Thaiger.
Police seize 920 kilograms of cannabis smuggled across the Mekong River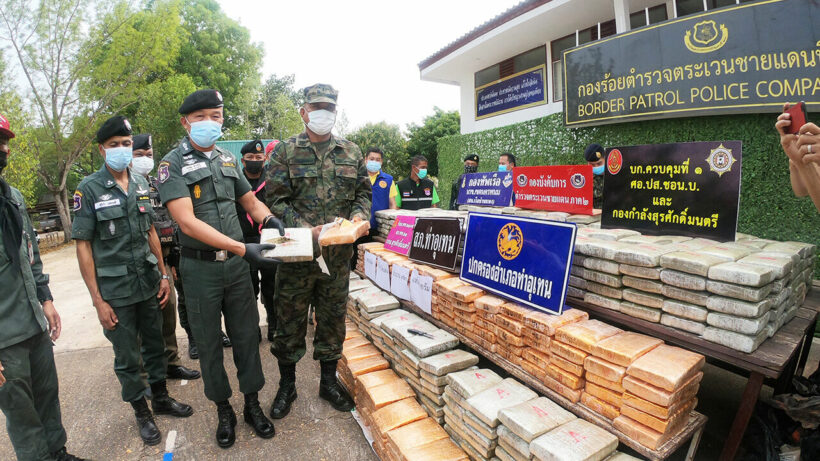 In a major bust on the Mekong River, notorious for drug smuggling, border patrol police seized 920 kilograms of dried, compacted cannabis from a boat along the Nakhon Pathom riverbank, bordering Laos.
Police were tipped off about a large shipment of drugs being trafficked across the Thai-Laos border. Police spotted a boat around 4am yesterday. When police moved in, men onboard the boat jumped onto a smaller boat and sped off. Police found 23 sacks filled with 1-kilogram packages of compressed cannabis.
In the recent months, police have seized more than 5 tonnes of cannabis. While the Thai government has been loosening measures on cannabis, allowing parts of the plant with low traces of the psychoactive component tetrahydrocannabinol, or THC, to be used in food and medicinal products, trafficking cannabis is still illegal. Cannabis with high amounts of THC is still classified as a Category 5 narcotic.
SOURCE:Bangkok Post
Keep in contact with The Thaiger by following our Facebook page.
Never miss out on future posts by following The Thaiger.
Woman talks about the life of a Thai "pretty" after model's death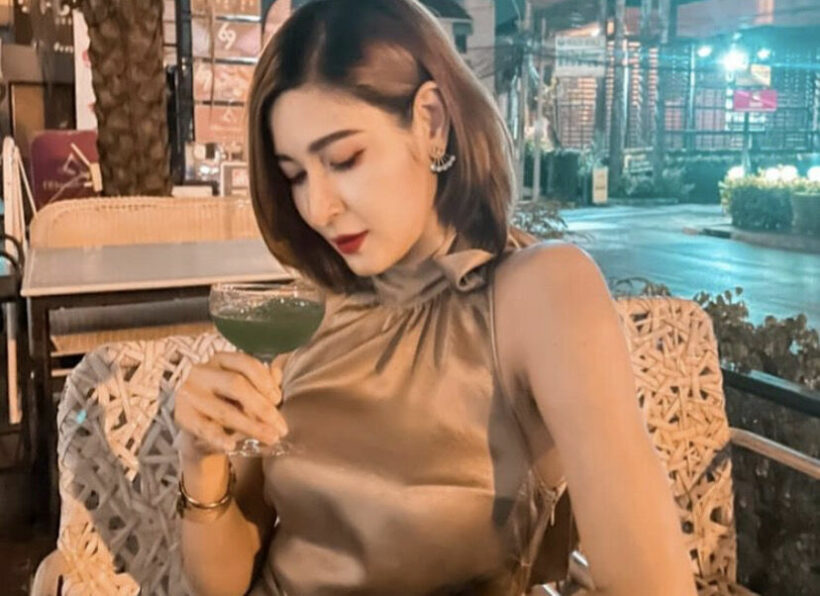 Following the news of a model who died after working as a hostess at a Bangkok party, Thai media spoke with a woman, known in Thailand as a "pretty," about what it's like to work in the lucrative, yet shady Thai model entertainment industry where many work as hostesses at parties and events that often involve alcohol, drugs and sex work.
"Miss Cake" told the Thai news outlet Daily News that pretties are sent to parties by "modelling agencies." The parties are even categorized depending on if drugs or sex are involved. Apparently the parties are either "En-Up," "En-V" or just "En" for entertainment. En-Up means drugs are involved, while En-V means the pretties will offer sexual services. Other pretties work at promotional events like auto shows. Since nightclubs and other entertainment venues in Bangkok have been closed due to the pandemic, many of the parties are now held at private homes.
If a pretty is working at an En-Up party, Miss Cake says that means there will be ecstasy, known as "khanom," the Thai word for a dessert or snack. She says good "khanom" shipped from overseas costs around 900 to 1,000 baht while the poor quality, Thai-made drugs cost 500 baht. Just about every pretty takes drugs, she says. If mixed with ketamine, Miss Cake says it can be dangerous.
Daily News spoke with Miss Cake following the death of a 33 year old Witchayaporn "Wawa" Wisetsombat who worked died in a hospital after working as a hostess at a party in Bangkok's Chatuchak district. She had been hired by a modelling agency to serve drinks at a private party. Her younger sister told the Bangkok Post that Wawa was a product presenter and never sold sex or used narcotics. Doctors told the Post Wawa died from respiratory and blood system failure. They are still waiting for the results for a toxicology test.
The death of another model back in 2019 shed light on the abuse and danger many pretties face in the industry. 25 year old Thitima "Lunlabelle" Noraphanpiphat died from "extreme alcohol intoxication," according to an autopsy report. Her dead body was found in the lobby of a Bangkok condominium. 6 people were found guilty for involvement in Lunlabelle's death.
Abuse is common in the industry and many women working as pretties are often pressured into drinking excessive amounts of alcohol. The work of pretties is looked down upon in Thai society. Due to the stigma, many due not file complaints when they are abused.
SOURCE: Thai Visa
Keep in contact with The Thaiger by following our Facebook page.
Never miss out on future posts by following The Thaiger.
Thailand law enforcement gets new "laser" narcotics analysers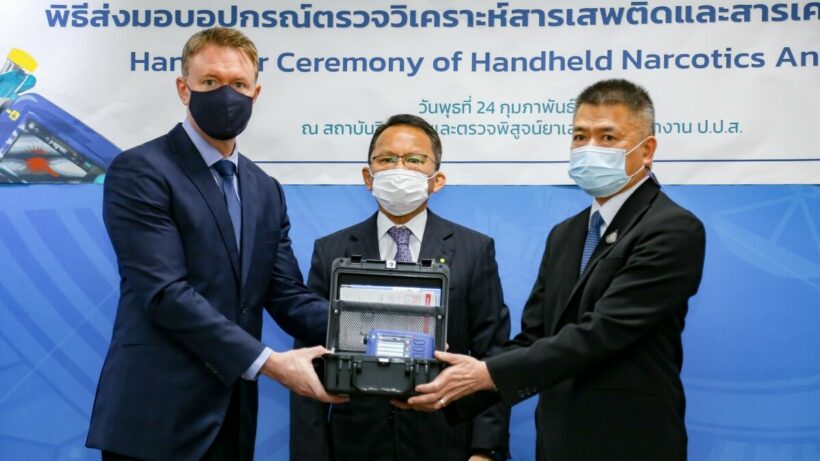 Thailand law enforcement will now use a new "laser" narcotics analyser to test suspicious substances and chemicals in major drug busts. It's apparently a more accurate method to identify illicit drugs than the current colour test. The new portable drug test happens to come a few months after Thailand claimed to have seized 11.5 tonnes of ketamine in the "biggest drug bust ever" and then discovered the substance was actually a cleaning agent.
In earlier reports, Justice Minister Somsak Thepsutin said the mistake was a "technical error" and the testing fluid had turned "purple," a positive sign for ketamine. Somsak didn't mention the failed ketamine bust when announcing that a pair of "portable Raman spectroscopy analysers" had been delivered to Thailand from the United Nations Office on Drugs and Crime. He says the new tool is more accurate than the colour test.
"The new portable analysers utilise the Raman spectroscopy technique to identify suspicious drugs and chemicals in less than 30 seconds, and more accurately than the colour test method that we currently use."
Not only can the device detect drugs, but apparently its laser can also detect additives like colouring and flavouring agents, according to Office of the Narcotics Control Board secretary general Wichai Chaimongkhol.
"The machine can detect chemicals either in powder, crystallised, tablet, capsule or liquid form… Its laser can penetrate transparent containers or wrapping of up to 2mm thickness and read the scattering of light to identify the substance accurately, reducing the risk of officials handling harmful chemicals while also helping preserve the evidence."
The tool is planned to be used to identify suspicious drugs and chemicals that are smuggled across the border as well as at airports and seaports.
SOURCE: Nation Thailand
Keep in contact with The Thaiger by following our Facebook page.
Never miss out on future posts by following The Thaiger.