Judge delays sentencing in paedophile case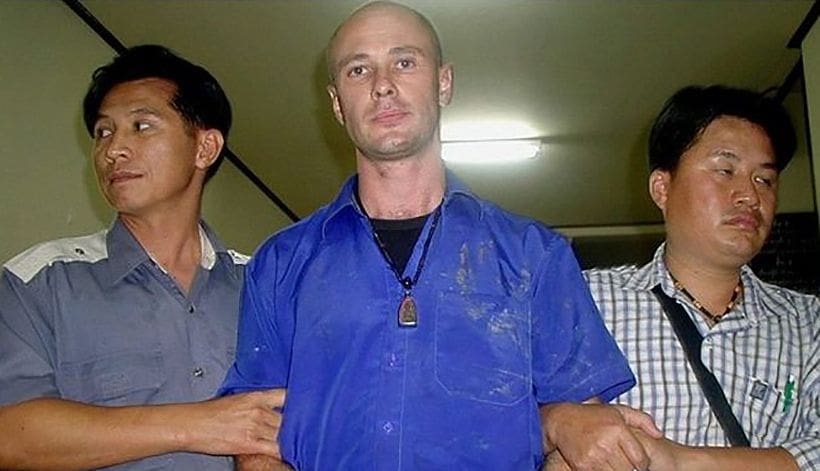 Jason Daron Mizner during his prison term in Thailand
An Australian judge says she was left so shaken by reading out the list of paedophile's crimes that she walked out of court to delay sentencing. She said she needed to remove emotion from the punishment she will hand out. Convicted child rapist Jason Daron Mizner was supposed to be sentenced in the Brisbane District Court on Tuesday but it was delayed, according to AAP.
Justice Leanne Clare said she viewed part of one of the dozens of rape tapes and found it "very confronting", and needed a break to ensure a fair sentence.
"I think it would be best to put some distance between the viewing of that tape and the delivery of the judgment so that it does not overwhelm the sentence," she said.
The prosecution wants the 44 year old jailed for life over more than 60 child sex crimes towards the toddler he has pleaded guilty to.
His actions back to the early 2000s and included more than 30 counts of rape and videotaping the assaults.
Mizner's lawyers argued his sentence should be reduced because he suffered "torture" the last time he was in prison for a different crime. The paedophile spent years in a Thai jail for a separate sexual assault of another young child and they claimed the abuse there should be taken into account.
"He received beatings and other torture," Mizner's lawyer said.
"The Australian Federal Police gave evidence at the [Thai] hearing about the Australian offending, so it's not much of a stretch that inmates in Thailand would have known."
Justice Clare disputed that just because Mizner had a difficult time in a Thai jail that he should have his potential sentence reduced.
"The report outlines deprivations and abuses that your client has described, but to say he's been tortured for 11 years is an overstatement of the material, frankly," Justice Clare said.
The court was told Mizner, who was 31 at the time of the assaults, formed a relationship with the Australian girl's mother, before committing the offences over a number of months.
While he was on a holiday in Thailand, the girl's mother found videos he had made and a range of other unrelated child exploitation material.
Mizner stayed in Thailand, where he formed a relationship with a local woman before assaulting her young daughter and being arrested by Thai authorities in 2006. Mizner's Thai girlfriend informed police he had taken her daughter for an overnight trip on Monday and that the child appeared to have been sexually violated.
Police at the time said a medical examination of the child confirmed the suspicion.
According to police, the couple was living together in the town of Mae Rim, about 580km north of Bangkok, and Mizner told his girlfriend he wanted to spend the night at an apartment he maintained in Chiang Mai. Police said that he suggested he take the child with him so the two could become closer and she agreed.
He served 11 years of a 35-year sentence and was deported when released on bail last year, with Australian authorities arresting him when he returned to Brisbane.
It's the second time sentencing has been delayed, after a delay in September, when a doctor preparing a psychological report for the court suffered a heart attack That report, the defence argued, showed that a motorcycle accident when Mizner was 21 left him with a brain injury, which "uninhibited" him.
Justice Clare said it also showed he had a "predilection for babies" and had a medium-to-high chance of re-offending if not incarcerated.
"Even a low risk of re-offending when it comes to raping babies is a substantial risk to deal with. When it's a medium-to-high risk… it's alarming," she said.
SOURCES: nzherald, APP
Keep in contact with The Thaiger by following our
Facebook page
.
Finance Ministry approves stimulus package to spur tourism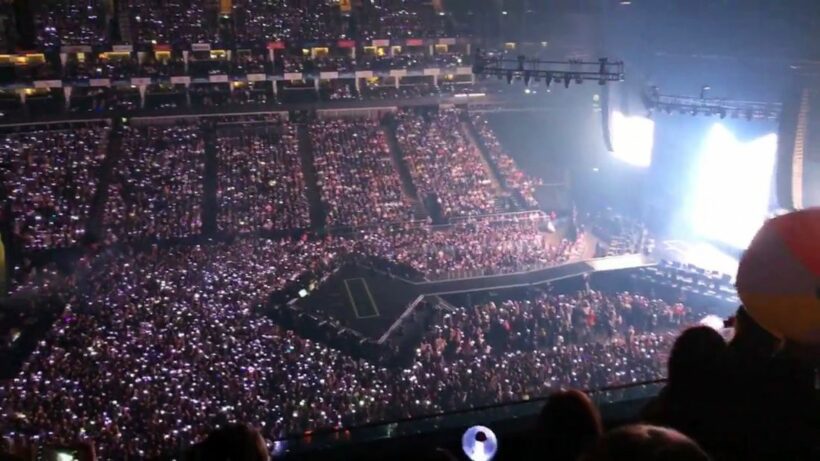 PHOTO: Among other things, the TAT are organising some big concerts over the last three months of 2019. Some of the 50,000 that attended the BTS 'Love Yourself' stadium concert in Bangkok in April 2019.
The Finance Ministry has now approved a stimulus package for the last three months of the year to boost Thailand's tourism sector. The aim is achieve a 3% growth rate.
The Thai Tourism and Sports permanent secretary Chote Trachu says the purpose is to increase the total tourist arrivals for the second half of the year to 20 million, with the aim to reach the year-start projections of more than 40 million tourists to Thailand for 2019.
Tourist arrivals for the first eight months of the year totalled 26.5 million, generating 1.3 trillion baht of revenue, according to official figures from the Ministry of Tourism and Sport. For the remaining four months of the year, Mr. Chote said there would likely be another 13 million tourist arrivals, with expected revenue of 750 billion baht.
Tourism Authority of Thailand governor Yutthasak Supasorn says that events have been planned to boost tourism for the final months of 2019 including World Cannabis Festival, Super GT, a Tour de France cycling competition and concerts featuring famous bands such as Tomorrow Land and EDC.
Meanwhile, last Thursday, the World Bank slashed Thailand's economic growth projection for 2019 to 2.7%, down from an earlier 3.5%, because of the contraction of the country's exports.
In its latest "East Asia and Pacific Economic Update", the World Bank said today the 2.7% GDP forecast for Thailand is the lowest among ASEAN's developing countries. The Washington-based institution also cut Thailand's GDP growth forecast for 2020 to 2.9% from 3.6%.
The World Bank's report attributes the lower GDP growth outlook to an export slump in the first half of the year, the global economic slowdown and fallout from the US-China trade tensions. The World Bank also says "the Bank of Thailand has limited scope to tackle the baht's strength, but the currency's climb is a sign of investor confidence in the country's economic fundamentals".
SOURCE: Thai PBS World
Keep in contact with The Thaiger by following our
Facebook page
.
Thailand's growth forecasts for the rest of 2019 slashed again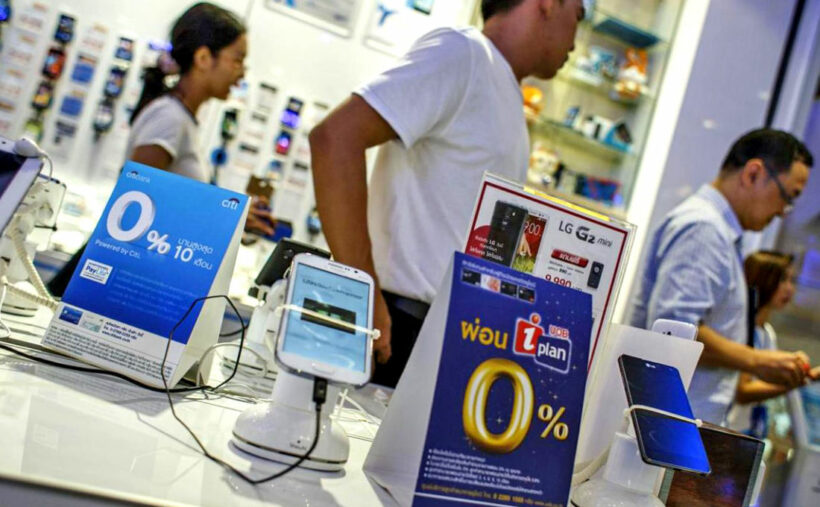 Following their most recent meeting, the Joint Standing Committee on Commerce, Industry and Banking has announced Thailand's economic growth this year has been revised downward to between 2.7 – 3.0% from the previous projection of 2.9 – 3.3%.
It has also revised down its prediction of this year's exports to between minus 2 – 0%.
The committee says the revised export outlook reflects uncertainties in the economies of major countries, the prolonged US-China trade war and the strong baht. They added that the economic indicators in July and August suggest possible softening of economic growth in the third quarter, due to the slowing global economy, US-China trade war and the strength of the baht.
The committee estimates that the floods in north-east and central Thailand will cost the economy between 20 – 25 billion baht.
It has estimated that the government's economic stimulus "Eat, Shop, Spend" campaign, which has proved popular with Thais, will inject 20 – 30 billion baht into the economy. The committee says it hopes to see additional new monetary and fiscal measures from the government to boost the economy.
Earlier this week the Kasikorn Research Centre revised downward its economic growth forecasts for 2019 from 3.1 – 2.8%, while predicting that the economy may grow at less than 3% next year amid numerous negative factors.
SOURCE: The Nation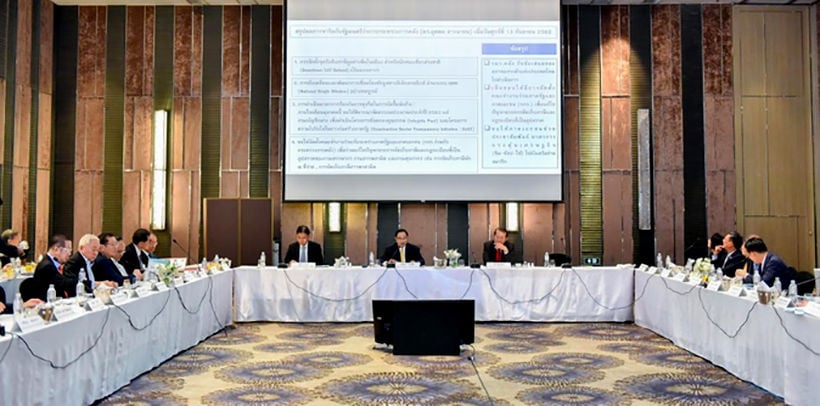 PHOTO: The Nation
Keep in contact with The Thaiger by following our
Facebook page
.
King Bhumibol Adulyadej – an enduring legacy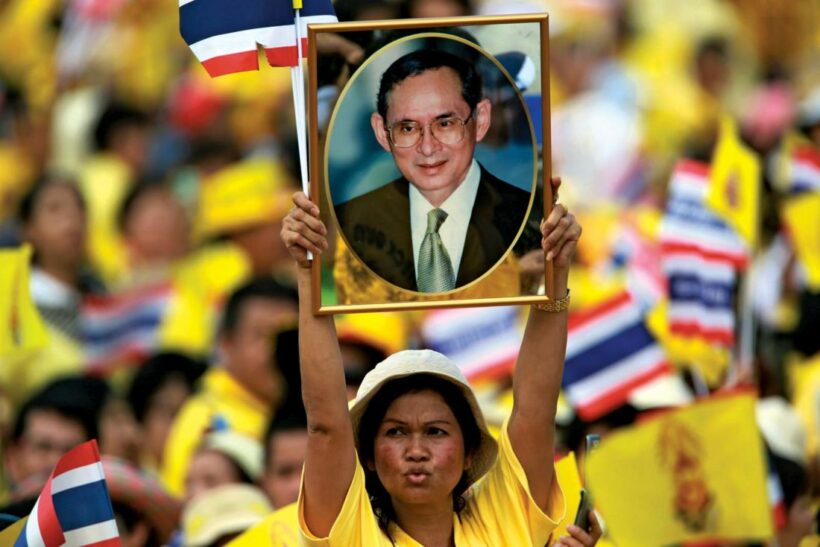 His Majesty King Bhumibol Adulyadej (December 5, 1927 – October 13, 2016) was Thailand's monarch for just over 70 years. At the time of his passing in 2016, King Bhumibol was world's longest-serving head of state and the longest-reigning monarch in Thai history. Amongst his many other gifts, he was was revered as a calming and compassionate influence overseeing Thailand's stormy political history in the second half of the 20th century.
He was the ninth king of the Chakri dynasty and is also referred to as Rama IX.
Bhumibol's early days
Bhumibol Adulyadej was born on December 5, 1927, in Massachusetts, USA. As the second son born to his parents, and because his birth took place outside of Thailand, young Bhumibol was never expected to ascend Thailand's throne. His reign came about only after his older brother's mysterious death.
His father, Prince Mahidol Adulyadej, was studying for a public health certificate at Harvard University. His mother, Princess Srinagarindra, was studying nursing at the same time.
When Bhumibol was one a year old the family returned to Thailand, where his father took up an internship in a hospital in Chiang Mai. Prince Mahidol died of kidney and liver failure in September 1929.
Thailand's democratic revolution
In 1932, a coalition of military officers and civil servants staged a bloodless coup against King Rama VII. The Revolution of 1932 ended the Chakri dynasty's absolute rule and created a Thai constitutional monarchy. Princess Srinagarindra took her two young sons and daughter to Switzerland a year later where the children were placed in Swiss schools for their early education.
In March 1935, King Rama VII abdicated leaving his 9 year old nephew, Bhumibol Adulyadej's older brother Ananda Mahidol as Thailand's new monarch. But the child-king and his siblings remained in Switzerland due to his young age and nascent political developments in Thailand. Two regents ruled the kingdom in his name. Ananda returned to Thailand in 1938 but his brother Bhumibol continued his schooling in Switzerland until 1945 .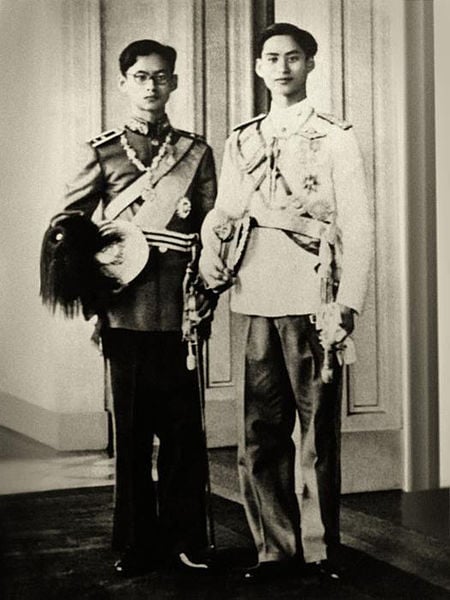 PHOTO: King Mahidol Adulyadej and his younger brother Bhumibol Adulyadej
On June 9, 1946, the young King Mahidol was killed in his palace bedroom from a single gunshot wound to the head. Two royal pages and the king's personal secretary were convicted of assassination and executed although controversy still swirls around the incident.
Bhumibol returned to the University of Lausanne in Switzerland to complete his degree and his uncle was appointed Regent, ruling in his place in Thailand.
Marriage to Queen Sirikit
The young King Bhumibol met the daughter of the Thai ambassador to France, a student named Mom Rajawongse Sirikit Kiriyakara, during a visit to Paris. Adulyadej and Sirikit began a courtship some time in 1946.
In October 1948, Adulyadej crashed into a truck and was seriously injured, losing his right eye and suffering back injuries. Sirikit spent a lot of time nursing and entertaining the convalescing king. King Bhumibol's mother encouraged Sirikit to transfer to a school in Lausanne so that she could continue her studies and spend more time with the young King.
Adulyadej and Sirikit were married in Bangkok on April 28, 1950. She was 17 and he was 22 years old. The king was officially crowned a week later and became King Bhumibol Adulyadej.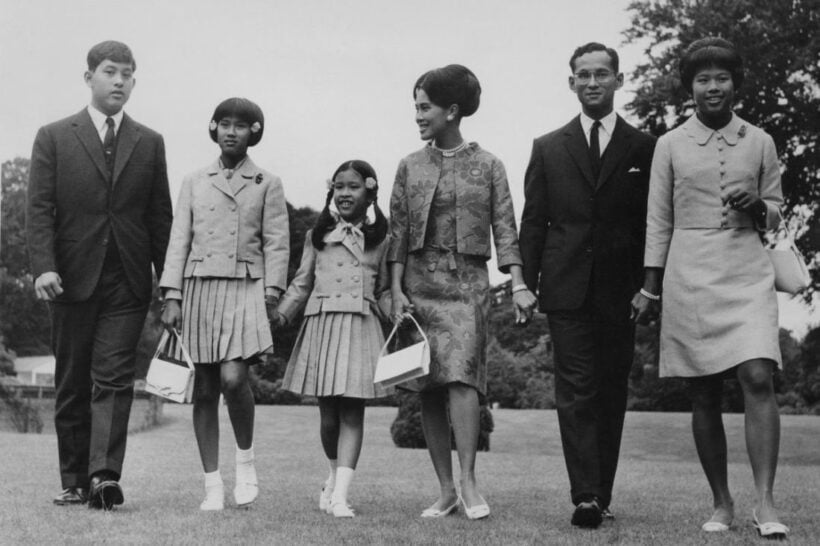 PHOTO: King Bhumibol Adulyadej, Queen Sirikit and his four children (a young Prince Maha Vajiralongkorn on the left)
Half a century of military dictatorships
In the early days of his reign Thailand was ruled by a military dictator, Plaek Pibulsonggram, until 1957. Then the first of a series of coups, which would dog the Kingdom for the second half of the 20th century, removed him from office. The King declared martial law ending with a new military dictatorship formed under a trusted ally of King Bhumibol, Sarit Dhanarajata.
During the next phase of his rule the young King would revive many abandoned Chakri traditions, including the need for subjects and staff to kowtow – bowing and keeping their head below the monarch. He also started to make public appearances around the Kingdom – an activity which would become a hallmark of his reign, significantly reviving the prestige of the Thai monarchy and staying of the royal family.
Coups took place in 1963, 1977, 1980, 1981, 1985, and 1991 (and more in the 21st century). Although King Bhumibol worked hard to remain above politics, he refused to support the 1981 and 1985 coups, and was seen as a settling influence in the swirling political events.
Democratic governments
When a military coup leader was selected as PM in May 1992, huge protests broke out around Thailand. Known as 'Black May', the demonstrations turned into riots. Fearing a civil war, Kong Bhumibol called the coup and opposition leaders to a televised audience at the palace.
Adulyadej pressured the coup leader to resign. New elections were called and a civilian government was elected. This intervention was the beginning of civilian-led democracy that has continued, with a few military interruptions, to this day, most notably the intervention of the military in a coup in 2014 when the National Committee for Peace and Order seized power.
King Bhumibol's image as an advocate for the Thai people, reluctantly intervening in the political fray to protect his subjects, became an enduring legacy.
Death
Since 2006, King Bhumibol suffered a number of health issues and was hospitalised frequently. He died at the Siriraj hospital in Bangkok on October 16, 2016. Crown prince Maha Vajiralongkorn became the 10th King of the Chakri Dynasty, and his official coronation was held between May 4-6, 2019.
Although Bhumibol was never intended to be Thailand's king, he is lovingly remembered as a successful and beloved Thai monarch, who helped calm successive political turbulence over the seven decades of his reign.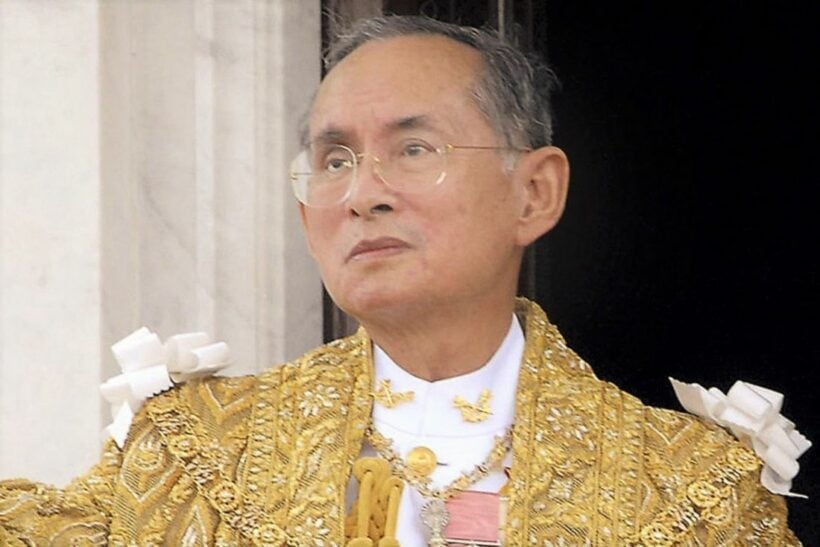 Keep in contact with The Thaiger by following our
Facebook page
.