Ban military conscription, sell the submarines – Pheu Thai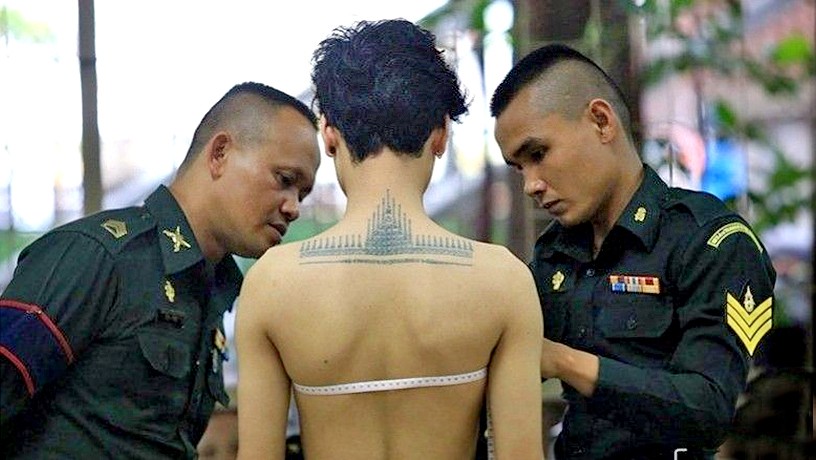 The Pheu Thai Party, the political party who won elections under Thaksin, then Yingluck Shinawatra, will abolish compulsory military conscription if it is returned to power after the next election.
The former ruling party also says it will sell the Navy's submarines and use the money to fund the construction of hospitals, the source added. The party came up with the ideas after many of its members met former prime minister Thaksin Shinawatra overseas.
Thaksin, still referred to as "Big Boss", is widely viewed as Pheu Thai's patriarch even though he holds no executive position in the party. The former PM has lived overseas in self-imposed exile after fleeing the country in 2008, shortly before the Supreme Court's Criminal Division for Political Office Holders sentenced him to two years in jail for abuse of power while in office.
Abolishing military draft and selling submarines to fund new hospitals would be part of Pheu Thai's key policy platforms for the next election, expected to be held next February, the source said. The source added that since the country is not at war, there should be no need for drafting many people to the military. Compulsory conscription should be replaced by voluntary military service, the source added.
Pheu Thai also believes the country needs hospitals more than submarines, the source added. After the 2014 military-led coup, the junta approved the purchase of three submarines worth 13.5 billion baht from China.
While meeting party members overseas recently, Thaksin reportedly expressed confidence that his party would gain a majority in the House of Representatives, winning as many as 260 of the 500 seats up for grabs, the source said. Thaksin was apparently citing the results of recent public opinion surveys that put Pheu Thai ahead of other parties.
Thaksin has also reportedly said that delaying the election any further would worsen the situation for the junta and work in favour of Pheu Thai, the source said.
"It will be easy for Pheu Thai to get votes. Today, people at the grassroots level are suffering from economic problems," the source pointed out.
Thaksin has also reportedly suggested that the party's former MPs visit their electorates frequently to hear the problems of local residents, so party policy platforms can be planned accordingly.

SOURCE: The Nation
Keep in contact with The Thaiger by following our
Facebook page
.
Out of 37 countries, Thailand has the worst pension system, says Bloomberg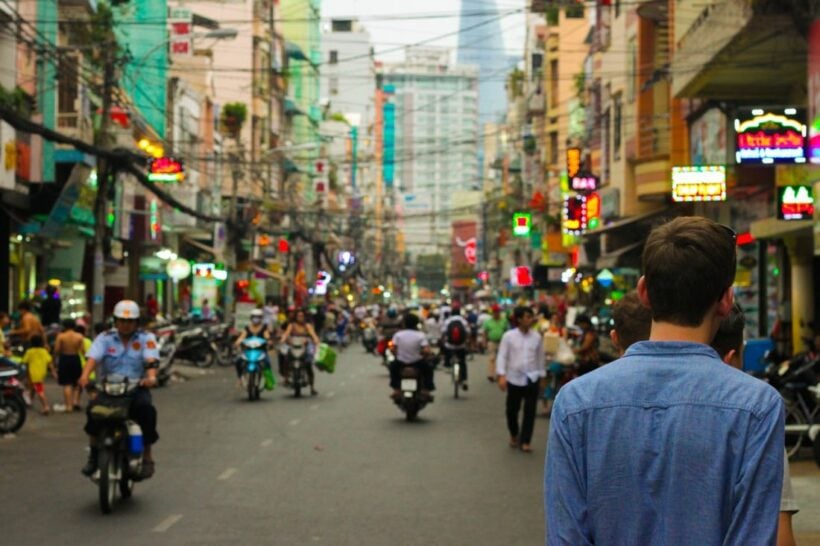 Thai Residents reports that on Sunday, Bloomberg published an article on the world's best pension systems, using information gathered from the 2019 Melbourne Mercer Global Pensions Index.
The survey looked at the pension systems of 37 countries with metrics including employee rights, savings, the number of homeowners, growth of assets, and growth of the economy. The purpose of the analysis was to determine what was needed to improve state pension systems and to gauge the level of confidence citizens had in their state pension system.
The Netherlands and Denmark were found to have the world's best state pensions, with Australia, Finland, Sweden, Norway, Singapore, New Zealand, Canada, and Chile next. Out of all 37 countries, Thailand finished last, with what the report described as an extremely ineffective and ambiguous system.
"Thailand was in the bottom slot and should introduce a minimum level of mandatory retirement savings and increase support for the poorest."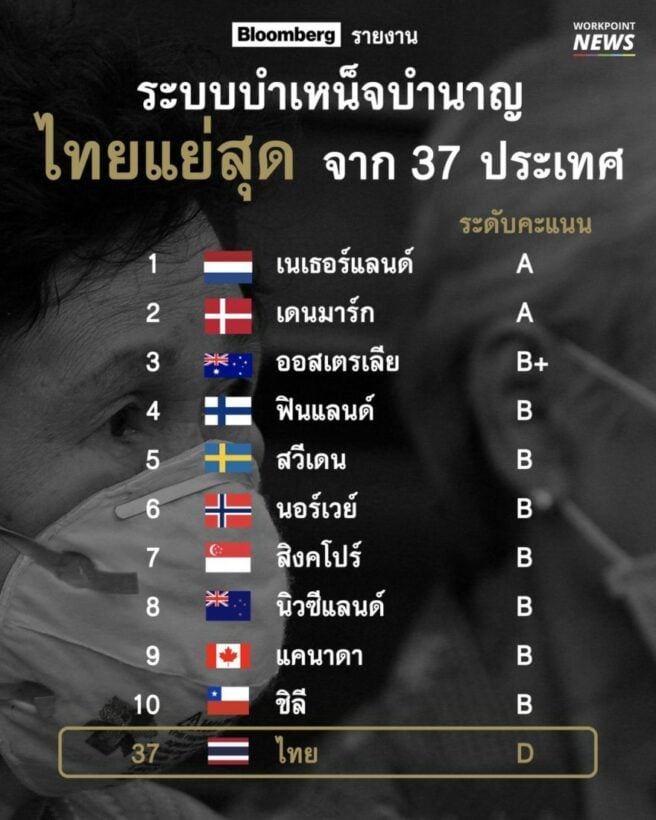 Photo: WorkpointNews
Thai Residents states that only those employed within the government system in Thailand are eligible for a pension based on salary. For most Thai citizens, pension amounts vary from 600 baht to 1,000 baht a month, depending on the recipient's age.
A report carried out by The Securities and Exchange Commission (SEC) advises Thai citizens to have at least 4 million baht saved by the time they retire, but Thai Residents reports that 60% of Thai retirees have less than 1 million baht in savings, with one in three citizens who have reached retirement age are forced to continue working in order to survive.
SOURCE: thairesidents.com
Keep in contact with The Thaiger by following our
Facebook page
.
Immigration police arrest German man in connection with death of German woman in Pattaya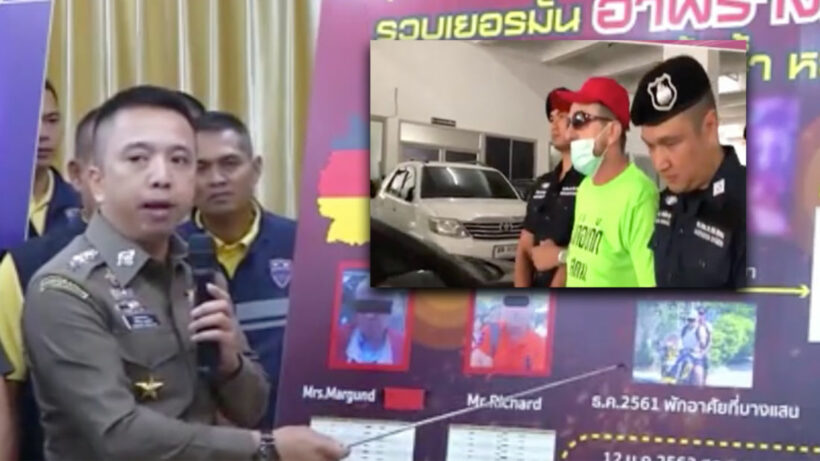 A German man who has overstayed his visa has been arrested in Pattaya in connection with the death of a German woman found dead in a canal in Chonburi province.
The Pattaya News reports the dead woman as 77 year old Marg und Schaefer and says she ran a bar with the man who was taken into custody on Tuesday.
The alarm was raised when Ms Schaefer's family in Germany contacted German police when they were unable to contact her. German authorities then contacted the police in Thailand, who tracked down the man after finding his visa had expired in June 2017. He is believed to be 52 years of age and known only as Mr Richard.
It's understood the arrested man is also facing fraud charges in his home country and fled to Thailand after allegedly conning several elderly women out of more than 6,000 euros.
Police have questioned his Thai girlfriend, who claims Ms Schaefer died in January after falling in the bathroom. She says Mr Richard then disposed of her body in a canal in Chonburi, adding that he had been spending the German woman's pension fund on a daily basis.
A warrant was issued for the man when Ms Schaefer's body was found in the canal on January 12 and he was eventually tracked down to a rented house earlier this week. He denies all charges against him.
It's understood the police will be using DNA testing to confirm how Ms Schaefer died.
SOURCE: thepattayanews.com
Keep in contact with The Thaiger by following our
Facebook page
.
Hotel guest in Chiang Mai runs up bill of nearly 50,000 baht before fleeing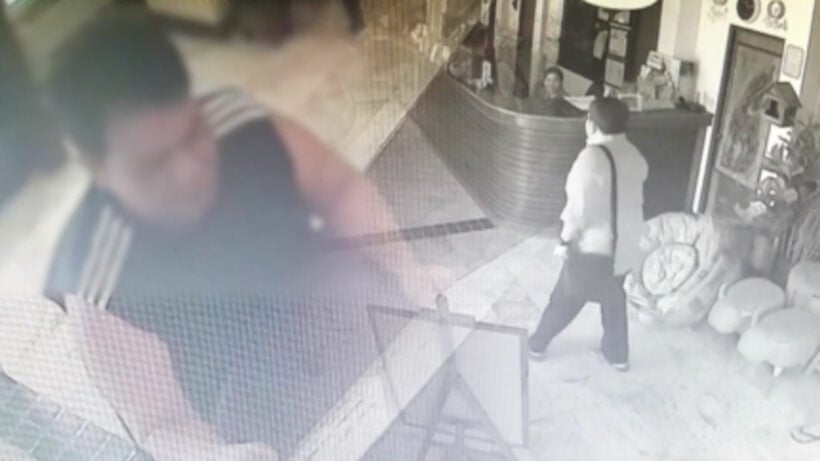 A man who claims to be a doctor stayed in a Chiang Mai hotel for 21 nights, running up a bill of nearly 50,000 baht, before instructing the hotel to invoice the Ministry for the Interior and then fleeing the premises.
Employees of the hotel say they didn't expect the man to abscond as he has stayed there on three previous occasions, paying his bill each time. He would usually reserve his room through an online booking site and gave his name as Chayarop, saying he was a doctor from Nakhon Si Thammarat.
This time, the man did not book in advance but simply walked in on September 28 and asked for a room.
Hotel employees say he didn't say how long he'd be staying for and during his stay, he ordered room service every night, inviting friends to eat and drink with him.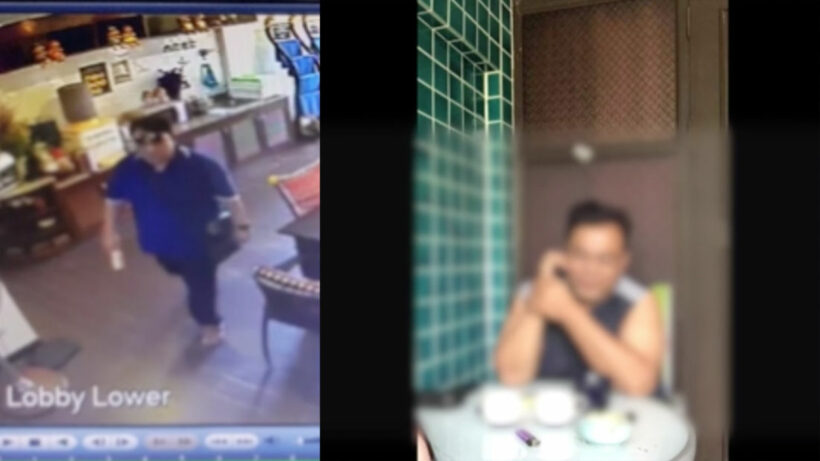 Photo: Ch7.com
Eventually, he had run up a bill of nearly 50,000 baht, but the hotel was reluctant to ask him when he planned to pay due to the fact that he was a regular guest.
After 21 nights, he instructed the hotel to send his bill to the Ministry for the Interior. When he left the hotel that day, he didn't give any indication that he wouldn't be returning later. When he failed to show that evening, the hotel tried to contact him on the number he'd provided but the phone was never answered.
The hotel has now filed a report with the local police force.
SOURCE: thairesidents.com
Keep in contact with The Thaiger by following our
Facebook page
.