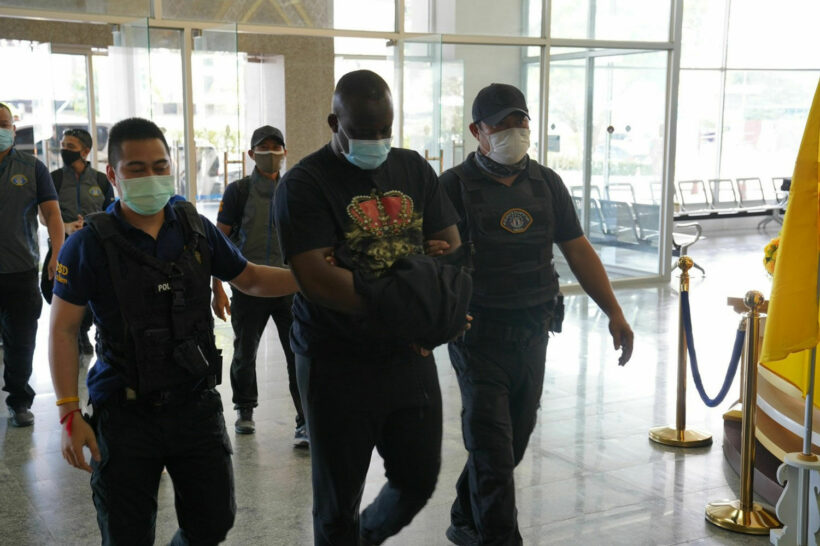 Police arrested 6 people allegedly involved in a 200 million baht so-called romance scam, setting up fake profiles online and, after some sweet-talking, persuading their "lovers to transfer money to their account. A victim who came forward to police says she transferred hundreds of thousands of baht to whom she thought was an American businessman in Malaysia who needed money to pay for hospital bills after a serious injury.
Police investigated and raided several locations, including homes in Bangkok and Phuket, suspected of being linked to the scam. 6 people were arrested on charges of collusion to defraud and putting false information into the computer system. The suspects include 44 year old Nigerian national Ezeneche Uzochuwku and Thai nationals, 46 year old Punyawee Chusinjiraphat Jorome, 22 year old Sasithorn Nuankaew, 34 year old Sudjai Kamnon, 33 year old Thotsaphol Siripru, and 29 year old Nirandon Thianthavorn.
Police searched a car belonging to Ezeneche and Punyawaee, who are married, and found 906,000 baht in cash, 7 mobile phone, 18 bank account books, multiple sets of ornaments, 11 watches, 2 ivory ornaments, and 11 electronic cards.
Last year, a victim filed a complaint with police claiming that 1 million baht had been stolen from her in a romance scam. The Central Investigation Bureau investigated the claim. The bureau says they suspect the group worked together to set up a fake Instagram account under the name "Mr. Lanny Gray", who would then approach a would be victim under the pretense of being an American businessman working in Malaysia. "Gray" would then court the victim over Line, sending multiple messages until trust had been established, giving the woman the impression he wanted to live with her in Thailand.
Then, "Gray" would say he would send valuable "parcels" to her that she would have to sign for. A member of the group would call the victim claiming to be an agent from the shipping firm and requesting she pay fees associated with the parcels. At this point, the woman was in the hole for 1 million baht, but still had not "received" any parcels.
Police say the scam went a step further when another gang member called the victim and claimed "Gray" had sustained serious injuries. The gang member, posing as hospital personnel, requested she send 500,000 baht to help "Gray." At this point the woman started to have doubts and attempted to contact "him" directly. After she couldn't reach him, she filed a complaint at the Wang Thong Lang police station.
The 6 suspects deny all the charges. Another suspect is still sought by the police.
SOURCE: Bangkok Post