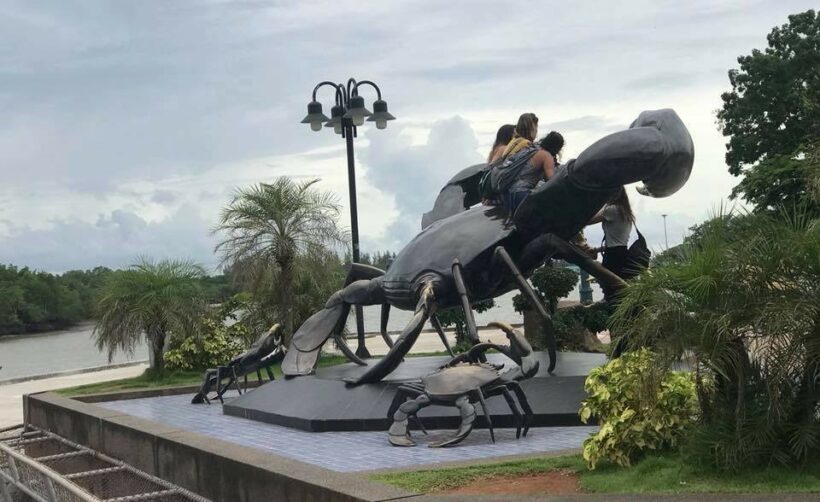 Four more tourists have been caught climbing all over a Krabi landmark – the Mud Crabs Sculpture. Krabi Tourist Police are tracking down the tour company that were in control of the tourists that were filmed climbing on the sculpture. This follows the tour group, two days earlier, climbing all over the popular sculptures.
A Facebook user 'Panisa Laelem' on Wednesday (June 27) posted a PICTURE on her personal Facebook with the message… "I have just seen the news yesterday about Chinese tourists climbing on the sculpture. Today I see with my own eyes….four foreign tourists. They might not know or there is no warning sign."
Krabi City Deputy Mayor Channarong Leelaburanapong says, "Krabi Tourist Police have been contacted after we saw the video clip. The sculpture hasn't been damaged."
Two days before another Chinese tour group was also caught on camera climbing on the crabs.
"Tourist Police checked CCTV footage nearby and found that those Chinese tourists were travelling with a white tour bus. They are know to have stopped at the sculpture for about one hour. Some of them decided to clamber all over the sculpture. Krabi Tourist Police are tracking down the local tour groups to find which tour company they were traveling with.
"We need to put a sign in the Chinese language to warn them that they cannot climb up on to the sculpture. The signs in Thai and English have already been put up."