Fixing Phuket's coral. Restoration projects around Phuket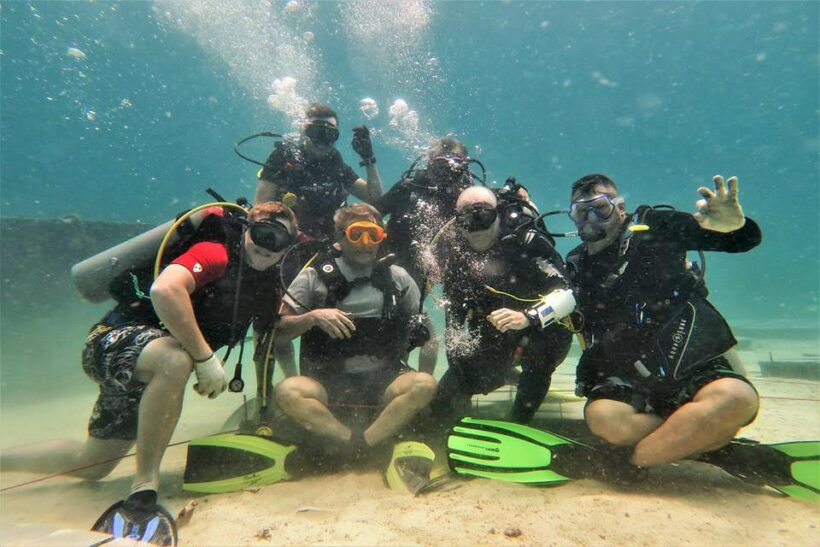 For the past few years the Department of Marine and Coastal Resources – Phuket Office has been working on the construction and installation of artificial reefs around the island. Two main areas have been selected, Koh Racha Yai (Bay3) and Koh Mai Thon.
The project consists of placing construction blocks on the seabed in order to provide 'pads' on which broken living corals are planted.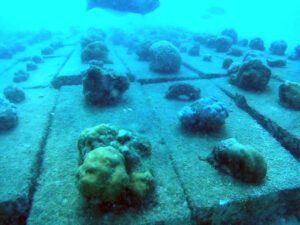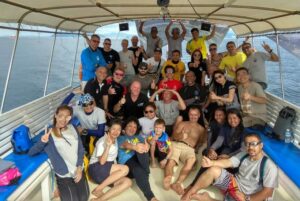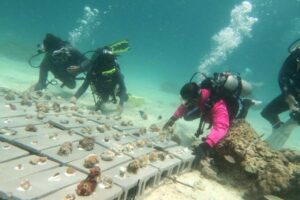 This year the DCMR invited some volunteers to join the project.
Volunteers were required to be experienced divers and able to carry heavy materials underwater.
All air, weights, work related equipment and training, breakfast, lunch, fruit, hot and cold drinks, oxygen and First Aid kit were provided by DCMR. Briefings were conducted in both Thai and English.
There were 3 foreign volunteers who started with the project, then 6 and finally 12 on the final date (August 20).
These are the dates and locations where the team were laying the new artificial coral beds:
July 18, 2017 at Koh Mai Thon
July 21 & 22 at Koh Khai
August 1 at Koh Racha Yai
August 2 & 4 at Koh Mai Thon
August 18, 19 & 20 at Koh Mai Thon
The team is keen to spread the word about this project to help with the regeneration of coral around the islands of Phuket. It's an important cause and the team is proud to work hand in hand with the DCMR, providing the logistics and their expertise for the dives.
Next projects (last for this season)
August 21 and September 1, 2 & 3 at either Koh Racha Yai or Koh Mai Thon
For more information contact:
Dave Wilson – 08 4379 6654
Johann Boissenin – 09 0280 1434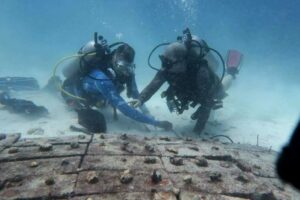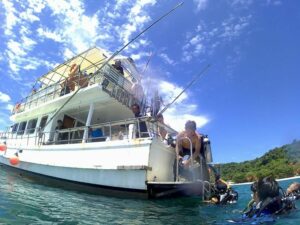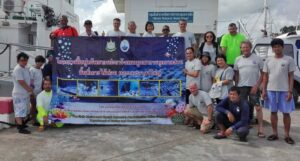 PHOTOS: Department of Marine and Coastal Resources-Phuket Office


Read more headlines, reports & breaking news in Phuket. Or catch up on your Thailand news.
Two shot in Phuket Town beauty spa this morning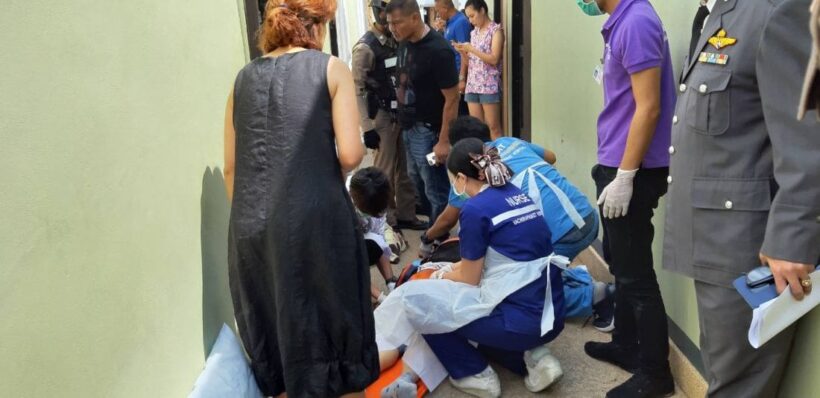 A South Korean man and Thai woman have been injured in spa shooting in Phuket Town.
The two sustained serious injuries from bullet wounds after having been shot at the spa in Wichit today.
Wichit Police reports that they was notified of an incident at 'The Beauty Spa' in Wichit at 10.30am this morning.
Police and emergency responders arrived at the scene to find two injuried from gun shots – a 74 year old South Korean man, Kwang Hee Kim, and father of Ms Eun Mi Kim, the owner of the Beauty Spa.
The other person injured was a 56 year old Thai woman named as Somsri Chuatonghua who is staff at the spa.
They were both taken to Vachira Phuket Hospital. The suspect, Somphon, a house-keeper at the spa, is currently being sought by police.
Two injured after stepping on suspected mines at a Krabi island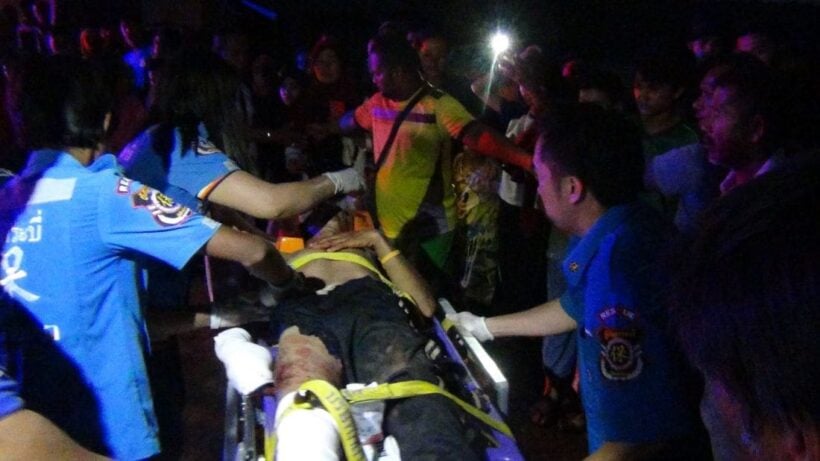 Two Thai men have sustained serious injuries after stepping on a mine at an island near Ao Nang, Krabi.
The Ao Nang Police were notified about the two men being injured from the incident in Ao Nang at 6pm last night.
35 year old Somchaai Longj sustained injuries on his legs, shoulder and a broken leg from the explosion and was taken to Krabi Hospital. The other injured person was 25 year old Boonrod Thongdee who was taken to a hospital in Phang Nga.
38 year old Somkid Tongdee says that he was heading from Koh Mak in Phang Nga Bay with two others friends to an island near Ao Nang in Krabi to collect wild orchids near a cave.
"Boonrod stepped on something in the ground before we heard the sound of an explosion."
At this stage police speculate that the bomb might belong to a company who received a concession to produce and farm bird nets. They speculate they might have placed the mines to prevent and deter thieves.
The Thaiger has sought comment from provincial police about the possible presence of live mines on a Krabi island.
Specialist clinics for pollution-related symptoms to be set up around the country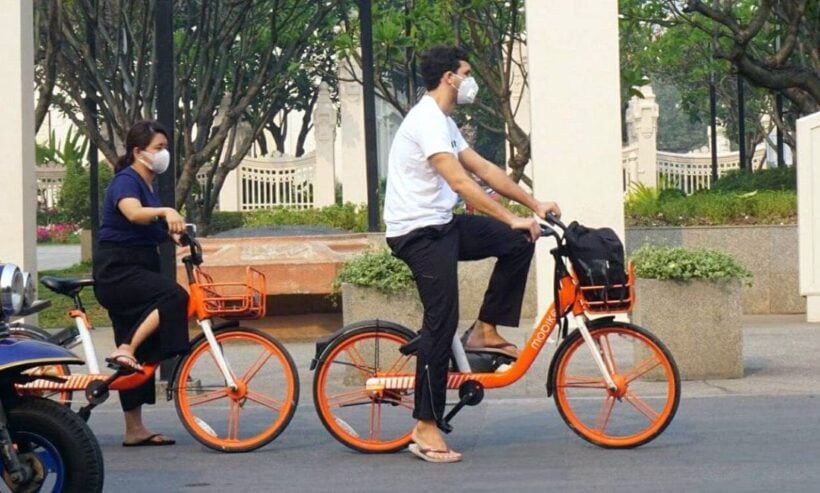 The Public Health Ministry says they are now preparing to set up specialised clinics to treat patients suffering from pollution-related symptoms in the northern parts of the country.

"At present, we have just one such clinic in the country. So, we have decided to introduce many more," according to permanent secretary Dr Sukhum Karnchanapimai.

He made the pledge in response to the high levels of choking smog and smoke that has been haunting several provinces of Thailand in recent months.

"We plan to set up pollution clinics in the North and the Northeast before the end of this year," Sukhum said.

Currently, the country's only 'pollution clinic' is located at Nopparatrajathanee Hospital in Bangkok.

According to the permanent secretary, the Medical Services Department has already prepared a manual on how to set up pollution clinics for hospitals to use.

Certain groups of people face a graver threat than the general population from dust problems: those working outdoors, young children, pregnant women, the elderly, asthma patients, and those suffering respiratory disorders.

Disease Control Department deputy director-general Dr Kajohnsak Kaewjarus said about 22,000 people had sought medical help about symptoms that could be associated with smog and air pollution.

"The most common symptoms concern respiratory disorders, heart and coronary-artery disease, eye inflammation and inflamed skin."

Health Department director-general Dr Panpimol Wipulakorn said people should try to protect themselves.

"Minimise exposure to dust. Keep your home clean. When going outdoors, wear a facemask. And if you develop health problems, go see a doctor," she said.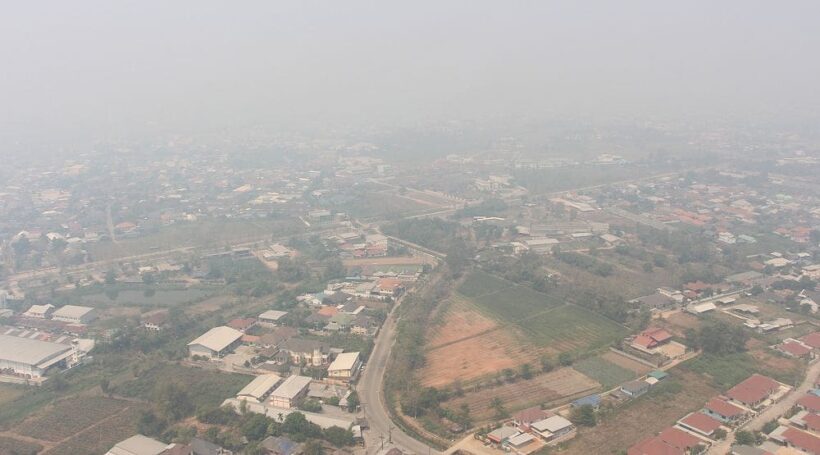 SOURCE: The Nation