Fixing Phuket's coral. Restoration projects around Phuket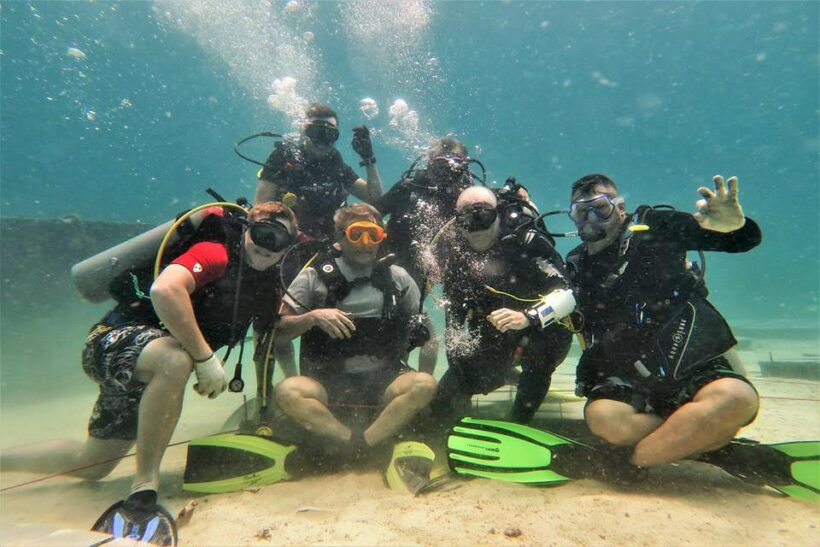 For the past few years the Department of Marine and Coastal Resources – Phuket Office has been working on the construction and installation of artificial reefs around the island. Two main areas have been selected, Koh Racha Yai (Bay3) and Koh Mai Thon.
The project consists of placing construction blocks on the seabed in order to provide 'pads' on which broken living corals are planted.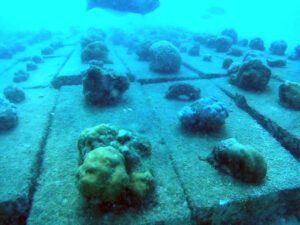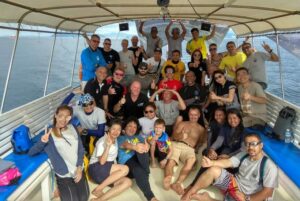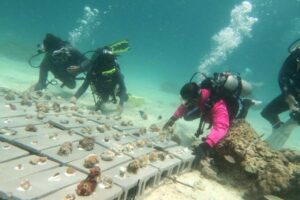 This year the DCMR invited some volunteers to join the project.
Volunteers were required to be experienced divers and able to carry heavy materials underwater.
All air, weights, work related equipment and training, breakfast, lunch, fruit, hot and cold drinks, oxygen and First Aid kit were provided by DCMR. Briefings were conducted in both Thai and English.
There were 3 foreign volunteers who started with the project, then 6 and finally 12 on the final date (August 20).
These are the dates and locations where the team were laying the new artificial coral beds:
July 18, 2017 at Koh Mai Thon
July 21 & 22 at Koh Khai
August 1 at Koh Racha Yai
August 2 & 4 at Koh Mai Thon
August 18, 19 & 20 at Koh Mai Thon
The team is keen to spread the word about this project to help with the regeneration of coral around the islands of Phuket. It's an important cause and the team is proud to work hand in hand with the DCMR, providing the logistics and their expertise for the dives.
Next projects (last for this season)
August 21 and September 1, 2 & 3 at either Koh Racha Yai or Koh Mai Thon
For more information contact:
Dave Wilson – 08 4379 6654
Johann Boissenin – 09 0280 1434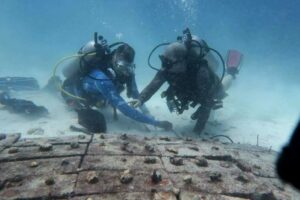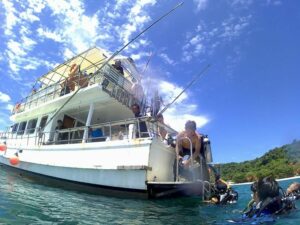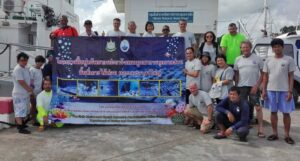 PHOTOS: Department of Marine and Coastal Resources-Phuket Office
- Tanutam Thawan
Phuket lifeguards warn about Portuguese man-o-war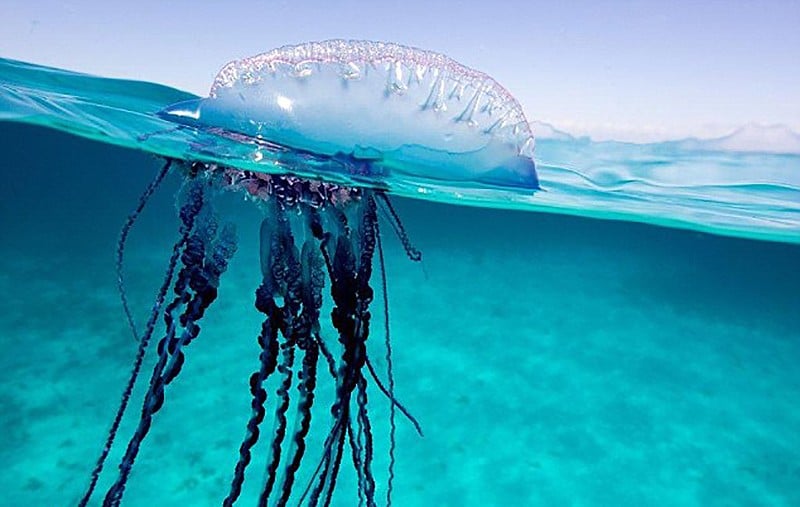 Phuket Lifeguards are warning swimmers after Portuguese man-o-war have been spotted on Phuket's west coast beaches today (June 18).
"Warning to all beach swimmers that a Portuguese man-o-war was found on Nai Yang beach, Mai Khao Beach and Patong Beach. If you feel pain on your skin it may caused by their sting. Please contact a lifeguard on your beach for treatment or seek medical assistance at a local hospital," the message reads.
Also known as the 'blue bottle', they are a common occurrence off Phuket during the monsoon season. The jellyfish can also be broken up by the south-west swell but their little 'stingers' still floating around in the water causing irritation.
Anyone who suffers a sting from Portuguese man-o-war will not soon forget it, according to lifeguards. Signs and symptoms can include searing pain, usually with a single raised white welt with prominent beading effect. Multiple welts may occur with mass stinging as the jellyfish tentacle drags across your skin.
Whilst it is extremely rare for a sting from a Portuguese man-o-war to cause a fatality, swimmers should be aware of the possibilities of the painful sting. Human swimmers are just in the wrong place at the wrong time and swim into the tentacles – the Portuguese man-o-war don't know how to 'attack' or swim towards its unforeseen victims.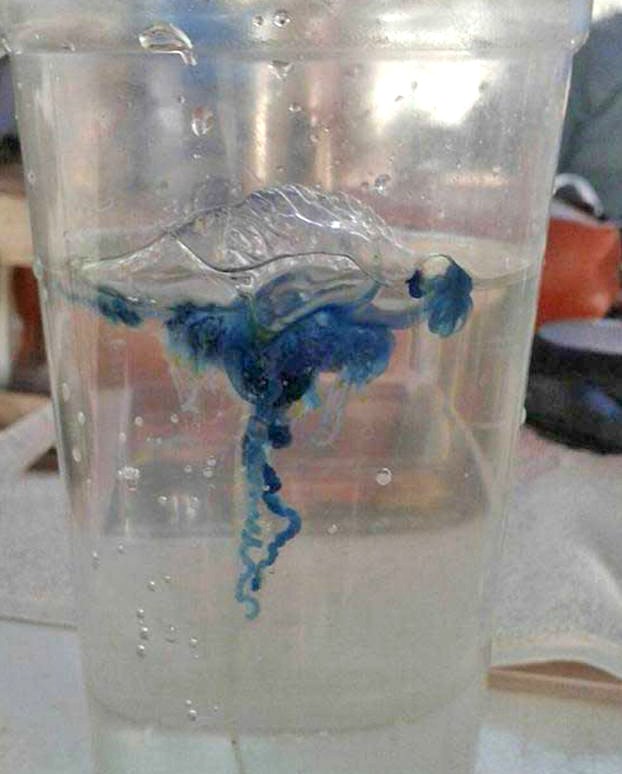 The 'box jellyfish' is not seen in the Andaman waters, but kills a few swimmers each year along the Gulf of Thailand coast. You can read about the far more dangerous box jellyfish HERE.
PHOTOS: Phuket Lifeguard Service
Bangkok: 30 sex offenders nabbed at Thai airports since the start of 2018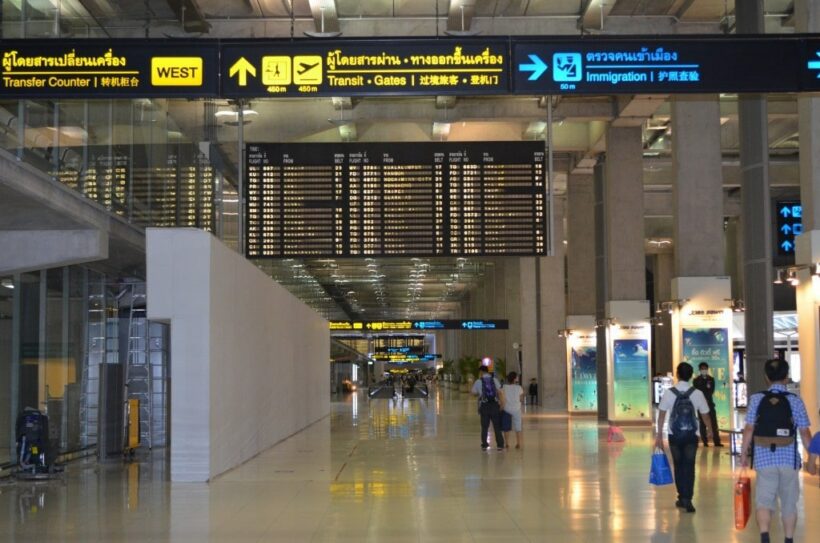 Thai Immigration are reporting successes using the new Advance Passenger Processing System where warnings come up on the screens of Immigration staff as people are processed on arrival at Thai airports.
Daily News is reporting that Thai Immigration says 30 sex offenders have been arrested at five Thai airports since the start of this year. They claim that this represents about 20% of all serious criminals stopped at Thai airports.
Pol Col Cherngron Rimphadee, deputy immigration commissioner, said that 156 foreign nationals that represented a serious threat to Thailand's security had been arrested.
The figures referred to Suvarnabhumi, Don Muang, Chiang Mai, Hat Yai and Phuket airports from January to June.
The 30 sex offenders were part of a larger group of 3,461 people who came under suspicion for exploiting Thailand as a "Sex Country" Daily News reported.
Twelve of the 156 were found to have fake passports, fake pictures in their passports or fake visas and stamps.Pol Col Cherngron hailed the force's Advance Passenger Processing System for the successes.
SOURCE: Daily News
Thaiger Radio News – Monday