Fixing Phuket's coral. Restoration projects around Phuket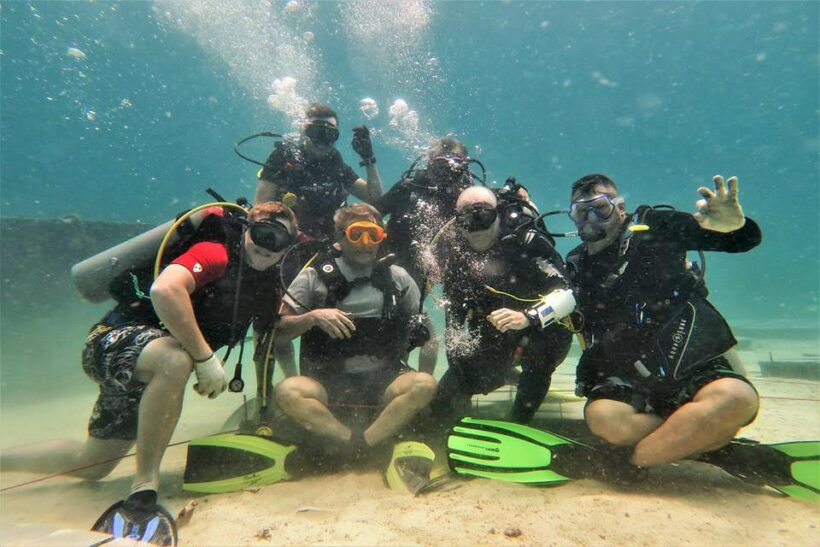 For the past few years the Department of Marine and Coastal Resources – Phuket Office has been working on the construction and installation of artificial reefs around the island. Two main areas have been selected, Koh Racha Yai (Bay3) and Koh Mai Thon.
The project consists of placing construction blocks on the seabed in order to provide 'pads' on which broken living corals are planted.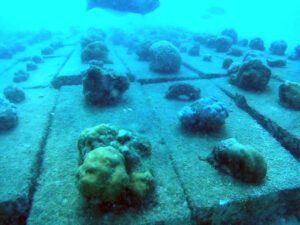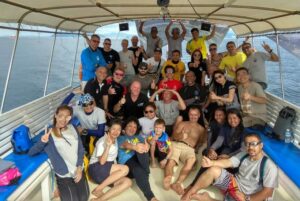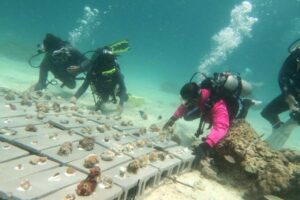 This year the DCMR invited some volunteers to join the project.
Volunteers were required to be experienced divers and able to carry heavy materials underwater.
All air, weights, work related equipment and training, breakfast, lunch, fruit, hot and cold drinks, oxygen and First Aid kit were provided by DCMR. Briefings were conducted in both Thai and English.
There were 3 foreign volunteers who started with the project, then 6 and finally 12 on the final date (August 20).
These are the dates and locations where the team were laying the new artificial coral beds:
July 18, 2017 at Koh Mai Thon
July 21 & 22 at Koh Khai
August 1 at Koh Racha Yai
August 2 & 4 at Koh Mai Thon
August 18, 19 & 20 at Koh Mai Thon
The team is keen to spread the word about this project to help with the regeneration of coral around the islands of Phuket. It's an important cause and the team is proud to work hand in hand with the DCMR, providing the logistics and their expertise for the dives.
Next projects (last for this season)
August 21 and September 1, 2 & 3 at either Koh Racha Yai or Koh Mai Thon
For more information contact:
Dave Wilson – 08 4379 6654
Johann Boissenin – 09 0280 1434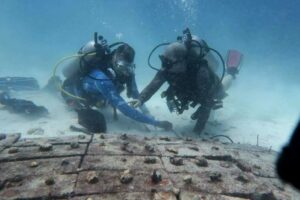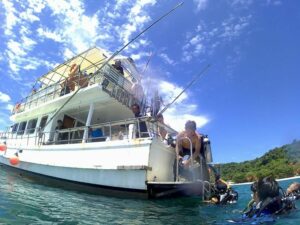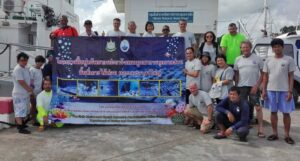 PHOTOS: Department of Marine and Coastal Resources-Phuket Office

Chiang Rai shaken but not stirred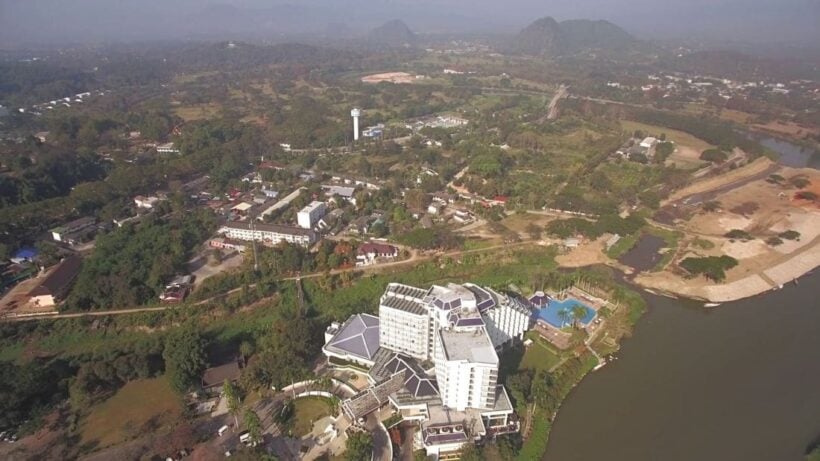 Three minor earthquakes hit the Chiang Rai area this morning according to the Meteorological Department's Seismological Bureau. The first quake was just before 9am with a magnitude of 3.3 with an epicentre 3.3 kilometres underground at latitude 19.70 and longitude 99.72.
People say they felt the tremor but there were no injuries or damage to be reported.
A 2.0-magnitude tremor followed at 10.14 in Mae Lao district, at latitude 19.74 and longitude 99.69.
The third at 10.37 had a magnitude of 1.9 at latitude 19.70 and longitude 99.72 in Phan district.
Morning collision leaves 18 injured, mostly students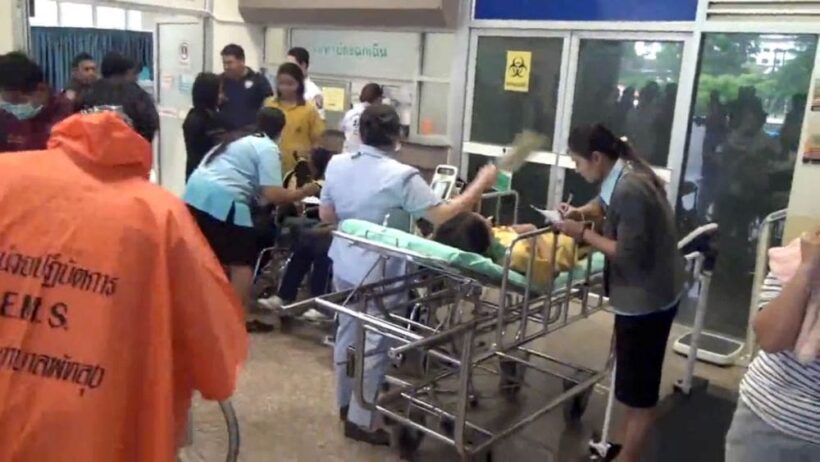 Fifteen students and three adults have been injured after a cold-storage truck collided with a song-taew bus on a Phatthalung road this morning, south of Krabi province.
The injured were taken to Phatthalung Hospital following the 7am incident at a curve on the Asia Highway in Moo 3, Tambon Tha Kae, in Muang district.
There was high drama at the hospital with the students crying and hospital staff rushing to treat them. Police said three of the students had been critically injured.
The bus was already full with students heading to school when it stopped at the curve to pick up another passenger. Police say the six-wheel truck rear-ended it as the driver pulled onto the road, causing both vehicles to fall to the roadside.

STORY: The Nation
Canadian and British graffiti vandals spared jail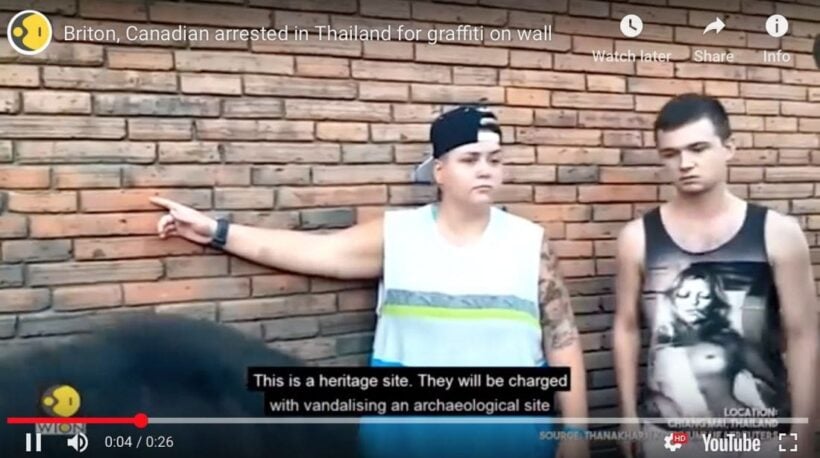 Canadian media is reporting that a Canadian citizen and a British man have been able to avoid jail time over the spray painting of the Tha Pae historical wall in Chiang Mai.
Read the original story HERE.
There was 10 years jail staring them in the face after police nabbed them over the matter. But instead of ten years in jail 22 year old Brittney Schneider and 23 year old Lee Furlong were given 100,000 baht fines  instead.
Brittney said on CBC that she had "learned her lesson and along with her mother had been doing lots of cultural things in Chiang Mai like visiting temples".
She was "thrilled not to be blacklisted and would come back to Thailand one day as it was a great country".
On her Facebook page she said…
"I realize I've made a huge mistake, one that in most eyes is unforgivable. I'm beyond sorry for what I did, not because I got caught but because I painted on such a sacred wall. I realized a few seconds too late that what I was doing was not okay.
All I can do is try to move on and show I'm sorry, and be remorseful and try and give back as much as I can to this beautiful country".
Lee Furlong, based in Liverpool, UK, hasn't made any public statements regarding the fine.
The pair were caught on CCTV on October 19 spraying "Scouser Lee" and the letter "B" on the historic Chiang Mai wall.