Teaching children to avoid sexual predators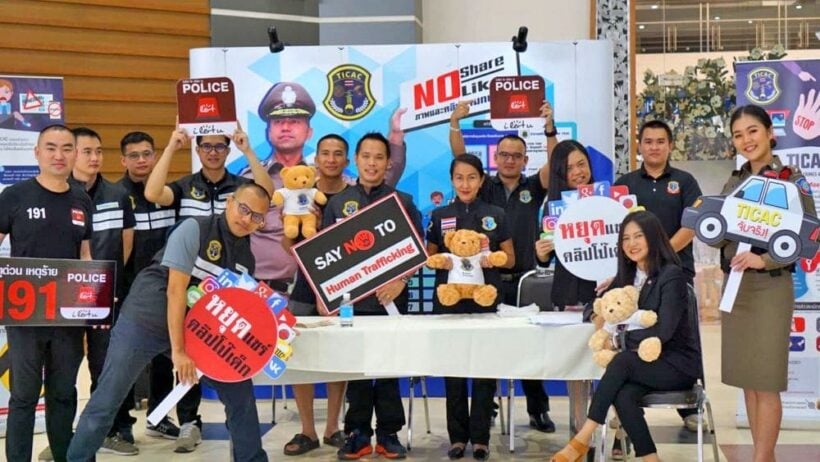 "These clips are then recorded and sold to a secret group."
Members of the police-led Thailand Internet Crime against Children (TICAC), Zoe International and the Hug Project are educating students on how perpetrators lure victims and use their sexual information and images to further extort sexual favours.
"Their plans are very complex," said Wirawan 'Boom' Mosby, founder and director of the Hug Project, which co-launched the program with Zoe International and TICAC yesterday.
Sexual predators have migrated to the Internet over the past few years, thanks mainly to development in technology and strong police suppression in real time, Wirawan said.
She said both boys and girls are being targeted, citing a TICAC case that involved more than a hundred teenage boys.
In a typical scenario, she explained, a paedophile sets up a fake account on social media such as Line, Facebook or Skype, using the image of a beautiful girl as a profile picture to get close to the target. After building affection and trust, the predator might then send a clip of a woman masturbating, and ask for a similar clip in exchange. These clips are then recorded and sold to a secret group.
As the target is often scared about the clip being leaked, the predator is able to extort more videos, Wirawan explained.
As per the Hug Project, two teachers in each school will be trained to help students avoid falling prey to online sexual coercion and extortion. The students will know which teachers they can reach out to, and the teachers in turn can report the case to Hug Project officers or TICAC.
"We will use technology to fight technology," Wirawan added.
The project will also limit students' access to adult content. By installing OpenDNS on their Wi-Fi routers, schools will be able to block pornography and websites deemed "unsafe" from being accessed by devices connected to the school's Wi-Fi.
Wirawan's company, Movaci Technology, will also offer free technical support.
For now, the programme includes eight state-run schools and three private foundations, along with about 3,000 students, but Wirawan hopes the initiative will be adopted nationwide.
"I hope the Education Ministry adopts and implements this project in all schools," she said.
TICAC chief Pol Maj-General Surachet Hakpal said police had investigated 128 cases of child pornography and 39 of child trafficking between 2015 and 2018.
Of the 140 suspects, 45 were foreigners and the remainder Thai. Police rescued 107 children – 33 boys and 74 girls.
Wirawan has been honoured by the US State Department for combating child trafficking in Thailand.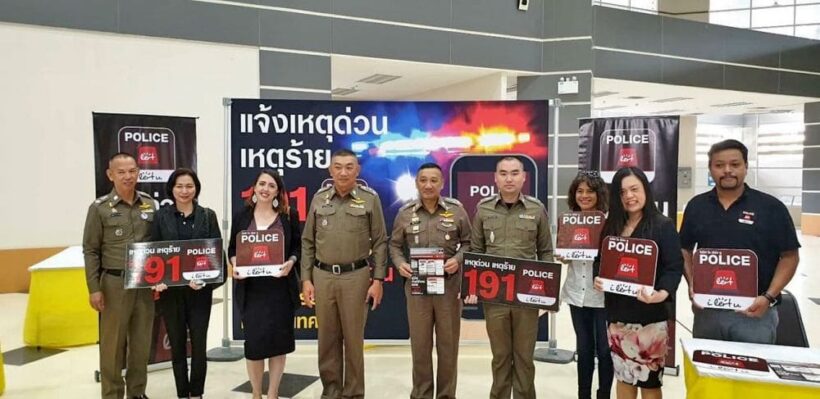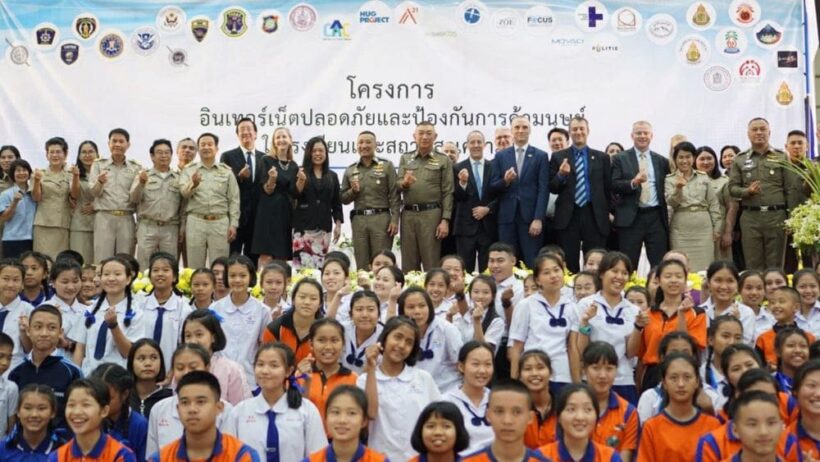 STORY: The Nation


Read more headlines, reports & breaking news in Chiang Mai. Or catch up on your Thailand news.
Chinese tourist caught stealing GoPro from couple – VIDEO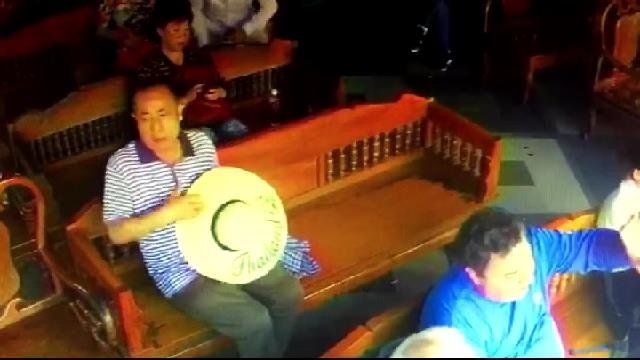 A Chinese man has been caught stealing a camera from a Spanish couple in Chiang Mai.
The incident happened on Tuesday and was captured on CCTV. The Spanish tourists had been visiting Wat Phra That Doi Suthep when they put a GoPro camera on the bench they had been sitting on. After realising they'd left the camera there, they returned but the camera was gone.
They reported the missing GoPro to police who checked the CCTV footage which shows the camera was picked up by a man wearing a large hat.
The man had been sitting behind the Spanish couple and picked up the camera after he saw it had been left on the bench. He goes to sit where the camera had been left before using his large hat and shirt to disguise the fact he was allegedly stealing the camera.
The man was part of a Chinese tour group who police later tracked down to the Old Chiang Mai Cultural Centre. When approached by police the Chinese man handed over the camera telling officers that he had intended to hand it in but wasn't sure how or where to report the matter.
Channel 7 reports that the incident seemed to have been put down to a 'misunderstanding', with the camera eventually being returned to the Spanish couple. According to Thai media the Chinese man has not been charged with theft.
Meanwhile, a British tourist, who used the same excuse after picking up a mobile phone left on the ground outside Chiang Mai Airport in February, was charged with theft and ended up in jail for ten days. Story HERE.
SOURCE: Chiang Mai News
Police defend theft charges on British backpacker Chris Dodd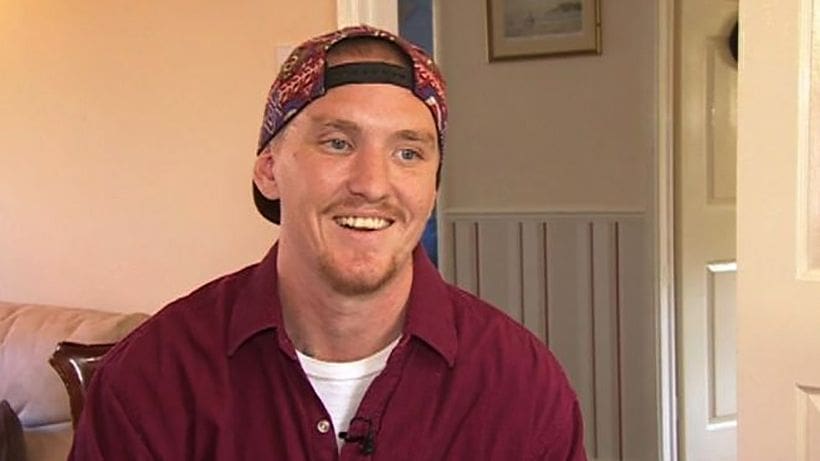 PHOTOS: Chris Dodd, BBC
Police are defending their actions when they charged a British backpacker with theft after he picked up a mobile phone at Chiang Mai airport last February.
29 year old Chris Dodd spent 10 days in jail in February after he was charged with stealing the phone belonging to a German tourist and remanded in custody by a court. Chris insists that he intended to hand the phone in when he arrived at his accommodation.
Read the original Thaiger story HERE.
The charge was dropped after his family and friends back home raised 828,690 baht to pay a fine on his behalf. Dodd has since returned home and continues to protest his innocence.
He has also complained in interviews with the local media that he was forced to have his dreadlocks shaved while he was detained and had to sleep in an overcrowded jail where nobody spoke English.
Dodd, a tattoo artist, told the BBC that he found the phone just as he was about to get into the taxi after arriving at the airport.
The broadcaster says he told them he picked it up the phone and while looking for its owner he moved it to a different location, which is considered theft in Thai law.
Pol Colonel Krissana Pattanacharoen said police at Chiang Mai International Airport had been approached at 8.40pm on February 26 by a German tourist who said she had lost her mobile phone in the terminal.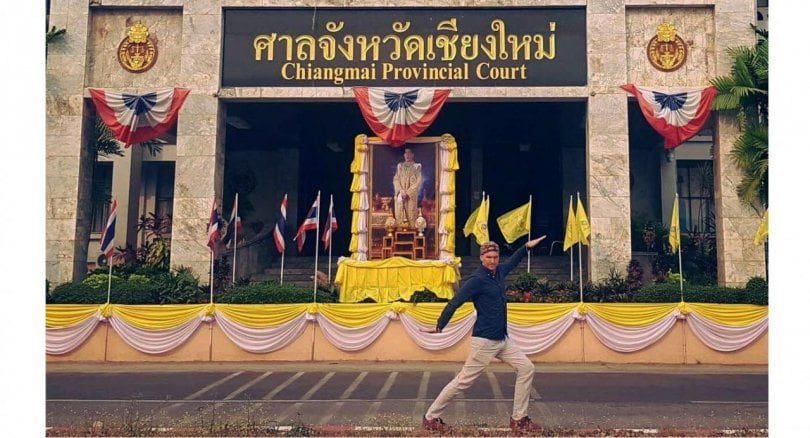 CCTV footage showed a foreigner with dreadlocks and white cap pick up the phone from the floor of the passengers' lounge before leaving the airport in a public van.
Police then traced the van to a guesthouse in Tambon Sripoom, Muang district and found the phone in the possession of British backpacker Dodd, who comes from Poole, Dorset.
"The SIM of the phone we confiscated from the British man had been removed, and the password and language changed," said Krissana.
"All the data had been wiped clean. Police then took him to the Pupingrachaniwet police station to be charged."
Based on the evidence, police charged him with theft and he was taken to Chiang Mai prison pending trial. He was freed on bail on March 11.
Krissana insisted that the shaving of the dreadlocks had been done in accordance with the regulations.
"We strictly follow the laws with respect to basic human rights," Krissana added.
"We are gathering information from his interviews to consider legal action against him."
BBC quoted Dodd as saying: "I was stripped naked, sent in, given a blanket. Then, the next thing you know you're being taken into the cells, where they house massive amounts of people.
"Nobody spoke English. It was really intimidating. You just have to fight for a space on the floor and you have people's legs all over you."
SOURCE: The Nation

British backpacker returns home for Easter after being jailed in Thailand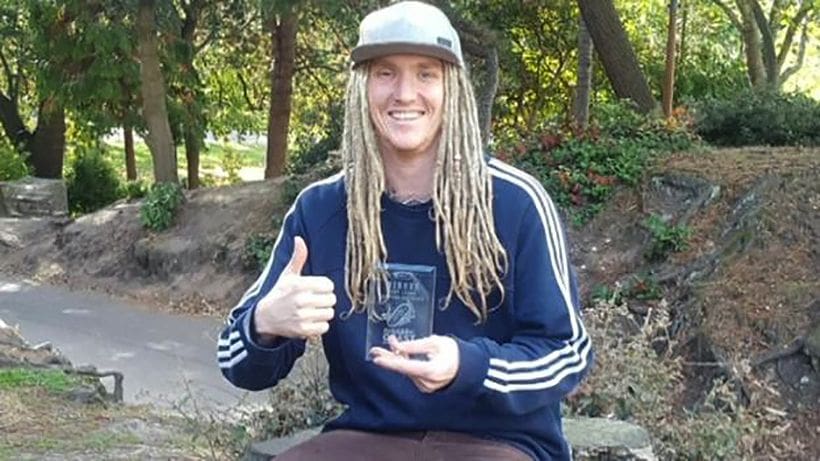 PHOTOS: Facebook.com
A British backpacker is back in the UK for Easter after being released from prison after being incarcerated for 10 days over a 'trivial' offence.
26 year old Chris Dodd told the BBC he was arrested for picking up a mobile phone he found on the ground whilst waiting for a taxi at the Chiang Mai airport. He was accused of theft after taking it with him to his accommodation.
According to Chris, he says he picked up the phone trying to find the owner. In doing so he moved it to a different location – considered theft under Thai law. He says his intention was to report it to police and find the owner when he arrived at his hostel accommodation.
Police identified him on airport CCTV. He was arrested at the hostel.
Prison guards shaved Mr Dodd's head but gave him the shaved-off dreadlocks saying he could keep them.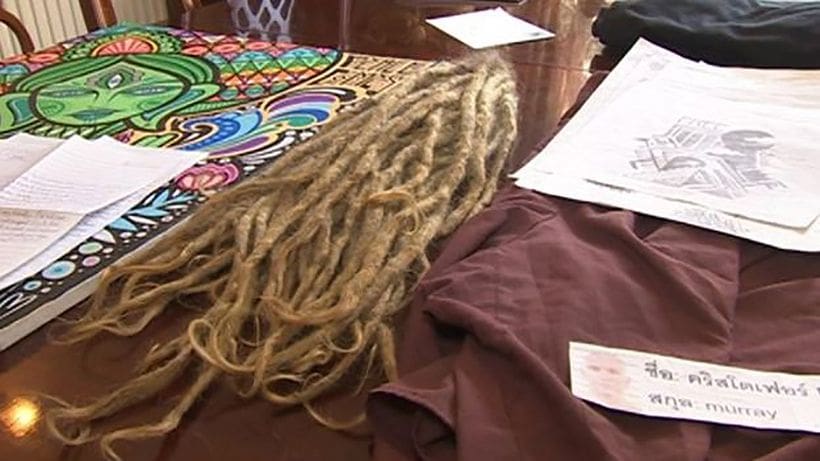 "I was stripped naked, sent in, given a blanket."
"Nobody spoke English. It was really intimidating. You just have to fight for a space on the floor and you have people's legs all over you," Chris told the BBC.
According to his lawyer he faced a five year prison sentence if convicted, but the charges against him were eventually dropped and he was able to leave Thailand. Mr Dodd was released on bail after family and friends raised £20,000 (828,000 baht).
His lawyer told Mr Dodd to leave Thailand immediately after being released. The charges were dropped last Friday.
SOURCE: BBC