Chiang Mai's Canadian spray painter released on bail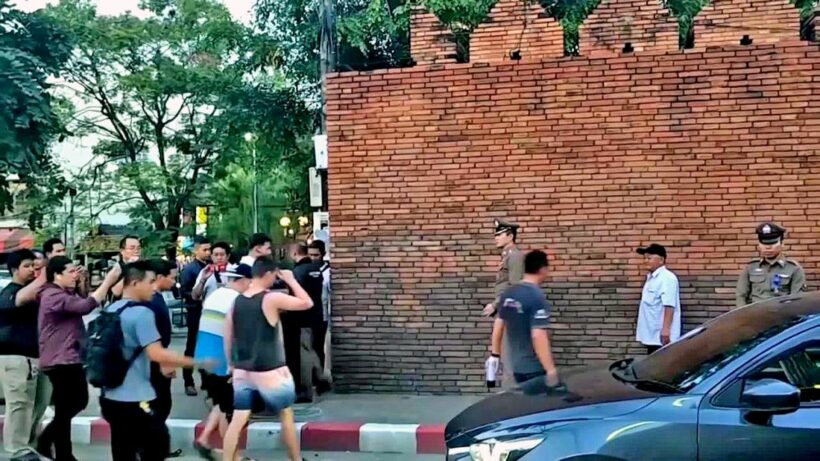 A Canadian woman, arrested in Chiang Mai for spraying graffiti on an ancient wall, says she's sorry for what she did and "terrified about what comes next".
22 year old Brittney Schneider, was in Chiang Mai last Thursday when she said she and some others got "ridiculously drunk."
Speaking to Canadian media, she says they started to walk back to their hostel, but came across a bottle of spray paint and picked it up. She, and a friend from Liverpool, England, started spraying graffiti on the brick walls.
"I came to as I finished writing the 'B' and I stopped because I knew it was bad," she claimed when speaking to The Canadian Press. She says she soon came to her senses.
"But it was already too late."
Security camera footage shows Brittany, from Grande Prairie, Alberta, Canada and a friend, 23 year old Furlong Lee, spraying paint on the walls of the famous Tha Pae Gate in the northern city.
Tha Pae Gate, originally built in the 13th century and then rebuilt and renovated a number of times, is part of an ancient wall that forms a square around Chiang Mai's inner city. It's a popular tourist attraction.
The pair were charged with vandalising "ancient artifacts", which carries a penalty of up to 10 years in prison, a fine of 1 million baht or both.
Police say Lee, who is from Liverpool, England, admitted that he wrote "Scouser Lee" on the wall, while Schneider wrote the letter "B" underneath it. After they sprayed the wall they returned to their hostel and went to sleep, according to Brittney.
Watch CCTV video of the incident HERE.



Read more headlines, reports & breaking news in Chiang Mai. Or catch up on your Thailand news.
No fatalities or injuries reported in Lampang earthquake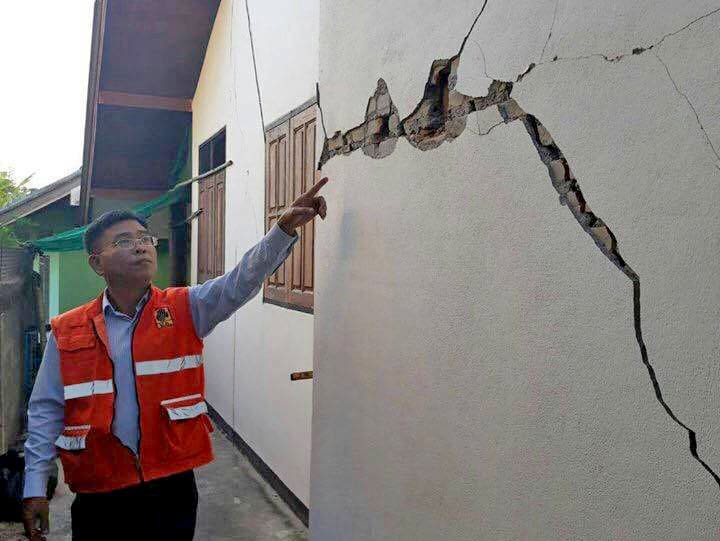 PHOTOS: NNT
No fatalities or injuries have been reported as a result of yesterday's earthquake in northern Thailand.
The tremors occurred 15 times and registered 4.9 magnitude with a 21 kilometre deep epicentre in the Wang Nua district of Lampang province, but caused no serious effect to villagers, according to a report of the Department of Disaster Prevention and Mitigation.
Authorities are closely monitoring the situation which might possibly lead to after-shocks throughout the northern region as the earthquake which reportedly occurred at 16.05 could be felt in the neighbouring provinces of Chiang Mai, Chiang Rai and Phayao.
A dozen houses were damaged by the earthquake in Thung Hua and Wang Kaeo communities of Wang Nua district of Lampang.
The Department of Mineral Resources's Earthquake Disaster Division Director Suwit Khosuwan said the 4.9 magnitude earthquake was a second tremor of a similar intensity in Thailand in 25 years since the so-called Phayao Fault occurred, putting the authorities on alert for possible after-shocks.
Meanwhile, an emergency operation centre has been set up in the district in the wake of the earthquake. For more information, please contact 087 181 2040.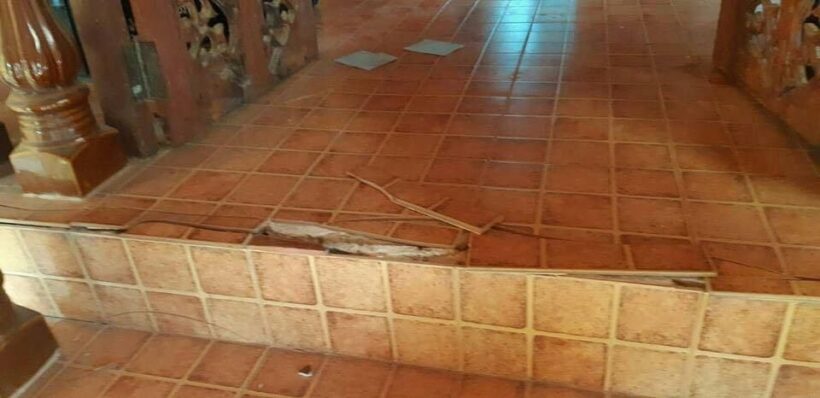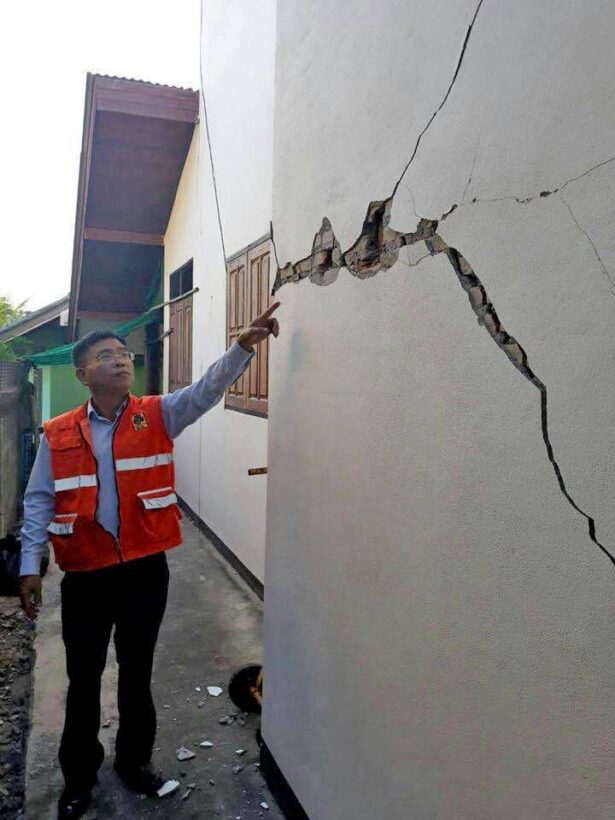 Better analysis needed to track down the source of new chemicals in illicit drugs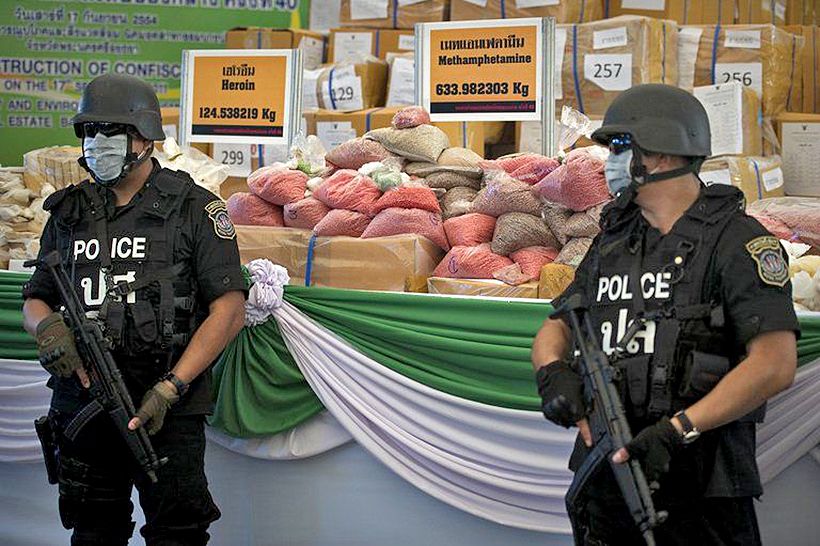 The Office of Narcotics Control Board has been training personnel in drug analysis to handle new illicit substances coming onto the streets.
A Chinese analysis lab has recently discovered 230 new psychotropic substances which are making their way into recreational drugs and other foods.
China has subsequently banned several beverages and sweets that contain these new illegal substances.
Thailand's Justice Minister Prajin Juntong says that better analysis was key in drug prevention and suppression, as it helped identify the sources of the precursor chemicals. Each source used different formulae or ingredients, he said.
"New chemicals that were not used in narcotics before, and not listed in official databases, are now being used. So each confiscated batch will no longer be destroyed right away but be analysed first."
"Lab tests are time-consuming and require new technology to ensure tests can keep up with the drug trade. This information was shared globally."
He reported that  Thailand has been cooperating with Australia, China and Singapore and other ASEAN countries in sharing knowledge and analysis techniques.
"Thailand usually serves as a transit country for narcotic smuggling to a third country."
China's National Narcotics Control Commission analyst Liu Peipei says her agency recently found 230 new psychoactive substances that could yield "highs", but had different ingredients from heroin, methamphetamine and other common drugs.
"Recently China has banned the sale of a beverage contaminated with a narcotic that may be harmful to consumers. We also found THC (the active chemical in cannabis) in chocolate and jelly," she said.
SOURCE: The Nation
Thailand will swelter through searing temperatures this summer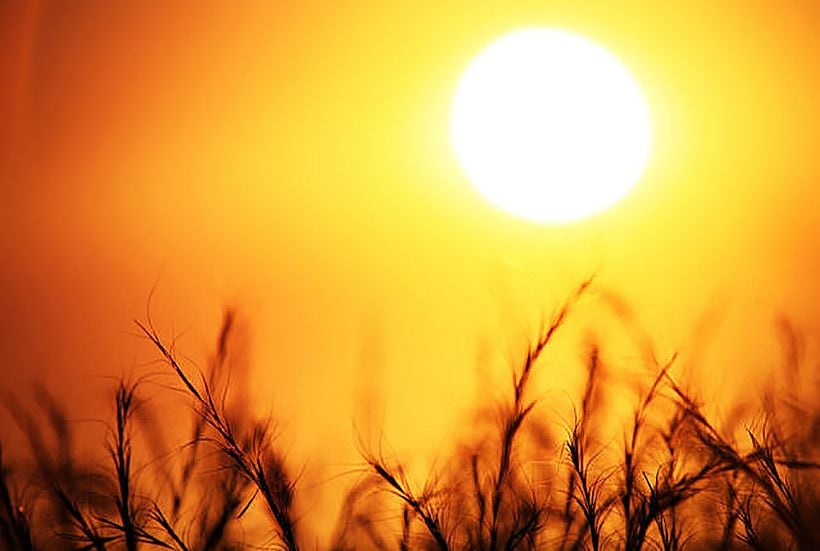 Temperatures in Thailand this summer is forecast to be 1-2 degrees Celsius warmer than last year. The announcement comes from the Thai Meteorological Department director-general Phuwiang Prakammin.
And it's predicted to hit 42-43C in seven provinces in northern Thailand.
In Thailand summer, as a regional season, is listed as running between February 21 to mid-May.
Phuwiang says daytime temperatures in March and April will hit 40C in much of the North, Northeast, Central and Eastern regions. But he doesn't foresee the record set on April 28, 2016, when Mae Hong Son, on the north-western border sweltered at 44.6C, being broken.
"But Mae Hong Son is one of the seven provinces forecast to reach 42-43C this year, the others being Lampang, Uttaradit, Sukhothai, Tak, Nakhon Sawan and Kanchanaburi."
"In southern regions, the maximum temperature will be 38-39C in Prachuap Khiri Khan, Surat Thani, Nakhon Si Thammarat, Yala, Krabi, Trang and Satun, accompanied by occasional rain and waves at sea up to a metre high."
"Rain will increase towards the end of April (the traditional start to the country's wet season is Songkran which is on April 13 each year), and waves will be up to three metres high."
"The weather in Pattaya in Chon Buri will match that of the South, with a maximum temperature of 35-37C in April."