Phuket Waste 101 – Dousing the burning issue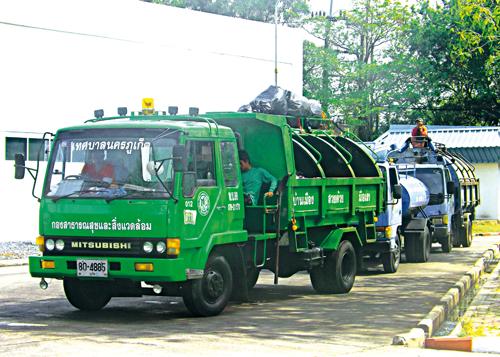 PHUKET: As you begin to read this article, try to recall your consumer decisions and habits today. Did you go to the convenience store? What did you buy? Was it put in a plastic bag? When you were done consuming, how did you dispose of your waste? What about lunch – did you have takeaway scooped into one of those convenient little white polystyrene boxes?
Now, consider this: Everyday, more than 700 tonnes of consumer and organic waste enters the island's collection and disposal system. This does not include all the litter discarded into the sea, canals, and onto public and private property, roads and parks. When this is taken into consideration, the daily amount of garbage produced and discarded in Phuket is probably more closer to 800 tonnes.
By some estimates, as much as 20 per cent of this gets recycled – but even this is a rather liberal guess.
In a previous article, entitled "Recycling 101: reducing a piling burden" (published in the June 1-7 issue), the Phuket Gazette examined the island's recycling infrastructure, systems and processes; Phuket is home to dozens of small and medium scale scrap yard operations and recycling depots that make a living, if not decent business, from buying back junk from individual consumers, as well as independent ma' and pa' collectors and brokers.
Despite this, so much of the massive sum of junk that might have been recycled, never gets a chance, and instead ends up at the repugnant Saphan Hin landfill, where it will ultimately end up feeding the incineration power plant, broken down into deadly dioxins that will be released into the air.
To get an idea of the magnitude of the situation, the Gazette recently toured Phuket's waste incineration power plant (WIPP), situated at the foot of Phuket Town's prime public sports and recreational zone.
"The plastic that ends up here has little-to-no value in the recycle market," says Amornrat Pakornyudh, a representative of Southern Green Management Co Ltd, a Southern-Thailand focused waste management solutions firm operating out of Phuket and Haad Yai.
As a somewhat-masked, yet distinctly foul aroma lingers throughout the air-conditioned conference room, Ms Amornrat shares her constructive insights.
No stranger to treacherous smells, Ms Amornrat was based at the WIPP facility from 1999 to 2009, working for Kumjornkit Construction Co Ltd, a private-sector entity that operated a "final stage" sorting operation.
"In those days, when the old, more deadlier [but now off-line] burner was in operation, the smells were a lot more overpowering," she recalls.
Today's massive bulk – some 600 tonnes that is burnt every day is predominately vegetation, mixed with glass, wood, fabric and loads of small shopping bags, or what locals refer to as "toong gop gap" [toong means bag, and gop gap is an onomatopoeia derived from the sound of crumpling plastic].
She explains that all this refuse bound for the burner, is typically drenched – either from "consumer malpractice", or naturally from the rain while in transport: this borderline-toxic concoction of spoiled babies' diapers, last night's leftovers, garden and landscaping scraps, rotting vegetables and fruit, is the ultimate brew of fuel.
According to one 2011 composition study by King Mongkut's University of Technology North Bangkok, nearly half, or 48% of the rubbish surveyed at the Phuket incinerator was vegetation. This was followed by plastics – both transparent and opaque varieties (17.4%), fabric (15.8%), kitchen wastes (9.6%), paper (5.2%), glass (3.4%) and metal (0.01%).
"The plastic you see here," Ms Amornrat reiterates, "including shampoo bottles, dairy drink cans and cartons, the 'gop gap' bags and other wrapping and packaging scraps, is either too difficult to resell, or will require too high a base cost to be viable to collect. Over the years, many foreign parties have come here and declared that an separation campaign is not only viable and possible, but can easily be done.
"But at the end, they all keep their distance as no one really wants anything to do with Phuket's rubbish. It simply is not worth it, at least economically speaking, to sort the rubbish before it's burned. It is extremely difficult to cover the cost of transporting the recyclables, let alone turn a profit."
This mounting economic obstacle specifically applies to Phuket, she notes, "…but not in places like Bangkok, and the Eastern Seaboard, where most of the [final stage] sorting and processing plants are located. In those places, it is a lot more convenient and viable to recycle."
She explains that in Phuket, where tourists out-number actual residents, there are already three stages of sorting that occur before the island's rubbish even reaches the incinerator.
"Most [plastic] items that tourists consume end up getting recycled from the start, as the [sorting and recycling] campaigns at many hotels have been effective for this group. Next, as soon as the [sorted once] rubbish is out in front [or back], then come the [private] "rot saleng" [private vehicles of individuals who earn income from selling/trading recyclables] who sift through and sort the rubbish a second time. Finally, the municipality trucks come to collect what's left over, where there is one final stage of sorting and salvaging [of] anything that was missed. There's nothing of value left by the time it gets to the incinerator."
Ms Amornrat explained that the final stage sorting operation she worked with – which is now redundant – employed about 50 workers, most of whose job was to go through the muck and try to salvage what they could, before it was incinerated.
Asked if any of the plastic salvaged from the landfill could be recycled, she responded without hesitation: "Yes, all of it can be, theoretically. However, it's just not viable.
"These bags must be collected and separated from the muck, then cleaned and sterilized, before being compacted for packing and shipping. One kilogram of [processed and cleaned] gop gap bags will maybe get one baht in the market. Try to imagine a team of four workers, working all day just collecting and cleaning bags – about how hard and tedious it would be just to cover the [Phuket to Bangkok] transport costs…"
Last year, this supposedly "valueless" aftertaste of modern consumerism weighed in at Saphan Hin at about 220,000 tonnes – that's 220 million kilograms of rubbish that was ultimately turned into air pollution.
To put this in perspective, imagine that all of that rubbish was instead magically turned into steel. This would be enough steel to build nine Titanics! Or, for a massive marvel from our own time, such an amount of steel could provide enough construction rebar to erect five of the world's current tallest building – the 830-meter-high Burj Khalif in Dubai – and you would still have about 23,000 tonnes of steel left over!
Unfortunately, it's not steel – it's smelly, seemingly useless waste that is valued only for its ability to produce a marginal amount of electricity. But the question remains – can it instead be salvaged and spared from the gigantic burner?
Ms Amornrat thinks it can. "One of the first things that outsiders commonly pitch, especially considering the rubbish' high organic content, is to make fertilizer. And while composting technologies have continued to improve, the fact is with rubbish, you can't control the input, so what you get is not always consistent – not without mixing [the piles] with different additives, such as manure, in order to adjust the NPK [Nitrogen, Phosphorous and Potassium] levels.
This is particularly not viable in Phuket as there is not a sufficient supply of manure here. Moreover, by producing agricultural compost and fertilizer, you would end up having to compete
— Steven Layne

Join the conversation and have your say on Thailand news published on The Thaiger.
Thaiger Talk is our new Thaiger Community where you can join the discussion on everything happening in Thailand right now.
Please note that articles are not posted to the forum instantly and can take up to 20 min before being visible. Click for more information and the Thaiger Talk Guidelines.