Phuket Chinese New Year: fruit up 30%, no change in meat, vegetables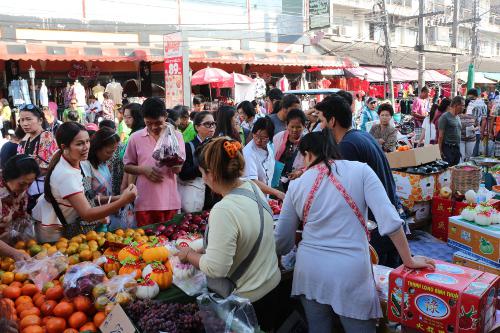 PHUKET: Produce shoppers did not seem deterred by the 30% annual increase on fruit prices ahead of the Chinese New Year celebrations, a visit today to one of the Phuket's main fresh markets revealed.

Meanwhile, no significant annual change was observed in the price of most vegetables and two staple meats – chicken and pork.

Earlier today, the Gazette visited the busy Kaset Market in Phuket Town, which was packed with ethnic-Chinese Phuket residents preparing for ancestor veneration rites tomorrow, January 30.

One meat vendor "Ms Chan" told the Gazette: "We sell our meat at the normal price, it might have increased slightly from last year (click here for last year's story), but has not been marked up for Chinese New Year. We don't want to increase the price based on high demand as we really understand the consumers' needs."

Indeed, Ms Chan's prices were consistent with other vendors: raw imported chicken for 75 baht/kg; local chicken 140baht/kg; pork 140 baht/kg; shredded pork 160 baht/kg; boiled chicken 180 baht/piece; steamed chicken 280 baht/piece; duck stewed in gravy 450 baht/piece and pork head stewed in gravy for 500 baht/piece.

Another cooked-meat vendor, "Mr Dum", concurred that this year is business as usual: "The number of people who have put in orders for cooked chicken and pork for the veneration ceremony is the same as last year, or about 500-600 pieces, which we will deliver tomorrow (Jan 29)."

"Our prices are the same as they were during this period last year. We don't want to take advantage of the situation, and increase the price too much as it might affect people and the great [ancestor veneration] ceremony," he added.

Meanwhile, the Gazette's impromptu inspection revealed that the average increase in fruit prices was about 30% from last year; for example, grapes were up to 300 baht/kg, oranges 120 baht/kg, melons 35 baht/kg and pineapples 15-35 baht/piece.

Tesco Lotus one-stop shop for Chinese New Year

Tesco Lotus has vowed to keep its prices competitive over the Chinese New Year Period, which often seed price inflation due to high demand.

Tesco will also mark the Year of the Horse with a handbook on preparing for Chinese New Year by three famous cultural experts, as well as a new Tesco Lotus app feature that tells fortunes and gives out discount coupons.

"We aim to beat the market on both range and price this Chinese New Year," said Tesco Lotus Marketing Director Wanna Swuddigul.

"Tesco Lotus one-stop shopping this year focuses on high quality fresh products, from fruits and vegetables to duck and chicken. A wide range of auspicious Chinese New Year veneration sets, paper offerings, festive decorations and house cleaning equipment are also available at special prices."

These include reduced prices from last year on many Chinese New Year essentials including Chai Sing Ah offerings such as incense, An Pao envelopes and Nguan Chiang soy sauce with mushroom.

"We believe that customers will continue shopping at Tesco Lotus during this coming Chinese New Year at the same level as previous years. Although there are political uncertainties, customers will still pray for good luck and Tesco Lotus have all the products they need at prices cheaper than last year.

Moreover, Tesco Lotus is giving Clubcard points and many discount coupons so customers can be confident that they would get the best value at our stores", added Wanna.

All 1,600 Tesco Lotus stores in Bangkok and upcountry are opening as normal with sufficient products stocked to cater for customers' convenience.
Keep in contact with The Thaiger by following our Facebook page.
Never miss out on future posts by following The Thaiger.
Turbulence ahead for Thailand's aviation industry | VIDEO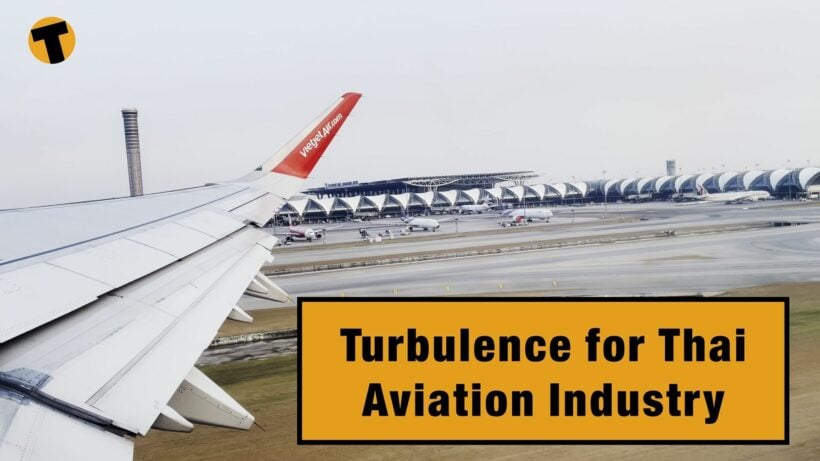 When the airlines, in particular, were asking the government to put their hands in their pockets for some relief funding in August last year, it was genuinely thought that international tourists would be coming back for the high season in December and January. At the very least local tourists and expats would head back to the skies over the traditional holiday break. And surely the Chinese would be back for Chinese New Year?
As we know now, none of that happened. A resurge in cases started just south of Bangkok on December 20 last year, just before Christmas, kicking off another round of restrictions, pretty much killing off any possibility of a high season 'bump' for the tourist industry. Airlines slashed flights from their schedule, and hotels, which had dusted off their reception desks for the surge of tourists, shut their doors again.
Domestically, the hotel business saw 6 million room nights in the government's latest stimulus campaign fully redeemed. But the air ticket quota of 2 million seats still has over 1.3 million seats unused. Local tourists mostly skipped flights and opted for destinations within driving distance of their homes.
As for international tourism… well that still seems months or years away, even now.
Keep in contact with The Thaiger by following our Facebook page.
Never miss out on future posts by following The Thaiger.
Domestic air passenger numbers double those of January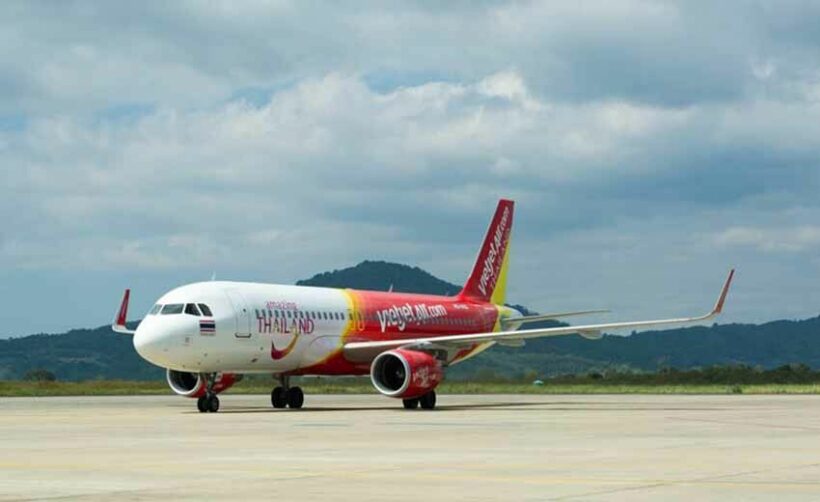 Passenger numbers on domestic flights within Thailand have doubled within a month, rising from 4,000 in January to over 10,000 this month. Having nearly recovered to pre-pandemic levels, domestic travel plummeted once more when Covid-19 resurfaced late last year.
Apirat Chaiwongnoi from the Department of Airports says 15 of Thailand's 29 airports are now operating domestic flights, with more expected to follow. He believes the aviation sector will continue to recover further in the coming 6 months, bolstered by the national vaccine rollout.
Around 120 domestic flights a day are now operating, which is twice the number that were operating at the lowest point in the crisis. Prior to the resurgence of the virus in December, domestic passenger numbers had recovered to 30,000 – 40,000 a day, around 80% of pre-pandemic numbers.
The DoA says airports must continue to adhere to the Covid-19 hygiene measures put in place by the Health Ministry and the Civil Aviation Authority of Thailand.
SOURCE: Bangkok Post
Keep in contact with The Thaiger by following our Facebook page.
Never miss out on future posts by following The Thaiger.
Samut Sakhon's shrimp market to remain closed until February 15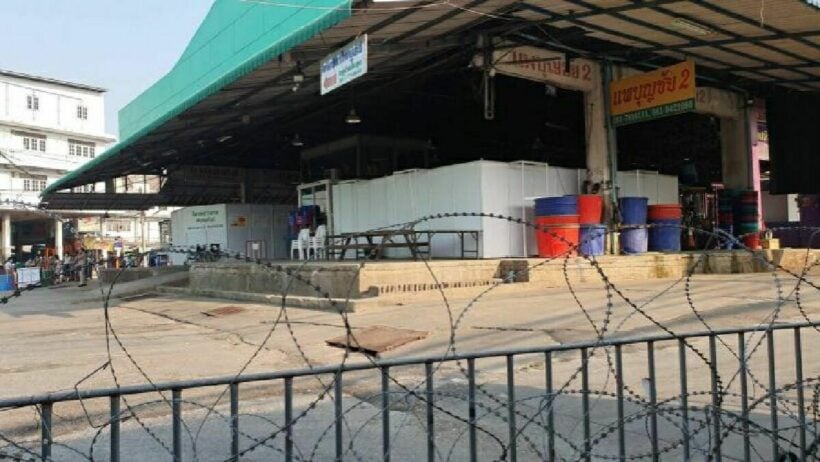 Samut Sakhon's Central Shrimp Market, the epicentre of Thailand's recent wave of Covid-19, will remain closed until February 15. The market can reopen once the overall hygiene situation at the market and surrounding area has improved, according to the province's disease control committee.
Local officials say the shrimp market needs to remain closed until the market structure and nearby residential facilities are inspected. People who violate the order face up to a year in prison and a fine up to 100,000 baht.
More than 12,000 people in the province have tested positive for Covid-19. The increasing number of infections is a result from the active case finding to contain the spread of the virus.
SOURCE: Thai PBS World | Thairath Online
Keep in contact with The Thaiger by following our Facebook page.
Never miss out on future posts by following The Thaiger.