Phuket Gazette Thailand News: Election standoff begins; Police deployed; Reds rile rice farmers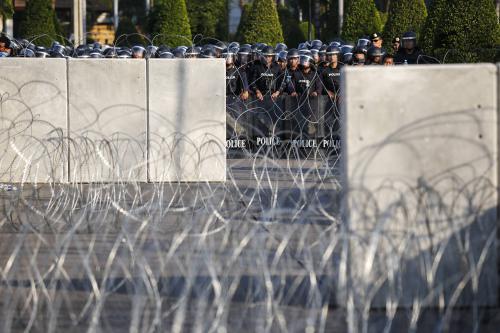 PHUKET MEDIA WATCH
– Thailand news compiled by Gazette editors for Phuket's international community
Suthep threatens election day shutdown
The Nation / Phuket Gazette
PHUKET: Suthep Thaugsuban, leader of the ongoing anti-government protest, yesterday threatened to bring Bangkok to a "complete shutdown" on election day, while half of the 400,000-strong national police force is expected to be deployed to maintain law and order on the day.
The People's Democratic Reform Committee (PDRC) will start marching down the streets of Bangkok from today until Saturday, before calling for another mass rally on Sunday, he said.
"On February 2, we will completely shut down Bangkok. Roads will be turned into pedestrian walkways and people will not have to go to vote," he announced on stage at the Lumpini Park protest site last night.
He also called on eligible voters to join the PDRC at its protest sites across the capital instead. "Don't regret losing out on your rights [from not voting]," he said.
According to Suthep, the protest marches over the next three days would cover Sukhumvit, Ratchadaphisek and Silom roads, as well as Yaowaraj, where Chinatown is located.
Three mass rallies had been called by the PDRC in November and December, attended by several thousands of people, before the start of its "Bangkok shutdown" campaign on January 13 to force the caretaker Cabinet to resign and pave the way for national reforms.
A PDRC source said it planned to besiege half of the ballot stations in Bangkok although it would attempt to disrupt voting in all 50 districts of the capital.
Assistant national police chief Pol Lt Gen Amnart An-atngam said yesterday that more than 250,000 policemen would be deployed, in addition to 1,450 rapid-deployment units on standby at police stations.
The focus would be on polling stations in Bangkok and 10 provinces in the South where advance voting was disrupted last Sunday by protesters, he added.
He said that advance voting was held without any incidents in more than 80 per cent of the polling stations. He expected a similar situation, largely without violence, this Sunday when eligible voters go to the polls at 93,535 voting stations in all 77 provinces.
He said the police have security plans for election officials and ballot papers and noted that shipments of ballot papers for the South remained blocked at the region's three major postal centres.
Protesters linked to the PDRC yesterday blockaded the three centres in Songkhla's Hat Yai district, Nakhon Si Thammarat's Thung Song district, and Chumphon's Muang district. As a result, ballot papers sent by mail from the Election Commission (EC) in Bangkok to those post offices could not be distributed to other southern provinces. The protesters said they planned to blockade the post offices until election day.
Songkhla's election head, Anont Manasvanit, said if the blockade continued, it was likely that ballot papers would not reach the voting stations in time for the election.
EC chairman Supachai Somcharoen said in Bangkok he expected the blockade to affect voting in the South as the polling stations would not have ballot papers.
In Bangkok, the directors of three districts – Bang Kapi, Bang Kho Laem and Yan Nawa – have resigned as election officials ex-officio following threat of legal action by those affected by the disruption of advance voting, said Ninnart Chalitanont, permanent secretary of the Bangkok Metropolitan Administration. Ninnart said they would be replaced and she did not think Sunday's voting would be affected.
Interior Minister Charupong Ruangsuwan, who is also leader of the ruling Pheu Thai Party, yesterday said he has instructed provincial governors to campaign for eligible voters to turn out in large numbers this Sunday.
The Centre for Maintaining Peace and Order has assigned four agencies to take possible legal action against people and organisations that provide financial assistance to the PDRC, Department of Special Investigation chief Tarit Pengdith was speaking after a meeting yesterday.
The Army has sent its soldiers to help maintain peace and security for both officials and protesters, Army deputy spokesman Colonel Winthai Suvaree said.
Soldiers would conduct patrols around the protest sites and there were rapid-deployment units in case of emergency, he said.
Democrats, PDRC wrestle with election day strategy
The Nation / Phuket Gazette
PHUKET: The decision by the caretaker government to go ahead with the election on Sunday poses a dilemma for both the Democrat Party – which boycotted the election – and the People's Democratic Reform Committee (PDRC), which seeks reform before the election.
Now, as pressure mounts on the Democrats, former Democrat MPs are analysing scenarios during the poll, according to the party's executive committee.
A party source said several Democrats suggested the party should campaign for a "no vote", encouraging voters to go to the polls, but not to vote for any candidate.
This would reduce the Pheu Thai Party's ability to use the election results to claim support for the Thaksin regime. It would also prevent former MPs from being stripped of their political rights if they failed to attend the voting.
But other members said the party could not campaign for a "no vote" because it had not fielded any candidates for the snap election, the source added.
"If we launched the campaign we might get sued by the Pheu Thai Party. It would also create a conflict between us and the PDRC and undermine its goal to push for reform before an election. So Democrat members should make their own decisions on whether to go out to vote or not," the source said.
Deputy secretary general Sirichok Sopha said his party had no need to campaign for a "no vote" because the February 2 election would eventually be nullified.
He said the Election Commission could not hold elections in 28 constituencies that lacked candidates to contest the ballot on other dates. Article 108 of the Constitution stipulates that the national election has to be held on only the scheduled date.
"Now we have only three days before the election. It might not be long enough to launch the campaign. I think if more than 50 per cent of voters refuse to show up, the upcoming election result would not be valid," he said.
Sirichok, who is a close aide of Democrat party leader Abhisit Vejjajiva, admitted that he and Abhisit would probably not go to the poll. He questioned why he should vote in an election that was going to fail.
"Abhisit also had the same idea, and everything he did, he did for his beliefs. So he might not turn out to vote," Sirichok said.
The source said former MPs who decide not to show up at the polling booths will inform the EC within seven days, explaining that they had no confidence in the security as rallies against the election would affect them on election day.
"I heard that the PDRC leaders planned to block many polling stations, especially those where the caretaker prime minister, ministers and well-known public figures [will cast their votes]," the source said.
Meanwhile, a former Democrat MP who asked not to be named said several members are concerned that if they go to the poll they could be photographed by pro-government supporters and the images later posted on social media.
"The party leaders decided not to contest the election, but did not boycott th
— Phuket Gazette Editors
Keep in contact with The Thaiger by following our
Facebook page
.
Never miss out on future posts by
following The Thaiger
.
Former party-list MP candidate convicted of drug smuggling, sentenced to 50 years in prison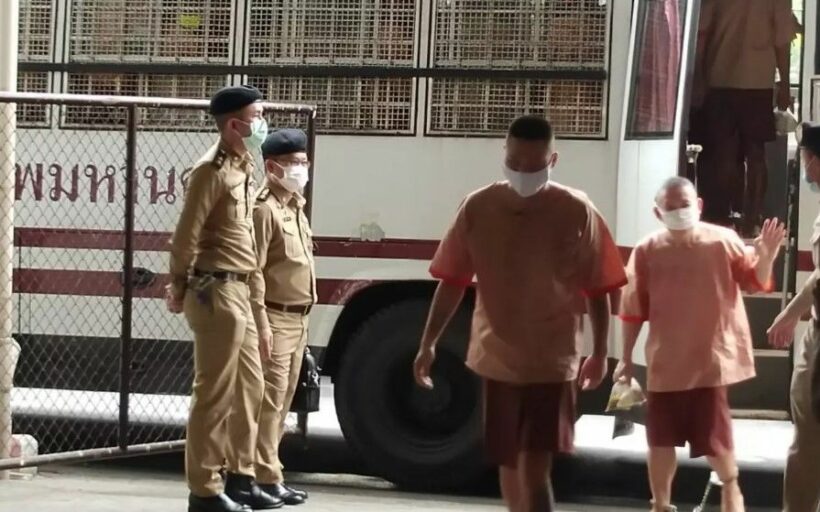 A former party-list MP candidate is sentenced to 50 years in prison for smuggling crystal methamphetamine. Suban Mahachanon was on the MP candidate list for Seri Ruam Thai Party in the March 2019 election, but his bid was unsuccessful. Just a few months later, he arrested for drug trafficking a large amount of methamphetamine into the Philippines.
Suban was busted when a fire broke out at Chon Buri's Laem Chabang sea port, damagin shipping containers at the port. Police inspected the scene after the fire and found a container rented under Suban's name was carrying 985 kilograms of methamphetamine hidden in Emperor brand tea packages. The shipping container also had boxes of shoes and bags of chopsticks, all ready to be shipped out to the Philippines.
Police also arrested 3 other men involved in trafficking the methamphetamine. Along with sentencing Suban to 50 years in prison, the Criminal Court also sentenced 2 Chinese nationals, 25 year old Huang Guoxiong and 45 year old Zhou Qingchu, to life in prison and a Thai man, 62 year old Joi Sae Fong, to 50 years in prison.
At first, the Court sentenced the 2 Chinese men to death, but it was lowered to life in prison. The Bangkok Post says the 2 men were responsible for concealing the drugs and loading the container. The Thai man Joi, also rented the container under his name with Suban. Joi and Suban were initially sentenced to life in prison. Their sentences were reduced to 50 years in prison.
SOURCE: Bangkok Post
Keep in contact with The Thaiger by following our
Facebook page
.
Never miss out on future posts by
following The Thaiger
.
Thailand News Today | Rumours of amnesty extension, 22 new Covid cases | September 28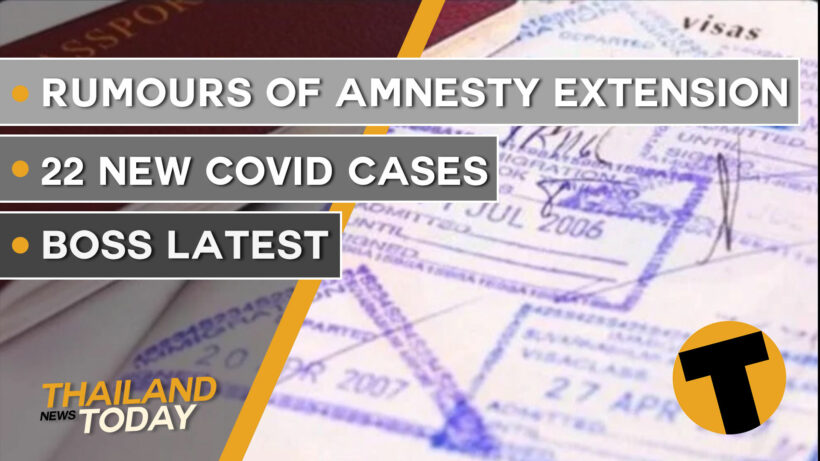 Daily TV news and updates from around Thailand on The Thaiger and on Youtube at Thaiger TV.
22 new cases of Covid-19 detected in Thailand
Out of nowhere, the Thai government's CCSA has reported 22 new cases of Covid-19 in the past 24 hours this morning, raising the country's total of infections to 3,545.
22 cases is the largest number of daily cases announced in a 24 hour period since April 5 this year when Thailand was emerging from its first wave.
16 of the new cases have come from imported cases, and became apparent whilst they were in quarantine during routine tests. The people have arrived from South Sudan, 4 people from India, 1 from Pakistan and 1 from the Philippines.
Thai doctor warns about short-cuts in quarantine
Meanwhile, a doctor from the Faculty of Medicine at Bangkok's Chulalongkorn University says reducing the quarantine period for foreign tourists would be inviting disaster.
Dr. Thira Woratanarat made his statement after a suggestion from the Tourism and Sports Minister that quarantine could be halved if all goes well when Thailand re-opens its borders to a limited number of foreign tourists.
"In Thailand, if we decide to follow the proposal to reduce the quarantine time to 7 days, it would be an invitation to disaster."
Rumours of a new visa amnesty, up to October 31
Thai Immigration offices have been flooded with foreigners trying to find a last minute solution to stay in the country and figure their situation out before the end of the visa amnesty… September 26, last Saturday.
The end of the amnesty, allowing visitors with lapsed visas to remain in the country, put many in a difficult situation, especially after a warning from the government the people could face fines and jail time for overstaying. But foreigners could have 1 more month to figure it out.
The news will come as a massive annoyance to those who went through the hoops last week to meet the deadline, although many thousands simply failed to get an appointment or satisfy the extension requirements, or simply had no flights to leave the country.
The government estimated around 150,000 foreigners were living in the country on amnesty.
Now there's an "unofficial" letter, on official Thai government letterhead, floating around, claiming that the visa amnesty will be extended until October 31. It's said the letter is waiting to be signed by PM Prayut Chan-o-cha which would then be published in the Royal Gazette. The letter title translates loosely as "extension for foreigners staying in Thailand".
Meanwhile, The Phuket News is reporting that their local immigration office plans to start charging people with overstays from tomorrow.
There's still a lot of confusion over the finish, or not, of the visa amnesty. We will bring you all the latest details, as soon as they come to hand, at thethaiger.com
"Boss" commission chief says Thai justice system in need of reform
Former National Anti-Corruption Commissioner, Vicha Mahakun, who led the recent inquiry into the handling of the case against Vorayuth "Boss" Yoovidhya, says Thailand's justice system is in need of reform.
The Red Bull heir and grandson of co-founder Chaleo Yoovidhya, "Boss", stood accused in a 2012 hit-and-run case that caused the death of a 47 year old Bangkok police officer who was hit by Boss's Ferrari and dragged over 100 metres, before the car fled the scene.
Boss was never brought to justice and is believed to be living outside Thailand, having managed to flee the Kingdom in 2017. Now, the chairman of the investigating panel says the whole Boss fiasco proves that Thailand's legal system needs to be reformed. He says the decision to drop all charges in the case clearly came about as a result of systemic corruption in the ranks of Thailand's police and judicial departments.
"Why was the case, that should have been closed within a year, delayed for 8 years? There's a legal proverb 'justice delayed is justice denied'. An attempt to delay it gives a clue."
1,202 gambling websites to be blocked in Thailand
Thailand is cracking down on online gambling websites. Internet providers will have 15 days to block 1,202 gambling websites before charges are pressed for violating Thailand's Computer Crime Act.
Although gambling is technically illegal in Thailand, underground and online gambling thrives in pockets of the country. The Digital Economy and Society Ministry was ordered by PM Prayut Chan-o-cha to crack down on illegal online gambling. The PM ordered the ministry to block the hundreds of gambling websites within the next 15 days. The ministry has requested 1,202 court warrants citing Computer Crime Act violations.
The National Broadcasting and Telecommunication Commission is collaborating with the ministry to block access to the gambling websites. The strict order is aimed at keeping teenagers away from online gambling.
More rain fronts on the way around Thailand today and tomorrow
The Thailand Meteorological Department is forecasting more isolated heavy rain over many parts of the country over the next few days.
Last night there were heavy rains and flooding in parts of inner city Bangkok. Cars were stuck in knee-deep water and footpaths were inundated in several inner city suburbs, including Phra Khanong. Phuket also had a rough night of high winds and rain. For most of Thailand, the most rainfall is accumulated in September and October making them the wettest months. We have a special story about Thailand's monsoon… the link is under here in the description.
Keep in contact with The Thaiger by following our
Facebook page
.
Never miss out on future posts by
following The Thaiger
.
Teenagers allegedly fired guns into the air, stray bullet kills 16 year old girl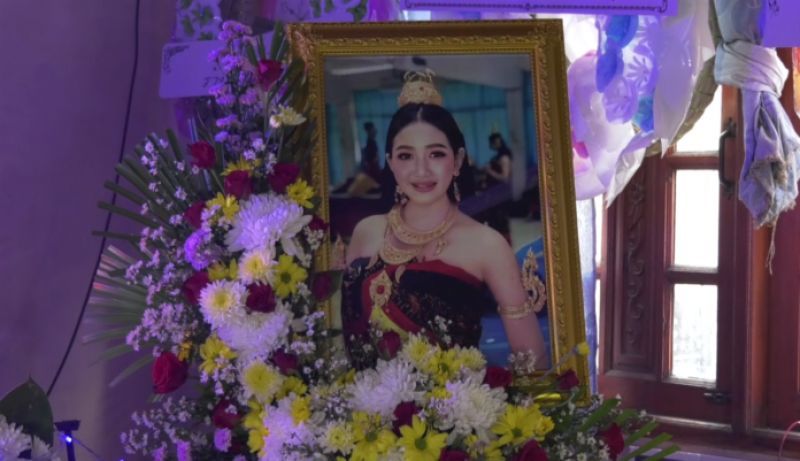 A 19 year old man faces charges of intent to murder for allegedly shooting and killing a teenage girl. The man told police he shot the gun in the sky and did not intend to harm anyone. The stray bullet went through the girl's heart and also injured her friend.
16 year old Nutthicha Thanthaisong was riding home on a motorcycle from an event in the Isaan province Buriram while a group of teenagers were allegedly firing off guns. A bullet hit her back and exited through her heart, killing her. Her 19 year old friend driving the motorcycle was also injured by the bullet. Nation Thailand says he is being treated, but did not report on the details of his injury.
Police questioned 19 year old Natthakit Boonluea after receiving reports from 6 of the man's friends saying he shot the teenage girl. Natthakit told police he shot the gun in the sky and did not aim it at the girl.
Police say they believe more people were shooting off guns and plan to question around 50 people that may have been involved in the shooting.
SOURCE: Nation Thailand
Keep in contact with The Thaiger by following our
Facebook page
.
Never miss out on future posts by
following The Thaiger
.