Phuket Business: a modern gold rush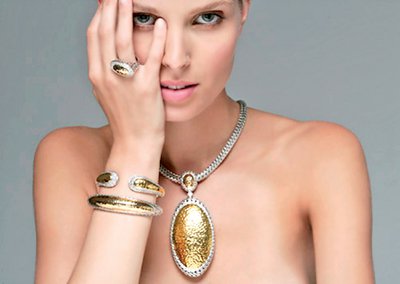 PHUKET: As my latest trip to the UK continues, I was thinking "What can I get my dearest for Christmas this year?"
I'm not the biggest fan of shopping trips and love nothing more than having a fixed plan in place to minimize the whole experience.
Being Christmas, though, I thought I should give this a little more time and thought and really push the boat out.
Walking down the high street, it's clear to see that the economy in the UK this year has hit hard times. Everywhere I look, I can see the endless "sale" signs in shop windows and there seems to be a lot fewer people pounding the streets looking for bargains than I can remember in past years.
Wearing my festive Santa's hat, I thought I would treat my other half to a ring, necklace or bracelet this year. I walked into the first jewellers I came across to have a look at some of the items on offer. There were no signs in this shop window offering bargain sale prices and I nearly fell over when I asked the shop attendant to show me some of the gold rings he had displayed. If there has been one commodity that has not taken a big hit in recent times it's gold.
In tough economic and financial times, gold has been seen as a safe haven for investors to acquire and wait until things look a little more prosperous.
This high demand has pushed the price of gold up to record levels recently and many believe that this will continue for the foreseeable future. In 1999, Gordon Brown sold off 400 tons of the UK Gold reserves at approximately US$256 and US$296 per ounce, for 2.3 billion pounds sterling. When gold reached US$1,500 per ounce, that same figure would have been worth 12.95bn pounds sterling, and how the UK could benefit from that amount now cannot be understated.
As with everything, hindsight is a wonderful thing and the continuing increase in the price of gold is nothing short of incredible.
With the continued worldwide economic woes, many experts foresee gold reaching US$2,000 per ounce, and all the signs point to this increase as there is certainly no quick fix to the economic problems many countries are currently facing.
Gold seems to have stabilized at around the US$1,600 to 1,700 per ounce level after a temporary drop, but as markets continue to be uncertain this could still provide an attractive investment opportunity over the next 12 months.
As many of the worldwide major currencies weaken, will there be many more places for investors to turn?
As always, a commodity such as Gold can be quite volatile so this is not something for the faint-hearted and should be held as part of a larger portfolio. This, however, means that the perfect Christmas gift is now a lot more expensive than it would have been several years ago.
Meanwhile, I'm sure it will all be worth it to see my beloved on Christmas day with a shining gold necklace waiting to be put around her neck. She'll be delighted even if my bank account isn't!
For more information, contact [email protected]
— Anthony Lyman


Do you need help with your business? Are you searching for a new job? Or an employer looking to hire? Try JobCute today.
Thailand's sponsorship market grew 19% – 2018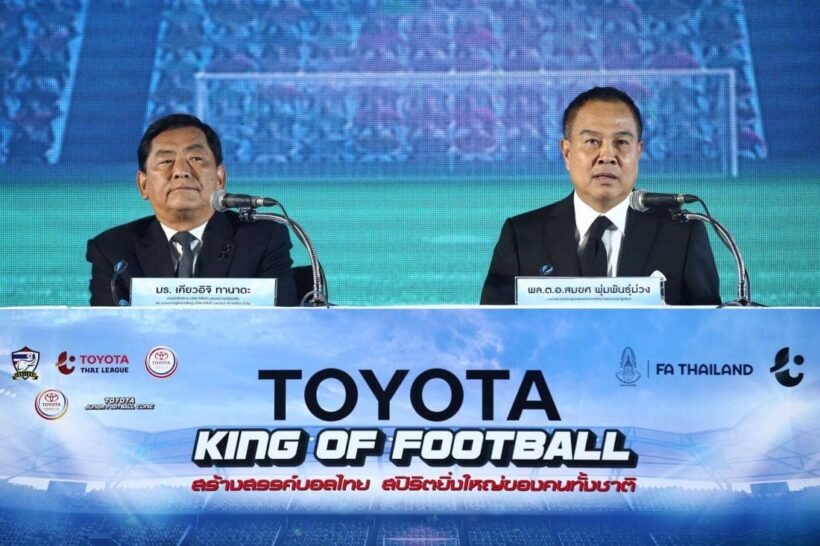 ASN (Asia Sponsorship News) has just released its Sponsorship Market Overview for Thailand 2018. Local agencies have had their say on the performance of the Southeast Asian sponsorship marketplace.
2018 was a robust year for Thailand's Sponsorship market, growing 19% year-on-year to US$223.4 million (2017's total investment was US$188.2 million) and making grounds on reaching its previous (outlier) market peak of US$247.8 million in 2015. Since 2015, the market had been creeping backwards to a recent low of US$187.2 million.
General market health -in GDP terms – for Thailand was generally positive. In November last year, the country forecast a slightly reduced GDP forecast in the mid-4% range for itself for the year.
Back to the Sponsorship market and the leading spending brands are as follows; the Top 10 includes the usual major players, but also some newcomers since ASN last analysed the market in 2016…
| | |
| --- | --- |
| 2018 | (US$) |
| Toyota |  11,749,000 |
| Chang |  10,347,050 |
| PTT Petroleum |  7,372,000 |
| Singha |  6,935,525 |
| PTT Group |  5,573,000 |
| Tourism Authority of Thailand |  5,532,000 |
| Thai Beverage Plc |  5,173,050 |
| Adidas |  5,075,000 |
| Pepsi |  5,065,000 |
| Carabao |  4,389,000 |
These 10 brands contributed almost 30% of the total investment in this Southeast Asian market.
In terms of the movers and shakers within the Top 10, versus 2016…
Toyota was 4th spending US$6.8 million
Chang was 1st with US$14.4 million
AIA was 2nd, Its dramatic fall caused by the cessation of its Thai Umbrella Football Club partnership, with the FAT, in 2017
Carabao and Adidas are newcomers for 2018
Then there are the broader market dynamics that moved the needle – across the various ways to slice ASN's market data:
Platforms: Motorsports and Multi-sports outperformed (+98% and +103% respectively); while platform leaders Football (US$90 million in 2018) and Athletics (US$32 million) gained a healthy 23% and 15% respectively
Categories: Two of the Top 10 categories – Petrochemicals and Conglomerates – dipped into their budgets significantly in 2018 (+119% and +590% (!) respectively)
Genres*: Unsurprisingly, Content was the biggest mover with a 114% uplift. Events, the perennial Genre leader, gained 33% as well
Commenting on the market movements is eponymous Founder of Paul Poole (South East Asia) Company,  a marketing consultancy specialising in commercial sponsorship in Thailand says, "The 19% year-on-year increase in Sponsorship spending in 2018 is testament to a strong industry."
"To see big brands and organisations such as AIA, King Power, Sports Authority of Thailand (SAT), Honda and Siam Cement Group falling off the list is somewhat of a surprise given their visibility in the marketplace and their sponsorship history."
"However, it is refreshing to see new additions to the list such as Adidas. It speaks of a dynamic and ever-changing market."
"Sponsorships have the potential to reach beyond short-term sales to build a brand's identity. Brand strength contributes 60 to 80% to overall sales, making this benefit critical for sustained, long-term sales growth."
Poole is convinced consistency is key to building brand awareness and companies like Toyota and Adidas are good examples of companies pushing through content on all platforms, especially social media.
Since brand ambassadors are now typically anyone sharing content – especially online via video content – brands are getting leverage from the increasing use of social media platforms across the world. And Thailand is one of the most gluttonous consumers of online content!
So the Thai market is in good health: let's see if 2019 can sustain the growth.
To read more of the report click HERE.
Phuket expat re-invents the way sewing machines work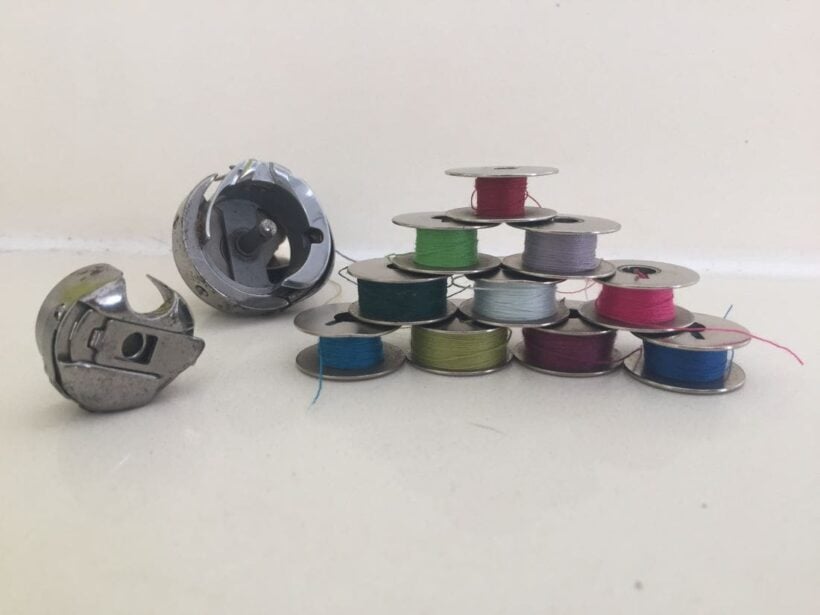 British inventor creates a new sewing system that eliminates the bobbin.
When you list the worlds top inventions the sewing machine is rarely included, it's lucky if it makes it into the top 50!
But there are very few moments in our daily life when we are not close to something that's been produced using a sewing machine.
Now a recent patent, developed by a Phuket expat, is set to bring the sewing machine back into the forefront. Templeton Hancock, a British sewing machine mechanic and former sewing machine demonstrator living in Rawai, has created a new Everlasting Bobbin Sewing (EBS) System that eliminates the need for constantly changing thread bobbins.
A bobbin is a spindle or cylinder, with or without flanges, on which wire, yarn, thread or film is wound. Bobbins are typically found in sewing machines, cameras, and within electronic equipment. In non-electrical applications the bobbin is used for tidy storage without tangles – Wikipedia
"The inception to create the EBS System came to me after a conversation I had with a customer who voiced her frustration with having to continually change the bobbin.  It made me question why no one had come up with a satisfactory solution to discard it."
"The EBS System offers huge benefits not just to manufactures but to everyone who regularly uses a sewing machine; it saves time, improves the quality and finish of garments, reduces waste and make the sewing machine more user-friendly and lessens the impact on the environment."
The first patented sewing machine was in 1790 to an Englishman, Thomas Saint. Over the next 60 years, the machine was modified and improved to something that is still mechanically recognisable in comparison to today's machines.
Since the 1980's there have been significant electronic advancements to the sewing machine, but the need for a refillable bobbin has always harkened back to its introduction in 1853.  Over the years, there have been many who have tried to solve this bobbin dilemma. The simple EBS System provides the solution.

So, how does it work?
With current technology, the needle and upper thread pass down into the machine bed.  As the needle draws back up, the upper thread is left behind, just slightly, but it is enough that a loop is formed.  Machines are timed so that a rotating hook underneath the machine, spinning off a centrally placed drive shaft, can catch this loop and pass it over the bobbin and bobbin case to create a locking stitch.
The EBS System is different.  The drive shaft is moved to one side and the hook is placed within a bearing which has drive teeth on its circumference. A void is now created within the bearing which allows for a thread feed tube to supply endless amounts of thread to freely pass without interruption from the rotating hook, eliminating the need for a bobbin.
The bobbin holds, on average for #40 weight thread, around 34.3m of thread.  In manufacturing this can equate to the bobbin running out on average, every 9-11 minutes. Methods of turn around to get the machine operational again can vary from 22 seconds to 3 minutes, cutting into the amount of hourly units produced and also increasing wastage/seconds garments for the item in production when the thread ran out. 
Analysis of Operation in manufacturing puts aside an average 20% of Standard Allocated Hours (SAH) for changing the bobbin, adjustments and staff rest breaks. By removing the need to refill the bobbin and using the EBS System, manufacturing can be increased by as much as 19%.
Realising the problem with the bobbin, many manufacturers have opted for using a chain stitch instead of a locking thread for seaming. The downside being that the chain stitch uses more thread, creates a bulkier seam and is not as strong as the lock stitch. 
By using the EBS System instead of a chain stitch, a factory making jeans (for example) could save an average of 8.9m of thread per unit produced (depending on method of manufacture), and at the same time produce a better quality garment with stronger and less bulky seams.  8.9 metres multiplied by the amount of units produced each day, week and month, equates to being considerable saving even before you add back in the garments that would usually be discarded as wastage/seconds which have now been mostly eliminated.
The EBS System is not just limited to clothing. Footwear, upholstery, luggage and automotive manufacturers are also to benefit from the lack of a bobbin.  When the bobbin thread runs out, holes have been made in the material and it takes a short time before the machine operator notices.
The precision of the fit and strength of the material has been compromised and a labour intensive task now begins to reinforce the stitch and try to match the holes already created in the material. 
A continuous stream of thread will reduce the amount of wastage of leather and vinyl products in the pursuit of perfection that is expected and demanded by consumers.
The EBS System is not just for industrial use.
The simplicity of the design makes it versatile to be used in the domestic market. The EBS System is a relief to home sewing enthusiasts whose interests are within home decor and quilting. No more will they suffer the frustration when the thread runs out in the middle of a project. 
The versatility of the EBS System is that it can also be used with the current refillable bobbin for those small repairs and quick fixes that would require a variety of short lengths of different coloured thread.
The EBS System also looks to the future. A.I. and automation is making advances into the sewing industry, but these machines still need to be carefully monitored as they still rely on the need for a refillable bobbin.  Using the EBS System machines will enable manufactures to run for 24 hours with very little supervision, with an endless flow of lower lockstitch thread.
US Patent #10156034  PCT#IB2019/050843
For further information contact Templeton Dean Hancock… [email protected]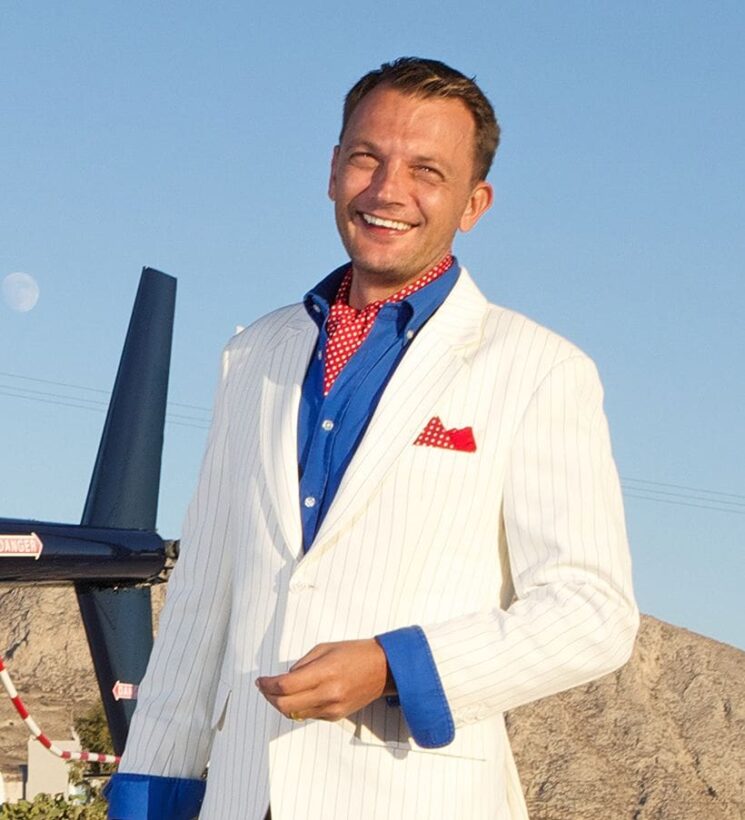 Templeton Hancock, Phuket-based seining machine mechanic and inventor
Man arrested over 50 million baht scam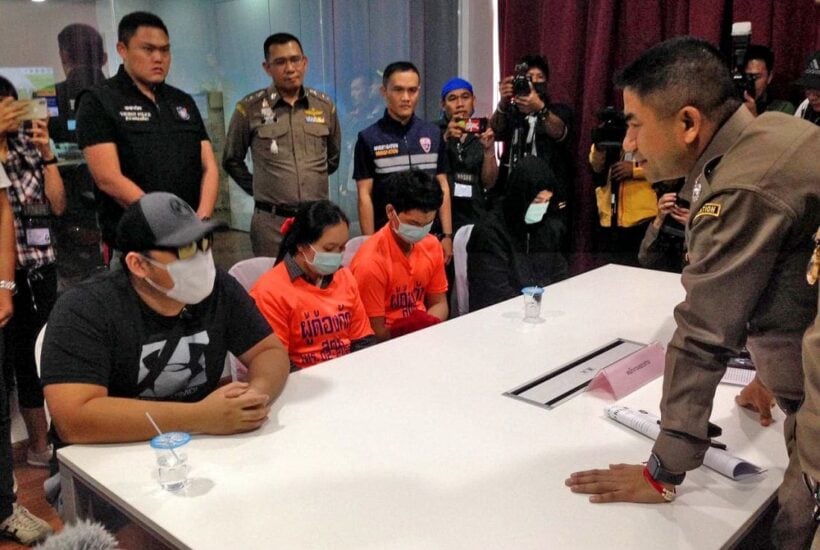 A man has been arrested for allegedly defrauding around 100 stock market investors of about 50 million baht.
Pol Lt Gen Suchate Hakparn, the Immigration Bureau chief who also heads the economic crime centre, says 52 year old Jittaraphon Nisarat was arrested on Tuesday at his apartment in Bangkok's Phra Khanong district.
Surachate says Jittaraphon was arrested under a warrant issued by the Criminal Court on Friday.
Jittaraphon was accused of collaborating with two other accomplices to convince over 100 victims to invest in their company with a promise of a 10 per cent yield per month for their investment. The investors were asked to invest at least 300,000 baht.
The investors were told that Jittaraphon's company would invest in the Wall Street stock market for profits in short sales.
Surachate said the investors received the promised returns for just the first three or four months but Jittaraphon then stopped paying the yields and closed his company and disappeared.
Surachate said police are still hunting for the two accomplices, 40 year old Sorachat Klamsaeng and 34 year old Pirayuth Arj-amnuay.
SOURCE: The Nation