Phuket business: Inflated eats; Flower sales bloom; Kata – Karon branded green; Taiwan bar raised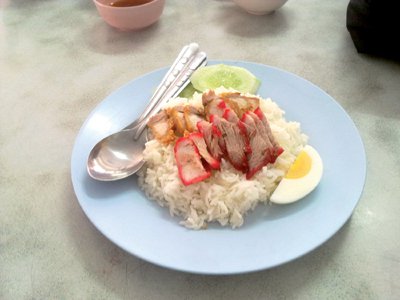 PHUKET: In light of the continuously rising cost of living, accounting books of rice and noodle vendors across Phuket and Thailand could become subject to increased audits this year.
As of yesterday the Department of Internal Trade (DIT) issued official price cap suggestions for 10 common Thai menu items to be priced under 35 baht.
These include rice dishes served with omelet, curry, boiled egg, pork leg, basil stir fried or fried rice (with pork or chicken), as well as several common noodle dishes – with and without soup.
Price suggestions for such items will be divided into three categories depending on vendor type.
Blue Flag ("Tong Fa") government certified vendors will be expected to charge as low as 15 baht for a basic rice and omelet dish and up to 30 baht for other items, while general food centers will be asked to charge 25 to 30 baht and as much as 35 baht inside shopping and business centers.
The move is a response by the Ministry of Commerce to a wave of complaints from consumers who have been dissatisfied with recent menu markups, despite costs for many base items such as eggs and palm oil actually decreasing.
Confirming that the price suggestions will affect the island, Phuket Internal Trade Office Chief Supatcha Boonpalit told the Phuket Gazette, "These will not be strict price controls, just suggestions. There are many factors we [authorities and auditors] will need to consider as to whether prices exceeding the government suggestions are justified or not," she said.
It's broad measure, aiming to guide the market, not control it, she emphasized
Nonetheless, food vendors nationwide will be asked to comply with the price suggestions, when possible, or else face the possibility of being audited.
An announcement on the Office of Commercial Affairs Phuket website states that vendors who refuse to comply with the price suggestions, and are suspected of unnecessarily maintaining high menu prices, would be subject to auditing by the Revenue Department.
Such audits would require vendors to provide detailed documentation of their expenses and tax records.
Anyone found in violation of the Prices of Goods and Services Act, B.E. 2542 (1999) may be subject to a maximum penalty of seven years in prison and/or a fine of 14,000 baht, the announcement also stated.
Flower sales bloom
As expected, flower shops' revenues blossomed in Phuket on Valentine's Day.
Many flower shops reported record orders for floral arrangements, from both inside Phuket and off-island. Classic red roses were the most popular items among the adults, while teddy bears and chocolates were increasingly popular among teenagers.
Flower shops in Phuket Town had displayed special flower arrangements in shopfronts in order to lure in customers seeking to buy flowers for loved ones.
Pran Suppasri, owner of the "Flowers by Metha" flower shop, said business began picking up at his shop the day before the day of love.
"We ordered most of our red roses from China. We already received 40 to 50 orders of 1,000 baht each. We also received 30 to 40 orders for carnation arrangements that start at 500 baht. Most of the people ordering flowers from us are adults," said Mr Pran.
"Even though flower prices went up by 20 to 30%, it hasn't affected demand. We still received a lot of orders yesterday [Monday] and expect more throughout Valentine's day," he added.
Another Phuket Town shop called "I am Flower" reported "very good" sales, with orders gushing in from Phuket and off-island.
"We arrange the flowers into bouquets at prices starting at 600 baht. We received 50 to 60 orders yesterday, and more continue to pour in today. Our customers are both Thai and foreigners, and about 10% of orders are placed from Bangkok," said shop assistant Chayatrid Gurtsripeng.
"Red roses are the most popular flower here, with 90% of our customers ordering them. White roses and lilies are also popular. I think sales are stronger than Valentine's Day last year," he said.
Flowers are not the only popular items for the Valentine's Day. While most adults enjoy roses, youngsters tend to prefer some sweets for their sweeties. Some flower shops are expanding their product lines accordingly.
The owner of the Buppha Flower Shop in Phuket Town said, "We began receiving an increased number of orders yesterday [Monday], but not as much as last year. Most adults order flowers, but the teenagers have been buying teddy bears and chocolates that we have made available as another option for our customers," he said.
Kata – Karon branded green
Thanks to the charitable initiative, if not clever product placement marketing, of Kasikorn Bank (K Bank), Kata and Karon beaches will be branded 'green', but not necessarily in the name of the environment.
K Bank, or the Thai Farmers' Bank, last week donated 3,000 beach umbrellas and 50 beach tents to the Karon municipality.
All of the new umbrellas and tents are green and branded with the K Bank logo, and will replace the old and damaged ones.
The tents and umbrellas were presented by K Bank's Executive Vice President Vasin Vanichvoranun, during a donation ceremony held on February 9.
Mr Vasin said that the new umbrellas and tents will be utilized by beach chair and umbrella groups, as well as beach massage groups operating along Kata and Karon beaches.
"Since most of the existing umbrellas and tents were in deteriorating condition, the scenery wasn't beautiful and the beach wasn't orderly. In order to make it [the beach] beautiful and orderly with umbrellas all of the same color, Kasikorn bank has made this donation to the Karon municipality to be used by operators from now on."
Karon Mayor Thawee Tongcham accepted the donations on behalf of the members, and agreed to distribute them to beach operators.
"The old ones made the beach less beautiful and needed to be replaced," he said.
Taiwan bar raised
Tourism operators have increased expectations for the Taiwanese tourist market following a recent tourism promotion "road show" trip to Taiwan.
A number of Phuket senior officials and tourism business operators negotiated deals in Taiwan from February 7 to 11, focusing on markets in two Taiwan cities: the country's capital Taipei, and its third largest city, Taichung.
Leading the entourage was Phuket Governor Tri Augaradacha, Phuket OrBorJor President Paiboon Upatising, Phuket Tourist Association President Somboon Jirayus and Bangonrat Shinaprayoon, the director of the TAT regional office in Phuket.
Speaking about the bigger picture of the Taiwanese tourist market, Somboon commented, "Before, Taiwanese arrivals on Phuket were as much as 200,000, but declined sharply after the tsunami.
However in the last two to three years, the numbers are showing good signs and there are now three more direct flights from Taiwan to Phuket."
Mr Paiboon agreed and went on to outline the significance of Phuket tourism road show trips.
"Phuket's tourism sector has benefited from the success of previous road shows, such as those in China, Hong Kong, Malaysia, Singapore, Indonesia, Dubai, Qatar and Australia. The success shows in the number of new direct flights from each of these markets, and we have the same expectations for Taiwan."
"China Airlines now flies directly to Phuket and tour agents [in Phuket and Taiwan] have responded that [Taiwanese supply of] tourists will increase," he said.



Do you need help with your business? Are you searching for a new job? Or an employer looking to hire? Try JobCute today.
Anti graft body raises concerns about contract bidding at Suvarnabhumi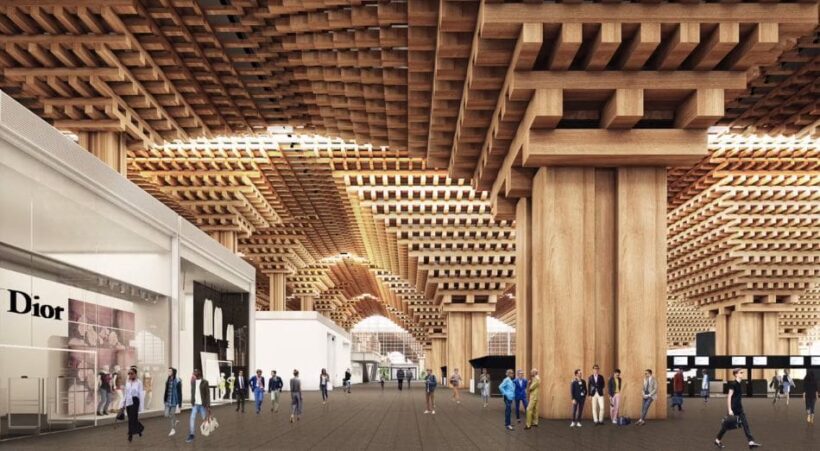 "The private anti-graft watchdog called on Thai media and the public to keep a close watch on the conduct of the company calling for bids."
The Anti-Corruption Organisation of Thailand is expressing concerns over alleged lack of transparency in two major contracts under review at Suvarnabhumi Airport.
In a statement issued yesterday, the private anti-graft watchdog called on Thai media and the public to keep a close watch on the conduct of the company calling for bids on the two projects, namely Airports of Thailand Company (AoT).
The two projects are the 6.6 billion baht expansion of the second passenger terminal and bidding for the concession to operate duty-free shops at AoT airports in Suvarnabhumi, Phuket, Chiang Mai and Hatyai airports.
The anti-graft organisation noted that the National Economic and Social Development Board, several Thai engineers and architect associations had voiced objections to the terminal expansion project, claiming that the project is unnecessary and a waste of taxpayers' money because the three existing international airports, Suvarnabhumi, Don Meuang and U-tapao, which together can handle 100-120 million passengers per year, will soon be linked by high-speed train.
The ACT are concerned that, as the attention of the government, media and public is focused on the March 24 general election, the AOT board might take the opportunity to rush through approval of the two controversial projects adding that the government and authorities concerned with the two projects must be held accountable.
In October last year, 12 engineering and architect organisations and the ACT called on Thai PM Prayut Chan-o-cha to exercise his special powers, under Article 44 of the current constitution, to scrap plans for the new passenger terminal.
Meanwhile, current duty-free concession contracts at Suvarnabhumi, Phuket, Chiang Mai and Hat Yai airports are due to expire next year. Because of the high stakes involved in the duty-free business, four new players, in addition to current operator King Power, have decided to put their hats into the bidding ring.
The four new players are the Central DFS Consortium, Lotte Duty-Free (Thailand), Bangkok Airways Holdings and Central department stores.
Here's a video that was used as part of the bid to design the new terminal.
Watch a video from one of the airport design contract bidders HERE.
https://www.youtube.com/watch?v=QVCxMnGVlEI
Airbus scales back in the UK and invests more in Thailand's new aviation maintenance hub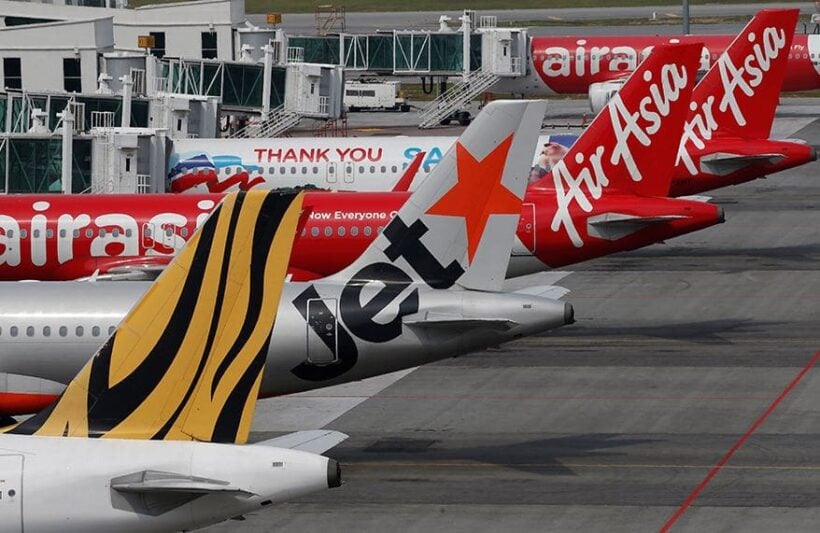 by Supalak Ganjanakhundee
Uncertainty over Thailand's political situation is apparently less of a concern for Airbus than the political uncertainties in the UK with Brexit looming. Whilst Airbus is pulling out some of its manufacturing in Britain, the European consortium is now looking to Thailand for new maintenance and repair facilities to help service the rapidly growing ASEAN aviation sector.

European aircraft manufacturer Airbus, which first set up shop in Thailand more than 40 years ago, said the MRO (maintenance, repair and overhaul) sector offered enormous potential for the country's aerospace business in the coming years.

France Airbus and national flag carrier Thai Airways International launched a joint venture for MRO facilities at U-tapao Airport last June. U-tapao is the renovated military airport now servicing the provinces immediately to the east of Bangkok, including the resort of Pattaya and the industrial provinces of Chon Buri and Rayong.

The MRO facility at U-tapao is part of the government's Eastern Economic Corridor (EEC) strategy and enjoys strong support from the business community, which has called for its continued rollout after the March 24 election.

The MRO will be a key showpiece of the aeronautics industry in ASEAN, given the enormous growth of the local aviation industry and new routes being launched, many in and out of Thailand.

All those new aircraft require maintenance," says Cedric Post, the French Aerospace Industry Association's deputy director for European and international affairs.

"The in-service fleets in the Asia Pacific region will grow in size from 6,900 aircraft to over 20,000 in the next 20 years."

"While other ASEAN members including Singapore have been in the MRO market for a long time, there is still room for Thailand due to its strong automobile and electronics manufacturing base."

Singapore is short of land and costly while Thailand's U-tapao Airport is large enough to serve current operations and expansion, Cedric said.

The U-tapao MRO centre will be one of the most modern and extensive in the region, offering heavy maintenance and line services, said Airbus head of marketing for Asia and North America, Joost van der Heijden.

"We will incorporate the latest digital technologies, specialised repair shops and a maintenance training centre," he added.

"For Airbus, our MoU with THAI is about the opportunity to innovate and to lead the way in the aerospace sector."

When fully operational, the U-tapao MRO centre is to offer heavy and routine maintenance for all wide-body aircraft types, specialised repair shops including for composite structures, as well as extensive maintenance training courses for technical personnel from Thailand and overseas.

Airbus and THAI are still working on the final details of the deal, while already partnering to address the MRO requirements.

"This will be a major new facility that reflects our confidence in Thailand," said van der Heijden.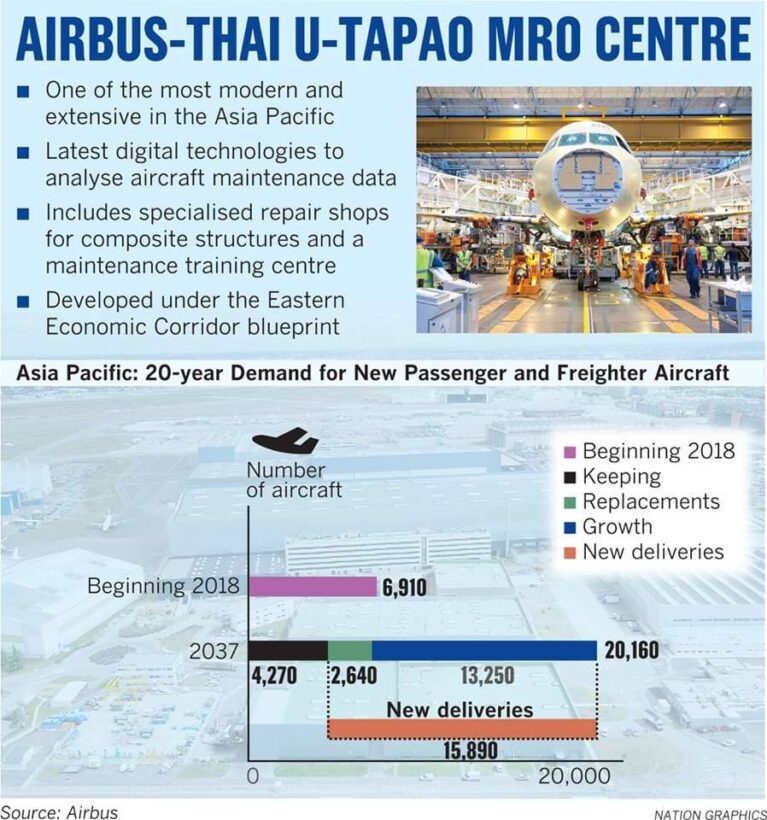 SOURCE: The Nation
Co-working space – not just for start-ups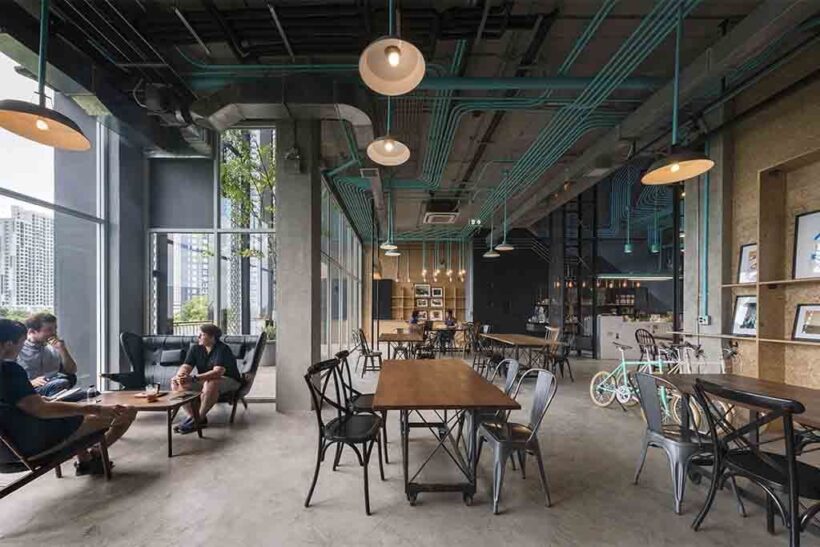 PHOTO: HUBBA-TO co-working space in Bangkok
by Thanchanok Phobut | Senior Coordinator, CBRE Thailand
CBRE, an international property consultancy company, reveals that co-working space seems to be on the tip of everyone's tongue these days. There was a time when no-one knew what the term "serviced office" meant or why someone would want such an option. But today, you can't open a business publication without seeing an article about co-working. Most people think of co-working spaces as being a thriving hub of young latte-sipping, technology entrepreneurs, coming up with the next big idea that will make them multi-millionaires.
While there is an element of truth to this image, the end-goal for many co-working space operators is to change the way that companies, not just start-ups, source their office space. They want companies to pay for office space as a service rather than follow the traditional route of signing a lease, fitting out their own space, having an office manager maintain the premises and hiring their own employees for reception and administrative duties.
Co-working office operators usually offer companies their own private space. It is most common to be offered an office based on the size you will need to fit in a set number of desks. For example, if your company has four employees, your package offer will include a furnished closed office with four desks, 4 chairs and optional telecommunications equipment for four people (internet service, phone number and a telephone handset).
There is usually a common kitchen area and spaces to meet and mingle. Think of it like a five-star hotel, you're not sharing a room, but you are getting a high level of service and amenities on the premises.
You usually have a short-term commitment, not signing a lease for years. The best deal is usually for a year or more, but you can lease your office for as short as one month. Starting and ending your relationship with an operator is most often quick and easy. Since the office is already outfitted and reception services provided, getting to work is much quicker than when you need to design your new space yourself or hire your own support staff.
"Competition in the space is red hot. As more and more offices pop up, the fight to achieve 100% occupancy is fierce. When shopping for your space, be sure to consider more than just price, as the services and reputation of your provider are just as important.
"If you do your homework, you'll avoid the pitfalls of co-working space, such as unreturned deposits, unexpectedly thin walls between units or fees for things like coffee and copying that you didn't expect. The great news is, changing providers is much easier than with traditional space," states Mr. Nithipat Tongpun, Head of Advisory & Transaction Services – Office, CBRE Thailand.
According to a recent CBRE report on the New York City office market:
While traditional long-term leases are the preferred model for business and the foundation of the commercial office market, the rapid growth of third-party flexible space operators provides occupiers with a wide variety of options for leasing office space. Since 2013, when the expansion of third-party flexible space began to gain significant traction, the sector has averaged an annual growth rate of 22 percent.
There are strong indicators of user demand for the services of the third-party space providers. In fact, 75 percent of corporate occupiers anticipate including co-working or flexible space in their occupancy portfolio over the next three years.
Smaller users also continue to be an important part of the target market; as the flexible space footprint has grown in Manhattan, the amount of traditional leasing among tenants under 5,000 sq. ft. has dropped off by 42 percent between 2013 and year-end 2017, suggesting that these users are migrating to flexible space solutions.
In Bangkok, four large co-working space operators are opening in multiple locations. JustCo, Spaces, The Great Room and WeWork leased a combined total of 25,000 square metres of space in some of Bangkok's best office buildings last year and they are still growing.
"I recently met Yvan Maillard, general manager of The Great Room's Singapore operation and he said that, in Singapore, 30% of his clients are late stage start-ups, 30 % are private investment family offices and 30% are mainstream corporates. In the case of corporates, they often lease co-working space as a stopgap before finding a larger permanent office for their expanding team," said Mr. James Pitchon, Head of Research and Consulting, CBRE Thailand.
It is not only the way companies source their office space that is changing. Even those companies who continue to lease office space directly are changing the way that they use the space – having your own office or even your own desk is out of fashion – agile working is all the rage.
Mr. Nihipat added, "Companies are providing employees with a daily choice of environments from quiet space to a layout that enables teams to collaborate. Employees are expected to move around the office, depending on their tasks. The objective is to create a workspace that fulfills the employees' needs in a high-quality environment, while minimizing the number of individual desks needed, effectively putting more people to work in less space."
Globally and in Bangkok, the office market will continue to evolve and while traditional leases are yet to be seen as a thing of the past, CBRE expects more companies to provide agile working environments. CBRE also expects to see significant growth in the amount of co-working spaces provided by third party suppliers.
"This will mean an increase in the demand for high quality buildings with flexible, column free floor plates, technically advanced air conditioning and temperature control, as well as sufficient lift capacity to deal with higher rates of occupation density.
Many of the new generation of buildings currently under construction or being planned in Bangkok will have these features and we won't be surprised to see more and more co-working spaces open their doors as companies weigh the real advantages of this option versus traditional space.