Airbnb partners with Thailand Boutique Accommodation Trade Association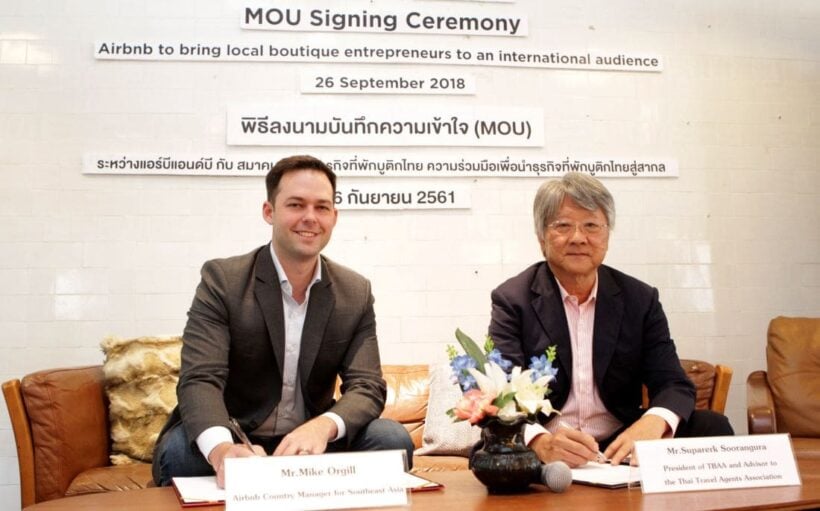 PHOTO: Mike Orgill, Airbnb Country Manager for Southeast Asia (left) and Suparerk Soorangura, President of TBAA and Advisor to the Thai Travel Agents Association (right) signing the MoU.
Airbnb, the world's leading community-driven hospitality company has announced its industry-first partnership with the Thailand Boutique Accommodation Trade Association (TBAA) to promote creative, people-powered Thai hospitality.
Through the partnership, Airbnb and the TBAA will bring boutique hotels onto Airbnb's global people-to-people platform and connect them to its international network of travellers, which has seen more than 300 million guest arrivals since it was founded 10 years ago.
Airbnb is the first travel platform in Thailand to sign a Memorandum of Understanding (MoU) with the TBAA. This closely follows the company's recent partnership with the Ministry of Interior's Department of Local Administration to upskill and onboard local homestays across all 76 provinces.
Mike Orgill, Airbnb Country Manager for Southeast Asia, and Suparerk Soorangura, President of TBAA and Advisor to the Thai Travel Agents Association, jointly launched the partnership.
With Thailand as one of the world's top global destinations, this partnership will provide travellers with easy access to more than 50 boutique hotels across 15 provinces such as Bangkok, Chantaburi, Chiang Mai, Kanchanaburi, Krabi, Nakhon Ratchasima, Phuket, Prachuab Kiri Khan, Ratchaburi and Sukhothai, all providing authentic Thai hospitality.
In today's MoU, both parties agree to:
Conduct training workshops for TBAA members to equip them with Airbnb platform know-how, and the digital skills to create, manage and promote their own listings
Empower Thai boutique hospitality entrepreneurs with global hospitality standards
Amplify Thailand's unique boutique hotels and creative design on a global stage
Revitalise local neighbourhoods by driving tourist footfall outside of traditional tourist districts
During the launch, Airbnb and the TBAA also announced the inaugural Airbnb x TBAA Thailand Neighbourhood Guide. The 17-page insider's guide spotlights five under-the-radar neighbourhoods in Thailand, each with its distinct blend of traditional heritage and new creative spaces.
In the past year alone, Airbnb's host community in Thailand has welcomed close to 1.7 million guests into their homes, creating a combined 4 billion baht (US$119 million) in income for local Thais. Earlier this September, Prime Minister Prayut Chan-o-cha highlighted Airbnb's recent partnership with the Department of Local Administration during his weekly national broadcast. In his statement on the Sufficiency Economy Philosophy to Sustainable Development Goals, he shared how Airbnb is promoting local homestays and distribute wealth across rural provinces.
Quotes
"Thailand is one of Airbnb's largest markets in Southeast Asia, and our partnership with the TBAA marks a significant step forward for our business and community here. Boutique hotels play an increasingly key role in driving the tourism ecosystem through their authentic host-led hospitality and distinctive local design." – Mike Orgill, Airbnb Country Manager for Southeast Asia

Find more property for sale and rent across Thailand at Thaiger Property, powered by FazWaz. You can even list your property for free.

'Monk' tries some alternative enlightenment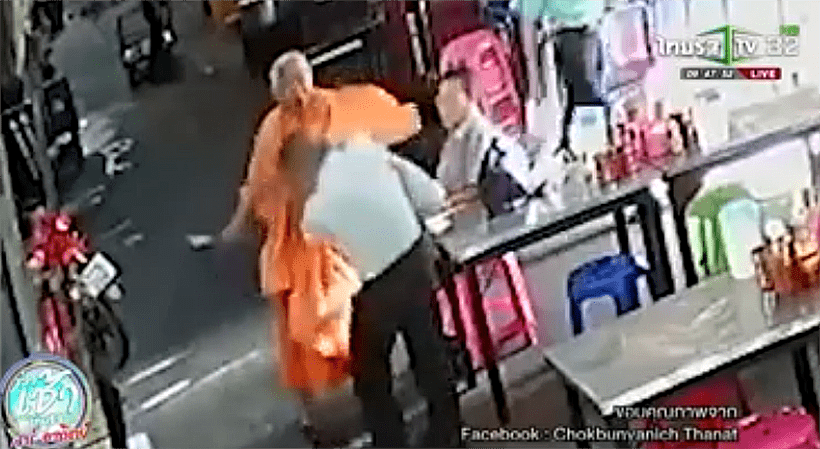 Thai Rath has shared a widely viewed CCTV clip featuring a man, apparently a monk, in saffron robes swinging a beer bottle at a man in a food market. The alleged monk appears to be holding a beer bottle.
According to Thai Rath, the layman, believed to be a store-holder, confronted the monk asking why he was drinking beer in the market at 9am and not praying in the temple.
The reporters even questioned whether the man was a real monk as his behavior was not befitting of a Buddhist monk.
They said that real monks should not be drinking beer, at any time, and should be in their temple after the morning alms round.
The incident is believed to have taken place in a Bangkok food court.
SOURCE: Thai Rath
Instagrammer apologises for doing handstand at Wat Pho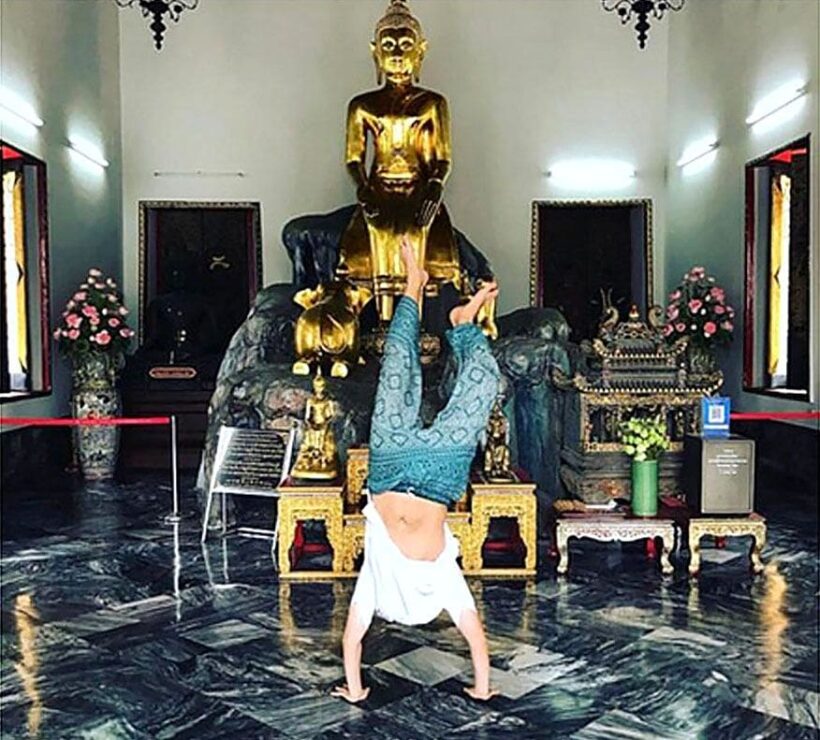 A foreign tourist has apologised on his Instagram page for posting a photo of himself doing a handstand in front of a key Buddha image inside the Wat Pho in Phra Nakhon, Bangkok.
The tourist, whose Instagram account is soseguri that has 546 followers, deleted the photo and published an apology early on Friday.
"I am very sorry for the picture that I posted yesterday. I want to apologise to all the Thai and Buddhist people that have been harmed by my acts. It was not my intention," he posted.
His picture was widely shared and drew a lot of criticism. In the pictutre posted he typed "Presenting my respect to Buda … #thailand#buda # handstand #workinghard #have fun."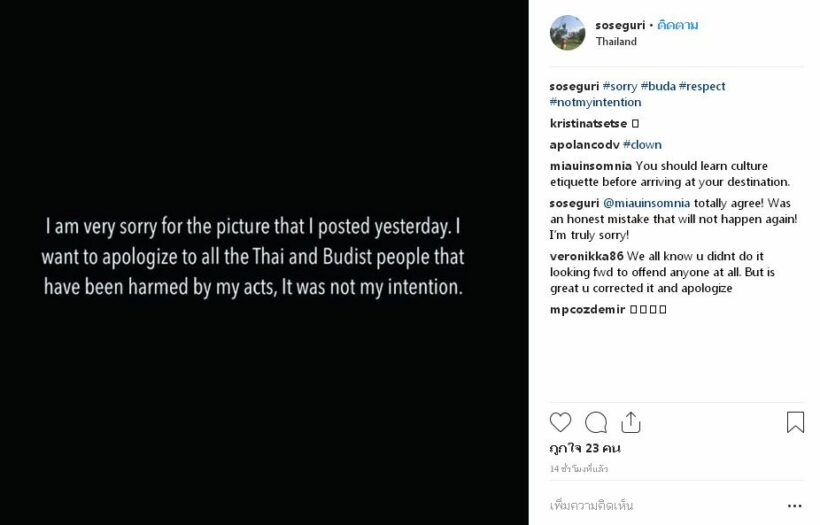 STORY: The Nation
Key suspect arrested in 800 million baht bitcoin 'scam'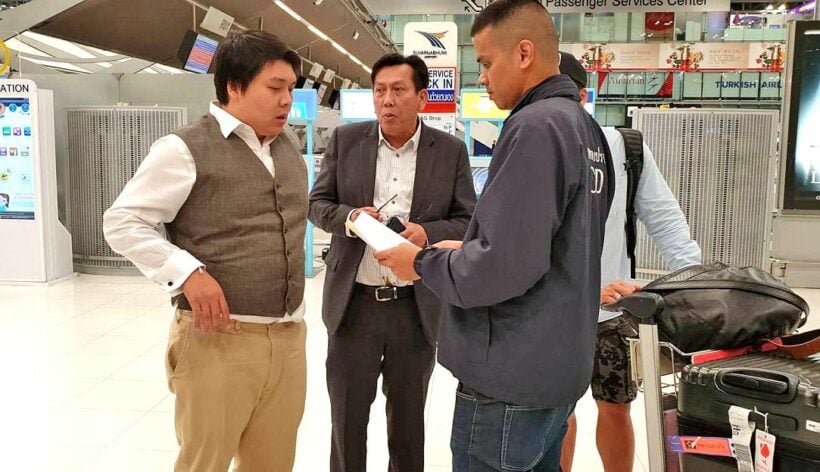 Parinya Jaravijit, a key suspect in an alleged 800 million baht bitcoin investment scam, was arrested last night at Suvarnabhumi Airport when he arrived back in Thailand.
Parinya – who continues to maintain his innocence – was taken to Ratchadapisek Criminal Court today to apply for his first 12 day detention period (October 12-23). Police have objected to his bail release on the grounds that he was a flight risk and that the case has caused considerable damage.
Parinya's relatives and his lawyer had prepared assets worth 20 million baht to apply for his bail release.
The 35 year old Parinya, who's facing charges of colluding in money-laundering and colluding in fraud, was apprehended as he was going through the Suvarnabhumi International Airport's Immigration Police checkpoint at 11.30pm.
He was then interrogated at the CSD head office throughout the night with his lawyer present.
CSD deputy chief Pol Colonel Chakrit Sawasdee said that Immigration Police in the US denied Parinya's entry as his passport was revoked, so he was forced to return to Thailand.
Parinya, along with other family members, including his younger siblings – actor Jirapisit "Boom" Jaravijit, Thanasit Jaravijit and Supitcha – are suspects in the fraud case.
Police say the actors and relatives' bank accounts showed millions of baht in deposits reportedly derived from the conversion of the cryptocurrency units transferred by Finnish owner Aarni Saarimaa for bogus investments in Thai stocks and other assets.
Initially, the suspects in the case included businessman Chakris Ahmad and well-known stock investor Prasit Srisuwan, both of whom maintained their innocence. But the damaged person later dropped the charges against the two men following settlement talks in September.
According to Chakrit, Parinya's parents, Suwit and Lertchatkamon Jaravijit, were summoned to hear the charge of colluding in money-laundering on October 17.
STORY: The Nation