Airbnb partners with Thailand Boutique Accommodation Trade Association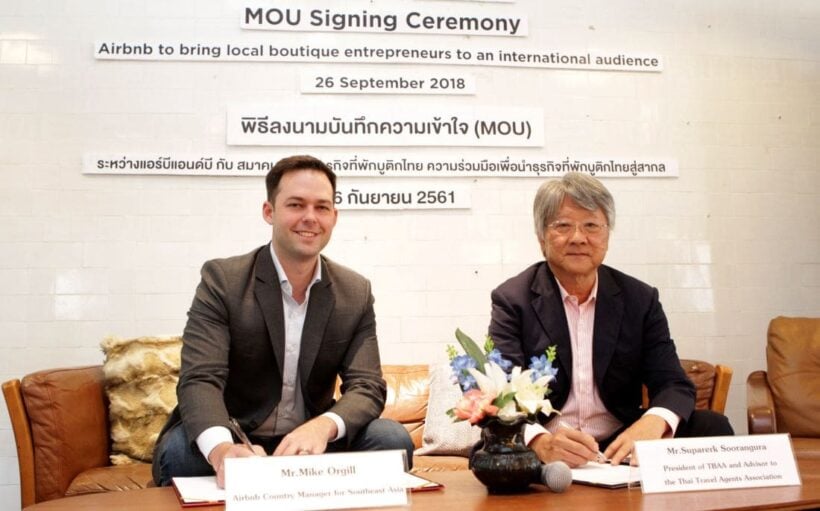 PHOTO: Mike Orgill, Airbnb Country Manager for Southeast Asia (left) and Suparerk Soorangura, President of TBAA and Advisor to the Thai Travel Agents Association (right) signing the MoU.
Airbnb, the world's leading community-driven hospitality company has announced its industry-first partnership with the Thailand Boutique Accommodation Trade Association (TBAA) to promote creative, people-powered Thai hospitality.
Through the partnership, Airbnb and the TBAA will bring boutique hotels onto Airbnb's global people-to-people platform and connect them to its international network of travellers, which has seen more than 300 million guest arrivals since it was founded 10 years ago.
Airbnb is the first travel platform in Thailand to sign a Memorandum of Understanding (MoU) with the TBAA. This closely follows the company's recent partnership with the Ministry of Interior's Department of Local Administration to upskill and onboard local homestays across all 76 provinces.
Mike Orgill, Airbnb Country Manager for Southeast Asia, and Suparerk Soorangura, President of TBAA and Advisor to the Thai Travel Agents Association, jointly launched the partnership.
With Thailand as one of the world's top global destinations, this partnership will provide travellers with easy access to more than 50 boutique hotels across 15 provinces such as Bangkok, Chantaburi, Chiang Mai, Kanchanaburi, Krabi, Nakhon Ratchasima, Phuket, Prachuab Kiri Khan, Ratchaburi and Sukhothai, all providing authentic Thai hospitality.
In today's MoU, both parties agree to:
Conduct training workshops for TBAA members to equip them with Airbnb platform know-how, and the digital skills to create, manage and promote their own listings
Empower Thai boutique hospitality entrepreneurs with global hospitality standards
Amplify Thailand's unique boutique hotels and creative design on a global stage
Revitalise local neighbourhoods by driving tourist footfall outside of traditional tourist districts
During the launch, Airbnb and the TBAA also announced the inaugural Airbnb x TBAA Thailand Neighbourhood Guide. The 17-page insider's guide spotlights five under-the-radar neighbourhoods in Thailand, each with its distinct blend of traditional heritage and new creative spaces.
In the past year alone, Airbnb's host community in Thailand has welcomed close to 1.7 million guests into their homes, creating a combined 4 billion baht (US$119 million) in income for local Thais. Earlier this September, Prime Minister Prayut Chan-o-cha highlighted Airbnb's recent partnership with the Department of Local Administration during his weekly national broadcast. In his statement on the Sufficiency Economy Philosophy to Sustainable Development Goals, he shared how Airbnb is promoting local homestays and distribute wealth across rural provinces.
Quotes
"Thailand is one of Airbnb's largest markets in Southeast Asia, and our partnership with the TBAA marks a significant step forward for our business and community here. Boutique hotels play an increasingly key role in driving the tourism ecosystem through their authentic host-led hospitality and distinctive local design." – Mike Orgill, Airbnb Country Manager for Southeast Asia


Find more property for sale and rent across Thailand at Thaiger Property, powered by FazWaz. You can even list your property for free.

Do you need help with your business? Are you searching for a new job? Or an employer looking to hire? Try JobCute today.

Looking to jettison some items before jetsetting away or chartering a yacht? Look no further than Thaiger Classifieds where you can find and post items, work, property and more for free. Be sure to check out YonderTours for things to do in Thailand and tours across the country.

Read more headlines, reports & breaking news in Bangkok. Or catch up on your Thailand news.
New Economics Party clarifies their support for pro-democracy coalition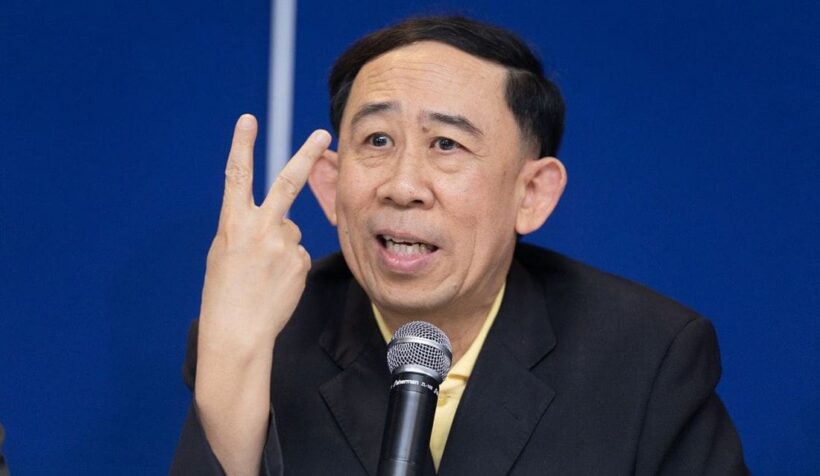 PHOTO: Mingkwan Sangsuwan, New Economics Party leader – The Nation
Leader of the New Economics Party Mingkwan Sangsuwan hasy reiterated his party's intention to join with the pro-democracy coalition (Pheu Thai, Future Forward) and against the pro-junta party, Phalang Pracharat.
Amid uncertainty over which camp New Economics would work with after the election, Mingkwan has clarified he would not join with Phalang Pracharat because of "ideological differences".
Six New Economics candidates were elected in the March 24 poll. Mingkwan gave assurances at today's press conference that none of the new MPs would defect. The party's deputy leader, Supadit Argadriks, also repeated the party's intent to help uphold democracy with a constitutional monarchy, and live up to its pledge to voters.
Some of the party's members yesterday petitioned the Election Commission to dissolve the party, alleging it had fallen under outside influences related to powerful business interests. But the deputy leader insisted today that the party was united. He said the complaint had stemmed from a misunderstanding.
Supadit said legal action would be taken against the plaintiffs who filed the petition with the EC.
SOURCE: The Nation
Central and upper Thailand residents warned to stay indoors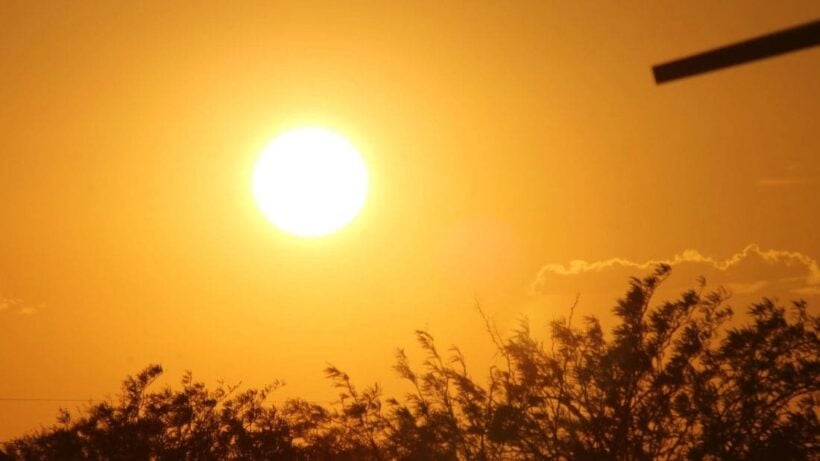 Thailand's Meteorological Department is warning people to avoid out-door activities due to the current high temperatures which are forecast to exceed 43C today in several northern provinces.
They are also advised to stay clear of big trees, poorly-erected structures or large billboards because of freak summer storms and strong winds caused by a low pressure cell over the northern part of the country.
In Bangkok, the TMD predicts that temperatures today will vary from 37-40C, with wind speeds of between 10-20Kph.
Thailand's northern region will experience hot to very hot weather today, with temperatures varying between 39-43C, plus freak summer storms and strong winds expected in about 10% of the region.
Northeastern provinces will also experience high temperatures ranging between 39 and 41C with freak storms covering 20 percent of the region.
Temperatures in the central region are predicted to vary between 39 and 42 C with wind speeds of 10-20Kph.
The eastern coast of the South is partly cloudy today, with temperatures ranging from 25-27C at the low end, with highs of 34-36C.
The western coast is also partly cloudy today, with temperatures ranging from 24 to 37C.
Central and north swelter with threats of summer storms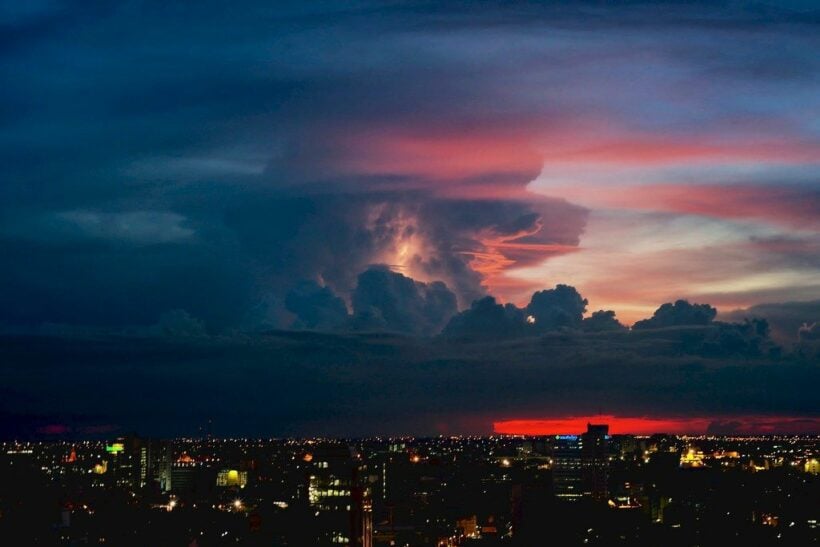 The mercury shot up to 40C in Bangkok yesterday and 35 other provinces in north and north-east Thailand also experienced hot to very hot weather amid brewing summer tropical storms.
The Thai Meteorological Department pointed to the hot low pressure cell covering upper Thailand and the southerly and southeasterly winds prevailing over the North, the Northeast, the Central, the East, and the South regions throughout this week.

Bangkok's forecast
They are warning residents to avoid outdoor activities and beware of gusty winds by staying away from big trees, unsecured buildings, and billboards is there are signs of thunderstorms brewing in the skies.
Today Bangkok will swelter in 37C temperatures with 38C in the next few days whilst the northern regions continue with more hot weather.
Chiang Mai will is forecast to reach 40C today as the unsettled and hot weather preempts the coming wet season… sometime soon.

Chiang Mai's forecast