Big increases in BKK airport arrivals for 2018 Songkran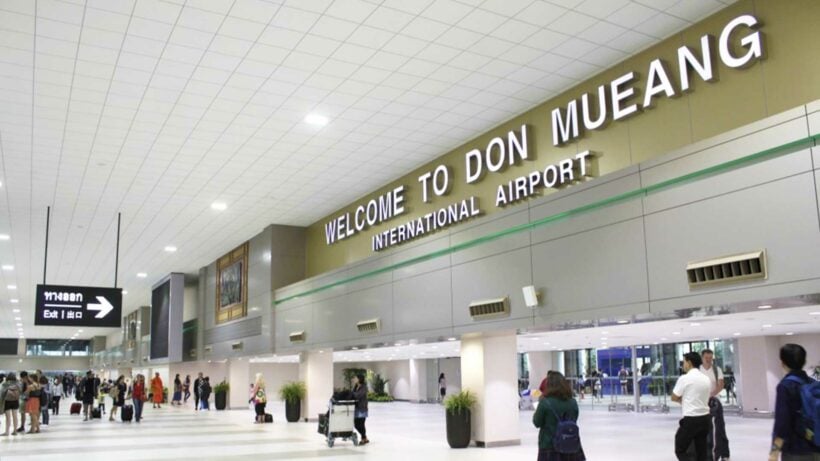 Nearly 7 percent additional passengers flew into Suvarnabhumi Airport and 12 percent into Don Mueang this year to celebrate the Songkran festival, compared to last year's passenger traffic.
The Immigration Bureau deputy spokesman Pol Colonel Choengron Rimpadee says that 683,260 passengers arrived at Suvarnabhumi Airport from April 12 and 16.
"The number marks a 6.96 per cent increase from Songkran 2017. Of these air passengers, 192,489 were Thais," he said.
Choengron said 234,600 passengers arrived at Don Mueang Airport during the five-day Songkran period. Of them, 79,383 were Thais.
"The number of passengers at Don Mueang Airport saw a 12 per cent rise".
Choengron said that Don Mueang Airport, located in Bangkok's Don Muang district north of the city, mostly handles low-cost airliners and chartered flights. These flight services have gained much popularity in recent years.
According to Choengron, despite the huge number of air passengers, immigration officials were able to work well during the Songkran period judging by the fact that there had been no complaints about their work or services.
During the Songkran period, immigration officials rejected entry to about 30 air passengers. Officials also arrested seven passengers. Two of them were detained on charges of carrying fake passports. Five others were nabbed because they were on the wanted list.
Keep in contact with The Thaiger by following our
Facebook page
.
Never miss out on future posts by
following The Thaiger
.
Pro-democracy protest leaders hear lèse majesté charges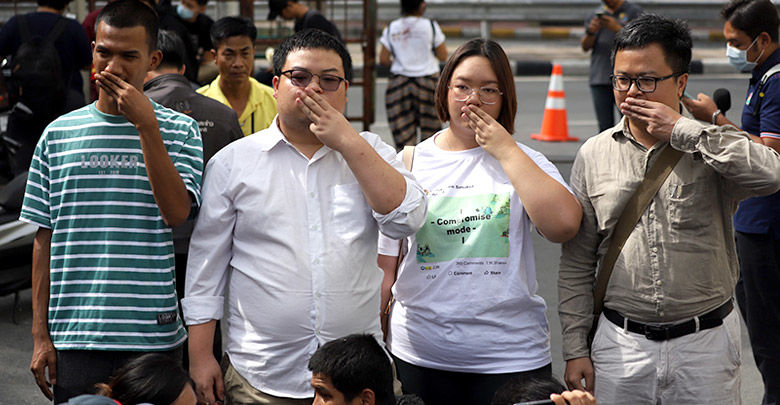 Pro-democracy protest leaders reported to police today to hear lèse majesté charges which carry a maximum penalty of 15 years in prison for insulting or defaming the Thai Monarchy.
The ongoing protests have opened discussion questioning the Thai Monarchy, a move considered taboo in Thai society and also risky as "insulting" or "defaming" statements could violate the lèse majesté law under Section 112 of Thailand's Criminal Code.
Whoever, defames, insults or threatens the King, the Queen, the Heir-apparent or the Regent, shall be punished with imprisonment of three to fifteen years.
The 5 leaders are facing charges over the September 19 to 20 rally where the protesters placed a plaque in an area near the Grand Palace, declaring Thailand "belongs to the people." The plaque has since been removed.
A lèse majesté complaint was filed by a leader of the pro-government "multi-coloured shirts movement" Tul Sittisomwong who said the protesters had "once again crossed the line," according to an earlier report from the Bangkok Post.
"I don't mind if they talked about politics, the prime minister or the constitution because they have the right to do so, but not about the monarchy."
The protest leaders responding to police summonses include Arnon Nampha, Parit "Penguin" Chiwarak, Panusya "Rung" Sithijirawattanakul, Panupong "Mike" Chadnok and Patiwat Saraiyaem, who is known as "Molam Bank."
Arnon, who is a human rights lawyer, says he's not worried about the charge and believes it will be cleared. The activists were accompanied by 2 counsel from Thai Lawyers for Human Rights.
"It is now time for us to speak straightforwardly about the royal institution. Even if what we say goes unheard and laws are used to shut our mouths, we will continue to fight."
SOURCE: Bangkok Post
Keep in contact with The Thaiger by following our
Facebook page
.
Never miss out on future posts by
following The Thaiger
.
Thailand News Today | Digital Travel Pass, Chiang Mai outbreak, Alcohol ban | November 30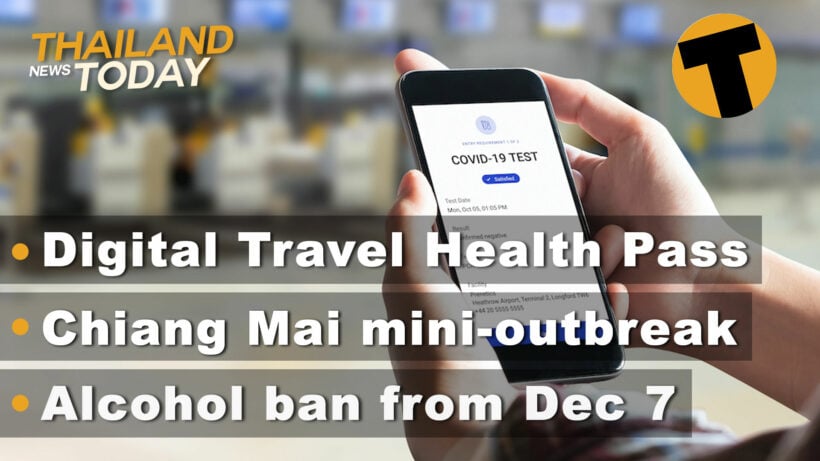 Monday's edition of Thailand News Today.
An international Digital Travel Pass could be the magic bullet to restart global tourism
A new international Travel Pass, a sort of digital health certificate, may be the way forward for countries to re-open their borders and international airlines to get their planes back into the air.
The International Air Transport Association says the 'digital' certificate will support the safe reopening of borders.
As Covid-19 testing and the results becomes more reliable and nuanced, Governments are looking to testing as a means of limiting most of risks of Covid-19 when reopening their borders. The hope is that the new Travel Pass will replace the quarantine regime imposed by many countries and the hopes that a vaccine alone will solve the problems.
2 more cases identified in the northern Thailand Covid-19 mini outbreak
2 more people have been confirmed as infected with Covid-19 in the current mini-outbreak in Northern Thailand.
In this case both women had crossed the Thai/Myanmar border and worked at the same bar in Myanmar as the original patient, feared to be a potential super-spreader.
The 2 women, aged 23 and 26, illegally crossed the Burmese border at Mae Sai district, Chiang Rai, from a border town on the Burmese side of the border, last Thursday night.
All 3 went to work there last month, but returned to Thailand after Burmese health authorities imposed a curfew from midnight to 4am.
Another 4 people have since been identified as "high risk" and are all being tested today. When added to the food delivery and hotel staff, the amount of people considered "at risk" could be up to 30.
Children injured on Hua Hin carnival ride, no safety certification submitted
3 children were injured when a carnival ride malfunctioned at the Hua Hin Red Cross Festival in Prachuap Khiri Khan.
The required safety certification had not been submitted and local officials are investigating. Carnival rides now are closed for the rest of the festival.
10 children were on the ride around 10pm Friday when the hydraulics system broke, causing the arms of the ride to drop to the ground. The injured were taken to the Bangkok Hua Hin Hospital with some bruises. Doctors said all the kids are now fine.
Twitter suspends Thai royalist linked account which spread pro-government propaganda
A Thai royalist-linked account was suspended on Twitter following a review by Reuters reporters that found the account was spreading pro-government and pro-monarchy propaganda.
Reuters says they found tens of thousands of tweets from accounts amplifying the pro-government agenda, which an expert claims is a move to counter the pro-democracy movement.
Twitter said… "The account in question was suspended for violating our rules on spam and platform manipulation."
In October, Twitter suspended 926 accounts linked to the Royal Thai Army which were "amplifying pro-government propaganda." The Army denies they were associated with the accounts.
Ron Howard to direct cave rescue feature film 'Thirteen Lives' in Australia
The Australian Government is putting up A$13 million for a live-action feature film called Thirteen Lives, based on the Chiang Rai Tham Luang cave rescue story.
The film will be shot in Queensland, Australia in the hinterland areas behind the Gold Coast.
The film will be directed by Ron Howard and will start filming in March 2021. The state's Gold Coast hinterland will double for Thailand with a similar hot, humid climate and landscape.
Thirteen Lives follows the story of the 2018 Tham Laung cave rescue of the 13 members of the Mu Pa football team, trapped in a cave by heavy rain and flooding in Chiang Rai, and the international rescue that followed.
The first major feature film about the rescue operation was The Cave, released in October 2019. The film was quite critical of the Thai red-tape which hampered much of the early rescue efforts.
Ban on sales and promotion of alcohol online starts December 7
From December 7 you'll no longer, officially, be able to purchase alcohol online in Thailand.
The Thai government will prohibit the sales and promotion of alcoholic drinks on every online platform from December 7.
The ban includes direct sales, promotion and introduction of alcoholic products online, but will not include electronic payments of purchases at retail stores, restaurants and bars.
Keep in contact with The Thaiger by following our
Facebook page
.
Never miss out on future posts by
following The Thaiger
.
12 people arrested for allegedly illegally crossing Thai-Myanmar border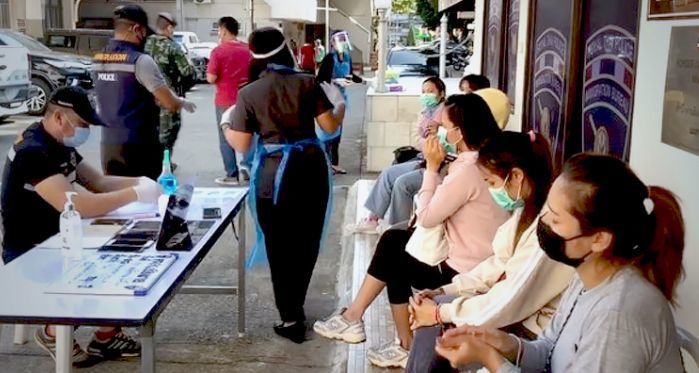 12 Thais were arrested by Chaing Rai Immigration Police for allegedly illegally crossing the Myanmar border back into Thailand. The arrests follow a small coronavirus outbreak in Northern Thailand while Myanmar reports hundreds of new Covid-19 cases each day.
Over the weekend, a 29 year old Thai woman tested positive for Covid-19 in Chiang Mai after visiting the hospital with flu-like symptoms. She recently returned to Thailand from Myanmar where she worked at a bar in Tachileik. 2 other women, ages 23 and 26, worked at the same bar tested positive for Covid-19 after returning to Thailand, Chiang Rai public health officials reported today.
Of the 12 people recently arrested for illegally crossing the Thai-Myanmar border, 4 of them were arrested yesterday after a woman made a post on Facebook saying her and her friends used a natural route to cross into Thailand. They allegedly told police they were working illegally in Myanmar.
8 other Thai women were arrested today for illegally crossing the border from Tachileik into Chiang Rai. They allegedly told police that they each paid 6,500 baht to Myanmar traffickers to avoid border checks.
The women told police that most Thais returning home from Myanmar were in the country working at entertainment venues.
SOURCE: Nation Thailand
Keep in contact with The Thaiger by following our
Facebook page
.
Never miss out on future posts by
following The Thaiger
.