Officials carry out spot-checks on silly-season gift baskets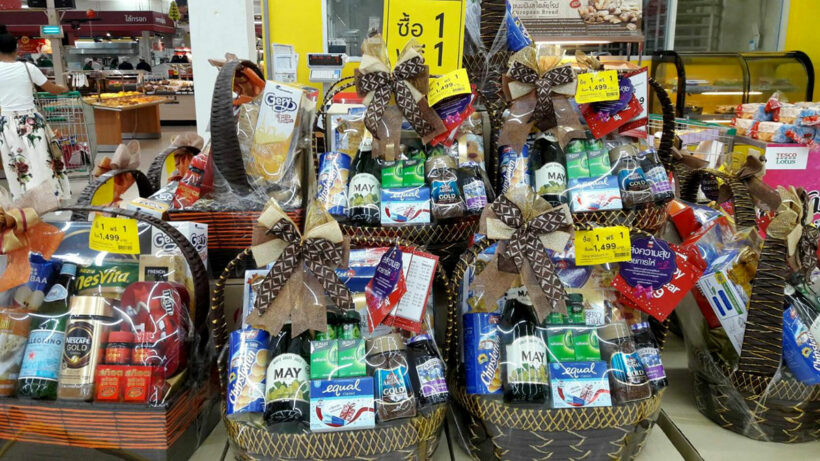 PHOTO: 77jowo.com
You're only weeks away from receiving a few of those plastic-wrapped and ribboned baskets of unwanted goodies for the silly season – but do you wonder what's inside most of them?
Now officials are making a list and checking it twice… Officials in Bangkok are out and about checking those prized Christmas and New Year gift baskets to make sure nobody ends up feeling a bit cheated.
The Nation reports that officials from Department of Health, Ministry of Public Health, accompanied by Deputy Bangkok Governor Sophon Pisuthiwong, visited a selection of shops around the capital this week to make sure their Christmas and New Year's gift baskets are legally compliant.
Sophon says their intention in carrying out the checks is to ensure people don't end up receiving inferior or even out-of-date products and that retailers are transparent about the cost of items in the baskets. The gist of the suspicions is that retailers put one or two items of value at the top of the basket, pack it full of surplus and out-of-date stock, and then scrunched up paper at the bottom to make it look full.
"The Bangkok Metropolitan Administration is committed to protecting consumers against low quality or expired products that some retailers may try to bundle in the gift baskets. Retailers are also required to display the list of each item in the basket along with their prices to let customers know what they are buying and that each of them is priced correctly."
Deputy Bangkok Governor Sophon also stresses the importance of supplying products with more longevity, saying they must display an expiration or best before date and that fruit and vegetable baskets should not be prepared more than 3 days in advance of sale.
"According to Food Act BE 2522, packages of all food products must display expiration or best before date, or manufacturers will be fined a maximum of 30,000 baht. To apply this law to gift baskets, we require the sellers to put only products that expire after January 31 in the baskets and must allow consumers to return the products until February 29 in case they are not satisfied with product's quality."
"As for fruit and vegetable baskets, we advise retailers to prepare the baskets not more than 3 days in advance of the selling date to ensure freshness of the produce."
Finally, Sophon reminds retailers that gift baskets containing alcohol cannot be displayed in store or even in brochures. He says doing so would contravene Article 30 of the Alcoholic Beverage Control Act and could lead to an 11,000 baht fine and/or up to six years in prison.
The checking of New Year gift baskets is part of a wider campaign being run by the Bangkok Metropolitan Administration in conjunction with 32 department stores and retailers, focusing on price and quality control of the baskets. The campaign also seeks to promote the use of more environmentally-friendly materials, such as leaves and paper instead of the usual foam and plastic.
SOURCE: The Nation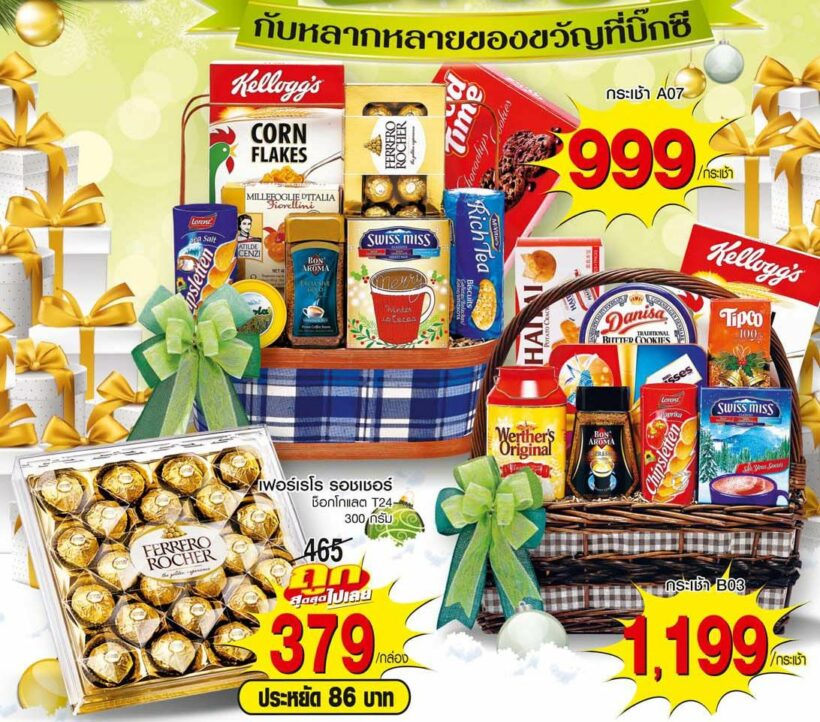 Keep in contact with The Thaiger by following our
Facebook page
.


Do you need help with your business? Are you searching for a new job? Or an employer looking to hire? Try JobCute today.

Read more headlines, reports & breaking news in Bangkok. Or catch up on your Thailand news.

Motorcycle 'win' drivers charge 380 baht for 4.7 kilometre trip through Bangkok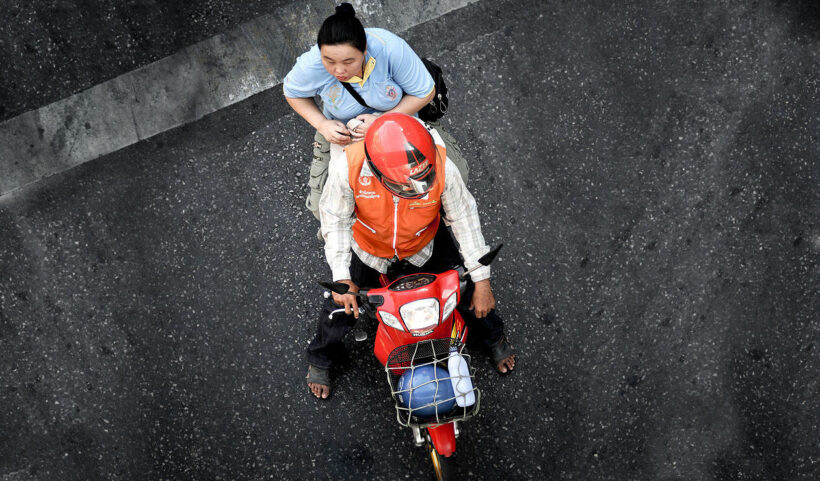 It's not just tourists that get ripped off by the notorious Win drivers in Bangkok (The Thaiger is a regular Grab Bike user but has never had any specific problems with Win drivers).
A win-motorcycle user (motorcycle taxi) has related a recent rip off on Thailand's most popular website, Pantip. The user said they were traveling with another friend from Victory Monument to the Mahanak Intersection in Bangkok on January 15. They arrived at the monument via van and decided to take a 'win' taxi or use Grab Bike as the bus service was still a long time away.
So that's 4.7 kilometres point to point. Traveling by taxi would cost them around 60 baht. The two then met up with some Win motorbike drivers as the walked along the road.
They relate that they were a bit wary of the drivers as they weren't wearing the usual regulation numbers on their jackets, designating the area they are legally allowed to operate.
But the persistent drivers kept trying to find out where the couple were going.
Win Driver: Where are you going?
Pantip User: (silence)
Win Driver: Where are you going? Where are you going?
Pantip User: Mahanak Intersection
Win Driver: Do you want to go, there's heavy traffic we can get there fast.
Pantip User: How Much?
Win Driver: I'll have to see how far it is.
Pantip User: OK (thinking it would cost a maximum of around 100 baht)
There was little traffic and they arrived at the destination in less than 10 minutes.
Pantip User: How much?
Pantip User friend's driver: 380
Pantip User: ???!!!?!?!?
Win Driver: 380!
Each.
The Pantip commenter and his friend stood on the road shocked for a moment as they felt like they had just been robbed, according to ThaiResidents.com. In total, the pair forked out 760 baht, 380 baht each, for a 4.7 kilometre ride.
The writer later revealed that he called 1584 (emergency hotline) and went to the police station for security footage from the road. The police received the driver's name from the online money transfer. Turns out both of the drivers are illegal Win Motorbikes and the police have 'invited' them in to pay a fine and 'have a chat'.
1 – Social media
0 – Win drivers
SOURCE: Thai Residents
Keep in contact with The Thaiger by following our
Facebook page
.
50% of Thai trucks checked in Don Mueang belching black smoke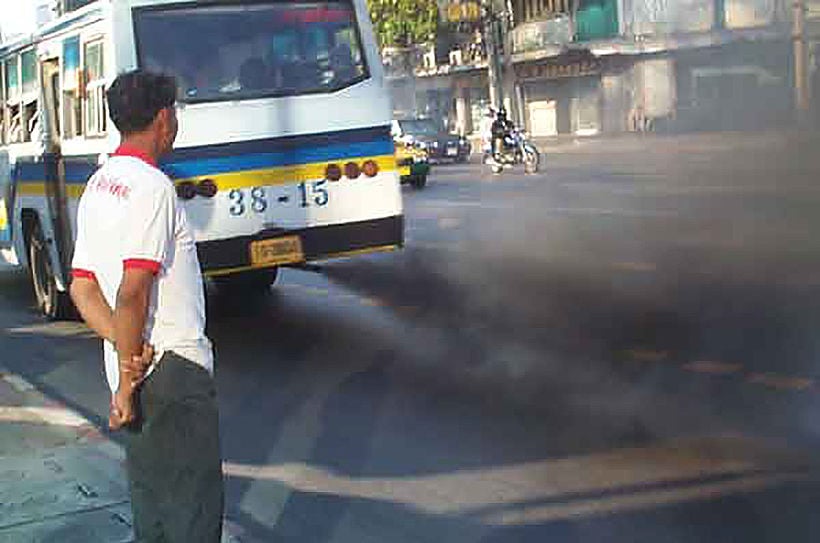 Last April Thai PM Prayut Chan-o-cha announced that those driving polluting vehicles would face arrest and fines, warning owners of transport businesses they'll be held responsible for toxic emissions. Now the Department of Land Transport announced it was stepping up measures to bring emission levels from trucks and public transport vehicles within safe limits. The measures are designed to alleviate pollution problems in Bangkok and surrounding areas. With poor air quality returning to the skies over Bangkok, residents are now demanding fewer words and more action.
Yesterday, random checks were conducted on trucks along Bangkok's Vibhavadi Rangsit Road. Inspectors included officials from the Traffic Police Division, Pollution Control Department (PCD) and the Don Mueang District Office. They spent about two hours flagging down trucks near the Don Mueang Airport. Twelve of the 25 trucks checked were belching black smoke in excess of safety standards.
A spokeman for the PCD says the department has the authority to order the drivers of the 12 trucks to keep them off the road while necessary improvements are made, which must be done within 30 days.
Operators of trucks that miss the deadline may be fined up to 5,000 baht.
SOURCE: The Nation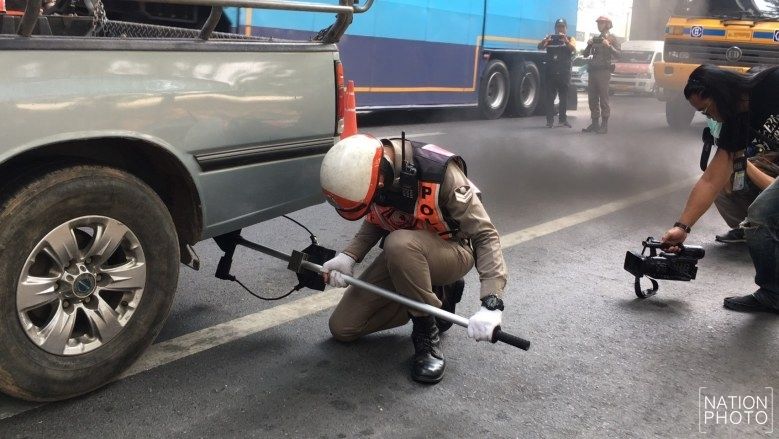 Keep in contact with The Thaiger by following our
Facebook page
.
Bangkok's vacant land owners growing fruit and vegetables to evade vacant-land tax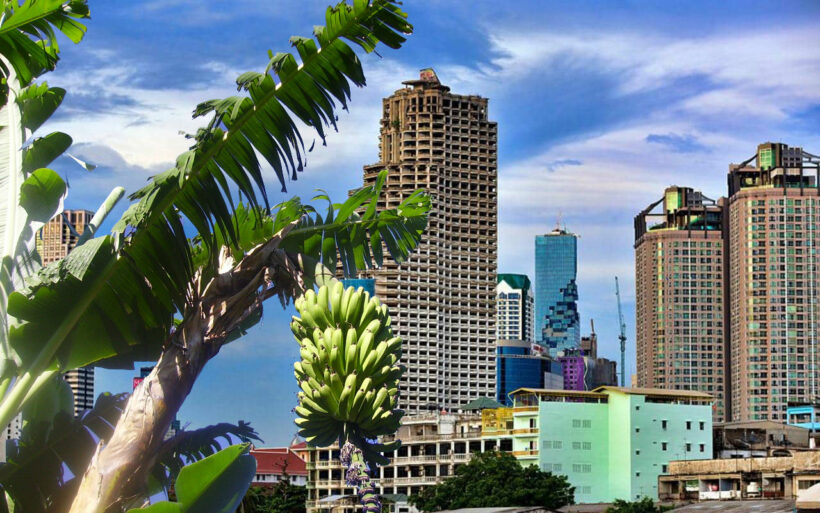 A loophole in land tax around Bangkok (actually everywhere in Thailand) is having an unexpected side effect, mostly good. Many vacant property owners in Bangkok are growing fruit and vegetables to escape the newly launched tax on their undeveloped land.
For example, Banana trees are now growing on an expensive piece of land near Naradhiwat-Rajanagarindra Road. To avoid the new Land and Building Tax Act's tax on vacant land, some landowners had decided to grow banana or lime trees on their land to pay the lower tax rate for agricultural use of the land.
The revised land and building tax act 2019 came into effect on January 1. Owners of vacant land pay a higher tax rate than those who used their land for agricultural, residential or commercial purposes. The act states that the owners of agricultural land with an appraised value up to 75 million baht must pay a tax at 0.01% of the value. From 75-100 million baht valuation, the rate is 0.03%. 100-500 million baht value the rate is 0.05%, etc… 1 billion baht-plus value, the rate it is 0.1%.
In the case of undeveloped land, the owners must pay rates from 3-6 times higher. So owners who are hanging onto their land at expensive locations are now growing grow fruit trees such as lime, banana or papaya to avoid payment of tax on vacant land.
Even along Ratchadaphisek, Rama IX and Ekamai roads in Bangkok, prime land locations, we're now seeing mini plantations of banana, mango, lime and other fruit trees.
SOURCE: The Nation
Keep in contact with The Thaiger by following our
Facebook page
.