Chinese man arrested trying to exit Thailand with fake Thai passport and ID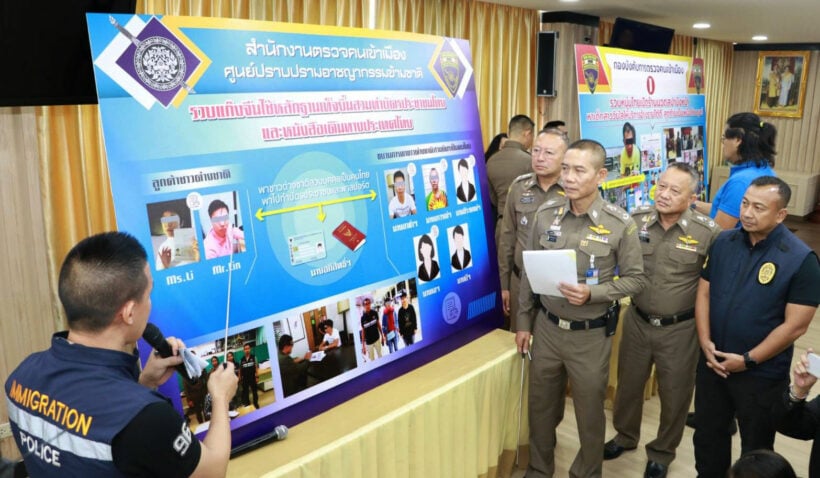 PHOTO: Immigration Police
Fake ID – check. Fake passport – check. Able to speak Thai – Doh!
Immigration officials in Sadao, on the souther Thai border with Malaysia, have busted a Chinese man as he attempted to leave the country using a fake Thai passport and ID card.
Thai Residents reports that the man claimed to be a 47 year old Thai man named Aphisit, but officials discovered his real name is Lin and he's from China. Lin says he's been out of China so long that his passport expired and that he'd been tempted by an ad on the Wechat application offering Thai ID documents.
The group who placed the ad claimed to be able to provide applicants with a Thai passport and ID card within ten days, for a payment of 1.2 million baht. When Lin spoke with them, they claimed the bulk of their customers were Thai citizens who'd never had any government documentation issued in their name.
After Lin paid his money and received his forged documents, he tried to leave Thailand at the Sadao border, only for officials to become suspicious when they realised he couldn't speak Thai. Running his details through the biometrics system showed that he had entered Thailand on a Chinese passport in 2014.
A number of other people have now been arrested alongside Lin, including three other Chinese nationals and four Thais, while police continue to investigate illegal businesses around Thailand that claim they can provide Thai ID papers and fake passports.
SOURCE: Thai Residents
Keep in contact with The Thaiger by following our
Facebook page
.
Barking dog alerts owner about visiting cobra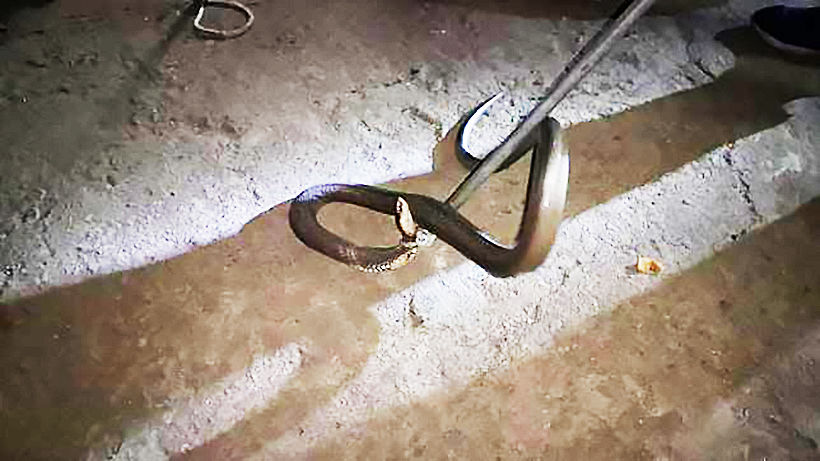 A pet dog saved its owner from what could have become an unpleasant encounter with a cobra, which visited his home in the southern Thai province of Trang, the story from Khaosod. Owner Winai Sangtip says he was watching television in his living room around 9pm when his dog began barking loudly. He opened the back door and saw a large snake curling under the washing machine.
Winai called local volunteer rescue foundation, who caught the cobra and put it in a cage. It was released into the remote forest areas in the morning.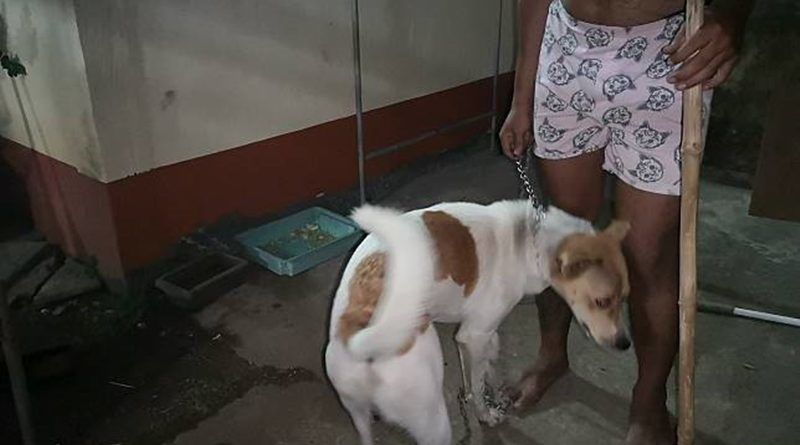 SOURCE: Thai Residents
Keep in contact with The Thaiger by following our
Facebook page
.
Mother and baby killed in Nakhon Si Thammarat intersection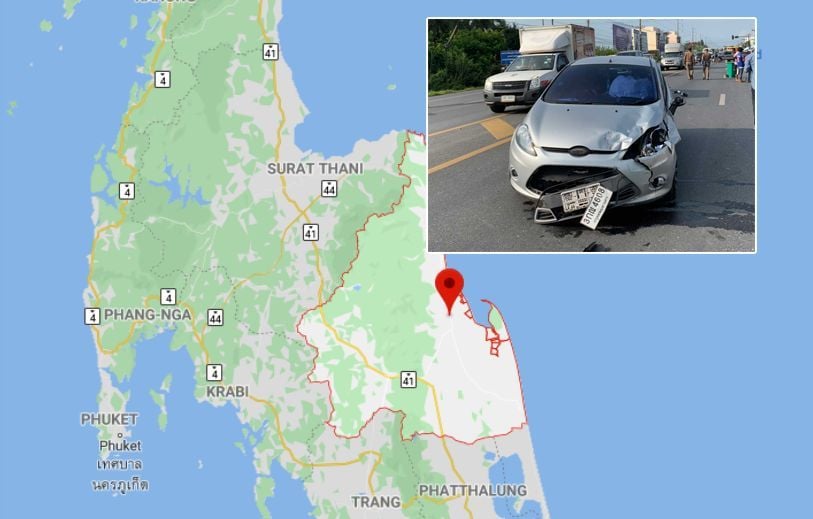 A mother and her 19 month old son have been killed after their motorcycle was struck by a car in a collision in Nakhon Si Thammarat, southern Thailand. The incident occurred at a three-way junction on Therdphrakiat road in the main city district this morning around 8am, according to police.
The 38 year old motorcycle rider, Supanrat Srisawang, was making a right hand turn at the intersection into Therdphrakiat road, heading for the main Nakhon Si Thammarat city area, and cut in front of an oncoming car. She was seriously injured in the collision. Her 19 month old son, Kongpop Tuankupong, was seated in front of her. He suffered a broken neck and head injuries and died at the scene.
The mother was rushed to Maharat Nakhon Si Thammarat Hospital where she was pronounced dead on arrival. The 32 year old driver of the silver sedan, Warissara Srisawang, who worked as a clerk at a nearby school, surrendered to police after the accident, according to the Bangkok Post.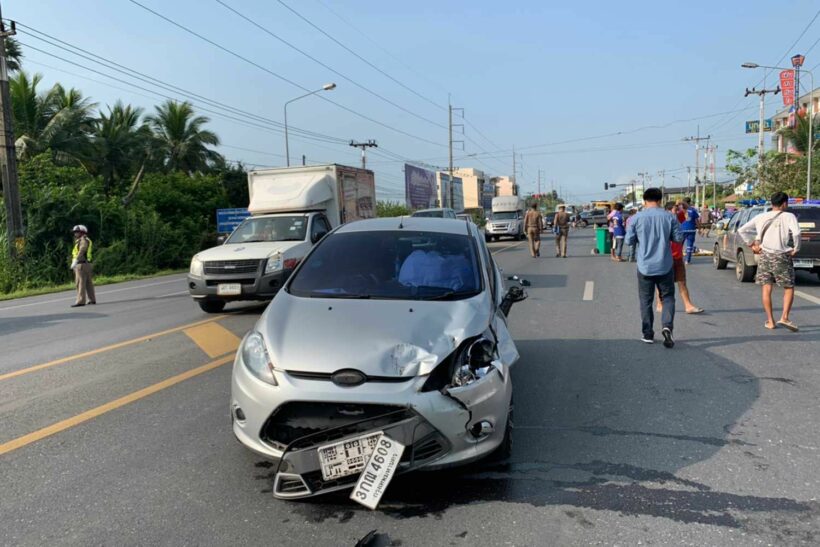 PHOTO: Nujaree Raekrun
Keep in contact with The Thaiger by following our
Facebook page
.
Fishermen catch albino dolphins on video playing in the Gulf of Thailand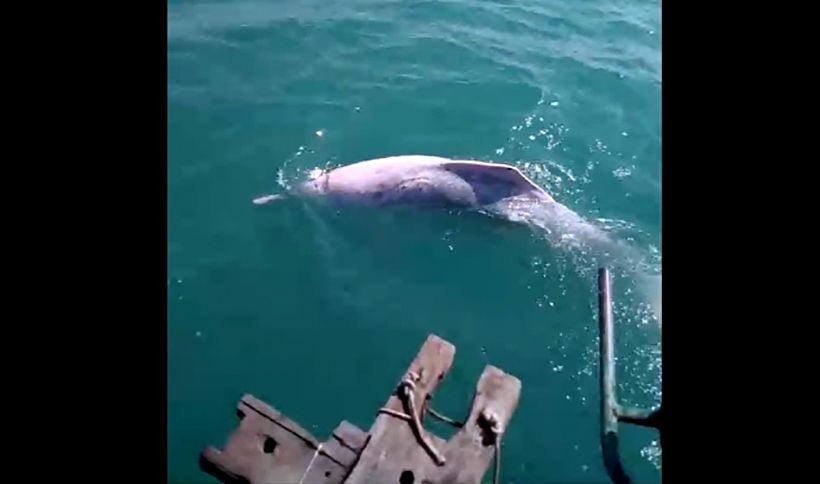 A group of albino dolphins have delighted guests and fishermen in a fishing vessel off Songkhla's Sathing Phra district in the Gulf of Thailand.
"SOS", a LINE group, has posted a video clip of the dolphins.
The LINE group's administrator related the story that three fishermen had seen the dolphins in the boundary area between Kradang Nga and Ja Ting Phra subdistricts last Sunday, according to The Nation.
"The fishermen discovered the group of albino dolphins while they pulled their fishing net onto their boat, believing that the dolphins followed the fish that were caught in the net."
"Some of the dolphins swam around the boat, appearing to ask for food. One of the fishermen grabbed his phone and recorded the video clip, while they kept throwing fish from a basket to the dolphins until their fish stock ran out."
Several SOS members posted comments appreciating the three fishermen's actions and the "cute" albino dolphins, which are reasonably rare and a sign of good luck for many Thais.
SOURCE: The Nation
Keep in contact with The Thaiger by following our
Facebook page
.